If you used  have straight hair but it became wavy with age, or maybe it was always wavy but you used to treat it like straight hair…you may find yourself confused about how and when to part your hair when styling it wavy.
With straight hair, you can part it whenever you want to, really. Many with straight hair find it easier to part it after it's dry. With wavy hair, people usually use styling products and that locks in our style before it dries. As a result, parting your hair after it is dry is less effective. So when do you part it? You have a few options!
When To Part Wavy Hair On The Curly Girl Method
There are two main options for when to part your wavy hair. You can part your hair in the shower when you have conditioner in or after rinsing the conditioner out but before scrunching (or whatever else you do to assist with curl clump formation). This way, your part will exist before your curl clumps form which should ensure that your clumps don't disrupt your part. This requires parting your hair in the shower though, which some may not find ideal.
If you prefer to part your hair when you aren't in the shower, you can create (or "fix") your part directly after getting out of the shower, or near the end of your styling routine. The downside of this method is you may have to separate some curl clumps while creating or 'fixing' your part.
Personally, I think you're likely to get the cleanest part if you part your hair before working to form your curl clumps. However, I personally often forget to intentionally part my hair! My hair usually falls in roughly the same part if I don't do anything. So the habit I've formed is to check my part after plopping but before adding my products and diffusing. Sometimes my hair has started to "set" in a bad part and I'll rewet my hair and fix it. Most of the time, I just flip a curl clump or two and that's it. I'm okay with having a "natural" part rather than a really intentional one with wavy hair…but that's just me.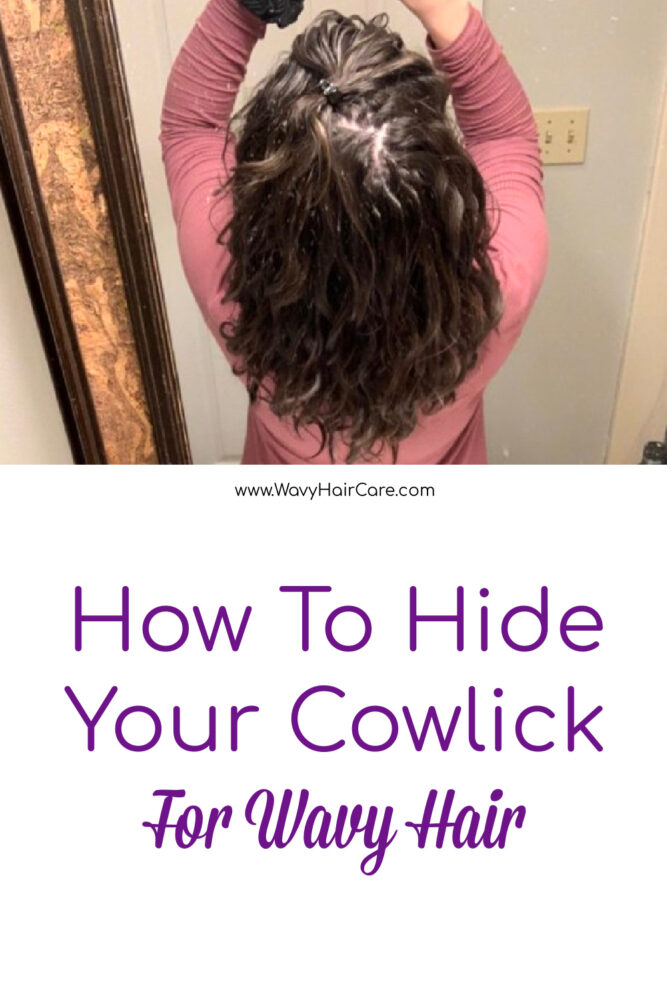 Hiding A Cowlick With Wavy Hair And The Curly Girl Method