One of my more popular posts is How To Determine Your Wavy Hair Type. It goes over density, porosity and thickness. To make testing your hair as easy as possible, I made these little quizzes! Leave a comment letting me know what you think.
Hair Type Test - Porosity
When your hair is dry and free of styling products, use a mister to mist your hair.
What do you see?
Which of the following have you done to the hair on your head?
Select all that apply.
Hair Type Test - Density
Make a part in your hair.
What do you see?
Make a ponytail with the hairtie an inch away from your scalp.
What is the circumference of your ponytail against your scalp?
Hair Type Test - Strand Thickness
Place a strand of hair between two fingers and close your eyes. Rub your fingers together. Can you feel that strand without seeing it?
Compare a single strand of your hair to sewing thread.
Your strand thickness is likely:
There are affiliate links in this post.
If you're looking to start the curly girl method by shopping on Amazon, it's easy to overspend. Hair products tend to be heavy which means shipping them isn't cheap. Due to this, hair products are often marked up in price on Amazon – sometimes significantly! If you're wanting to avoid overspending, this post is for you. I've gathered different categories of curly girl method approved products that you can buy on Amazon that aren't overpriced vs their in-store prices.
Tips for buying curly girl method products on Amazon:
Check the prices with your local store websites if you aren't sure of their typical price. Some lower-end hair products are really overpriced on Amazon! In some cases, 4x their regular price or so! It can be really wild.
Check which amazon store or amazon seller you're buying from. Try to purchase directly from the brand or from a reputable retailer.
Are there counterfeit products sold on amazon as the real thing?
I've bought several hair products on Amazon that I had also bought locally or from major retailers like Ulta in the past. I have never received anything from Amazon that seemed fake in any way. So, I've always wondered why some people refuse to buy hair products on Amazon due to fears of 'fake products'.
I've wondered if that was even a real thing that happens. Business Insider did a story on it, so it really can happen. They said it happens on items purchased on Walmart.com, too. This is why I gave the tip above of shopping from a brand or amazon seller that you know is legit rather than a random third party reseller.
Are Curly girl method products more expensive on amazon?
Often times curly hair products are more expensive on Amazon, but not always. If you're watching your budget, you just want to be mindful of the regular price of an item and check the amazon price. Additionally, the cost of items on Amazon can change at any time.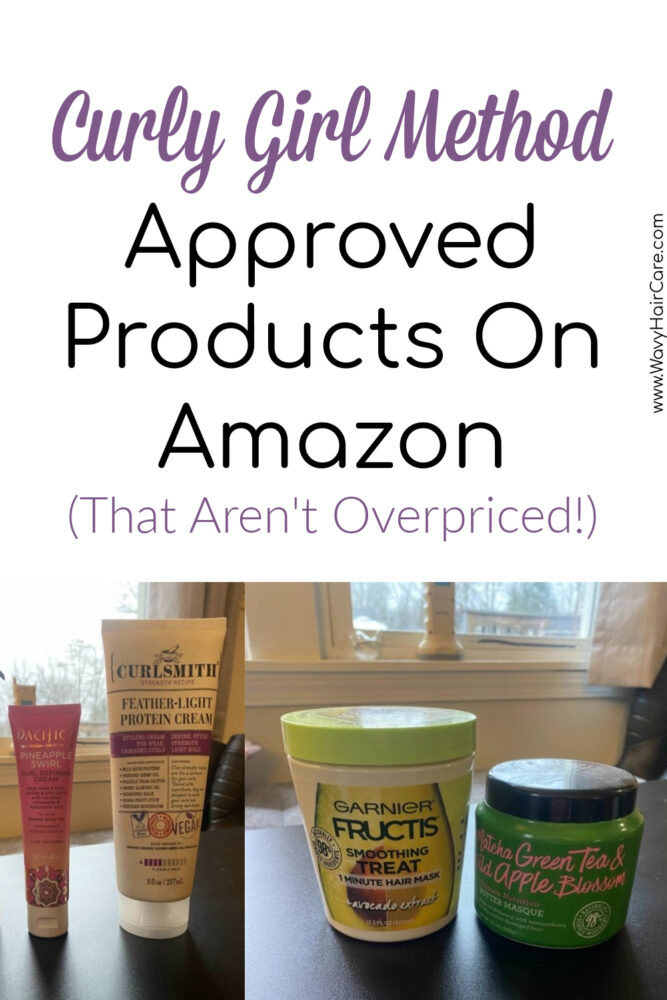 Wavy Hair or Curly Girl Method Accessories on Amazon
What is Cowashing?
Cowashing is using a regular conditioner or a specifically formulated "cleansing conditioner" or "cowash" to wash your scalp and hair instead of shampoo.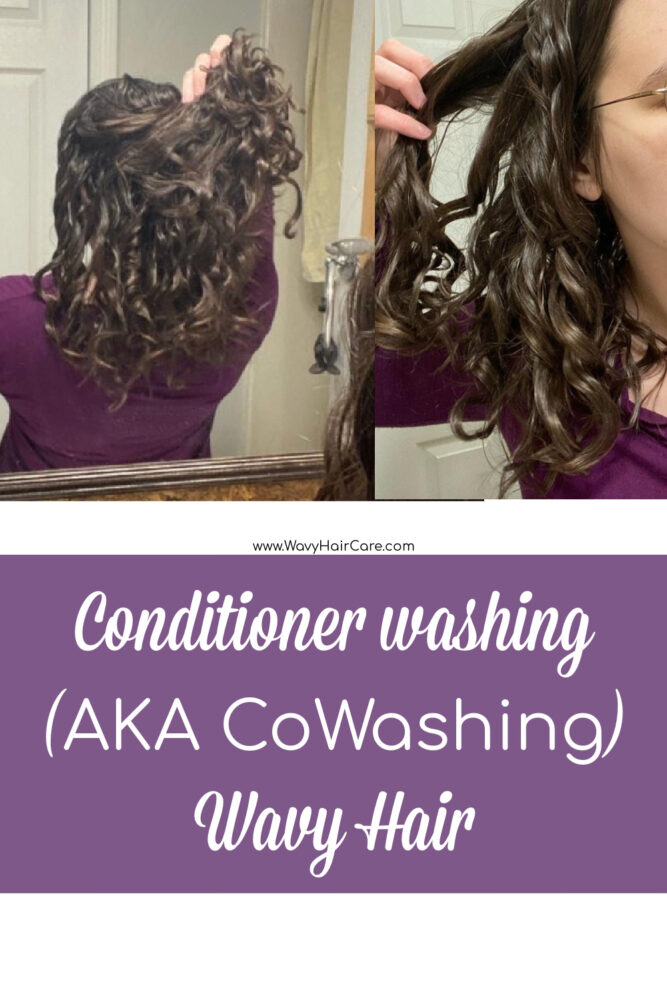 Can Cowashing Effectively Clean Your Hair?
Does The Curly Girl Method Require A Leave-In Conditioner For Wavy Hair?
On my various curly girl method routine blog posts, I often get asked why I haven't included a leave-in conditioner. Many people believe that the curly girl method requires a leave-in conditioner.
The Curly Girl Method does not require a leave-in conditioner for wavy-haired people.
The curly girl handbook encourages other curl types to leave some of their rinse-out conditioners in their hair (rather than using a store-bought leave-in conditioner) but it tells people with wavy hair to fully rinse the conditioner out.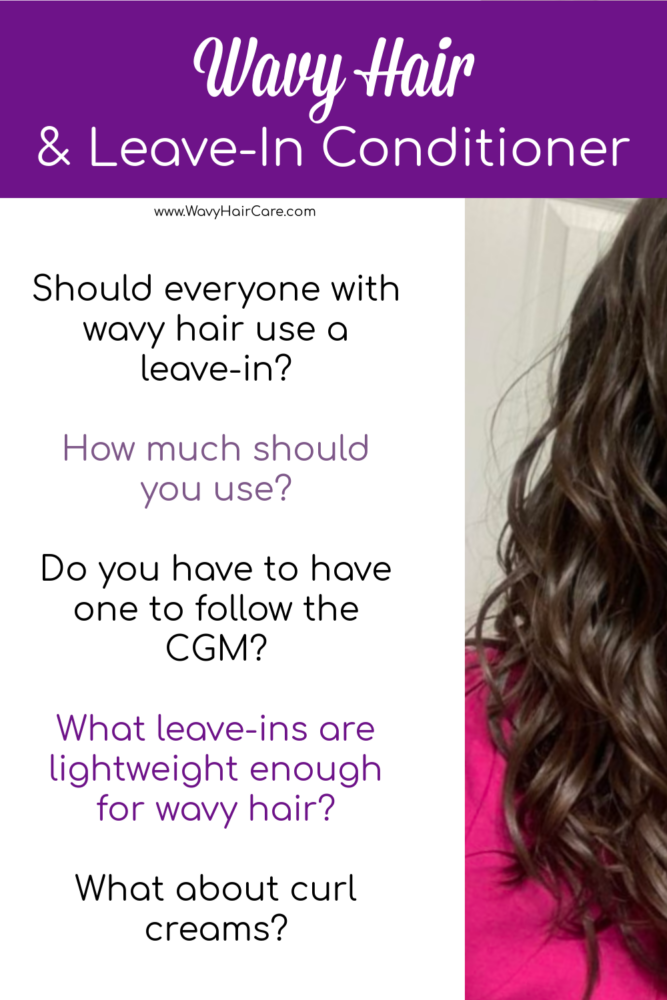 Why I Don't Use a Leave-In Conditioner On My Wavy Hair
I very rarely use leave-in conditioners for wavy hair. For me, this isn't because the curly girl method handbook says I don't need to, as I don't strictly follow the curly girl method.
My decision to skip over a leave-in conditioner came from experimenting with leave-in conditioners. Some leave-in conditioners leave my hair feeling greasy or weighed down. Others don't leave my hair feeling bad or looking bad, but I just don't see any obvious benefit from them, either.
Early on, I used a leave-in conditioner but when I'd skip using it, I either saw no difference or an improvement. The improvement would be a better cast, by the way. That's why I quit using leave-in conditioners.
Why You May Want To Use A Leave-In Conditioner On Wavy Hair