There are affiliate links in this post.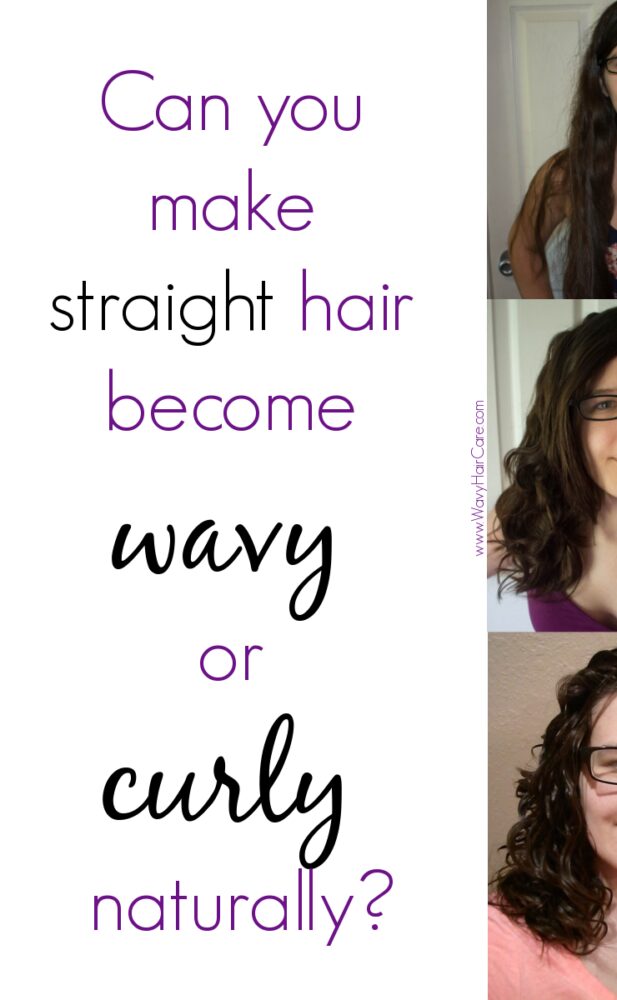 How to get natural curly hair for straight hair
You can't turn truly straight hair into wavy or curly hair using natural methods. You can use heat tools or perm it, though! 
Okay, I confess, this header was a bit of a tease or trick. When doing research for my other post, how to make wavy hair curlier, I saw that variations of how to train straight hair to be naturally curly is searched a lot.
From the last few years hanging out in curly girl method and naturally wavy hair communities, I know there are misconceptions surrounding this. I thought it was worth addressing. Can you train straight hair to be naturally curly?
No. You can't. The same is true of wavy hair. If your hair is truly just wavy, you can't just make it curly naturally.
There's nothing wrong with using a curling iron or perming your hair if you have straight hair and want wavy hair. Or if you have wavy hair and want curly hair. However, if you are interested in natural hair care, please don't start a natural wavy hair journey with the expectation of your hair becoming wavier or curlier at any point down the line.
I regularly see people on wavy forums who are 2a, asking about getting into the 3-range and expecting it can just be made to happen without heat or chemicals. That isn't how natural hair care usually works. Is it possible that someone out there had really damaged hair that was 2a and after years of gentle haircare and learning the best products for their hair type, they reached 3a? Sure.
It would be the exception though, not the rule – and that means they had curly hair naturally, and it was just damaged to make it subtly wavy, and then was repaired. My larger point is – you can't just pick any curl pattern and make it happen with the curly girl method.
In my post about making wavy hair curlier, you'll see that it's almost exclusively about avoiding weighing down your pattern. A lot of people care for their hair in ways that weigh it down or damage their pattern.
For those people, if they stop doing the things that weigh their hair down, or begin to be gentler with their hair so that their new growth will be less damaged…their hair can appear to get curlier. It is their natural pattern, though.