"How do you apply your products?" is a question that I've received in comments and emails a few times. I've wanted to answer this question, but I thought it made sense to share different application techniques rather than making an entire blog post about one method. For the last few weeks I've been testing product application methods, so that I could compare them for you all.
How To Apply Products On Wavy Hair (Video)
While I'm sharing them here in written form with photos, I've also documented these with video. If you might find it easier to understand these application techniques by seeing me do them, check out my tiktok video or YouTube video that I made showing all six techniques and the results.
For the sake of trying to keep results 'fair', each wash day I washed my hair with the same shampoo, conditioner, leave-in conditioner and mousse. I attempted to use the same amount of product, and the same routine and techniques other than how I applied the mousse each time. My goal was to try to make make it so that the only differences in these wash days was the product application technique. I prefer damp styling usually, so I plopped for 10 minutes each time and then added mousse.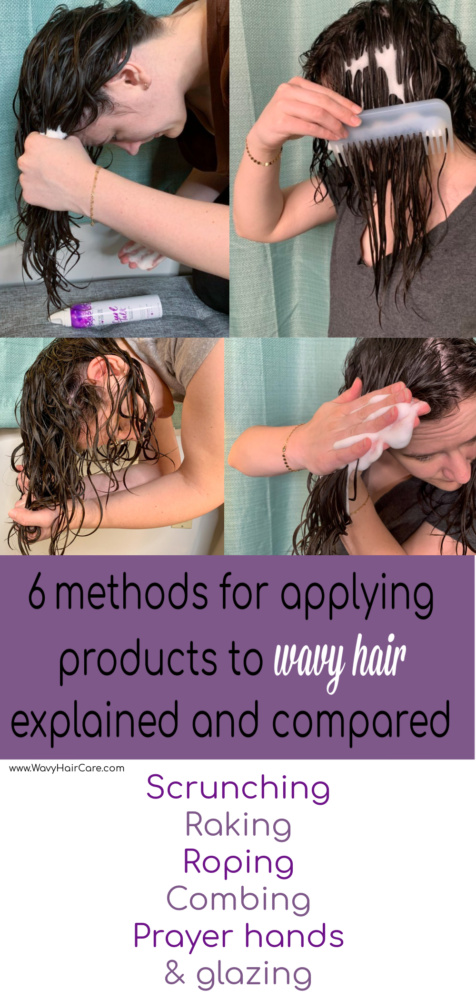 How To Scrunch Gel Into Wavy Hair
Scrunching is when you place your hands under your hair and raise your hands so tha your hair pools into your palms. Once you reach the top of your hair, you squeeze your hand closed, "scrunching" the hair that is in your palm. This is often done without product as a way of encouraging waves/curls to form. However, it can also be done as a product application technique.