If you're new to realizing you have wavy hair, or are new to the curly girl method, you may find yourself trying to learn about a lot of products that you've never used before. Prior to starting the curly girl method about 3 years ago, I was treating my hair like straight hair. I didn't use any products other than shampoo and conditioner.
It took me a while to figure out what some product categories even were. I wasted some money buying products that were pointless, too. For example, I brought some "frizz serum" products because I had frizz. I didn't know enough about different types of wavy hair products to know whether a "serum" or a gel, or a leave-in, would be the best type of product to purchase for frizz.
I find there to be a lot of benefit in understanding the basics of what different hair products are, and what their main function is, so I thought I'd just explain what different product types are.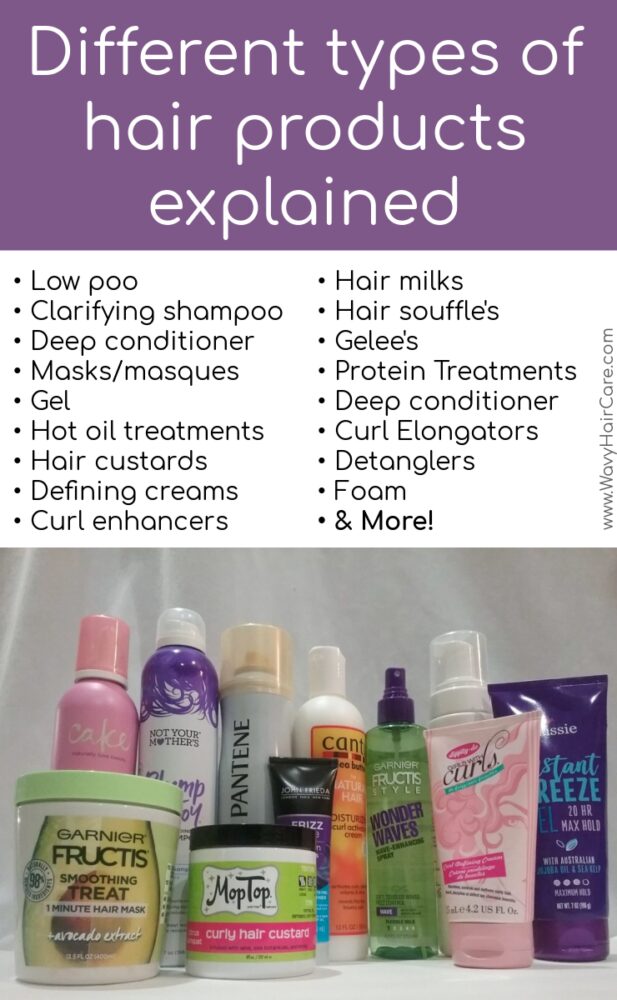 What order do you use hair products in?
A really common question that comes along with asking what different products are, is how to layer them! This certainly depends somewhat on which products you're using. With wavy hair, often times using fewer product is better.
I wouldn't recommend using this many products in your wavy hair. Still, I wanted to list them in the normal order so you can look at what you plan to use and figure out what should come first. Of course, just skip over the products that you aren't choosing to use.
Leave-in conditioner (or hair lotion, detangler or milk)
Curl cream
Defining product
Curl Enhancer
Sea salt spray / texturing spray
Mousse or foam
Gel (or gelee, custard, souffle, or pomade)
Oil (or hairspray)
What is a low poo?
Low-poo is a term used by people who follow the curly girl method. Low poos are sulfate-free shampoos.
The curly girl method believes that sulfate-free shampoos are more gentle than shampoos with sulfates. In other words, they use low poo's because they are sulfate free, and they believe these to be gentle shampoos.
The purpose of low poo is to clean your scalp and hair, but gently, to avoid stripping your hair or drying it out.
Most people who use low poo would use these on their regular wash days, and then they would use a clarifying shampoo 1-4 times a month to remove build-up.
What is a sulfate-free shampoo?
Another term for sulfate-free shampoo is "low-poo". Sulfate-free shampoos are just shampoos that do not have sulfates in the ingredients. People who believe in the curly girl method believe that sulfates are harsh, so they opt to use sulfate-free shampoos as they are believed to be gentler cleansers. 
The purpose of a sulfate-free shampoo is to cleanse the hair and scalp, but gently.
Most people who use sulfate-free shampoos use these for their regular wash days, and use clarifying shampoos 1-4 time as month to remove build-up.