Can the curly girl method make some people's hair straighter?
Sometimes the curly girl method does make people's hair look straighter, rather than curlier. Adjusting techniques and/or products may make a difference in results. 
Many people see the curly girl method as a way of making your hair curlier. So, I occasionally see people post in wavy/curly hair groups sharing that they're upset because their hair seems to be getting straighter, not curlier.
Some of the techniques used in the curly girl method do result in many people's hair looking curlier than it used to. For me, getting rid of my hair brush, diffusing my hair instead of air drying, and using gel made a huge difference in the appearance of my waves.
Hair type can really vary a lot. For me, diffusing helps my hair to dry much tighter because the weight of water pulls down my waves. For some others, diffusing somehow makes their hair straighter than if they air dry. Similar things are true with many other wavy/curly hair techniques.
If you find that as your hair gets healthier, it gets straighter, you may have to decide if your goal is curlier hair, or healthier hair.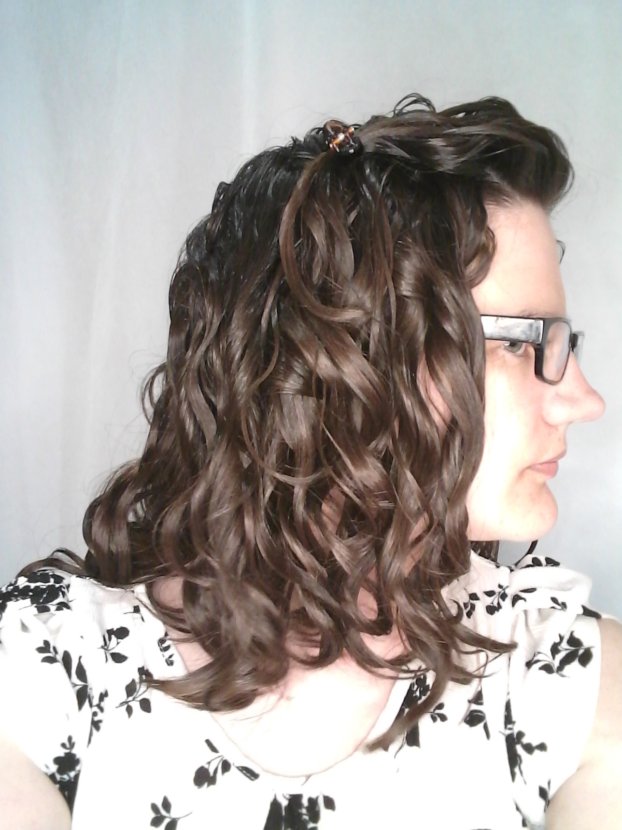 Reasons why the curly girl method may make hair straighter
The most likely cause for the curly girl method making your hair straighter is if it weighs your hair down. 
When beginning the curly girl method, it's common for people to purchase really moisturizing, oil-heavy hair products. For some people, those products can be too heavy. Many people who have hair that is fine, thin or wavy will find that their hair will become weighed-down if they use heavy products.
If you use products that are too heavy for your hair type, this can weigh your hair down making it look straighter. Oftentimes, hair that is weighed down will be particularly weighed down or flat looking at the roots.
If you aren't sure if your hair is weighed down, I'd recommend checking out my blog post how to tell if your wavy hair is weighed down.
2. Some hair types get straighter as they get healthier.
Often times you'll read that hair will get curlier as it gets healthier and more moisturized. For many people ,the curly girl method helps their hair get healthier over time, and their hair does get curlier. However, some people find the opposite to be true. Their hair is straighter when healthier, and curlier when drier or more damaged!
It's common to hear people discuss how their hair got straighter after they dyed or bleached it, due to the damage. Yet, some people report exactly the opposite. Some find that their hair gets curlier after bleaching.
I haven't been able to find any information explaining why this happens. I just have noted that some people make these claims about their hair in hair groups. It definitely seems like most people's hair gets curlier as it gets healthier, but some percentage of people have hair that works the opposite way.
3. Over-moisturized hair can go limp or straight. 
Sometimes when people start the curly girl method, they use products that contain no protein. All hair types need protein, and some people's hair needs a lot of protein.
In either case, if you never use protein on your hair, it can eventually become what people call "over moisturized" or badly in need of protein. I personally experienced this about two years after I started the curly girl method, and a few times since, as well.
I can tell that my hair has become over-moisturized or in need of protein when I stop getting a good gel cast from products that used to give me a cast, and when my hair is just straighter than it usually is.
4. Build-up can weigh down your hair. 
If you've been doing the curly girl method for quite a while and haven't clarified regularly, you may have build-up.
When severe enough, build-up can make your hair straighter. It can also cause frizz and other issues. If you aren't familiar with clarifying, I'd recommend my blog post clarifying wavy hair. It includes a clarifying wash day routine, signs that you may need to clarify and more.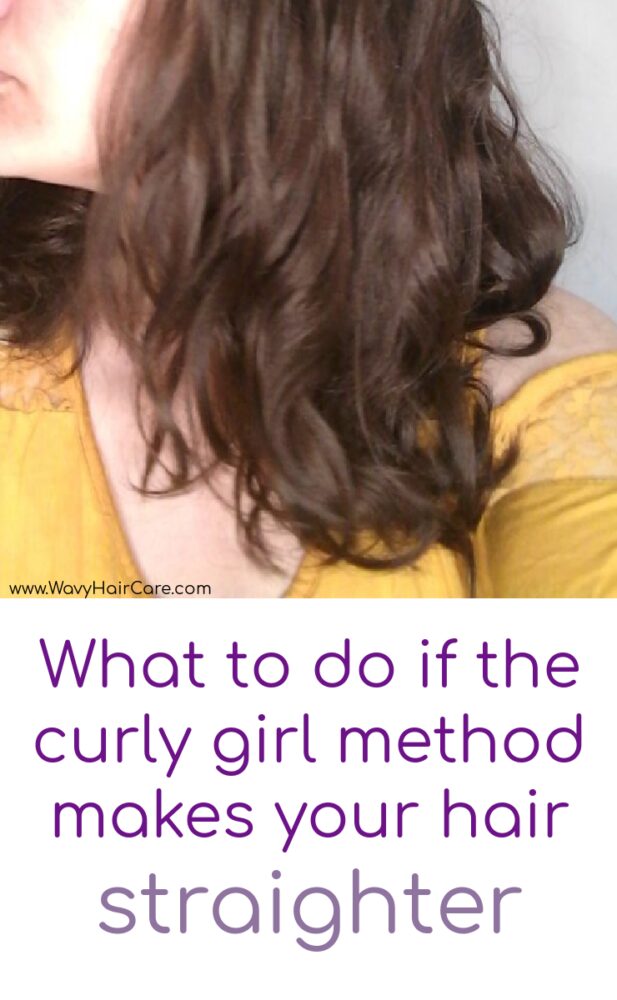 How To Get Waves or Curls Back If CGM Made Your Hair Straighter
If the curly girl method has made your hair straight tha it used to be, here are some ways that you can try to get your waves/curls back.
Clarify your hair to remove any build up. 
Use lighter products. Look up the products you've been using and try to determine if they are heavy or not. If they list an oil or butter in the first 5 ingredients, that's a sign that it's heavy. Try replacing any heavy products with a lighter product. If you've been using a cowash, switching to a low poo will be a lighter option.
Use fewer products. Consider how many products you use, and try cutting back. Most days I use a shampoo, a conditioner and a mousse OR a gel. For some people a leave-in conditioner or cream is really needed to keep hair from feeling dry or rough between washes. If you're using 5+ products though, you may see a benefit from removing one or more of them from your routine.
Use less of the products that you do use. If you've bee heavy-handed with products, using less may help. This is particularly true for leave-in conditioning products. If you've used a large amount of a leave-in conditioner, cream, lotion or milk, that could weigh you dow a lot. See if you can use a smaller amount and get the benefit you want, with less weigh-down.
Switch out your techniques. Experiment with different techniques to see if changing your techniques can assist with tightening your curl pattern back up. I have a blog post sharing 18 ways to make wavy hair curlier, try out some of those suggestions to see which ones your hair responds best to.
If you found that the curly girl method made your hair straighter, share in the comments how you handled it! I'd love to hear.