In the past I've written on this blog about how I saw a Devacut curl specialist and that experience wasn't great. I also shared how I saw a second Devacut curl specialist who had more experience with wavy hair, and that experience was really good.
I haven't yet talked about do it yourself haircuts! For the first couple years that I was following the curly girl method, I cut my own hair using a dry curl cut, curl by curl technique. I wrote about this on my blog EmilyReviews, before this blog existed. I used that technique several times but I never documented it with much detail because I wasn't regularly blogging about my hair back then.
As someone who is naturally somewhat frugal, I love the idea of being able to cut my own hair. While I did really like the second curl specialist that I saw, I don't love the price tag of those haircuts, at around $140.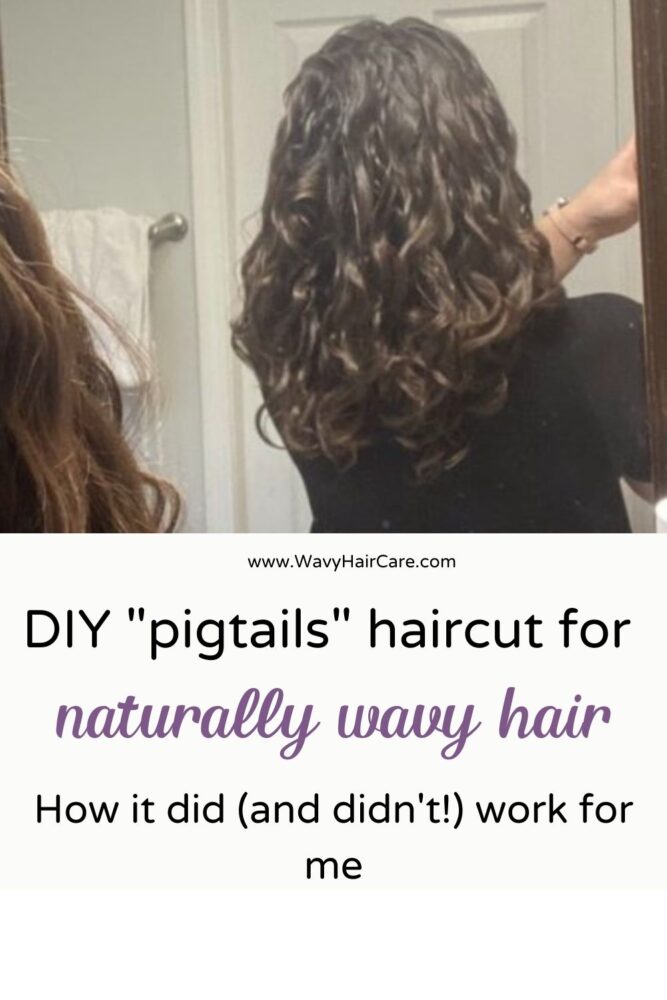 I had considered trying a regular wet cut at a regular salon, even though I had a series of awful haircuts basically my whole life prior to age 24 or so, when I started embracing my waves. I think the main reason why wet cuts didn't go as planned for me much of my life was due to not realizing that my hair was wavy and not understanding what techniques would and wouldn't work sell on my hair type. So I think I could get a successful wet cut now…but I decided to try a new (to me) type of do it yourself haircut, instead. The pigtail haircut that Manes By Mell has a tutorial on. I'll embed that video below.