My curl specialist experience last year
If you've been following me for a while you may recall my 2021 haircut. I saw a Deva certified stylist with over 20 years of experience and it didn't go well. In part, I didn't communicate as well as I should have. In part…the stylist just didn't seem to understand my hair type. The collage below shows my before (first row), my "just got home from the salon" (second row) and my first attempt to style it myself (third row).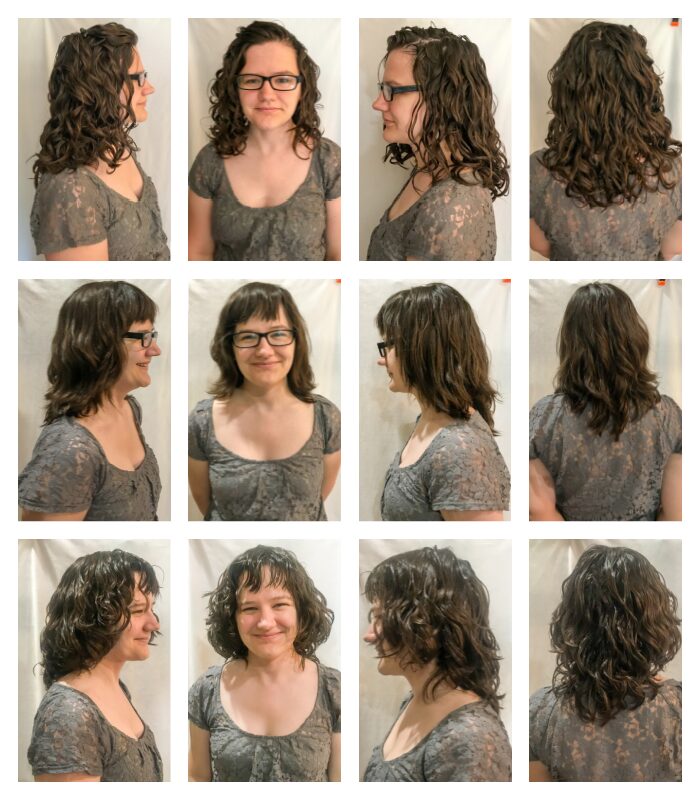 If you'd like to read more about my experience last year, see my blog post Getting A DevaCut On Wavy Hair [My Experience].
After that experience last year, I initially thought I'd go back to cutting my own hair again. After a while though I started daydreaming about trying a dry curl cut again. For a while I was thinking I'd try out a Ouidad cut or rezo cut rather than another Devacut. Then I found Locks By Alaina out of Grand Rapids, Michigan. She's a Deva certified stylist which wasn't what I thought I was looking for but…
Alaina has wavy hair herself, and her Instagram is full of clients who also have wavy hair. I was pretty immediately interested, but what really hooked me was when she posted something about how wavy hair often needs strong hold. If there's one piece of information that people seem to get wrong about wavy hair most often, it's the idea that wavy hair doesn't need gel or doesn't do well work hard hold.
If you go to the hair section of most any store and look for products that say 'wavy' you'll mostly find texturizing sprays or other very light hold products…so it even seems to be a prevalent idea in product marketing. Anyway…I knew she would understand my hair type, so I was pretty much sold.  Let me be clear that she doesn't advertise herself as a wavy specialist.
I just framed this post that way on my own, because I could see that she has more experience and knowledge with wavy hair than the other stylist I went to…and I think probably more than your average Devacurl specialist, but I am guessing.
Locks By Alaina Review
I was really happy with my experience seeing "Locks By Alaina"…for a whole bunch of reasons.
She customizes the experience to you. When making your first appointment you're asked to fill out a form sharing information about your hair, how you style it, sharing photos, expressing how confident you are in your routine right now and more. The just before your appointment you fill out another form asking you things like if you prefer a relaxing or fun salon visit, or how chatty you want it to be, if you'd enjoy a scalp massage while your hair is being washed or if you'd rather skip it and more.
I'll be honest, when filling out the form I kind of wondered if it would really be paid attention to, or if I'd still be asked these questions once I arrived. I would have understood if I was asked the same questions again in person, but I wasn't. She had clearly refreshed herself on my answers before my appointment which I thought was extra thoughtful.
She also just struck me as really considerate in general. In particular, I loved that she said "You'd probably like me to wear a mask, right?" and just went to get one seems how I was wearing one. Just a month or so prior I was at a dermatologist appointment and masks aren't required there but I was wearing one and the nurse and doctor both asked me if I "needed them" to wear one, and it feels a bit forceful to say 'yes' when they state it in that way. The whole mask situation is still controversial with big feelings all around…so I love that she made it a non-issue.
Customized Help For Where You're At
One of the things I disliked about my experience last year, was my stylist kept telling me really basic information about how to care for curls that I had already known for years. I said things like "Oh, yep I've been doing that for a while now." or similar to try to be kind but to also convey to her that I wasn't a newbie, but it didn't seem to help.
I probably should have been more direct and just explained that I had been doing this for a few years already and would love to learn more "advanced" info rather than basics…but I didn't really know how to do that without being rude. So, I love that Alaina's form asks you if you're brand new, or if you have some experience but have a lot to learn, or if you're pretty far along but looking for expert tips/tricks, etc.
She also asked me a couple of times if there was anything I was struggling with related to my hair, as a way of initiating conversations where she could give me customized help which was really awesome and resulted in me gaining some important info.
On Appointment Length And Hair Density
Part of the initial form tries to gauge how long your hair appointment will take. Alaina's system for determining the length of your appointment is listed by density, low density, medium or high density. After filling out the form and saying that I thought my hair was high density, and sharing pictures, I was told to make a medium-density appointment and that if we finished in less time she'd bill me for a low-density appointment.
This surprised me and concerned me a little bit because I was pretty sure I was high density, I knew there was no way I was low density, and didn't want her to accidentally give me an appointment time slot that wasn't long enough.  At my appointment she explained that she uses density as a general descriptor, and it is a factor in how long it takes to cut someone's hair, but it's not just density.
I'm not sure what those other factors are, unfortunately. However, she said my hair is very dense, but it only took 2 hours to cut so I was charged for the low-density appointment. Just thought I'd throw that out there in case anyone else is told to book an appointment that seems "off" vs their density.
You Get Full Attention
The entire appointment Alaina was working with just me. At my appointment last year, the curl specialist had an assistant who washed my hair and helped syle my hair part of the time. This allowed the specialist to have multiple clients at once, but it meant that I had less time with the specialist. I loved having the full 2 hours to talk to Alaina about hair…I think that time to talk to a pro can be as valuable or more as the haircut itself!
And even more customization
When she got ready to wash and style my hair she asked me what type of styling I was going for (such as a soft result or a long-lasting result). She even told me that if there were specific products she had that I'd like her to try on me that she could accommodate that, which was cool.
Oh also? I know sometimes people worry about DevaCurl products and the lawsuit, so they avoid Devastylists for that reason. I personally haven't used Devacurl products and would have been okay if she had wanted to use them. She didn't, though.
She used a lot of different brands on me, actually. They included AG, Innersense, Curl Keeper, Loma, and Authentic Beauty Concept. I didn't notice any DevaCurl brand products while there, but if that is a concern for you you could just ask her not use DevaCurl as she has others she can use instead.
At the end of my appointment she wrote down all the products she had used on me and the techniques used, so I could reference that information later if I wanted to. She also offered me samples of the products she had used so I could experiment with using them on my own at home.
Is It Worth The Money?
The stylist I saw last year was $80 (so I spent $100 with tip) and then I spent a year waiting on my hair to grow out. I absolutely felt like that was not a good use of money. My appointment with Alaina was $160 something, but that includes the tip. My appointment last year was about 30 minutes from my home, while this one in Grand Rapids was about an hour away. So I spent a bit more in gas.
Despite the haircut price being almost double, I felt like it was a good decision. I used this as my birthday present, and while it wasn't cheap, it helped 'fix' my grow out haircut from last year and I learned a lot. I plan to go back to her in the future, too. So, I'm happy!
I felt more seen and understood, not pushed or pressured at all – and I just felt more comfortable so I kept asking questions and chatting without hesitation. I wouldn't say that my stylist last summer had made me feel uncomfortable at all, but she just didn't seem to jive with me in the same way to where I naturally felt comfortable opening up. I'm sure a big part of this is personality-specific, but if you're on the shy or less assertive side like I am, I think going with Alaina could be a good bet!
Also, the first visit is more expensive because it's longer due to it including a lengthy consultation before she starts cutting your hair. After your first visit your appointment will be shorter because you don't have to spend that time getting to know each other. You can also skip having your hair styled after your first appointment if you'd like to.
My first visit was just under 2 hours which is why it was billed as a low-density cut. So in the future, if I'm willing to skip having her style my hair and am not looking to dramatically change my hairstyle, I should be able to schedule her "cut me curly express" appointment which is a 1-hour visit and costs $77 currently. Of course, her prices are always subject to change.
Plan Ahead!
If you're looking to get in with Alaina, do so as early as possible. She prioritizes her existing clients so it's a bit tricky to get your first appointment with her. I went on her waitlist and it took me a couple of months before I was able to snag an appointment. Now that I'm an existing client, it'll be easer to schedule my future appointments though.
The Results
Oops, I almost forgot to share my results! So, my hair wasn't screwed up this time! I will say that I did ask for a really minor cut this time compared to last summer, which probably reduced the risk of getting a 'bad' cut. I explained that I didn't want much length removed, but I didn't like how my existing haircut had a bit of a shag style with v-shape in the back.
I explained that my goal was to continue to grow my bangs out. She suggested having a really light trim of my bangs and some of the layerings around my face to help blend my bangs in with the rest of my haircut so that it would grow out more evenly rather than the bangs remaining a much shorter stand-out layer. I was totally fine with that. Then she also cut the back so that it was more of a U shape like I wanted. She didn't pressure me into anything beyond what I asked for.
The first row of pictures is before my locks by Alaina haircut. The photo on the left is while headed to the salon. THe photo on the right was about a week or so prior to that. I forgot to take a 'back of head' photo the day of, sorry.
The middle row is my hair after coming back from the salon. My hair was more loosely wavy than it is when I style it myself. She used a hard hold gel on me but she used less than I would usually use which is why it looked looser, I'm sure.
The last row is after I styled it myself.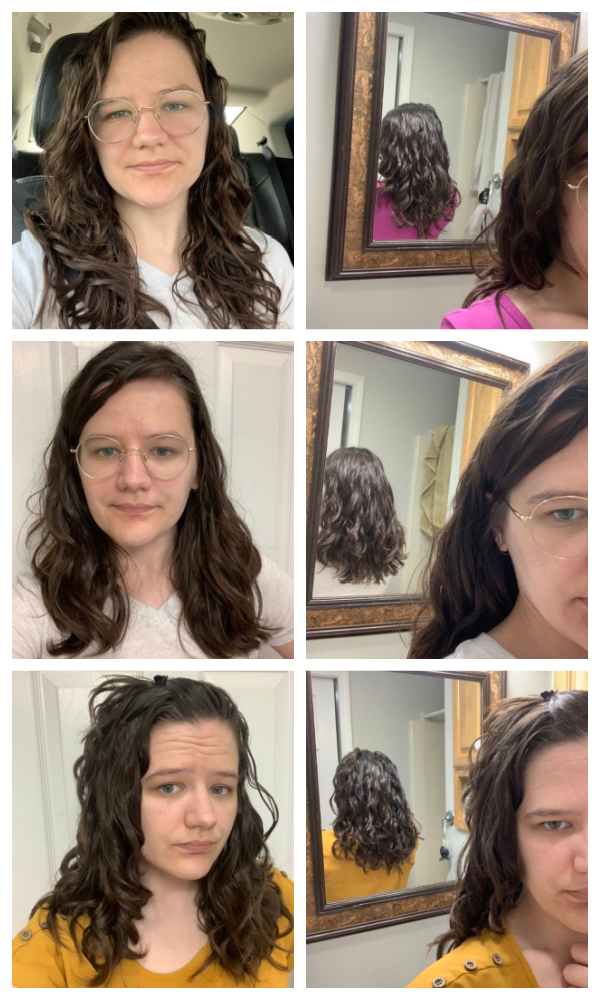 While not a drastic change, I walked out of the salon feeling like myself, and not feeling like I just ruined my hair, which wasn't at all how I feel last year. I also walked out of the salon feeling like my hair was cut only as much as I had asked for, rather than it being shorter than I wanted – which was my experience most of my life when getting traditional wet haircuts.
A Wavy Specialist Vs A Curly Specialist
I definitely now see the value in seeking out a curl cust specialist who has a lot of experience with wavy hair, if you're looking to get a dry curl cut on wavy hair rather than type 3 curly hair. Wavy hair is different than curly hair in enough ways that it's not necessarily guaranteed that someone who has tons of curl cut experience will know how to handle your waves.
I'd advise checking a stylist's Instagram account for their salon, or their other social media to see the before and after pictures of their clients. If you barely see any wavy clients, or if the only wavy clients they do post pictures of are nearly-curly that may be a sign that they aren't as familiar with waves. If you can find pictures of loosely wavy hair before and afters, I'd take that as a good sign. While not essential, I think seeing someone who has wavy hair themselves may be a good bet, too.
Where To Get A Wavy Curly Hair Cut In Michigan
I recommend Locks By Alaina!