There are affiliate links in this post.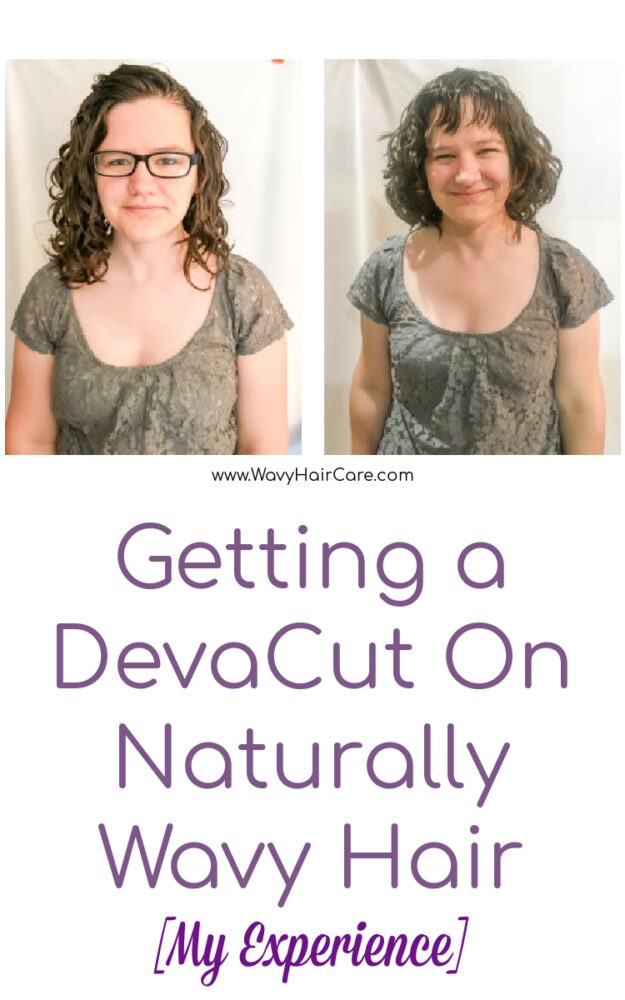 I started the curly girl method over 3 years ago now. A couple months after starting, I got a regular, wet haircut. Prior to embracing my waves, my hair was dow to my natural waist. I had grown it as long as possible to help weigh it down. I knew that when my hair was longer, it was less poofy.
After I started embracing my waves, that length was just way too much work, though. So I wanted a decent amount of length cut off. I just went to an affordable salon in my area called Cost Cutters. The cut looked poofy when I was leaving the salon, which worried me a bit.
However, after I washed it and styled it myself (with gel) the poof went away. After this cut, I began to notice how uneven my curl pattern was. Getting the excess length off my hair allowed the hair to the right side of my head to curl up tighter, but the left side didn't see much change. This left me with visibly curlier hair on my left side.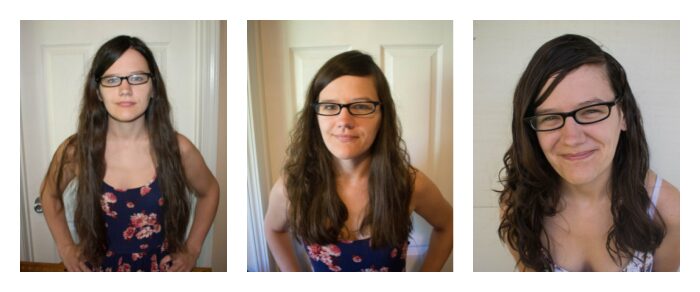 The left is before the wet cut, the center is after, ad the right is after I washed and styled my new cut myself.
For 3 years after that wet cut, I occasionally cut my own hair using a dry curl cut technique. The first time I cut my hair dry, I thought I was likely to ruin my hair. I had tried cutting my own hair as a teenager when I wore my hair straight, and it was always a disaster. So, I was impressed to find that I could dry-cut my own waves without ruining my hair. Plus, it was free!
So, I stuck with that for 3 years. I cut my own hair 3 times. The collage below shows before and afters of each of those 3 cuts. The "afters" are not immediately after I cut my hair, but were after I washed and re-styled my hair. When I first cut my own hair, it looks pretty straight and poofy until I re-style it again.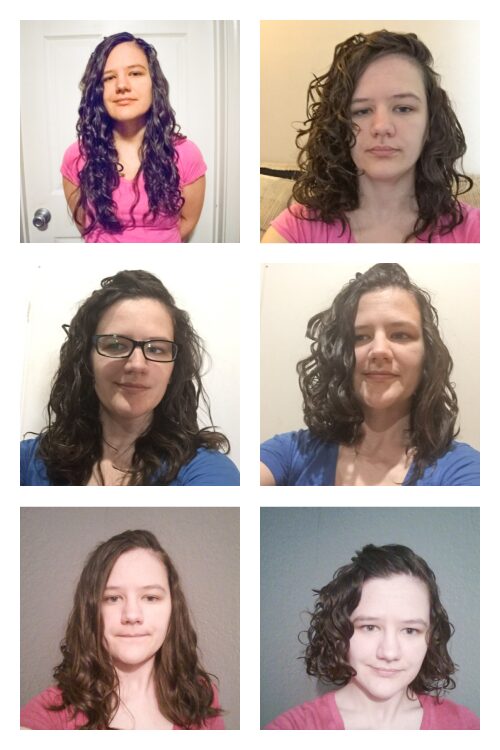 Also – sorry for over-exposing my face in these photos and in many others here on my blog. I know the pale-as-a-vampire look isn't particularly appealing, but if I don't increase the exposure of my photos, you can't really see the texture of my hair because it's so dark!
Anyway. I was pretty happy with the results I got from cutting my own hair each time. But, I also kept seeing experiences of wavy/curly haired people online, talking about professional dry curl cuts. Most of the ones I saw were DevaCuts.
I'd seen many times where newbies would ask "How should I get started with the curly girl method?" and others would reply that getting a professional curl cut was crucial to helping your texture.
So honestly? Even though I was happy with my hair, part of me wondered if I was really missing out on something. I wondered things like if my hair might hold better definition with less product, if it was cut in a way to intentionally enhance my waves. Or if there were some other potential benefits that I was missing out on, by not getting a curly cut.
This past winter, I started researching curl specialists in my general area. I live in a very small town so I knew I'd have to drive a little bit, but I was okay with that. I found four curl specialists who were all about 45 minutes away from my house.
I had seen online that some people with wavy hair try to see curl specialists who don't like to cut wavy hair, only curly or coily hair. So I knew I wanted to find a curl specialist who was experienced with cutting wavy hair.
I also had read that some Devacurl specialists ask clients to come in with nothing in their hair at all, while others let you style your hair. My hair has way less texture, and way less definition, if I don't use products. So I thought going to a stylist who was okay with me coming in with mousse in my hair was most ideal.
At the same time, I wanted the stylist to know that my hair looks different with product (gel or mousse) than it does without.
I got on Instagram and messaged multiple stylists that I was considering. I sent them pics of my product-free hair and my hair with product (example below).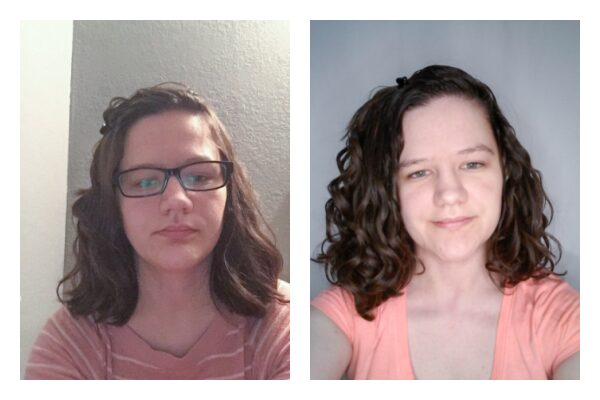 The photo on the left is my hair without using products, the picture on the right is with just gel.
I explained that my hair is a lot different with product than without, and asking if they thought my hair was wavy/curly enough for a curl cut, and also if they allow clients to use products when they arrive for their appointment, or not.
Not all of the hair stylists who I DM'ed messaged me back. Of those who did, only one said she was cool with me using mousse before arriving. She also happened to be the only hair stylist who I had heard good things about. Someone I went to high school with posted that she travels over an hour to see this stylist because she does such a great job.
Between seeing someone I know say they like this stylist, and the fact that she was okay with me using mousse before my appointment, I was heavily leaning towards choosing that stylist already. However, I didn't see tons of before/after pictures of curly cuts from this stylist, and those that she did post were often really curly hair.
Or sometimes they'd be wavy hair, but they'd get their haircut in styles that just weren't my style. Where one other stylist who I had followed posted tons of curly cut before/afters and they all looked like cuts that I personally would like.
I kept following those two stylists on social media pretty closely, trying to make up my mind for a while. What finally sold me on the one stylist was she said that most of her curly ct clients are type 2, wavy-haired people, not type 3 or 4. She also shared how long she had been doing curl cuts.
Realizing how much experience she had, and how much wavy experience she had, was what really sold me. I booked an appointment with her. I wanted it to be on my 30th birthday, but she was booked up (even though I was trying to book 3 weeks early). So, the appointment I got was the day after my birthday.
I booked a curly cut as well as a consultation, which just adds 15 minutes to your appointment time, to give you time to discuss your hair and your hair cut preferences, etc.
DevaCut before and after on Wavy Hair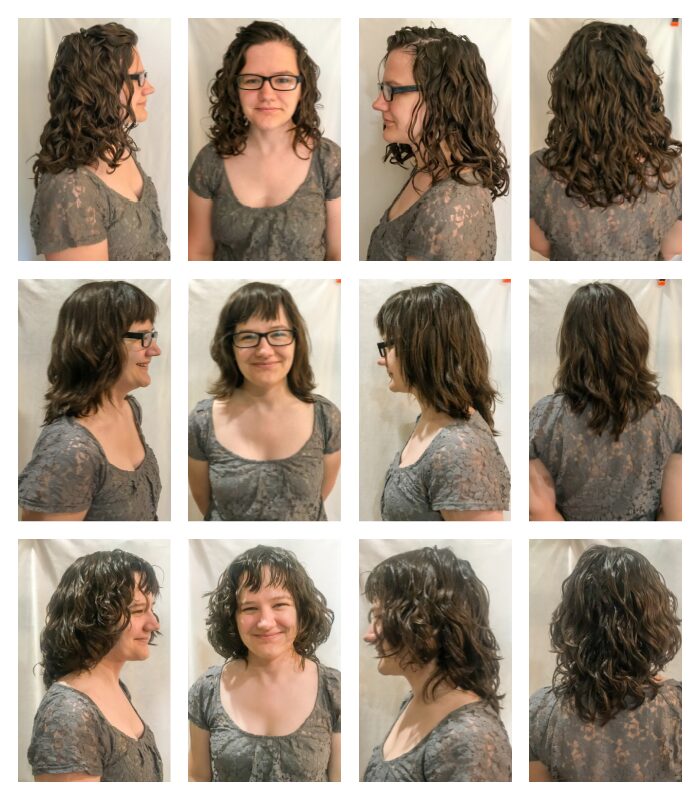 The first row was right before leaving for my haircut appointment.
The middle row is right after getting home from my appointment, so the results show there is what happened when the stylist cut and then re-styled my hair.
The third row was after I re-washed and re-styled the hair on my own, the same day. She used a sugar spray rather than a gel or a mousse.
After cutting and styling my hair, the Deva-certified stylist that I went to told me that she felt bad that my hair looked straighter than when I walked in. She said her clients 'always' have their hair curl up better after she cuts it. During the consultation, before my cut I had told her that my hair really needs mousse or it looks straight and poofy.
She had asked if I use a LOT of mousse like a big hadful, and I said yes. Anyway, after it was cut, she said "I don't know why it didn't curl up after the cut…maybe it's that 'handful of mousse' thing?". She explained that the brand of products she uses (Mizani) doesn't sell a mousse, and she never uses gel on fine-textured hair as it usually is too heavy.
Initially, I agreed. I had never used a sugar (or another texturing spray) on its own before. However, it made sense to me that a sugar spray wouldn't have enough hold to support my waves.
I know from experience that my hair does best with hard-hold products. I was a little concerned about the overall shape, but I had hope that my hair would look fine once I got home and styled it myself using gel or mousse.
Yet, when I got home and styled it in my typical way, it looked worse, in my opinion. I tried to style it the same way that I had styled it that morning before my cut. I used the same mousse, and diffused in the same way.
The mid-level layers puffed up with really big volume, while the longer layers towards the back didn't shrink up nearly as much. This caused the sides to look quite poofy, and the back to look disconnected from the front and sides.
The next time I styled my hair, I tried styling it while diffusing the back first (so it would hopefully shrink up most) and the sides last, and not as long. I used to always diffuse until at least 85% dry. I decided to try to diffuse until about 50% dry, to reduce shrinkage.
Those technique changes do help reduce the poofiness of the mid-level layers, and assist with making the haircut look less disconnected. However, I still am really unhappy with the shape, 2 weeks later. Here are results from different wash days.

I think the reason I don't like the haircut, at least in big part, comes down to a miscommunication. I had told my stylist that I like big volume, and I like rounded haircuts. I made the collage below to try to show you guys what I meant.
I meant that I like when my hair falls in a proud shape and my waves sort of stack on top of each other, like in the photo on the left, especially on the left side of that left photo. I meant in contrast to when my hair all seems to fall more at one level, like the photo on the right. This rounded shape in the left photo is what I was hoping to embrace with my new haircut.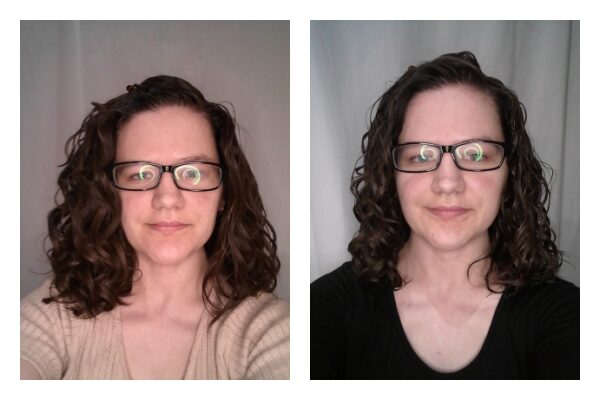 After calling my new haircut a "mushroom head" haircut, it hit me that perhaps she thought I meant "rounded" in a different way than I meant it. Maybe what I think of as a mushroom shape is what she was thinking I meant by round. I think that makes sense in a way.
I also really regret the bangs. I suspected going in that she may recommend bangs to me. Prior to this haircut I always used a clip, so others have suggested bangs to me, too. It would keep me from having to pull that section of my hair back.
She also had said that having bangs would help even-out my hair more, because I was used to parting my hair on the side. The curlier side of my hair was the side that I used to have more hair on, so that was amplifying the imbalance. I knew all of this was true going in, so I predicted she may suggest bangs to me.
Because I had followed her on social media for a few months, I really felt confident in her abilities. So I told myself that if she recommended something strongly to me, that I should trust the expert ad go for it. So when she did suggest bangs, I agreed.
However, I now realize that I shouldn't have. I had bags as a little girl but not since I was about 12 or so. I should have known that having bangs just isn't my style. I have trimmed the bangs slightly since she cut them, as I did have a few pieces that were really wonky at first.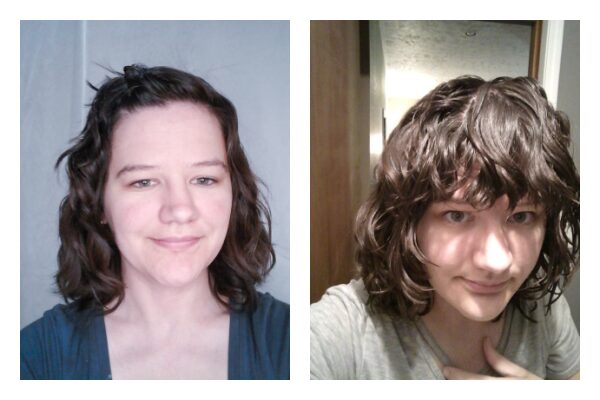 I have tried to pull the bangs back, and I do like that look better (shown on the left, above)..for the 5 minutes or less that it will stay. However, the shortest part of my bangs is an inch and a half long. They're just too short to stay laid down in a clip very well. The stylist had suggested before I left the salon that my bags would curl up more once I styled them myself.
So, although my original instinct was to avoid putting products in my bangs, one day I did use gel in them. That photo is on the right, above. They did slightly curl up whe I used gel with them, but they made pretty odd shapes.
Overall…I am now almost 3 weeks out from my devacut, and I still regret it. Which sucks! I don't really like my washday results, but my day 2 results are a lot worse. I've always lost definition and curl on day 2, but with this haircut, my hair really loses its shape a lot more, and gets a lot poofier.
To keep my hair wavy, I'd want to be washing it every single day, which is just too much work. Also to get results I am okay with, I can only diffuse my hair about half way dry, so it doesn't shrink up too much and cause the mid-section to be too short and poofy vs the back.
However, if I only diffuse halfway, that means I have to have wet hair for several hours, as if I diffuse half way, I have to wait about 3-4 more hours after that before my hair is dry. That's really time-consuming!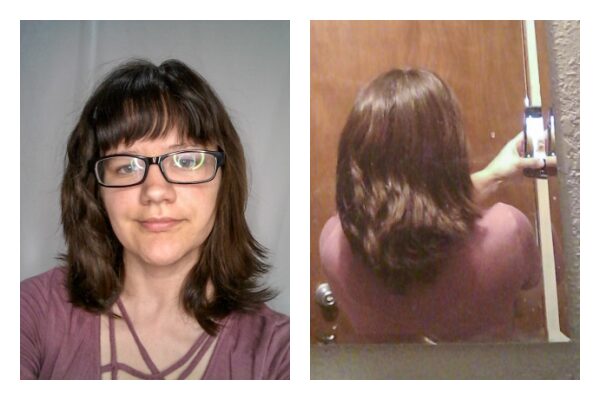 Above is my hair post devacut without any products in it, and brushed out. 
Most days I just am washing my hair and not using products. I don't like how it looks that way, either. It has sort of random lumps and bumps. I think I would like how it would look if I straightened it but I've avoided heat for 3 years now and my hair is far healthier than it used to be. So, I hate to go back to using heat and damage my hair again.
I know I will be a little happier with the look once my bangs are long enough to stay clipped back. For now, I am mostly just accepting that I can't do anything with my hair that I'd be happy with.
How I benefitted from my "bad" DevaCut Experience
Although I am unhappy with the cut…it wasn't a total loss. I did benefit from the experience. In multiple ways, even!
When I first met my stylist, she commented on how shiny my hair was, and felt my hair. She said "clearly what you're doing is working for you! Tell me about your products" so I did. This felt like a particular compliment coming from her, because online she often posts about "cheap products".
I thought this was sort of typical for most hairstylists, to be anti-drugstore products, and to push salon-level products only. It was cool that I use cheap products (I had been using NYM Curl Talk Shampoo (Walmart/ Amazon) and Giovanni Smooth As Silk conditioner (Walmart / Amazon) leading up to this appointment.
I also was doing weekly protein treatments with this SM mauka honey & yogurt protein mask (Walmart / Amazon), and clarifying monthly with Neutrogena anti-residue shampoo (Walmart / Amazon) and that she recognized that these cheap products are still keeping my hair healthy.
For quite a while I had believed my hair was healthy, but it was nice to hear it confirmed by a professional.
I got a professional opinion of my hair type. I did have to ask about this, but she gladly answered. She said my hair texture is fine, but that I have an "overabundance" of hair (meaning it's dense or very dense). I had a microscopic hair analysis done a couple of years ago.
That company told me that my hair was mostly "normal" thickness, but some thick and coarse, as well. That information had never made sense to me because of how my hair is low porosity, but loves protein. Typically it's high porosity and/or fine hair that likes protein…so it didn't make sense why my hair liked protein. Hearing that my hair is actually considered fine, made sense.
Advice:
If you're looking for advice on how to make your dry curl cut experience better than mine, I have another post on that. advice for dry curl cuts on wavy hair.
Update, a year later. I saw another Devacut stylist who has more experience with wavy hair. You can read about my Wavy DevaCut experience in that blog post.