There are affiliate links in this blog post.
What Causes Wavy Hair Breakage?
Bleach damage is the most damaging thing you can do to your hair. Once you have bleached your hair, think of it as significantly weaker than it used to be. It got somewhat damaged in th e process of bleaching, but it'll also continue to receive more damage now, because it is weaker your hair will become more damaged by the sun, mechanical damage, shampooing, etc than healthier hair would experience.
Chemical treatments like perms or straightening treatments do significant damage to the hair as well, second only do bleaching.
Heat damage such as using a curling iron or flat iron.
Mechanical damage from combing, brushing, friction from hats, pillows, etc. When you comb or brush, doing so with a wide tooth comb first and working from the bottom up can help minimize breakage. Try to avoid "tearing through" knots.
Sun damage. Bleached hair or naturally light hair (whether blonde, gray or silver/white) are more prone to damage from the sun because it has less melanin and melanin is made of proteins that protect hair from UV damage.
Too much protein. If you use way more protein than your hair needs, this can cause your hair to become so brittle that it can break.
Shampooing can be damaging, primarily to hair that is high porosity.
Medical conditions such as thyroid problems, malnutrition, extreme stress or some scalp conditions can lead to breakage.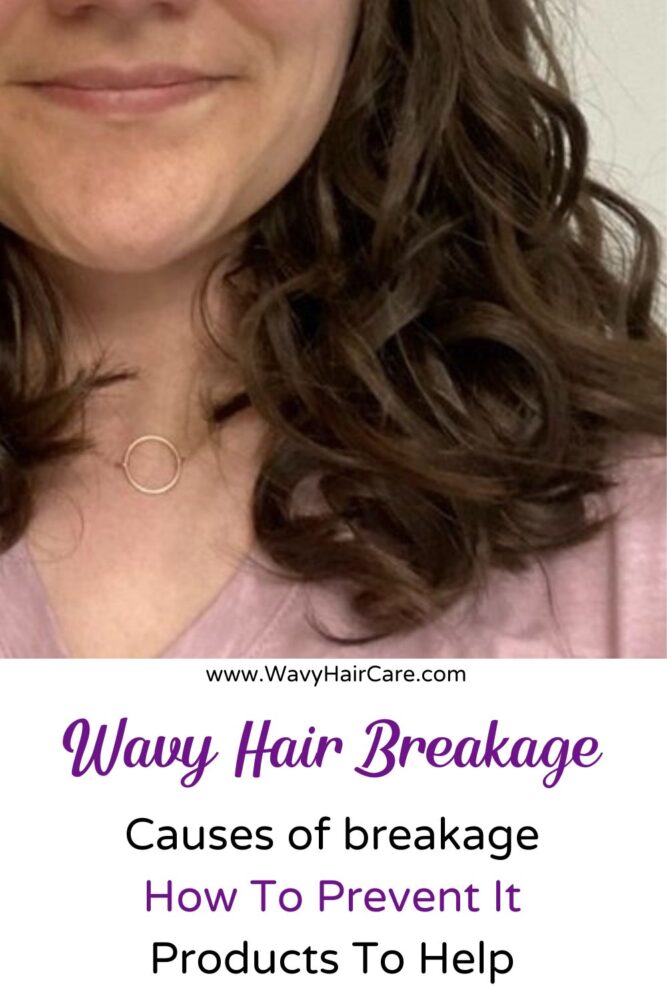 What are the signs of hair breakage in wavy hair
Split ends. If you look at the ends of your hair and can see pieces that have split in two, then those hairs are typically highly damaged and prone to breakage.
Fly-aways. Lots of small hairs which stick up around your roots or crown
"Baby hairs" that weren't cut into layers but aren't long enough to fit in your ponytail like the rest of your hair
Your hair feels rough. Sometimes thick or coarse hair strands naturally feel less soft than fine or average-thickness hair strands. However, if your hair used to feel softer and now feels more rough, that's a sign that it's become higher porosity and is more prone to breakage now.
How To Avoid Or Prevent Wavy Hair Breakage
Avoid bleaching or lightening your hair.
Avoid heat tools as much as possible.
Use heat-protecting products and use lower heat settings if you use heat tools on your hair.
Use UV protection products if you spend time in the sun. This is particularly important for people with bleached hair, naturally blonde hair or white hair.
Sleep on a satin or silk pillowcase or use a bonnet, cap or scarf. This sleep cap from Amazon is my favorite sleep cap.
Opt for satin-lined hats when possible. I ordered this winter hat for myself last winter and loved it.
Keep your hair well-balanced with moisture and protein. 
Comb, brush and detangle gently
Eat a healthy diet, consider supplementing with a multivitamin or prenatal vitamin. I had a dermatologist tell me that prenatal vitamins are better for hair than multivitamins or hair/beauty-specific supplements. I take these Naturemade prenatals and I buy them on Amazon as they are a bit cheaper online than in store, at least in my area.
Use silk or satin hair ties and put your hair up gently rather than tightly.
Clarify and/or chelate your hair regularly to avoid dehydration from product buildup. I like Suave Daily Clarifying shampoo for clarifying if you have soft water ($1-2 at Walmart and similar retailers) or Malibu hard water wellness shampoo (link goes to Amazon) for clarifying and chelating if you have hard water.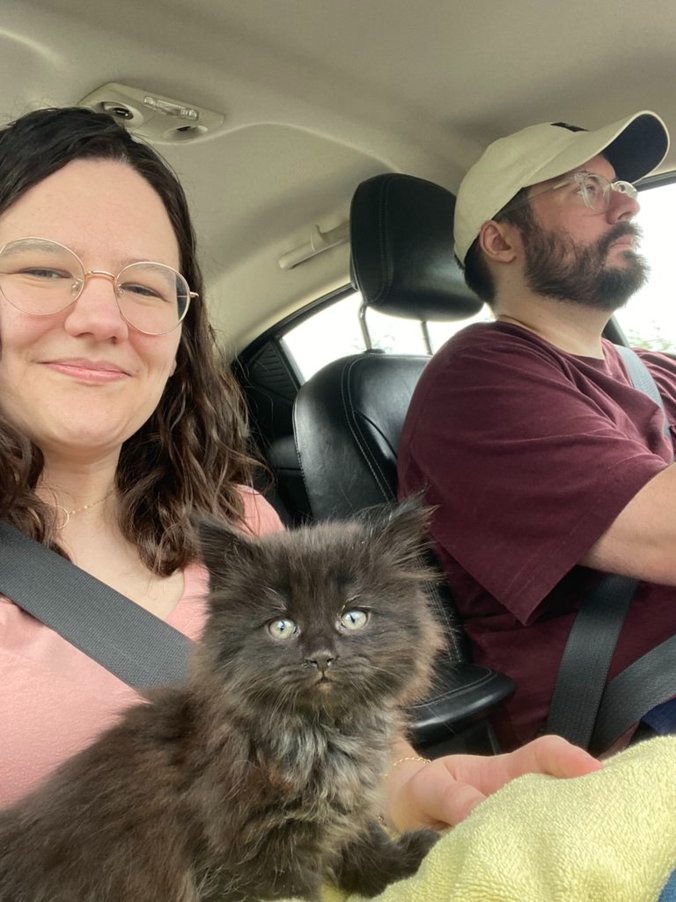 We got a kitten!
Products that strengthen damaged hair
I personally don't believe that any products on the market truly reverse damage. You can read my post about Olaplex and other so-called bond-rebuilding products if you'd like, for a more detailed explanation.
In short though, while I don't think that you can take damaged hair back to it's pre-damaged state, I do believe that you can strengthen your hair by protecting it with the right products now, to prevent additional damage in the future. If you have hair that has been bleached or highly damaged, it's going to absorb a lot more damage from milder actions like sun exposure and combing and brushing than healthier hair would receive. If you use protein-containing products or others that help seal the hair from the outside in, this can strengthen the exterior of your hair and reduce the amount of damage from these acts.
When using protein products to strengthen your hair, make sure you're aware of the moisture-protein balance and are not using too much protein as that can cause damage as well.
Olaplex #3
Curlsmith Bond rehab salve (Amazon link)
Aphogee two-step protein treatment (Amazon link)
How to reduce the visibility of breakage in wavy hair
Use gel! Gel is great for helping broken hairs clump together with longer hairs.
Moisturize your hair. Keeping your hair well moisturized can help mid-length hair stay down, while those same hairs might be more prone to sticking up or out if they get too dry.