If you've been following the curly girl method or otherwise embracing your naturally wavy hair, you may not want to change it up on Halloween. Maybe you want to find a Halloween costume idea that let's you show off your natural hair still!
I know it's early in the year, but I know some people like to plan their Halloween costumes early, so I thought I'd get this post out well in advance.
In my mind, there are two main ways you can show off your waves on Halloween. One is by choosing a character that has wavy or curly hair to dress up as. The other is to take a character to typically has straight hair, and rock your waves anyway! In some cases, that may bring even more attention to your hair because it will be your own unique twist on the character.
I'm going to be embedding inspiration for these costumes that I've found from Instagram. Particularly if they are wavy/curly hair accounts, feel free to show them some love!
I also wanted to mention that I'm aware that several of these are people with curly hair rather than wavy hair. I included curly haired examples for a few reasons. In part, there just aren't as many examples to be found that are of people with wavy hair.
Also in part, the odds are high that even if I just included wavy haired examples, your curl pattern may still be different. These are intended to be used as general inspiration, not necessarily to be perfectly recreated. Part of embracing your natural hair is embracing your natural hair as it is, right? And it won't perfectly match anyone else's.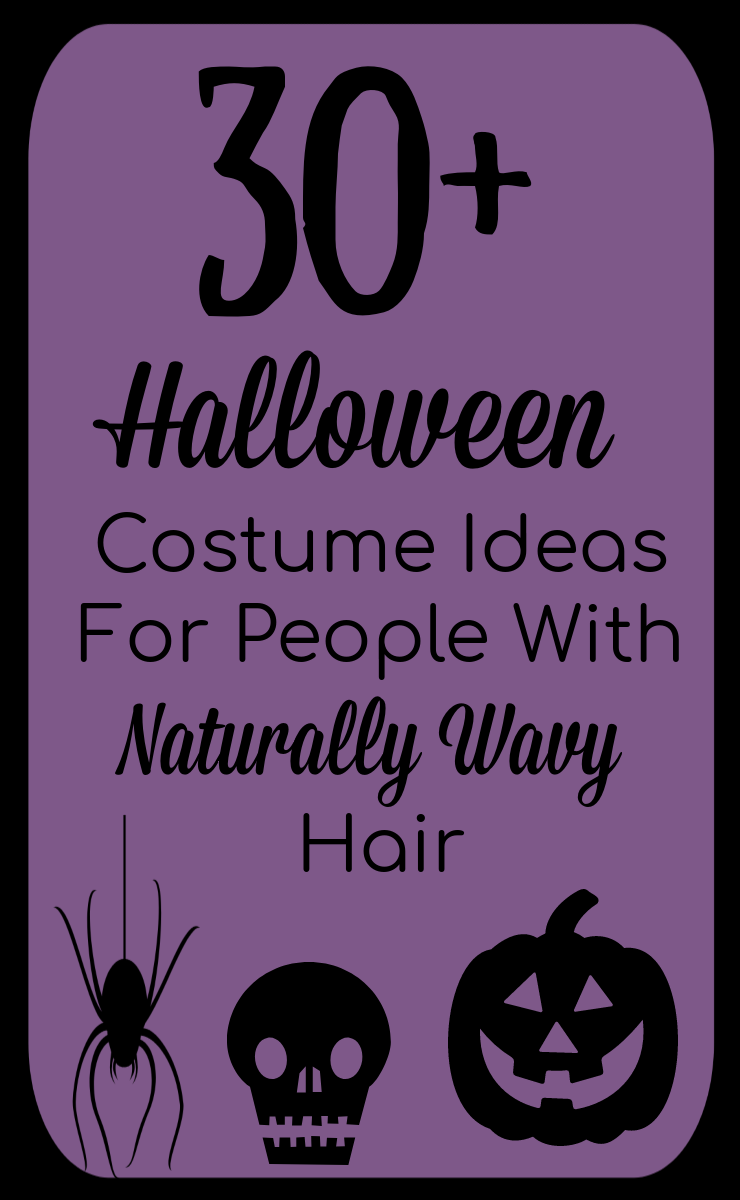 Halloween costumes for naturally wavy hair
View this post on Instagram

Mrs frizzle. The curly-haired teacher from the magic school bus has orange curly hair making this especially perfect for red heads. I love how she wears really fun, colorful dresses. A really fun accessory to complete your costume would be a stuffed lizard, remember her pet lizard named Liz Ard?
Liz was often found on Mrs Frizzle's shoulders so you may want to find a way to fix a stuffed lizard to your shoulder!
[I love how @prgirlsilvercurls rocked her hair color with this costume!]
View this post on Instagram
Bettlejuice! Bettlejuice has such awesome, wild hair. When you have naturally wavy or curly hair it's easy to make it look a bit 'wild'. Of course, you'll need to be willing to sacrifice your typical style for the day, but I thought this one was really fun. Definitely eye-grabbing!
View this post on Instagram
Hermione Granger is a character who is likely to come to mind quickly when thinking of curly haired characters. I sometimes see her referenced as a "I don't want to look like…" example. However, I think @Curlicu_lu did a fabulous job of showing how you can be a gorgeous Hermione on Halloween without making your hair "messy".
View this post on Instagram
I'll confess that I've never watched Sweeny Todd, though I've heard of it. When browing Instagram for wavy and curly Halloween costume inspiration, I just thought this one was too gorgeous to not include. Plus, even if I haven't seen it, I'm sure many of you have!
@curlfrann even shared in the caption what cosmetics she used if you want to try to borrow her makeup look for the costume.
View this post on Instagram
A second one from CurlFrann, this Edward Scissorhands costume! As her caption points out, this one would work well if you want to dress up on a non-wash day seems how you want to make it messy anyway.
View this post on Instagram
A THIRD one from CurlFrann (you really should check out her page!). I love this dark take on Sleeping Beauty, and it works gorgeously with curls.
View this post on Instagram
All three witches from Hocus Pocus have textured hair so this could even be a fun one to do with friends (As @frizzandfrillzz actually did! Click here to see her with the two other witches, I just thought this up-close one showed her in much better detail). Her hair is not typically red but she used hair makeup for this costume!
View this post on Instagram
Classic costumes can work great with wavy or curly hair a lot of the time! I love how her silver hair pops against the red, black and gold colors in her pirate costume.
View this post on Instagram
While Sally Skelington has straight hair, I love how this woman wore her natural hair as Sally. I think it draws more attention to her hair and just works really well. I think it goes to show that you don't have to straighten your hair to pull of a character that has straight hair.
View this post on Instagram

Of course, Medusa is a fun character that brings a lot of attention to the hair. I love how @za_noodles used gorgeous makeup and some hair accessories and jewelry to pull this look together with her curly hair. It highlights her natural beauty while still feeling like a pretty involved costume, clearly lots of thought went into it – yet it's fun!
View this post on Instagram
Anger from Inside Out. I have no shame in admitting that I'm a 30 year old who really liked the Inside Out movie! I even cried at one point. I've always enjoyed Lewis Black, and so naturally I enjoyed the Anger character.
@curly_Katies had a really pretty take on it, I think! She used hair paint, too. This is a great reminder that you don't have to stick to characters that match your gender. This one could easily be made into a group costume, too.
View this post on Instagram
If you're looking for a costume you may be able to make from items you already have..this Rosie The Riverter costume may work! A blue shirt, a red bandana and your natural hair is all you really need.
View this post on Instagram
If you're still sad that the game of thrones Tv show is over (I am!) you can bring back some of the joy by being some of the characters. I liked these takes on Jon Snow and Daenerys. This Instagram post is a slideshow showing LOTS of curly costumes so hit the little white arrow to flip through and see more wavy or curly costumes.
View this post on Instagram
Merida from the movie Brave is another character who quickly comes to mind when I think of curly haired characters. If you buy a Merida costume, it'll almost certainly come with a big red wig. On Instagram I found this one showing natural hair which I thought looked great!
View this post on Instagram
Mermaids are a perfect fit for wavy hair! Especially if you have long hair. When I picture a mermaid it always has long, wavy hair.
View this post on Instagram
The Mad Hatter from Alice In Wonderland is often seen with really wild hair. It can be a gorgeous costume idea for naturally wavy hair. I love this feminine take on the mad hatter!
View this post on Instagram
Fellow 90's kids – remember the Wild Thornberries show? Debbie had naturally wavy hair, making this a fun costume idea if you have naturally wavy hair.
View this post on Instagram
Dustin Henderson from Stranger Things has wavy hair. Plus, who doesn't want to black out their front teeth for a costume? Haha!
View this post on Instagram
For shorter hair, Froddo from Lord Of The Rings is a fun choice.
View this post on Instagram
The Joker is a great "darker" dress up choice. You can even choose between different versions. In the 2019 movie he had wavy hair that was sort of slicked back. In The Dark Night it was shaggier but still wavy.
Cartoons, celebrities and other popular figures with wavy or curly hair
Taylor Swift
Madonna
Shirly Temple
Little Orphan Annie
Chuckie from the rugrats
Daphne from Scooby Doo
Didi from The Rugrats
Marge from The Simpsons
 Mia from Princess Diaries
Sandy from Grease
Dorothy from wizard of oz
Beyonce
Black Widow
If you've worn your natural wavy or curly hair in a Halloween costume, I'd love to add it to this post if you'd like to send it to me. If you have an Instagram or other social media account you'd like credited, let me know and I'll link it, too. You can email me your costume picture at WavyHairCareBlog [at] Gmail.