I started the curly girl method when I was 26 years old. Up to that point I thought my hair was straight and treated it like straight hair. My whole life, I always thought I lost a lot of hair in the shower. When I started the curly girl method, the amount of hair I was seeing in the drain scared me.
Does the curly girl method make your hair fall out?
The curly girl method shouldn't cause hair loss. If you are new to using gel or other products with hold, it will seem like you are losing more hair in the shower because it doesn't fall off your head between showers. This can cause your normal hair shedding to be more visible to you. 
I now understand that the curly girl method never increased the frequency of my hair loss. Honestly, it's not even proper to call it hair loss. It's really just hair fall or hair shedding.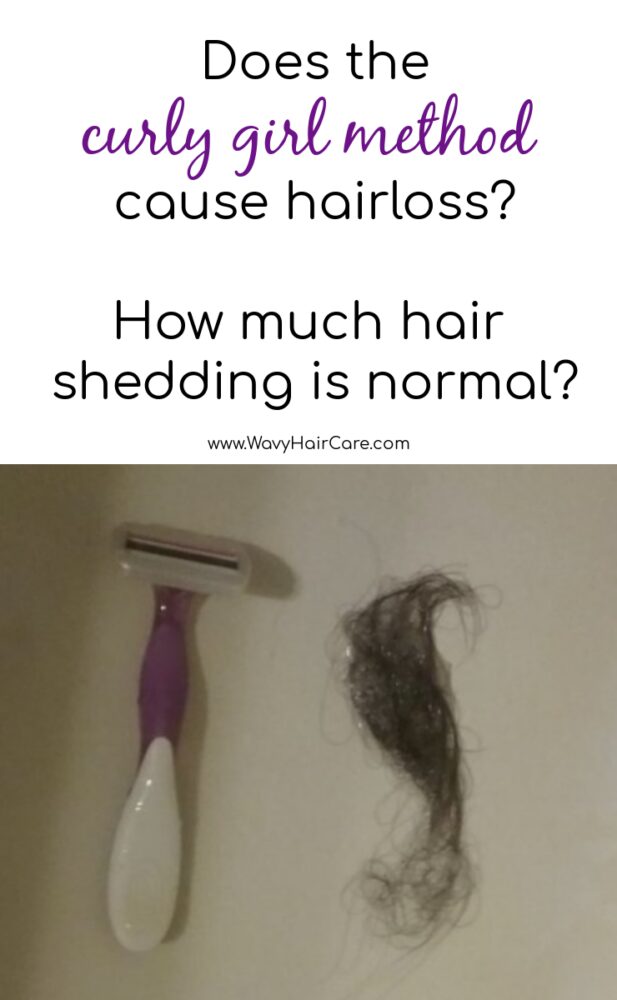 How much hair loss is normal?
According to the American academy of dermatology, about 50 to 100 hairs being shed every day is pretty average for adults. Hair loss in humans is seasonal, we lose more in the fall and spring than other times of the year. 
The average adult has about 100,000 to 150,000 hairs on their head. Interestingly, how many hairs you have correlates to your hair color!
100 hairs a day is very minimal when you consider that you have over 100,000 on your head. This is just a natural part of the lifecycle of hair growth and shedding.
While 50 to 100 a day is the average, it can vary from day to day. Like other mammals, humans lose more hair in the fall and spring than at other times of year, with the most loss being during the fall.
Why The Curly Girl Method Makes It Look Like You're Losing Hair
The curly girl method can make it seem like you're losing hair because you see your hair fall more in the shower. When you stop brushing your hair, you don't lose loose hairs into your brush. When you start using gel, it keeps fallen hairs trapped in your curls until you shower. 
Prior to following the curly girl method, I was brushing my hair and I wasn't using gel or mousse. Those two changes can make a dramatic impact on how much hair you see in the shower.
When you brush or comb your hair, it helps pull out any hairs that have shed from your scalp but haven't yet worked their way out of your hair. When you stop brushing or combing your hair, they are more likely to stay in your hair longer.
Before using gel or mousse, I played with my hair a lot, ran my fingers through it, twirled it, etc. This also would help those shed hairs fall out. Now I try not to touch my hair to avoid introducing frizz, and that means less chances for those loose hairs to fall to the ground.
Prior to the curly girl method, I didn't use gel or mousse, and now I do. Gel and mousse help define my waves, basically locking a few hundred hairs into a single group. If a hair is shred in the middle of a curl clump, but the curl clump is holding together, it will hold that loose hair in place until you brush, comb, or shower your hair.
Using gel or mousse also keeps individual hairs from moving freely from other hairs, so wavy or curly haired people often have fewer hairs fall onto our shoulders, clothing, bedding, etc. They just stay on our head more instead of falling around in our environment.
It's a bit gross, but before the curly girl method, I would sometimes see my own hair in my dust pan after sweeping. I would shed hairs when walking around he house and sweeping would gather a few of them up at once where I could see them. Since starting the curly girl method, I no longer see my own hair in my dust pan. My hair just isn't falling into my home the way it used to before I used gel or mousse.
I also wash my hair less frequently now. I used to wash my hair every single day. Now I wash my hair every third day. So by the time I do shower, there is more loose hair trapped on my head than if I were to shower everyday.
All of these factors add up to result in a lot of hair falling loose in the shower when following the curly girl method. It's not that you have lost more hair than you used to, necessarily. It's just that it's all coming off your head in the shower so you see it all at once.
What 100 hairs looks like
Okay, so you heard that losing up to 100 hairs a day can be normal. But what do 100 hairs look like, right?
It's important to remember that the visual appearance of shed hair can vary depending on length and thickness. If your hair is coarse, it will be more visible than fine hair, making your shred hairs look like a more significant pile. Same thing with the length of your hair. If your hair is twice as long as mine, then 50 of your hairs is going to look about twice as big as a pile of my hair.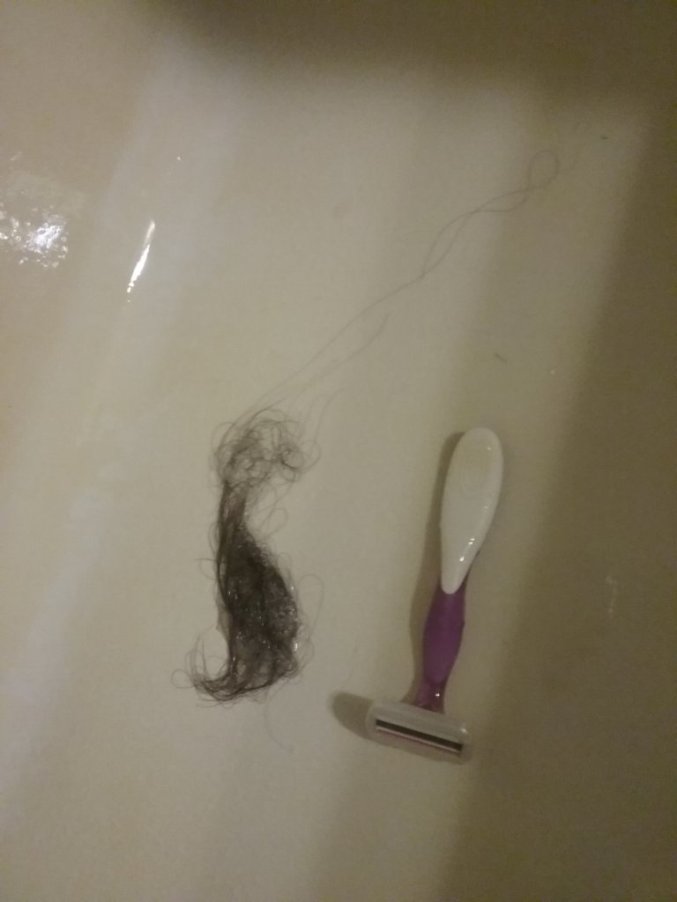 This is my rather standard sized women's razor, for scale because when I took a picture of just the hair it didn't look very big, and it's a BIG hair wad. It's thick enough each wash day that I have to move it from the drain cover or the shower will start to fill up like a bath as it totally plugs the drain. 
Still, I thought I would share my shower hairball to give a rough idea of what can be normal. My hair is about armpit length and my strands are medium to thick. This is my shower hairball from a recent wash day. I had only gone two days between washes, and I didn't have a good cast from my mousse. Part of my hair felt "too soft" so I think I could have shed more hair into the environment than usual.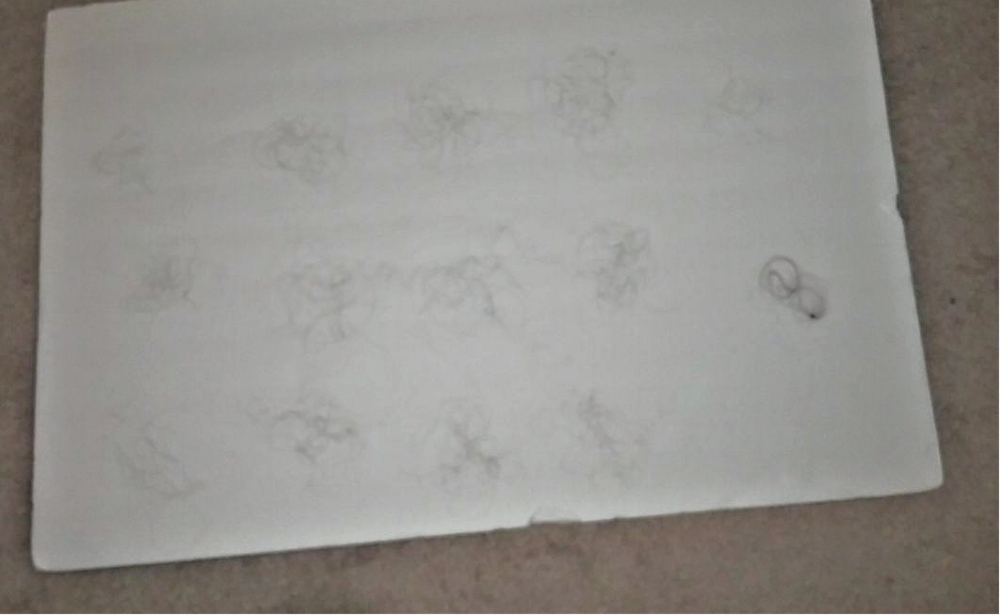 Each pile (Except the one on the far right with a knot in it) is 10 hairs. 
I gathered it up, let it dry out and later counted the hairs. Yes, it's gross. I see this question about hair loss a lot though, and I know it gives people a lot of anxiety. So, I did this to try to help ease some fears. I took the dried out hairball and counted out 10 hairs, and made new piles. I got to 13 piles of 10 (130 hairs) and then I was left with a small wad that had a knot in it.
The knot was too small  and tight for me to work around, unfortunately. I would estimate that this remaining hairball had about 20-30 hairs left in it. Making my overall total something like 160 hairs. In the picture below, I took 10 of the 10-hair piles and made a tight ball out of 100 hairs to show you what a 100-hair hairball looks like, at least with my hair length and thickness.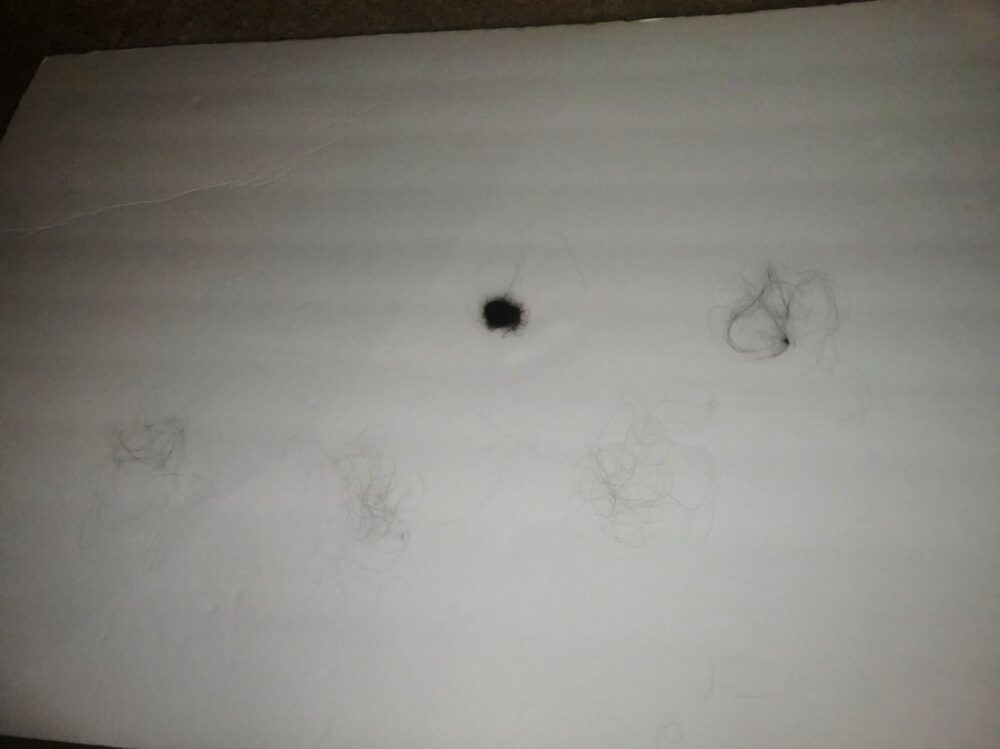 It's interesting how much harder to see the hairs are once they are dry! Anyway. I pulled roughly 160 hairs out of the drain that day, after 2 days between washes, or roughly 80 hairs per day which is pretty well in the middle of that 50-100 hairs lost per day average.
Of course, if I went longer between washes, the amount of hair I would lose in the shower would be significantly higher. Many people who follow the curly girl method go a week between washing. If I did that, I'd have a hairball about 3.5x this size! It would seem really excessive, even though it would not be in that situation.
I've been having lots of hair in the shower like this every wash day since I started the curly girl method, over 2.5 years ago. I still have quite thick hair, no thinning anywhere.  I have not experienced any hair loss, just natural hair fall or hair shedding.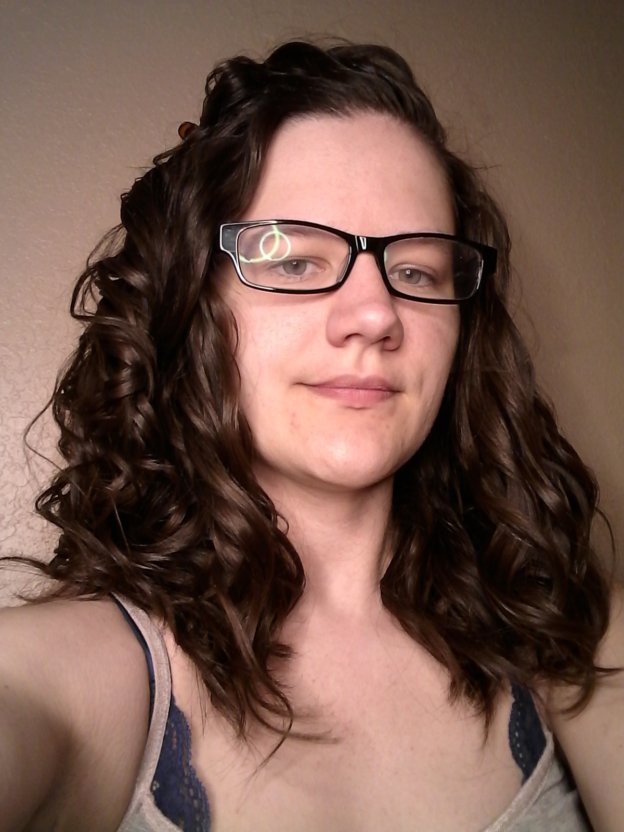 A picture of me last week, over 2.5 years into the curly girl method. Despite having big hair balls in the shower regularly, I have no hair thinning.
Causes of true hair loss
Most people will find that the curly girl method just made their natural hair fall or hair shedding more visible to them in the shower. However, others may truly be experiencing hair loss or hair thinning.
A major marker for detecting true hair thinning or loss vs natural hair shedding, is when the thinning is visible. If you can see more of your scalp than you used to, or you have bald patches, that is a reason to suspect hair thinning or loss. Some causes of hair loss:
Hormone changes. Almost anything that can cause a big change in your hormones can cause hair loss. Pregnancy, childbirth, starting or stopping hormonal birth control can all potentially cause hair loss. Major weight gain or weight loss can also cause dramatic hormone shifts and result in hair loss. For example, people who have weight loss surgery often have hair loss.
Vitamin deficiencies can cause hair loss. Lacking iron or vitamin D, in particular, can cause hairloss.
Genes. Male and female pattern hair loss is simply attributed to genetics and age.
Alopecia is an autoimmune disorder where the body attacks it's own hair follicles causing hair loss.
Medications or treatments like chemotherapy.
Thyroid disease: If your thyroid is imbalanced it can cause hair loss. This is related to hormones.
Scalp psoriasis. If you have psoriasis on your scalp, it can cause hair loss in the areas where the psoriasis is.
Scalp infection. Sometimes people can develop infections on their scalp that can cause hair loss.
Traction alopecia. If you regularly wear your hair back in a tight style the friction caused by pulling your hair back can cause hair loss in that area.
If you aren't sure if you are experiencing hair loss, or think you are, it's best to talk to your doctor or see a dermatologist.