There are affiliate links in this article.
What Is Root Clipping Wavy Hair?
Root clipping is a hair styling technique that involves using hair clips near the roots as your hair dries to increase root volume once your hair is dry. 
Should You Air Dry or Diffuse While Root Clipping?
I hear about root clipping being used alongside air drying most often. However, you can root clip when air drying or diffusing, it's totally up to you.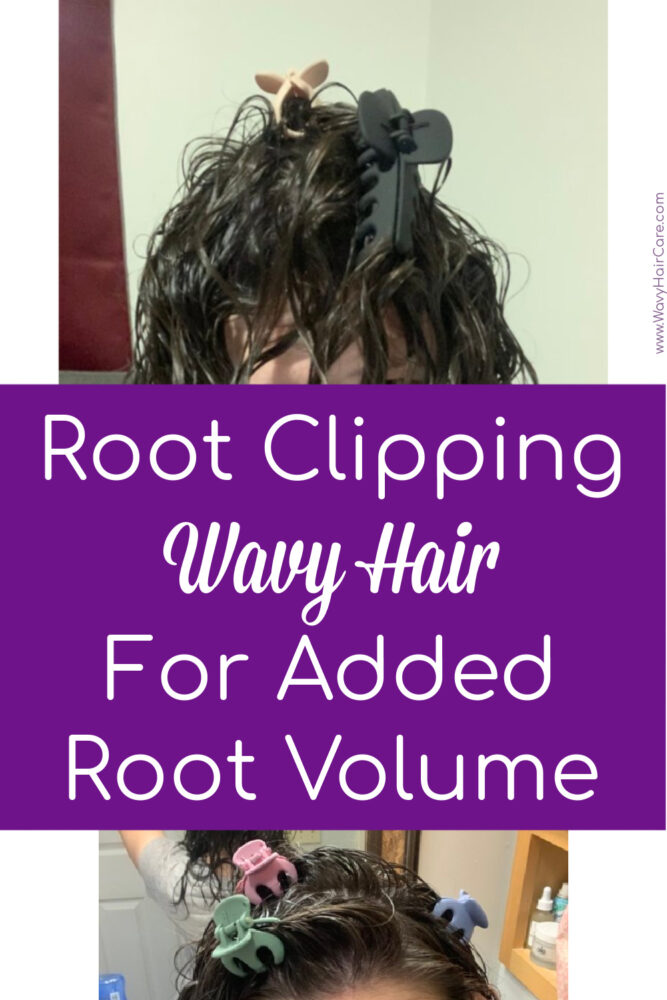 My Experience With Root Clipping Wavy Hair
I tried root clipping when I was new to the curly girl method. I found it time-consuming, the clips I bought sometimes got tangled up in my hair, and I didn't see all that much benefit from using the clips anyway. With those claw clips, I had to use 10 or more clips on my head and they often would fall over from the weight of my hair anyway. So, I mostly decided that root clipping wasn't for me. At that time, I only had seen people use those metal prong clips for root clipping.
More recently, I've noticed a lot of people are now root clipping with other types of hair clips, such as plastic claw clips in different sizes. I thought I'd give those a try for a few reasons. In part, I knew it was the metal prong clips that had caused tangles in my hair. I use a tiny claw clip to hold my bangs back regularly, and it ever tangles in my hair. Based on that, I thought I might like root clipping with claw clips.
I also saw that some people use really big claw clips so they could use just two clips to root clip their entire head, which I knew would be much faster than placing a bunch of smaller clips.
Root Clipping Wavy Hair With Large Claw Clips
I used two large claw clips (mine are these FRAMAR Large Claw Clips which are 4.4 inches long each) the first time. I part my bangs to the side, but most of the rest of my hair parts closer to the center. To keep my usual part, I used one clip for my bangs, and one for the rest of my hair. I then diffused my hair upright but tilted to different angles (which is what I've been doing the last year or so).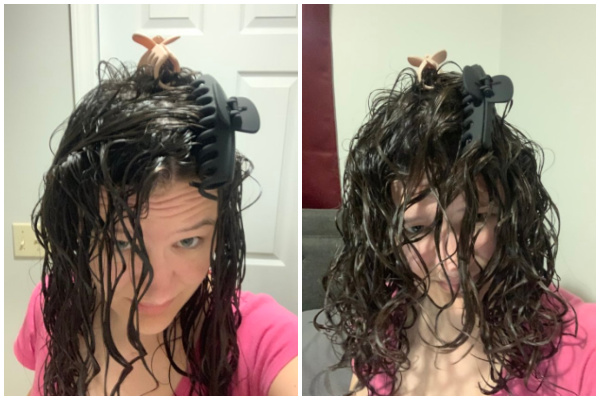 Above – Before and after diffusing. Below is after removing the clips.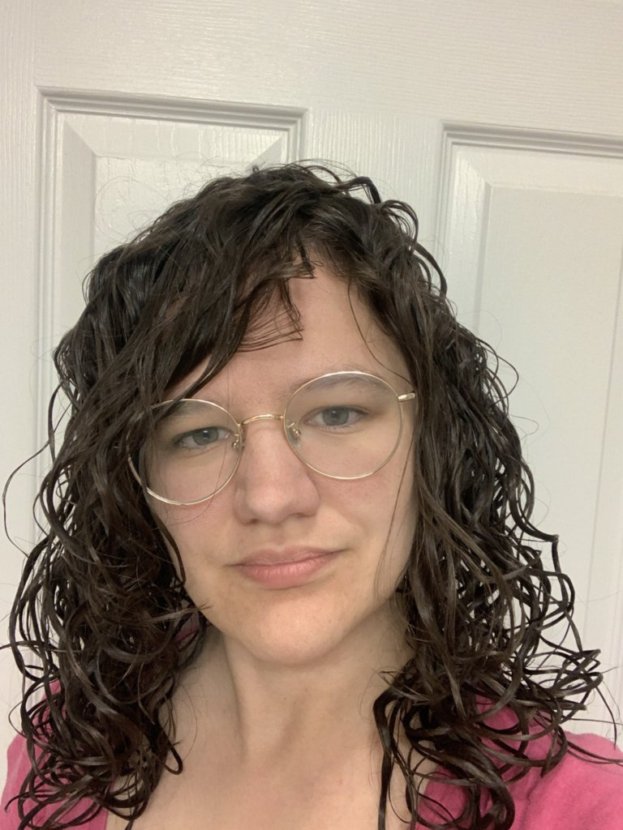 The clips fell some as I diffused, but stayed in so I didn't realize they had slipped out of place until after I was done diffusing. Removing the clips was easy (no angles!) and once removed I did have some more root volume than I usually have while my hair is in a cast, but it looked a bit messy, too.
I realized I should have been more intentional about placing the clips so that there weren't any odd lumps or bumps. I don't really know why I didn't realize this in advance. Of course, if I clip my hair in a strange position, it'll dry in that lumpy position! So, you'll want to be really particular about making sure your clips are placed exactly how you want your hair to stay once dry. I share my mistake just to point out that this should be done in a really careful way.
Root Clipping Wavy Hair With Small Claw Clips
For my second root clipping attempt, I used smaller claw clips. Mine are Canitor small hair clips which are 1.4 inch clips. I was more intentional about the placement this time. I placed two clips on the side where my bang lays, to help get a little 'puff' of volume where my bang lays.
Then on the other side of my part I placed clips about half an inch to an inch past my part, to help add volume by not letting my hair dry right against my head. I also used some clips on my cowlick, but I'll share the results of that in another post!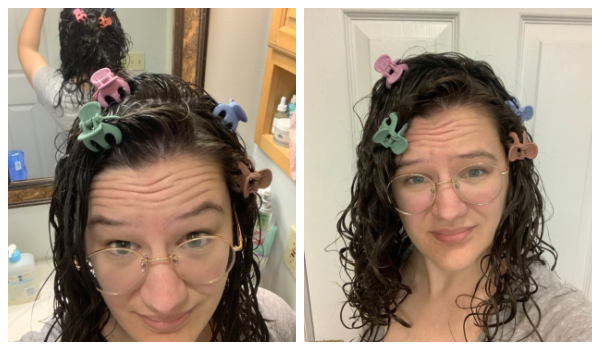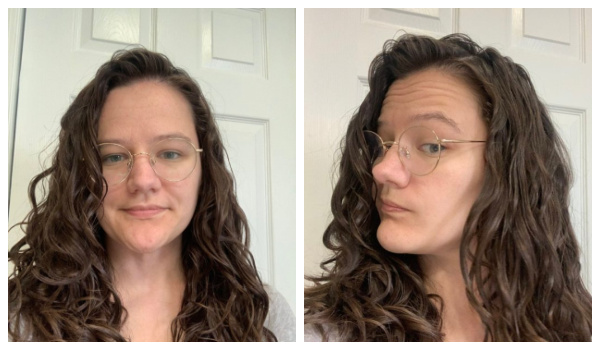 I found that these clips fell down my hair while I was diffusing, too. My hair is really heavy when it's wet, so I think it's just hard for clips to hold my hair up while it's wet! Despite them moving out of place as I diffused, I felt like I definitely saw increased root volume as a result of root clipping. The clips on my bangs made the biggest impact.
The clips that were on the side of my head fell more, and so they didn't provide as much volume. I think this will be challenging to correct because those clips need to be placed on the side of my head rather than on top, so they're really fighting against gravity. If you part your hair closer to the center, this wouldn't be an issue.
Big Clips Take Two
For my third root clipping attempt, I decided to go back to big clips but to be more cautious about placing them and to check in while diffusing to see if they had fallen. I had my haircut before trying this, so some of the difference in results could be due to my hair being shorter, having more layers and therefore weighing less. However, I think it's more likely o be the result of root clipping more carefully.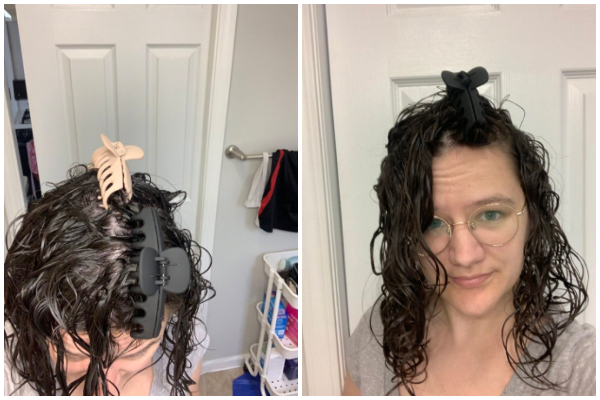 I did have to re-place the big clips a couple of times. The first couple of times I placed them, they caused pieces of hair to stand up in weird spots, or get separated from their curl clumps. I think this is the downside of using larger clips, is they are harder o place nearly because the clip is covering a bigger section of hair. I got them placed well and they didn't slide while diffusing this time.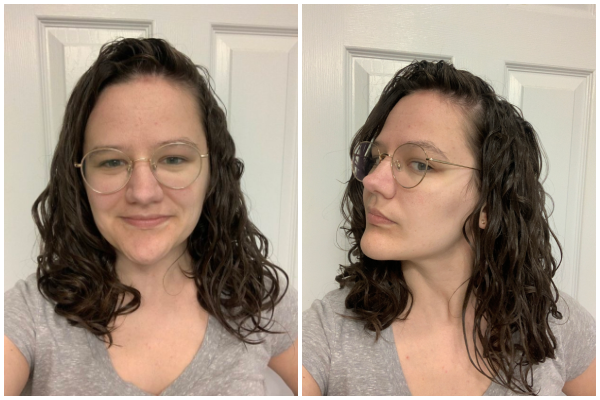 I thought the bangs portion of my hair definitely had improved volume, and the back part of my part had a bit more volume but it was really minimal.
Variations of Root Clipping
There are a lot of different ways to root clip! Here are a few variations of root clipping.
Rainbow clipping. This is basically making a "rainbow" shape (half circle) of hair and then clipping your hair in place. This creates a wavy shape near the roots.
Different types of clips. Different types of clips may result in different results.
Root clipping the whole time your hair is drying vs just at the end. Some people root clip from the time they add their gel until their hair is 100% dry. Others like to diffuse their hair until it's around 80% dry, then add root clips to finish air drying the rest of the way. Root clipping the whole time may provide more volume, but root clipping at just the end will mean your hair will be dryer and less heavy, so the clips should stay in place better.
What Kind Of Clips Should Be Used For Root Clipping?
It's up to you!
Bigger clips can hold more hair at once and will be faster to apply.
If you have long, thick or otherwise heavy hair you may need more heavy-duty clips.
Metal clips are small so you can get good definition by individually clipping each of your curls. Some metal prong clips have rough edges which can snag or break the hair.
Claw clips that are flat on one edge may stay in place better when clipped against your scalp.
Other Tips For More Root Volume In Wavy Hair
Clip on the "wrong" side for extra volume. Some people will part their hair to the left as it dries, so that they can part it to the right after it's dry and get extra volume by working against the direction that their hair dried. You can do this with root clipping, too. Clip to one side, the after your hair is dry flip it in the opposite direction.
Don't condition your roots. The roots of our hair have easier access to sebum (our natural scalp oils) than the lengths of our hair, so roos can get oily and weighed down if you use conditioner on them.
Add foam or mousse to roots for added volume. Some like to use foam just at the roots, and gel for the lengths of their hair to maximize volume.
Diffuse your hair. Waiting on your hair to air dry can result in less volume because the water weighs your hair down before it has a chance to dry. Diffusing can get the water out of your hair before it has a chance to get weighed down which results in more volume. If you're new to diffusing, check out my how to diffuse wavy hair tutorial.
Diffuse upside down rather than upright for extra root volume. Or tilting your head so that your hair falls away from your scalp as you diffuse can be a way of diffusing upright while getting a bit more volume.
Damp style your hair rather than wet style. Damp styling can improve volume all around, including at the roots. I have an article on damp styling wavy hair if you'd like to learn more.