My curl specialist experience last year
If you've been following me for a while you may recall my 2021 haircut. I saw a Deva certified stylist with over 20 years of experience and it didn't go well. In part, I didn't communicate as well as I should have. In part…the stylist just didn't seem to understand my hair type. The collage below shows my before (first row), my "just got home from the salon" (second row) and my first attempt to style it myself (third row).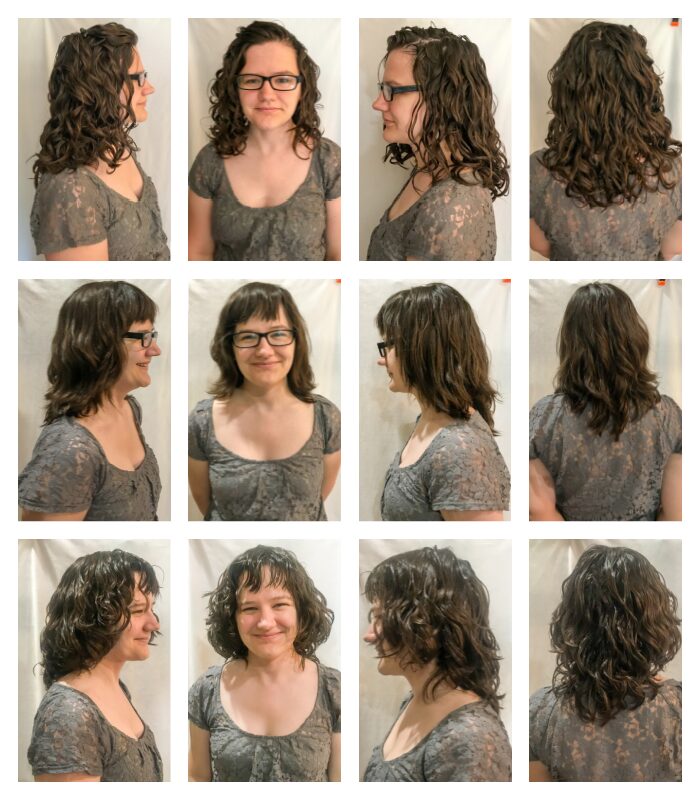 If you'd like to read more about my experience last year, see my blog post Getting A DevaCut On Wavy Hair [My Experience].
After that experience last year, I initially thought I'd go back to cutting my own hair again. After a while though I started daydreaming about trying a dry curl cut again. For a while I was thinking I'd try out a Ouidad cut or rezo cut rather than another Devacut. Then I found Locks By Alaina out of Grand Rapids, Michigan. She's a Deva certified stylist which wasn't what I thought I was looking for but…
Alaina has wavy hair herself, and her Instagram is full of clients who also have wavy hair. I was pretty immediately interested, but what really hooked me was when she posted something about how wavy hair often needs strong hold. If there's one piece of information that people seem to get wrong about wavy hair most often, it's the idea that wavy hair doesn't need gel or doesn't do well work hard hold.
If you go to the hair section of most any store and look for products that say 'wavy' you'll mostly find texturizing sprays or other very light hold products…so it even seems to be a prevalent idea in product marketing. Anyway…I knew she would understand my hair type, so I was pretty much sold.  Let me be clear that she doesn't advertise herself as a wavy specialist.
I just framed this post that way on my own, because I could see that she has more experience and knowledge with wavy hair than the other stylist I went to…and I think probably more than your average Devacurl specialist, but I am guessing.
Locks By Alaina Review
I was really happy with my experience seeing "Locks By Alaina"…for a whole bunch of reasons.