Is Your Hair Actually Wavy Or Are You Forcing It?
This question, or ones related to it, are really common to see in wavy hair communities online. After people find the curly girl method or test if their hair is wavy, they may even have others around them tell them their hair isn't actually wavy. If your hair didn't look wavy when you were brushing it after the shower and using no products…some will see it as 'forcing it' if you can use wavy hair techniques and get your hair to look wavy.
In this post I'm going to attempt to tackle various questions related to worrying if your hair is really wavy or if you're just forcing it to look wavy. When someone worries about having 'fake' wavy hair this is often referred to as wavy imposter syndrome.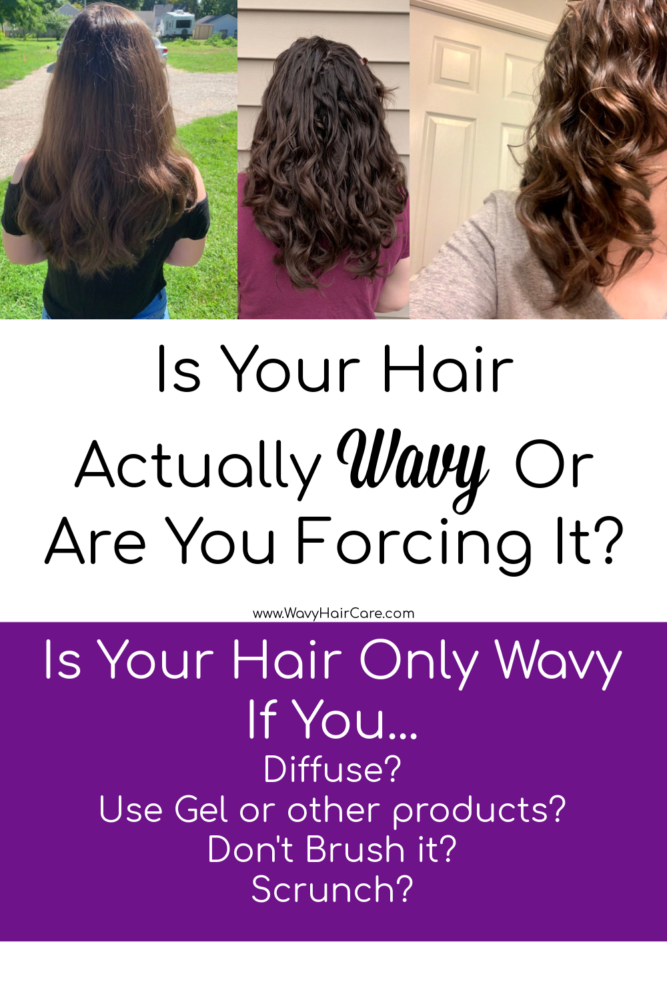 What Does "True" Curl Pattern Mean Anyway?
Before diving into specific questions I see posted about "is my hair is 'really' wavy if…." I think we need to address whether anyone really has just one curl type. Personally, I think anyone with textured hair is going to be capable of achieving at least two different curl patterns depending on how they style their hair.
For example, even someone with tightly curly hair were to wash their hair, brush it and let it air dry, they'd likely get looser curls and less definition vs if they applied gel, didn't brush, and diffused their hair.
Also, many people will find that their hair varies in curl pattern depending on the humidity, or how long it's been since wash day. For some, the farther they get from wash day, the looser their waves or curls will become. For others, as their hair gets dirtier or greasier their hair will curl up better thanks to that added grit or added moisture.
Many people also have uneven curl patterns, so even on the same day, they will have a range of curl patterns on their head. Even for the straightest hair type (1A) they are likely to be able to get their hair to 1B if they scrunch and use products with hold. Also, our protein and moisture balance can make a difference! Many people will see their hair get straighter if their hair is in need of protein.
My larger point is that curl tightness varies for most anyone/everyone. So rather than having one "true" look to your hair, maybe we should all try to think of our hair as having a spectrum of possibilities. This isn't unique to wavy hair…but perhaps it's more confusing with wavy hair if the spectrum of possibilities includes some points on the straight spectrum and some on the wavy spectrum (Such as a range of 1C to 2B or something).
In my view, failing to remember that all hair has a spectrum of possibilities is what causes a lot of the confusion surrounding wavy imposter syndrome.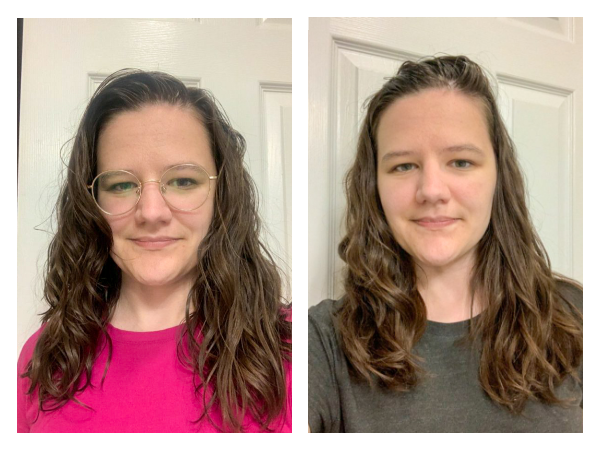 My hair on two different days where I used foam and didn't diffuse. 
If You Have To Diffuse, Is Your Hair Wavy?