Is Your Hair Actually Wavy Or Are You Forcing It?
This question, or ones related to it, are really common to see in wavy hair communities online. After people find the curly girl method or test if their hair is wavy, they may even have others around them tell them their hair isn't actually wavy. If your hair didn't look wavy when you were brushing it after the shower and using no products…some will see it as 'forcing it' if you can use wavy hair techniques and get your hair to look wavy.
In this post I'm going to attempt to tackle various questions related to worrying if your hair is really wavy or if you're just forcing it to look wavy. When someone worries about having 'fake' wavy hair this is often referred to as wavy imposter syndrome.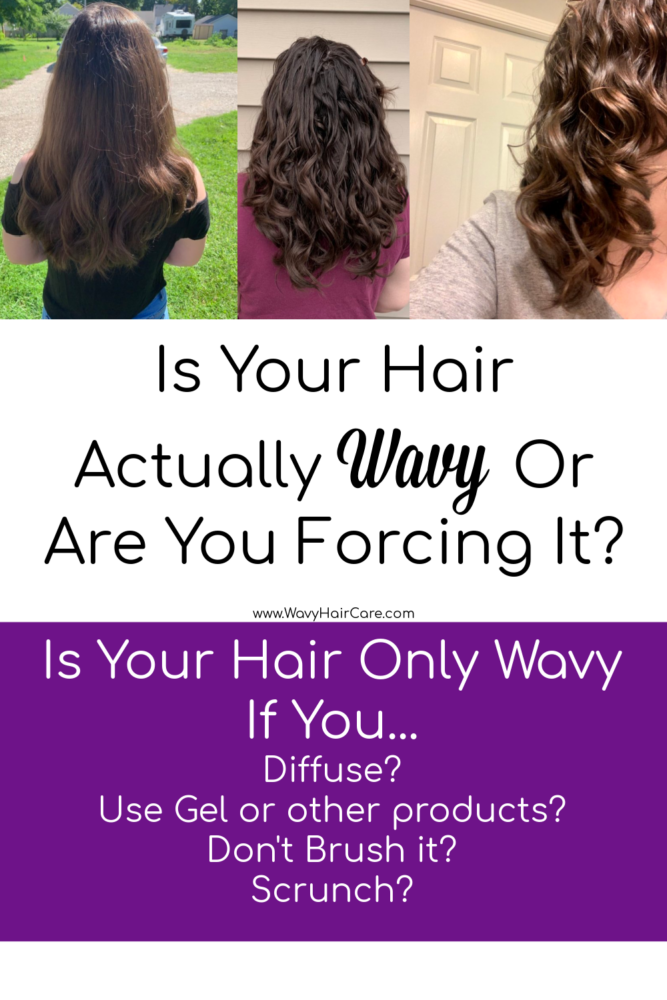 What Does "True" Curl Pattern Mean Anyway?
Before diving into specific questions I see posted about "is my hair is 'really' wavy if…." I think we need to address whether anyone really has just one curl type. Personally, I think anyone with textured hair is going to be capable of achieving at least two different curl patterns depending on how they style their hair.
For example, even someone with tightly curly hair were to wash their hair, brush it and let it air dry, they'd likely get looser curls and less definition vs if they applied gel, didn't brush, and diffused their hair.
Also, many people will find that their hair varies in curl pattern depending on the humidity, or how long it's been since wash day. For some, the farther they get from wash day, the looser their waves or curls will become. For others, as their hair gets dirtier or greasier their hair will curl up better thanks to that added grit or added moisture.
Many people also have uneven curl patterns, so even on the same day, they will have a range of curl patterns on their head. Even for the straightest hair type (1A) they are likely to be able to get their hair to 1B if they scrunch and use products with hold. Also, our protein and moisture balance can make a difference! Many people will see their hair get straighter if their hair is in need of protein.
My larger point is that curl tightness varies for most anyone/everyone. So rather than having one "true" look to your hair, maybe we should all try to think of our hair as having a spectrum of possibilities. This isn't unique to wavy hair…but perhaps it's more confusing with wavy hair if the spectrum of possibilities includes some points on the straight spectrum and some on the wavy spectrum (Such as a range of 1C to 2B or something).
In my view, failing to remember that all hair has a spectrum of possibilities is what causes a lot of the confusion surrounding wavy imposter syndrome.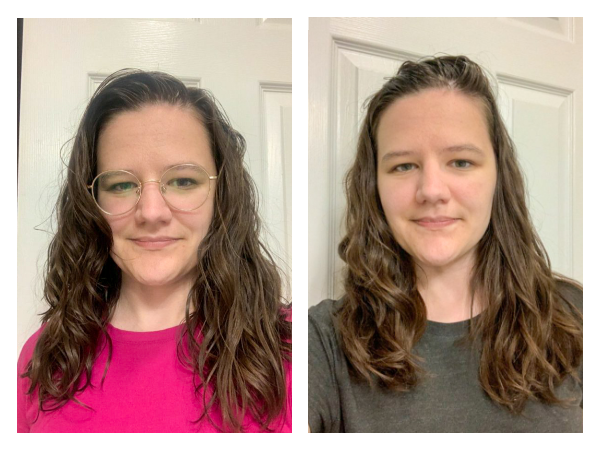 My hair on two different days where I used foam and didn't diffuse. 
If You Have To Diffuse, Is Your Hair Wavy?
You air dry, your hair looks straight or straight-ish, but you diffuse and then it's wavy. Does that mean your hair is actually straight or wavy? The answer to that really depends on what you mean by what your hair 'actually' is. As I wrote above, most everyone has the ability to get their hair to dry in at least a couple different textures or curl patterns.
Water is known to reset the hydrogen bonds in your hair, so many use that as a reason to say that your true curl pattern is what your hair looks like while wet. For some people, their hair will be wavy when wet but if they airdry it will get pulled straight before it finishes drying, due to the weight of water in their hair weighing it down. Some would argue that diffusing just locks in the curl pattern that your hair has while wet, so it's preserving your true pattern rather than letting it get stretched out by water.
Others would argue that your "true" curl pattern is what your hair does if you wash, use no products and air dry. I believe this is based on people seeing no products or "tools" as being the most natural. If you subscribe to this mindset and your hair looks straight unless you diffuse, then you would have straight hair rather than wavy.
Another layer to consider is how some people's hair will air dry wavy, but fall straight within just a few hours after it's dried if they didn't use a product with hold. In cases like that, would that be straight or wavy?
My opinion is that there isn't an objectively correct or incorrect answer because nobody has one definitive curl pattern. Instead, I'd say that if you can air dry and have straight hair, or diffuse and get wavy hair, then your curl pattern spectrum spans from somewhere on the straight curl chart to somewhere in the wavy curl chart.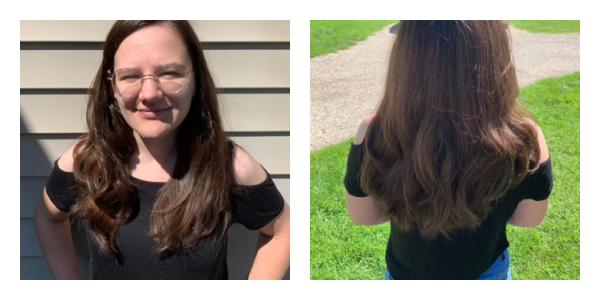 This was my hair when I air dried without gel or mousse recently. 
If You Have To Use Products, Is Your Hair Wavy?
On one hand, gel doesn't have the ability to make hair wavy or curly. Gel is a product that offers hold, which means it basically attempts to lock in the shape that hair already has. It doesn't change the shape of your hair. Someone with pin straight hair wouldn't be able to use gel and get wavy results. Some would argue that means that the pattern they get when styling with gel is their natural pattern.
On the other hand, it's definitely true that many people will get results that look "curlier" if they use gel or another product with hold. Though, some who desire looser curl patterns may use elongating gels to loosen their curls. So, is your gel-less or with-gel curl pattern your 'true' pattern?
Again, I don't think most people have one definitive curl pattern. Most people have hair that can manage a range of looks depending on how it's styled.
Will Scrunching Straight Hair Make It Wavy?
Scrunching wet hair often will make the hair curl up tighter than it was before scrunching. Often, for hair that appears to be on the tighter end of the straight spectrum (such as 1C) the hair will cross over into a wavy pattern (such as 2A) after scrunching. For super straight hair (1A) they can scrunch their hair and it won't enter the wavy spectrum.
Some who style their hair wavy like to point out that scrunching won't make super straight hair wavy. This is often true. However, I also feel that we shouldn't be afraid of recognizing that scrunching does encourage our curl pattern. Personally, I think any styling choice or technique (from combing straight down, to denman-brush curl styling, to scrunching) can either encourage or discourage a curl pattern.
These techniques don't create a totally different hair type. Instead, each person has a spectrum of results that their hair is capable of, and some techniques will nudge their curl pattern to the tighter end of what their hair is capable of, while others will nudge it to the straighter side of what their hair is capable of.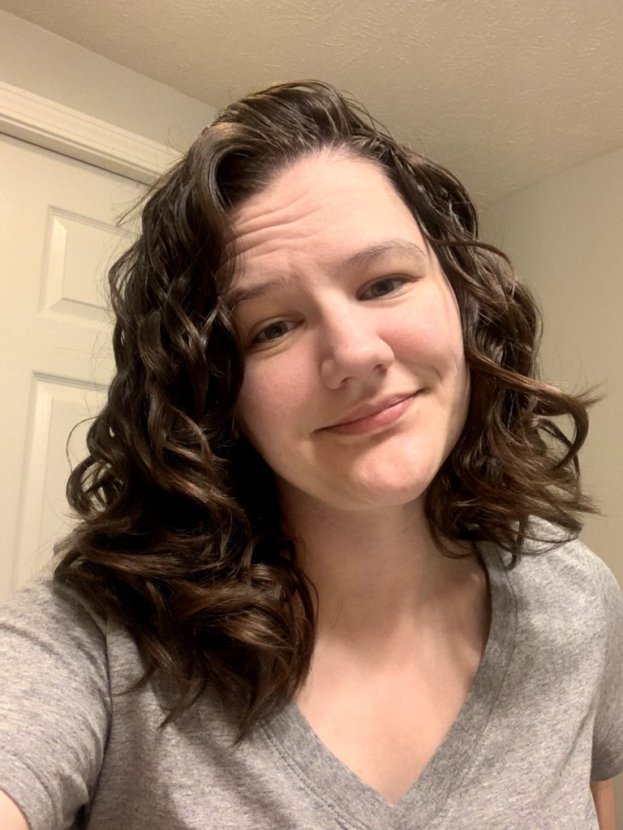 What If My Hair Dries Straight But Gets Wavy Later?
Some find that their hair dries straight after showering but if their scalp gets sweaty or they get caught in the rain, their hair will become wavy. In this case, it's likely that your hair is drying straighter after your shower because you're brushing or combing it after your shower. When it gets dampened later and dries without being combed, it is able to stay wavier.
If you'd like to encourage your hair to stay wavier, you could treat it like wavy curly hair. Or, if you'd like to avoid it becoming wavy after getting sweaty, rained on, etc, you could brush it each time it gets damp to encourage it to dry straight again. If you're asking this question because you want to know if your hair is 'truly' straight or wavy? Then I'd say the answer is that your hair is capable of both depending on whether you want to discourage or encourage your hair from forming waves.
If Your Hair Is Straight When Wet Does That Mean It's Straight?
Water is known to reset the hydrogen bonds in our hair. Some say the shape your hair holds while wet is your true curl type. Those people would say that if your hair doesn't curl while wet without scrunching, then your curl type is straight.
However, some people have hair that looks straight when wet, but will be wavy as it dries if they don't touch it. How hair looks when wet isn't always a good indicator of what it will look like dry. Two people could have identical-looking hair while wet, but one person could have their hair dry straight while the other dries wavy or even curly.
Some people's hair is pulled straighter by water than others. I suspect that people who have fine hair strands and/or low porosity hair are likely to find that their hair is more easily weighed down by water than people with thicker hair strands and/or high porosity hair as those hair types will not be as weighed down by water.
Some people find that if they don't touch their hair as it dries, it will end up curlier than it looked while wet. Others find that if they don't touch their hair as it dries, it'll dry straighter than it looked while wet. Seems how what hair looks like when wet isn't always a good indicator of how it acts or looks after drying, I don't necessarily see your wet curl pattern as being a good way to 'objectively decide' a 'true' curl pattern the way some think it is.
If your untouched hair looks straight when wet, then the looser end of your hair spectrum includes the straight category (at least 1C). However, some people with straight-when-wet hair will also find that their hair will air dry wavy if they don't touch it…and others will find that if they scrunch, apply a product with hold and diffuse then they get wavy results. Meaning, if your hair is straight when wet and air dries straight usually, it may still be able to hit the wavy spectrum if encouraged through styling techniques. Or, it may not. The only way to know is to try it out.
If You Have To Brush Style Your Curls, Is It Straight?
Using a denman or similar brush is a method for encouraging curls. There are different techniques that people use with a denman brush, some encourage tighter curls than others. Twisting your hair around the handle of a denman brush is a method that strongly encourages tighter curls.
If your hair is only wavy if you brush style it, I'd say your hair is capable of being wavy with the right techniques. If it otherwise dries straight, then it's also capable of being straight. Does that make it 'truly' wavy or 'truly' straight? Neither, in my view. I'd see it as both.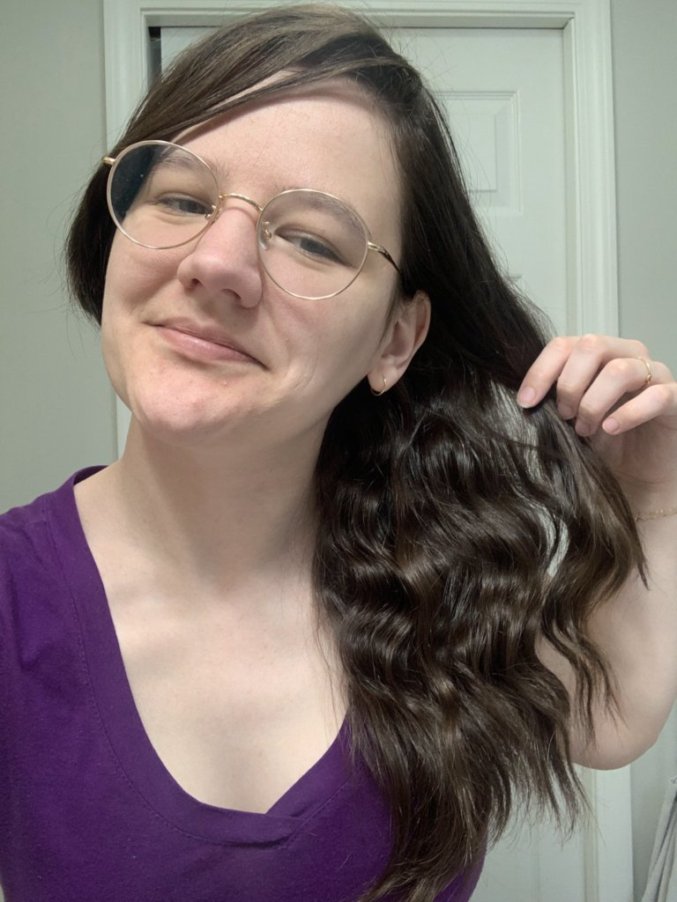 Results I got from braiding my hair wet and letting it dry in the braid.
If You Have To Braid Your Wet Hair To Make It Wavy
Hair has hydrogen bonds that are set when our hair dries, and reset the next time our hair gets wet. This is why someone with straight hair can use a curling iron to curl their hair but it will reset to straight when they get their hair wet again.
If your hair is straight when wet but you braid it and let it dry, that will allow the bonds to set in that braided shape. This is different from naturally wavy hair. If you use pin curls to twist your wet hair and leave them to dry, this is very similar to braiding. This creates a certain style rather than involving a natural texture. Still, there is nothing wrong with using these techniques if you like the results.
If You Have To Use A Curl Enhancer / Activator
If you only get wavy hair when you use a curl enhancer, you likely have naturally straight hair. Curl enhancers often break down and restructure the bonds in our hair tighter. This can include natural ingredients such as epsom salts. Because these products chemically restructure the bonds in your hair, I would say the results they give are likely beyond the natural spectrum of your curl pattern.
What Is The Difference Between Straight And Wavy Hair?
People commonly say that the difference between straight, wavy, curly and coily hair is all about the shape of your hair follicle. Straight hair is said to have round follicles, wavy hair has an oval follicle, and curly and coily hair has a hook shape.
I've been reading Chemical and Physical Behavior of Human Hair by Clarence Robbins. It says that there are three types of cells found in hair, and that the amount of those three types of cells, and the way those types of cells are distributed, impact curl pattern. In straight hair, one type of cell, paracortical cells, are surrounded by the other two types of cells, mesocortical and orthocortical type cells.
When looking at curly hair, the curlier the hair was, the fewer mesocortical cells the hair had, with really tightly curly hair having none at all. Plus, the remaining two types of cells were laid out asymmetrically. The image below is from this book. The left shows an example of how the three types of cells are laid out in straight hair, while the right shows the layout of cells in extremely curly hair.

So, according to this, the layout of protein cells are a huge factor in whether your hair is straight, wavy, curly or coily. Here's a quote from the book:
"I conclude that the primary factor controlling hair fiber curvature is programmed from the bulb by the symmetry of protein distribution. However, whether hair follicle shape in the zone of keratinization affects hair fiber curvature in some way analogous to the production of a synthetic filament as it is extruded or whether curvature is controlled entirely by programming from the bulb by the symmetry of the distribution of proteins in the final fiber awaits further research."
I am guessing – but my guess would be that the straightest hair has perfectly even distribution of these three types of protein cells. Then people like me who have hair that can look straight-ish sometimes, and wavy sometimes, have a slightly assemmetrical distribution of cells…and then people with tighter waves or looser curls have even more asymmetry, and so on. It's unlikely that there are four exact types of hair cell layouts and nothing in between. It's a spectrum.
We try to categorize that spectrum into four terms to help with communication…but it's a spectrum, so it shouldn't be surprising that a lot of people have hair that doesn't fit perfectly into any one box. Whether that's being somewhat straight but also somewhat wavy, or being somewhat wavy but somewhat curly, or somewhat curly and somewhat coily.
If You're Battling Wavy Imposter Syndrome Consider This
In my opinion, this is perhaps the best answer to "isn't that just your products and technique forcing your hair to be wavy?"
If techniques and products made waves out of perfectly straight hair, why do so many of us have curlier sections and looser sections of our hair? If it was the products or techniques, wouldn't we all be able to achieve uniform results? At least we could with enough practice? I've been doing this for five years now. My front left side gets some wave most of the time, but sometimes it stays straight. Even on its waviest days, it's always my loosest section.
This is despite how I usually scrunch it more and diffuse that side of my head first to give it as much chance at being wavy as possible. But even when it's wavy, it's looser than the rest of my hair. Why? That section of hair is naturally looser than the rest of my head. It can be wavy if encouraged, but it can also be truly straight if simply just brushed after I shower…while other parts of my hair would have to be flat-ironed to get that straight. Different parts of my hair have natural differences that impact how they react to styling.
I made a vertical video on this topic. I'm embedding the video below in case you'd like to see it or share it with others who are battling wavy hair imposter syndrome. I uploaded the same video on multiple formats. Embedded below is the YouTube version, but I'll also like to the TikTok, Instagram video and Facebook video in case you want to share on those platforms instead.