So, you've seen the TikTok trend. Or maybe you've seen YouTube videos? Either way, you've caught on that some people think they have straight hair, but discover that their hair is actually wavy or curly after trying the curly girl method. You've started to suspect that your hair might be wavy or curly too.
Yet…the curly girl method seems too complicated, right? It certainly can be. I'm over 2 years in myself, and I still find myself shocked at how many products and how many steps some people put into their haircare routines. Curly girl approved products can be expensive, as well. I wouldn't blame you if you don't want to spend money if you aren't sure this is even right for your hair type.
I have a blog post that discusses signs that your hair is naturally wavy which can help you decide if you want to test it. Once you're ready and you want a quick and easy way to test if your hair is actually wavy? Here is what to do, step by step.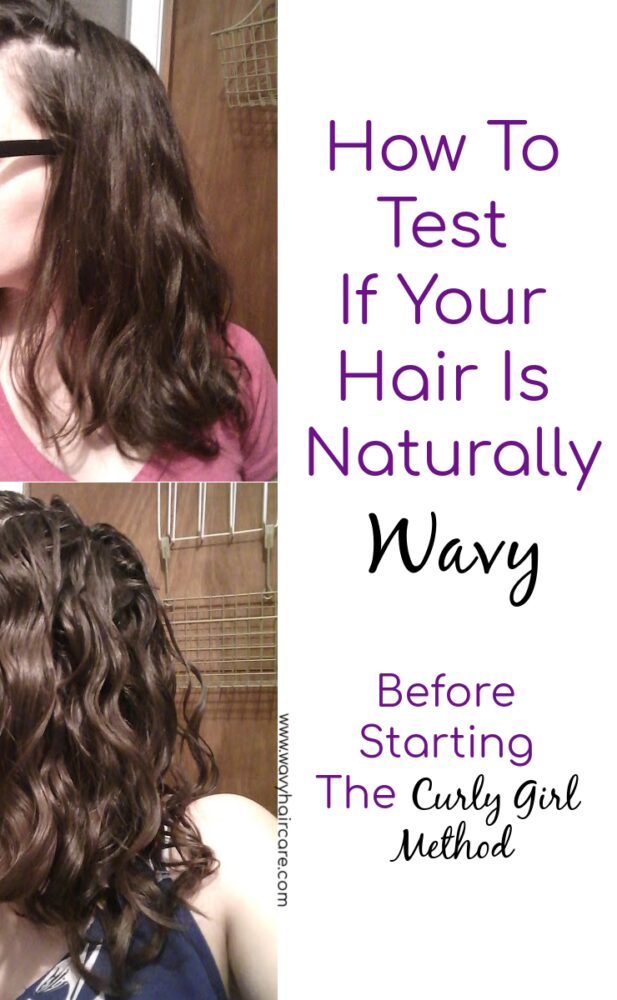 How To Test If Your Hair Is Wavy Before Trying The Curly Girl Method.
To test if your hair is wavy, scrunch your hair after rinsing your conditioner out in the shower, then apply a hard hold gel of any kind. Let your hair dry without brushing, combing or touching it. If it dries wavy, you have wavy hair and would likely benefit from trying the curly girl method. 
That's the quick answer, Here is a more thorough answer!
I'd recommend that you try this experiment at a day and time where you don't have anywhere important to be. For example, don't do this on a work day 30 minutes before you need to leave the house for work. Just in case the results you get make you unhappy or uncomfortable, you want to leave time to re-wash your hair. That's just a precaution, but better safe than sorry!
Wash your hair with any shampoo you have on hand. Lean over into the shower head (so you are looking at the ground). Stay leaning over throughout the washing process in the shower. Focus on rubbing your scalp with the shampoo (using fingertips to rub, not nails to scratch). You don't need or want to apply shampoo to the lengths of your hair. Rinse out the shampoo completely.
Apply any conditioner that you have on hand to the lengths of your hair. Don't apply the conditioner to your scalp, just the lengths.
Comb your hair with a wide tooth comb while conditioner is still in your hair. If you don't have a wide-tooth comb but you do have a denman or wet brush, you could use that instead. If you have none of these, simply use your fingers to detangle and align your hair.
Rinse out your conditioner completely and then shut the water off.
Scrunch your hair in your hands. Scrunching means to scoop your hair into your palms by raising your palm from the ends of your hair up towards your scalp, then squeezing your hair to scrunch or squish the hair. Do this around your whole head. If you have wavy or curly hair, you will most likely begin to see a wavy or curly pattern taking shape as a result of scrunching. This squishing process should help squeeze some of the excess water out of your hair, while leaving your hair still very damp. Step out of the shower, keep your head leaning over.
Apply gel or mousse. Again, any that you have will do. How much you should use will vary for everyone and will vary depending on the specific product you use. There is a chance that you'll get the amount wrong on your first try. For thin, low density, short hair, using a quarter amount may be enough. For long, thick hair, you may have to use several handfuls. I use about 4 palmfuls of mousse in my  armpit length, very dense hair.
Plop! Gently lower your hair onto your plopping t-shirt, and wrap your hair. Now you can finally stand upright! See my full tutorial on plopping if you're unfamiliar with how to do it.
Hang out in the plop. Keep the plopping shirt on your hair for 5 minutes if your hair air dries quickly (in a couple hours or less). If your hair usually take hours to dry, plop for 10 minutes.
Remove the plop. When the time is up, lean upside down and gently remove the plopping shirt.
Gently turn your head upright. I like to do this by holding the ends of my hair tight against my head as I go from leaning over to standing upright. I basically hold my hair up against my head in a similar position to what it would have been in while wearing the plop. Once upright, I slowly lower my hands to allow my hair to gently fall into place.
Correct your part. If you find that your hair is parting in place other than where you like it, now is the time to fix it. Don't use the tail of a comb to 100% create a fresh part. Instead, gently flip curl clumps that are on the wrong side of where you want your part to be.
Let it dry. If you have a diffuser, you could diffuse your hair. Check out my tutorial for how to diffuse wavy hair if you need help. If not, just let it air dry. Do not touch your hair any more than is absolutely necessary during this process or you'll risk introducing frizz. Wait until your hair is 100% dry. The easiest way to know if your hair is dry is to take note of the temperature. If you find that any part of your hair is colder than the rest, that cooler area is still wet. Wait until all of your hair feels the exact same temperature, and is neutral or warm in temperature before moving forward with the next step. It is okay (good, actually!) if your hair feels crunchy or crispy as it dries. Do not worry, it will not feel that way longterm!
Scrunch out the crunch. Once you're certain your hair is 100% dry, hopefully it will have a crunchy texture to it. This is called a cast. Gently squeeze or scrunch your hair to break up the cast. If you squeeze your hair and it remains feeling harder than you prefer, squeeze it again until it becomes softer.
Now that you've scrunched out the crunch, the process is complete! If your hair is wavy or curly looking, then congrats, you have naturally wavy or curly hair! If your hair is still straight, then congrats, you have naturally straight hair!
If you're ready to start the curly girl method (or wavy girl method) on a budget check out my Under $20 Walmart curly girl method starter routine post. Or I have a Target CGM starter routine, Amazon CGM starter routine, Dollar Tree CGM routine, or Meijer CGM starter kit if you prefer those retailers!
Troubleshooting your first attempt at naturally wavy hair care:
Where you go after this first attempt can vary greatly. If your results were wavy or curly, you're likely to see benefits to your hair by following the curly girl method. That will likely involve going out and buying new haircare products that are curly girl approved.
However, if you don't wish to change products you can continue to use non-curly girl approved methods and still embrace your natural waves or curls through other means. Routine is a really important part of textured hair care. I even blogged about an experiment I did that in my view resulted in proof that wavy hair techniques matter more than products.
So, my advice is to play with new techniques before assuming you need to spend more on products. If you found that your hair felt sticky or had flakes after you scrunched out the crunch, you probably used too much gel or mousse. Next wash day, try using less to see if you get better results.
If your hair didn't get crunchy, or was only crunchy in a few spots, you probably did not use enough gel or mousse, or didn't get it well distributed to all areas of your hair. Next time, try using more or try to be more cautious about covering your entire head with the gel or mousse. Or check out my post how to tell if you're getting a hair cast, and why you may not be.
If your hair was straight at the top but wavy or curly at the bottom, your hair may be weighed down. Check out my post 13 ways to get more volume in wavy hair to learn many of the ways wavy hair can be weighed down and how to fix those.
If you want to know how to get wavy hair to last longer, check out my posts why you should't brush wavy hair, how to get wavy hair to last longer, and how to sleep on wavy hair.
If you find yourself fighting a lot of tangles or knots, check out my post how to fix tangles in wavy hair.
If you're wanting to figure out your hair's thickness, porosity, curl pattern or density check out my post how to determine your wavy hair type.
If you have other issues or questions, leave me a comment below and I'll try to help you or point you towards resources that are helpful! 
Edit to help answer the question – is gel or mousse really needed for testing if hair is wavy?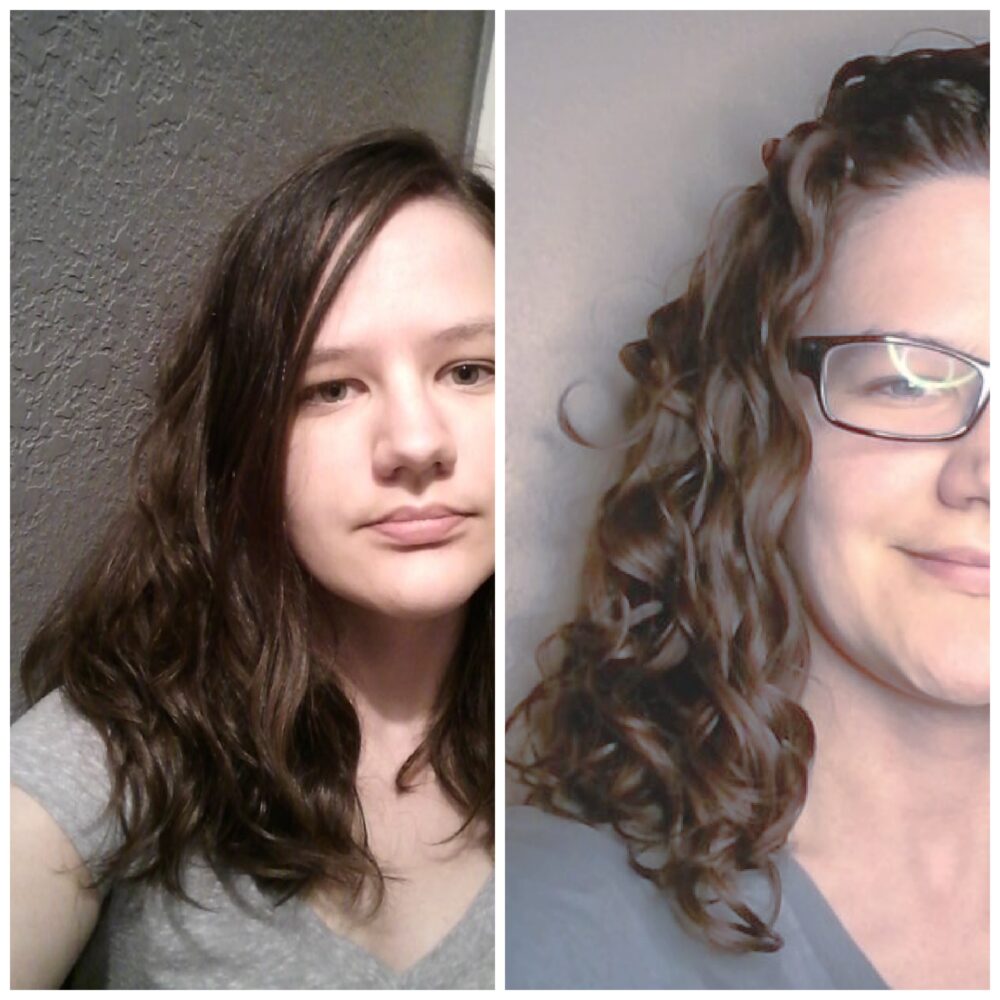 The difference in these photos is no products on the left, and just using mousse on the right. For me, using a product with hold (gel or mousse, or as I recently discovered, hairspray!) is really key to allowing my waves to support themselves. This may not be true for all wavies, but if you have always assumed your hair to be straight, then likely your waves need support from product, too.
If you do this test but without gel or mousse, then you may find that your hair has a bit more texture than usual which would hint that it is wavy. You can see in my photo on the photo on the left that the ends do have a very subtle texture to them but it doesn't really read as wavy in general.
Using gel or mousse is likely to be key to making the answer to 'is my hair actually wavy?" super clear. So I would recommend buying a gel or mousse if you don't currently own one. If you don't care about the curly girl method, buying the cheapest hard-hold gel or mousse you can find would work.
Some really cheap curly girl approved options are LA Looks gel (about $2 for a big bottle at most drugstores. Or my local dollar tree sells a smaller tube for $1). Or for a cheap CG mousse I would recommend Aussie Instant Freeze.
If you find out that your hair is, in fact, wavy – check out my blog post directory. I have tons of content about how to embrace your waves!