There are affiliate links in this post. 
What Is Hard Water?
Magnesium and calcium are the most abundant metals found in tap water. When we talk about hard water it's usually high calcium and magnesium. Approximately 85% of homes in the US have hard water.
Why Is Hard Water Bad For Wavy Hair?
Hard water is rough on hair in general, but it isn't worse for wavy hair than other types of hair. Instead, it's particularly bad for damaged hair.
Hard water can be especially hard on damaged hair because damaged hair allows hard water to bond to it better than healthier hair. It can also cause more trouble for fine hair that is prone to buildup, or hair that is naturally dry like curly or coily hair. Causes buildup which can lead to dry hair or hair that feels producty, and greasy while also feeling dry.
Hard water can do more damage if the PH level of your water is higher. The higher the PH, the more minerals can bond to your hair.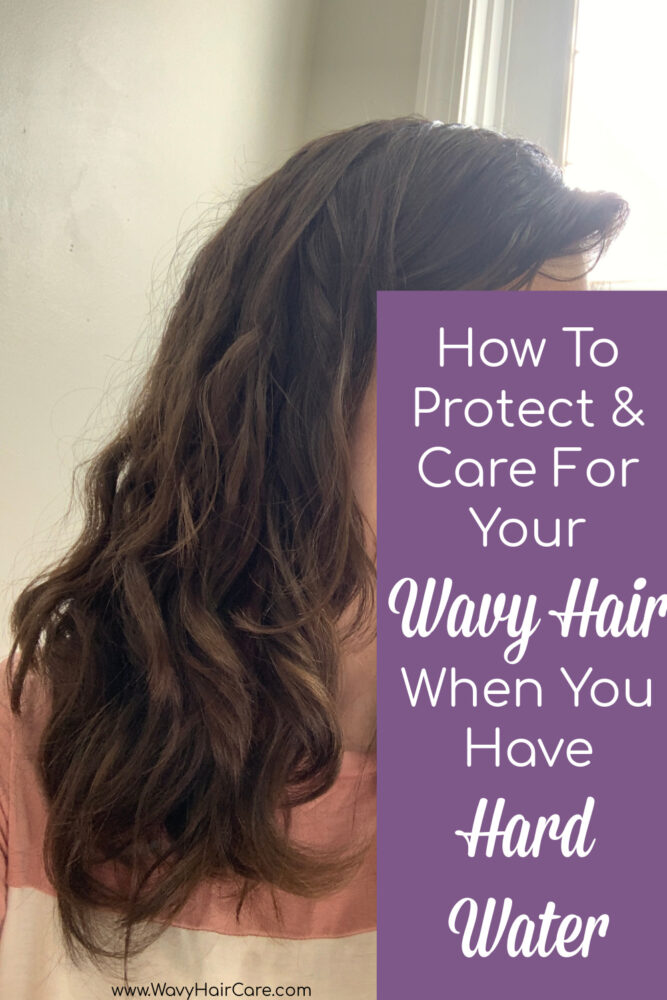 Hard Water Doesn't Mean (Just) Well Water
I have frequently seen people in wavy curly hair groups say things like "I live in the city, so my water isn't hard." It seems to be a really common misconception that well water is hard, while city water is soft. This isn't the case. About 85% of homes in the US have hard water.
Well water is likely to be hard, but city water isn't necessarily soft.
Signs Of Hard Water.
Mineral deposits around your faucets. Your shower gets yellow buildup. Your white laundry may become yellow-tinged. Your shampoos or other soaps don't lather as much as you see in other homes. If you rinse a clear glass with water and let it dry, you'll see white marks where the water dried.
Still unsure? Use a hard water test kit to find out if you have hard water.
Signs Of Hair Buildup
Your hair looks dull and feels dirty even after you shampoo.
Your scalp is itchy. Sometimes calcium blocks pores in the scalp and causes an irritated scalp and/or scalp acne.
Your hair feels hard and doesn't soften much with conditioner. Conditioner may not be getting into your hair due to the buildup.
Your hair is brittle and breaks. With severe buildup, hair can get so dehydrated over time that it becomes weak and prone to breaking.
How To Get Rid Of Hard Water
Install a full house water-softener. This is by far the best thing you can do to fix your hard water problem…but it's not easy or cheap.
Buy a shower head that softens water. For example, the ShowerStick from WaterSticks. This is different from a filtering shower head. Filtering shower heads only remove particles, but remnants remain. So a filtering shower head may reduce the hardness some, but won't really get rid of your hard water. Filtering shower heads can be a way to reduce the impact of your hard water, though.
How To Minimize The Impact Of Hard Water On Wavy Hair
Use a chelating shampoo about once a month. So far I only have experience with Malibu Hard water wellness packets and the Malibu Hard water wellness shampoo. I liked both. I've seen others say Ion's Hard Water shampoo from Sally Beauty is also good, but I haven't used it.
DIY treatment. Apple cider vinegar (often shortened to ACV). AVC has natural acids that dissolve buildup. Be sure to dilute ACV a lot! Roughly 1 teaspoon per 2 cups of water. If not diluted enough, the PH of AVC will damage your hair. The main reason why perms and hair dyes/bleaches are damaging is because of their high PH, so err on the side of diluting too much rather than not enough.
Buy distilled or bottled water to wash your hair with instead of the tap. This may seem a bit "extra" to some, but it is a way to get softer water to clean your hair with!
Try to keep your hair healthy. If your hair is damaged by chemical treatments, heat, etc it's going to have more free negative charges which the hard water particles can bond to. Meaning, if your hair is already damaged, it will be damaged further by hard water than healthier hair will be.
Buy a filtering shower head. These don't make your water soft, but they can pull some of the hard particles out of your water to make it somewhat less harsh.
My Wavy Hair & Hard Water Story
I moved about a year ago. Prior to moving I had a water softener. After moving, I knew I had hard water. I saw a thread where someone suggested malibu undo goo PH 9 shampoo for hard water. I bought it, and used it in place of clarifying shampoo when I thought I had buildup. I didn't feel like the undo goo worked on my buildup.
For a while, I went back to my regular clarifying shampoo, but I could tell it wasn't working as well. I saw someone share that they use their clarifying shampoo twice (lather, rinse, leather, rinse) and that worked on their buildup. I tried that, and it seemed to work better, so I kept doing that.
I thought I was managing my buildup okay this way. Until I went to have my haircut and my stylist asked about my clarifying routine. I told her the story, and she told me that the undo goo is not intended for chelating. How had I missed that?
I looked up some of the ingredients, and the undo goo and Hard water wellness shampoo both contain Disodium EDTA which is a chelating ingredient, so I believe the Undo Goo shampoo should chelate at least some? Perhaps I was just wrong for feeling like it wasn't working and going back to my 'regular' clarifying shampoo. I was a bit embarrassed that I had not effectively removed all buildup from my hair in a few months. She was really sweet about it, thankfully. Anyway…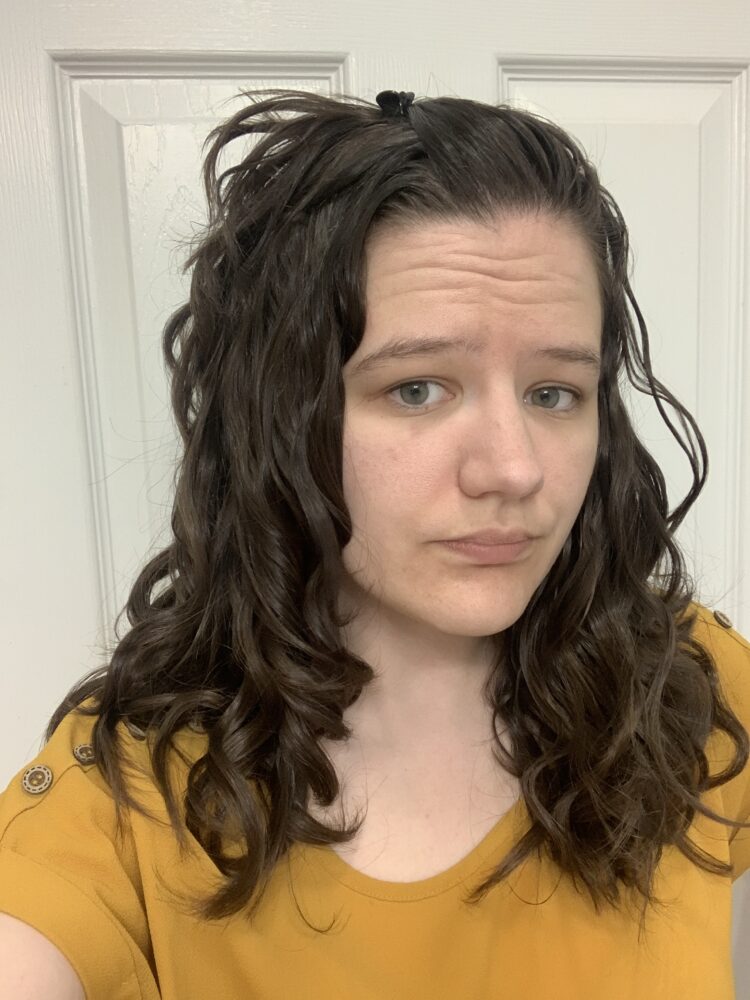 This pic was a few days after I had my haircut (and after the stylist had used the hard water treatment on me). My hair didn't visibly look different due to the treatment, as it hadn't been visibly impacted prior to that…but I'm still glad to get the mineral buildup gone! 
My hair stylist thought I could use a really good chelating treatment, so she used the Malibu Hard Water Wellness Treatment packet on me, but recommended that I use the Malibu hard water wellness shampoo for monthly maintenance. She gave me a sample of that to use at home.
When she used the treatment packet on my hair in the salon, she asked if I noticed the "wet penny" smell in the air. I did. She explained that this is the minerals coming out of my hair. That really blew my mind!
About a month later I used the sample of the Malibu Hard Water Wellness shampoo that she gave me and it seemed to work well, too. I've since purchased a bottle of the hard water wellness shampoo and have continued to be happy with it.
When I went back in for a new haircut, my stylist said she likes to use the packets on anyone with hard water, so I let her even though I had used the hard water shampoo about a week before my appointment. No wet penny smell this time!
She said if you use the hard water shampoo monthly or so, it should be good for maintenance, where the packets are good to start with if you have significant hard water buildup from not using a chelating shampoo regularly. So, if you're just now discovering that you should chelae and you've had hard water for a while then perhaps purchase a packet to use the first time, but after that you can use the hard water shampoo monthly as maintenance.
Source: http://science-yhairblog.blogspot.com/2016/03/hard-water-and-your-hair.html