Hair commercials always show off extremely shiny hair. Whether we wanted to "buy in" to it or not, we've all been somewhat conditioned to think that shiny hair is the ideal. The truth is, that shiny hair can be a sign of healthier hair. If your goal is healthier hair, then paying attention to how shiny (or not) your hair is can make some sense.
If you're feeling like your hair is dull and lacking shine, this post will help you determine the cause and the solution!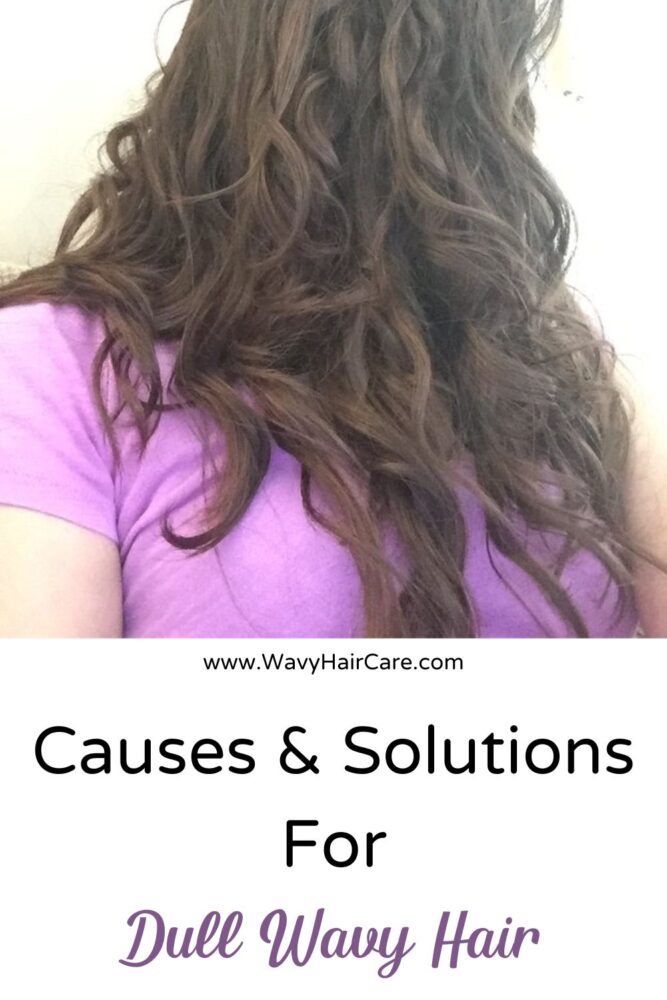 What Causes Wavy Hair To Look Dull?
Shine comes from hair that is smooth because smooth surfaces reflect light better. Think about how smooth tinfoil reflects better than crumpled-up tin foil. How well hair reflects light works similarly.
Wavy hair is naturally less shiny than straight hair due to having some bends in the hair, making it less smooth than straight hair. However, wavy hair isn't so tightly curled that it can't be shiny. Most wavy hair is still capable of a decent amount of shine as long as the hair is healthy.
High porosity hair is rough and not smooth, can't reflect light. This is the most common culprit of dull wavy hair. While wavy hair as a texture is smooth enough to reflect, if your hair is high porosity, the cuticle will be raised, bumpy or uneven – and this can make the hair lack smoothness even in the portions of your hair that aren't twisting/bending from a wave pattern. High porosity hair is sort of like crumped up tinfoil. The most common cause of high porosity hair is hair that has been dyed lighter than their natural color, or bleached.
Dry hair tends to be less shiny, and wavy hair is often more dry than straight hair. Healthy wavy hair usually isn't so dry that it doesn't shine, but it can reduce the shine level some.
Product build up can cause dull-looking hair. Having product build up on your hair can leave the surface of the hair uneven, rough or bumpy which keeps it from being as smooth and reduces it's ability to reflect light and shine.
Hard water build up making hair surface uneven can reduce shine, just like product build-up does.
Damage from sun exposure can cause hair to be higher porosity which makes it less shiny.
Damage from chlorine exposure can raise the porosity level of the hair, making it more dull.
Some health conditions can make hair less healthy and impact its shine.
Why Has Your Wavy Hair Suddenly Become Less Shiny?
Lack of shine typically occurs slowly over time. So when you notice that your hair has suddenly lost its shine, this can help indicate the cause of the dullness. Most likely, it's one of these two causes.
Damage from bleaching your hair or having it chemically treated (such as with a perm or permanent straightening treatment). These things can cause hair to increase in porosity suddenly, which can reduce shine.
Switched to silicone-free products. Sometimes people find that their hair is suddenly less shiny when they start the curly girl method, which involves no longer using silicone-containing products on your hair. One of the reasons why many hair products contain silicones is because they do an excellent job of smoothing out the surface of your hair even if it is higher porosity. This basically means that if your natural hair is bumpy and uneven from being high porosity, but you use a silicone-containing product, it will create a tiny film over all over your hair which creates a new, smooth surface that lays on top of the bumpy underside. This makes hair less prone to tangling, and can give it a shinier look. I think it's accurate to say that silicone-containing products can do a good job of disguising damaged hair.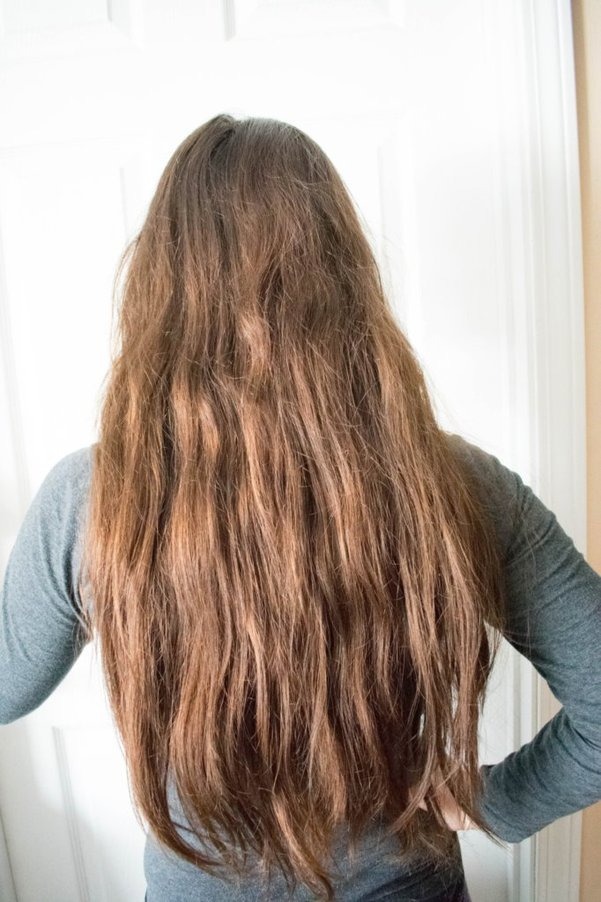 How to Make Dull Wavy Hair Shinier
If your hair is dull due to dryness, then getting your hair more hydrated or moisturized will help. Techniques like the bowl method or squish to condish may help. Using products that meet your hair's moisture and protein needs can help as well.
If your hair is dull because of build-up, then using a clarifying or chelating shampoo more regularly will help. I have blog posts that go into detail about clarifying wavy hair and caring for wavy hair when you have hard water.
If your hair is dull because of damage then a true solution will take a long time. Once hair is damaged, it can't truly be "fixed". However, being gentle on your damaged hair can help prevent additional damage. Also, working to meet your hair's moisture and protein needs can help strengthen hair to prevent future damage.
Try silicones. If your hair is damaged and you just want it to look more shiny, silicones are a great "bandaid" solution.
Try hair oil. Like silicones, hair oils can help create a shiny look to hair that has been damaged. It's important to clarify regularly if using hair oils, as they try to block water out of your hair. They can work well as a day to day solution for making your hair look shinier though!
What Are The Best Hair Care Products For Dull and Wavy Hair?
If your hair is dull because it is dry or damaged
Then the best long-term solution for shinier hair is to let your hair grow out while treating it more gently, so it will be less damaged. There are a lot of products that claim to "fix" damaged hair. I have a blog post all about hair bond rebuilders and my beliefs on them (they're mostly scams in my opinion), if you're interested. However, in the meantime, you'll want to use products that meet your hair's moisture and protein needs. Here are a few of my favorites for different hair needs. You can use deep conditioners or masks once a week or more if you feel your hair needs it.
For moisture – Not Your Mother's Matcha Green Tea Masque. This is protein-free and adds lightweight moisture making it great for dry wavy hair.
For a balance of moisture and protein – Shea Moisture's Manuka Honey "protein treatment" (Amazon link/ Walmart link) is my go-to when my hair just needs more protein or more moisture, but is currently well balanced. Despite the name making it sound like it is all about protein, this product is a good balance of both.
For all the protein – Aphogee two-step protein treatment (Amazon Link)is my go-to. I only recommend this if you know your hair badly needs a lot of protein as it is strong.
If your hair is dull because it has build-up
I'd suggest Suave daily clarifying shampoo (Walmart link) if you have soft water, or Malibu hard water wellness shampoo (Amazon Link) if you have hard water. The latter works on mineral build-up in addition to product build-up.