If your hair is wavy underneath but straight on top, does that make it straight or wavy?
Both! Often, people feel like they have to have one hair type, and one hair type only. I'm not really sure why we have this tendency to categorize our hair in a single way. It's very common for people to have multiple hair textures. If your hair is wavy in spots but straight in spots, then you have some straight hair and some wavy hair! It's both.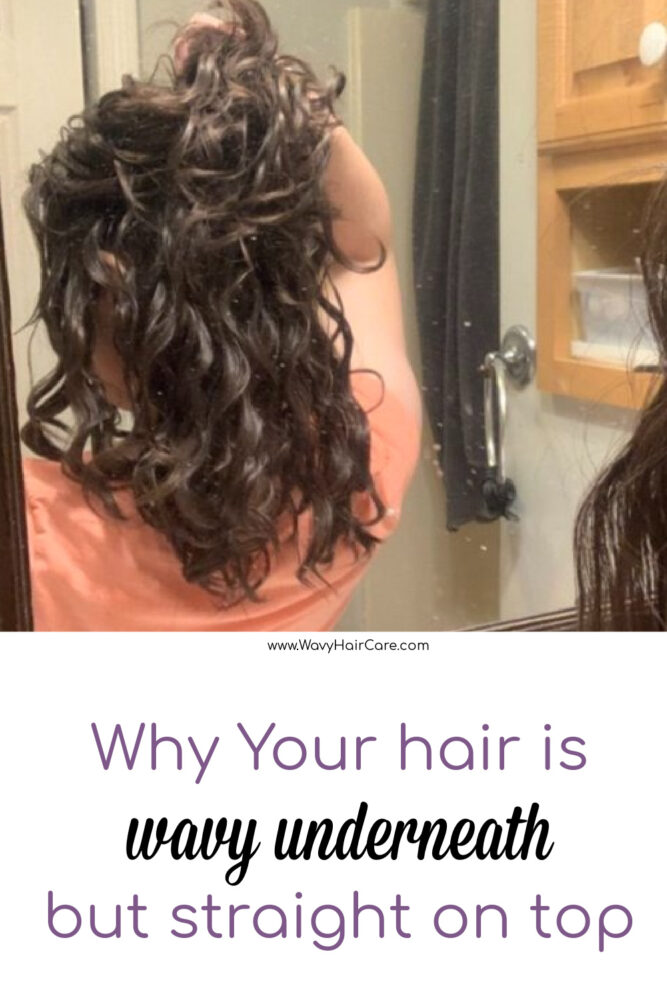 What Causes Hair to be Straight on Top but Wavy Underneath?
Nature. Uneven curl pattern is sometimes just natural
Sun Damage. The outer layer of hair is often more damaged by the sun. Especially true for gray or blonde hair as the melanin in dark hair protects it from the sun.
Transition Phase. Sometimes it happens when hair is undergoing changes due to hormonal differences (such as in preteens, pregnant, postpartum, or menopausal women). Sometimes the transition from straight to curly hair happens unevenly across the head but will eventually even out.
Moisture Differences. Hair near the neck sometimes curls up tighter because the hair there is often finer and may be more sweaty/oily which results in it being better moisturized than the top layer. Also, the outer layer of the hair is exposed to the environment so when the air is dry, it can steal water from our hair and the outer layer may be the most affected.
Product Build Up. Sometimes the outer layer gets more product build up because most people apply their hair products to the outer layer of their hair first, which can result in more product being applied there.
Hard Water Build Up. Sometimes the outer layer of hair gets more hard water build up due to standing under the shower with the outer layer of the back of your hair hitting the water first.
Shower Head Damage. Using a really aggressive showerhead can cause physical damage to the hair and if this happens it's usually primarily on the outer layer of the back of the head as that's usually the part of your hair that hits the shower head first.
Heat Damage. The outer layer can suffer more heat damage. Often when curling or straightening our hair, we're really particular about getting the top layer to look 'perfect' because it's the most visible. This can mean running the hair straightener over sections of hair more times on the top vs the bottom, or re-curling locks of hair more on top than underneath. If you've heat styled your hair a lot, you may have done more heat damage to the outer layer resulting in it getting straighter from the damage.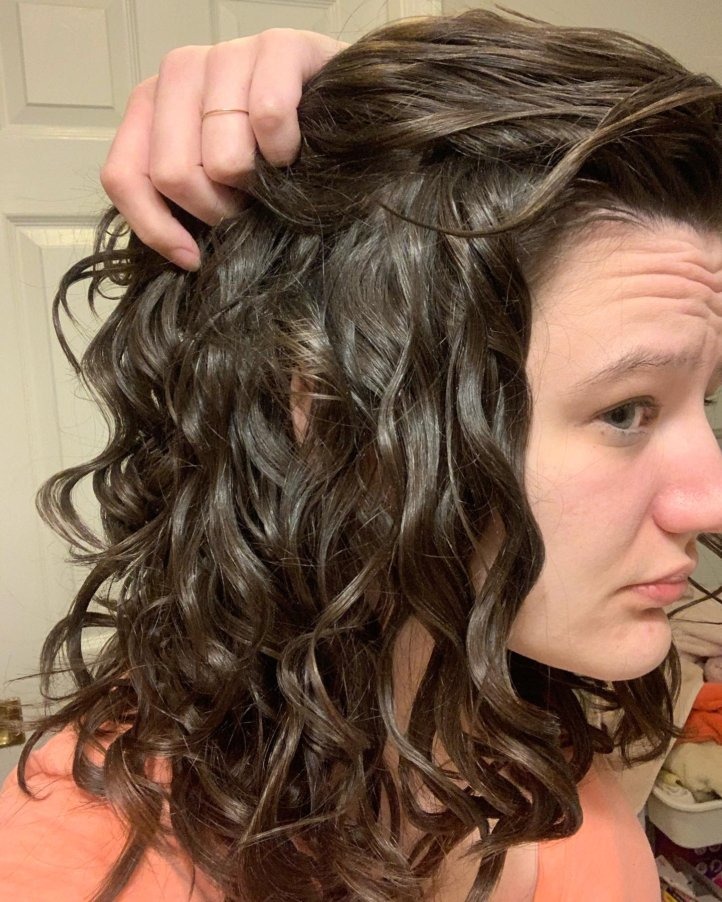 Can I Get The Top Of My Hair To Curl Like The Bottom?
When you have a natural difference in curl pattern, it's unlikely to be able to get your hair to be perfectly identical when styling. However, you certainly can embrace some techniques to even out your curl pattern as much as you reasonably can.
If you haven't been using hair stylers with hold (like gel or mousse), you may find that if you switch to using a styler when your hair is wet, it'll help the straight layer dry more wavy curly and will match the underlayer more. If you'd like a starter routine, I'd recommend my post sharing the easiest curly girl method wavy hair routine.
If you've already been styling your hair wavy with a styling product with hold but still find that your top layer is straight while the underside is wavy, giving extra TLC to the top layer can help really maximize its wavy potential. For example:
Diffuse the outer layer first so it dries fastest. If necessary, let your underlayer air dry or wait a while before you diffuse it to elongate it.
Scrunching the top layer harder or longer than you scrunch the underside.
Get a haircut that shortens the outer layer so that the curlier underside can show through more.
Finger-coil or brush style the top layer to tighten the curl pattern of the straighter pieces.
If your outer layer is different because it is more damaged, you may be able to get more cohesive hair if you work to reduce how much damage is happening to the outer layer. This will be a longterm solution as it'll require being gentle on your hair and letting the old damage grow out. Still, ideas for that include:
Use UV protecting hair products to reduce damage. This will require a longterm commitment rather than creating sudden results. However, if your outer layer of hair is sun-damaged, then protecting it from sun damage starting now can result in your hair eventually being less damaged on the outer layer.
If your outer layer is straighter because it's more damaged by heat, then treating your hair gently by reducing how often you heat style, lowering the temp on your heat tools, and/or using heat protectant products and allowing it to grow out may result in your hair curling better in the future.