Easiest Wavy Hair Routine
When you are first looking to start the curly girl method, it's easy to get overwhelmed! I am over 3 years in now, and I still feel overwhelmed watching some people's haircare routines. I don't want to use 5+ products, I don't want to be doing my hair for 2 hours on wash day, I don't want to rotate through different products each wash day, etc.
I'm not happy with how my hair looks if I just wash, condition and air dry, though. I really enjoy using techniques that embrace my waves well, but the amount of time and money that I'm willing to invest is not endless.
I often see people say that they're interested in trying the curly girl method or some other form of naturally wavy hair care, but they feel overwhelmed or like it's too much work. I thought I'd share a recommended easy curly girl method beginners routine for wavy hair.
The goal with this is to provide enough products and routine to help you embrace your wavy hair, without it being overwhelming or time-consuming. I think this would an ideal curly girl method beginners routine, but it also could work for people who have some experience but are just looking for a lower maintenance routine.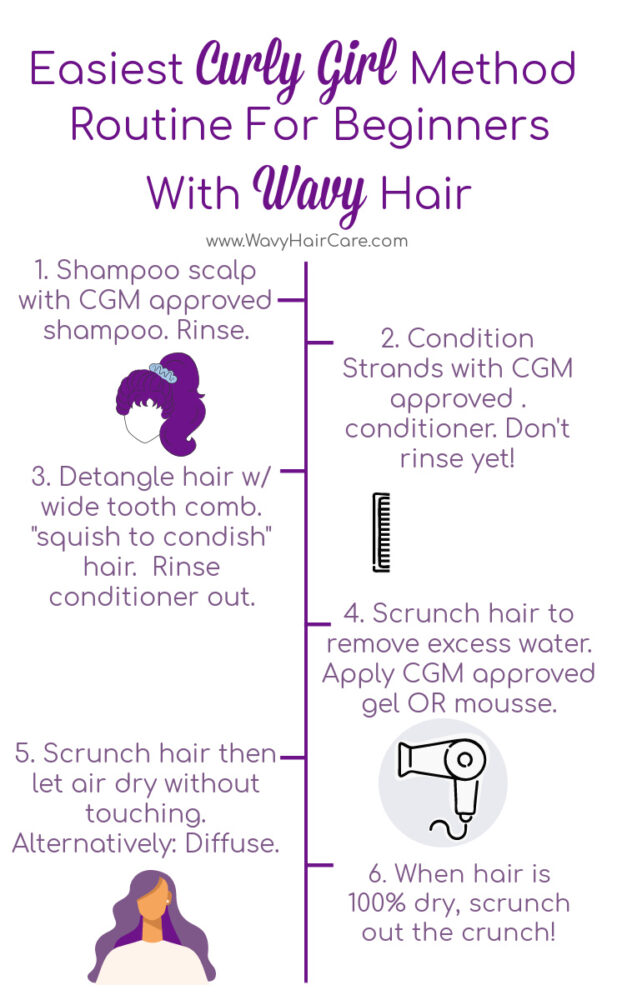 Can The Curly Girl Method Be Low Maintenance?
The true curly girl method comes from the book The Curly Girl Handbook and it's different from what most people mean when they say curly girl method online. I have a blog post discussing the real curly girl method vs how it's used online.
Anyway, online when people reference the curly girl method they're usually talking about avoiding sulfates, silicones and drying alcohols. That's how I'm using the term in this blog post.  With that in mind…
Curly girl method routines range from fairly simple to very complex! To some degree, how elaborate of a routine you need may depend on your natural hair properties and hair goals. In a nutshell though, yes the curly girl method can be relatively low maintenance.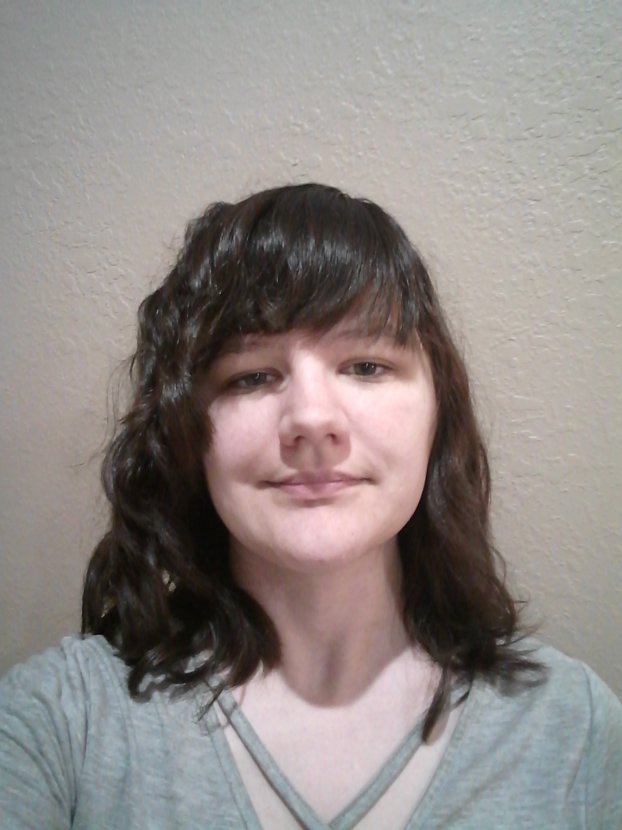 A recent day where I skipped using any stylers in my hair. Less wavy and defined than usual from the get-go, and it falls flatter and loses definition by the end of day 1. 
Do I Have To Style My Hair All The Time To Keep It Wavy?
In my experience, it's fine to skip styling your hair sometimes. Sometimes I just wash, condition and brush my hair and leave it that way until the next wash day. It's noticeably less wavy than when I style it. However, if I style it wavy the next wash day, it waves up the same way as always.
I've never noticed my hair being less wavy after skipping styling it once or twice. On days where I am too busy, too depressed or just don't care enough to spend time on my hair, I just give my hair a break. I sometimes find it to be beneficial to see what my hair looks like product-free, too.
If you have product build-up, for example, you may not know it if you're always using products in your hair but if you wash it and don't use any stylers, you'll feel the buildup. For that reason, I think it's even beneficial to occasionally go without styling your hair. Of course, this is just my personal experience.
Some claim that if you wear your hair wavy regularly, it helps with what they call "curl memory". It's the idea that if you wear your hair wavy or curly all the time, your hair can "remember" how to be wavy or curly easier than if you style it straighter sometimes.
I've tried to see if there is research supporting this idea of curl memory, but haven't found any official sources. Therefore, I believe this information may be anecdotal, the same way my personal experience is.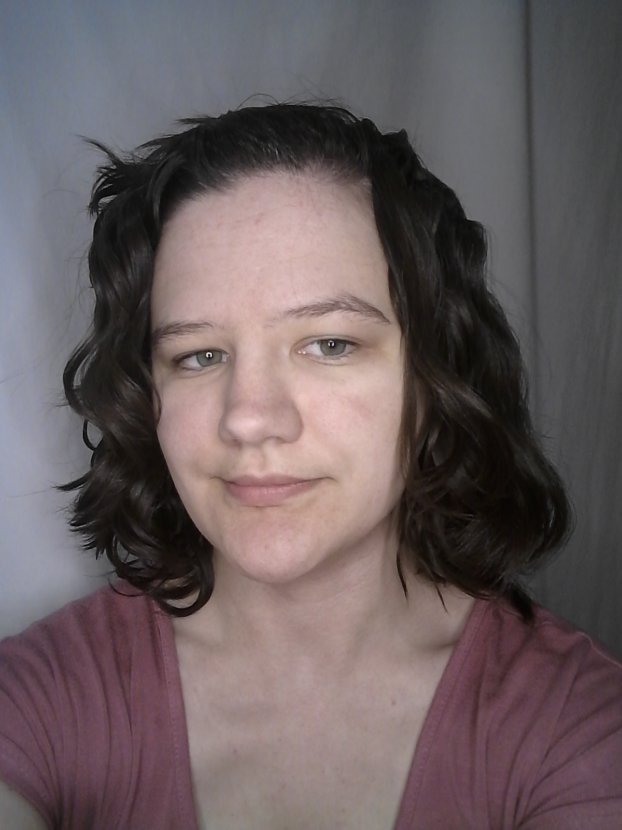 Simple Curly Girl Method Routine For Wavy Hair
This will be broken into two routines. One is a clarifying routine which you do just once per month, for the sake of removing buildup and getting your hair well-conditioned again afterwards. To make it easier to remember, I do my clarifying wash at the beginning of the calendar month. The other is your 'regular' wash day routine which you'll do on all other wash days.
Easiest curly girl method wavy hair routine (regular wash day routine)
Shampoo your scalp using a sulfate-free and silicone-free shampoo. Rinse with water.
Condition your hair using a silicone free conditioner.
Use a wide tooth comb or wet brush to detangle your hair while the conditioner is still in your hair.
Still with conditioner in your hair, squish/scrunch your hair to encourage waves.
Rinse the conditioner out of your hair fully.
Gently scrunch your hair to remove some water from your hair.
Apply gel OR mousse to your hair across all of your strands. It may help to apply it in sections to make sure you get even distribution. Try to get it over all of your hair strands (from the roots to the ends) without getting your scalp.
Scrunch your hair to encourage your waves to pop back up after applying gel.
Let air dry if possible. Do not touch your hair as it dries as that may disrupt your results. If your hair takes a really long time to dry, you may have to diffuse, instead. My hair takes 8+ hours to dry so I have to diffuse. If you need to diffuse, I have an article sharing tutorials for how to diffuse wavy hair four different ways.
Once your hair is 100% dry (it will not feel cool to the touch anymore) scrunch your hair to get rid of any crunchy feeling the gel left behind.*
That's it! You may want to try to protect your hair overnight. I have a post about how to sleep on wavy hair that can help with that if you'd like. You can leave your hair until the next wash day when you'll repeat the routine above. Or you may choose to refresh your waves each day between wash days.
It's totally up to you and what your hair goals are. I personally dislike refreshing so I rarely do it. I find that using a really hard hold gel or mousse helps me to go longer without refreshing my hair, while still being happy with the way my hair looks.
I wash my hair every 2-3 days, but how often you wash is really up to you. I have a blog post about how often to wash wavy hair if you want to read more on that topic.
* If you didn't get a hard, crunchy feeling over all of your hair, this may or may not be a problem for you. That hard, crunchy feeling is called a gel cast. Some people get good results without getting a cast, others will get poor results without a cast. To learn more about this check out my post what is a hair gel cast.
Need to find curly girl approved products? Check out my wavy hair product recommendations page. For this routine you can choose any curly girl approved "low poo", any curly girl approved conditioner, and any gel OR mousse, if you prefer mousse.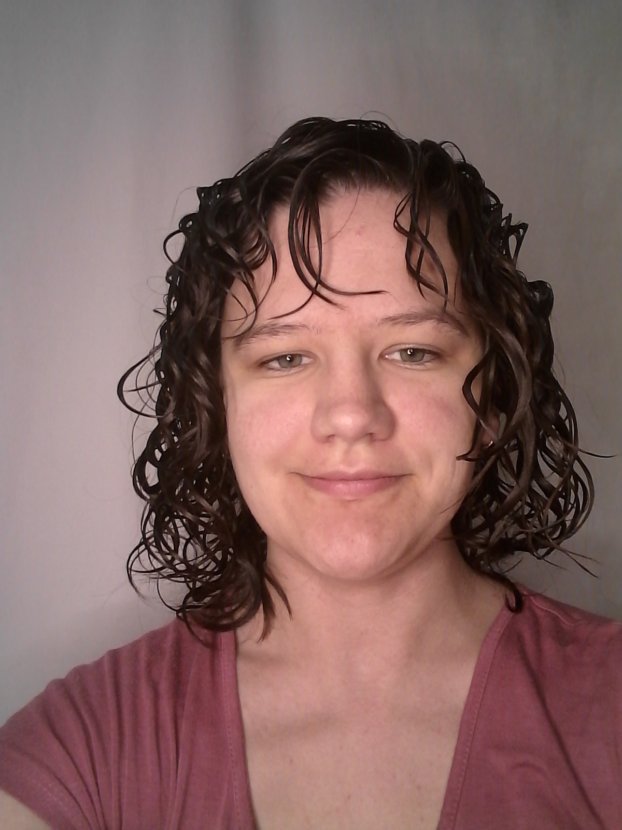 My hair in a gel cast (before scrunching out the crunch). 
Easy curly girl method monthly clarifying routine.
While the true curly girl method recommends NEVER using sulfates, I personally believe that clarifying about once a month is needed for everyone, but especially for people with wavy hair. Generally speaking, people with tighter curly hair have very dry hair, while people with wavy hair are more likely to have hair that ranges somewhere between oily to a little bit dry.
With our hair being more naturally oily, it gets weighed down by products easier and gets product build-up easier. In my opinion, clarifying to remove build-up is essential. I have a post about clarifying wavy hair if you want to learn more.
That's what this routine is for, getting rid of scalp build up once a month. However, because clarifying shampoos are really strong cleansers, they can be a bit harsh on the hair. For that reason, I recommend that you use a deep conditioner or protein treatment after clarifying to re-condition your hair.
Anyway, on to the monthly clarifying routine.
Shampoo your scalp using a clarifying shampoo. If you know or suspect that you have product buildup on your strands, you can also shampoo your strands.
Rinse the shampoo out.
Apply a silicone-free and drying-alcohol free deep conditioner OR protein treatment. If you aren't sure if your hair needs protein or not, I'd recommend using a deep conditioner. If you know your hair likes protein or if your hair is bleached or chemical damaged (such as from a chemical straightening treatment or perm) your hair probably would benefit from a protein treatment).
Scrunch your hair while you have your deep conditioner or protein treatment in. Let it sit on your hair at least 5 minutes, and up to 30 minutes. De-tangle your hair using a wide tooth comb or wet brush.
Rinse your hair clean.
Apply gel OR mousse.
Let air dry or diffuse.
Need help choosing products? Check out my wavy hair product recommendations page. For this routine you can choose any clarifying shampoo, any deep conditioner or protein treatment, and any gel OR mousse.
What's next?
Where you go after trying this easy beginner's routine for naturally wavy hair is really up to you. You can just keep with this routine if you're content to! If you decide that you want to expand on it or try other techniques, you can do that, too.
Here are a few of my blog posts that may be of interest to you if you are considering doing a little bit more of a routine.
Air drying vs diffusing (photos showing the difference it makes for me so you can decide if it may be worth it to you).
Damp styling vs wet styling (photos showing the results I get from damp vs wet styling. This beginners routine showed you wet styling, for reference).
Upside down vs rightside up hair styling for wavy hair. Pics in that post show the results I get from each method.