Signs That Your Hair Is Dry
Lacks shine
Feels rough
Looks its best right after it dries from a shower, gets frizzier and duller as time goes on.
Is really long because the ends may get dry due to oil not traveling all the way down your hair.
Is frizzy (dry hair will be frizzy, but frizz can be caused by many other things as well! See my post on frizzy wavy hair for more info)
Your facial skin or skin in general is dry. While we don't always think of our hair as just part of our skin, it is – and if your skin produces less oil your hair will be more dry.
Tangles a lot. Dry hair is just one of many causes of tangling, but it is one potential sign. Check out my post on wavy hair tangles for more info.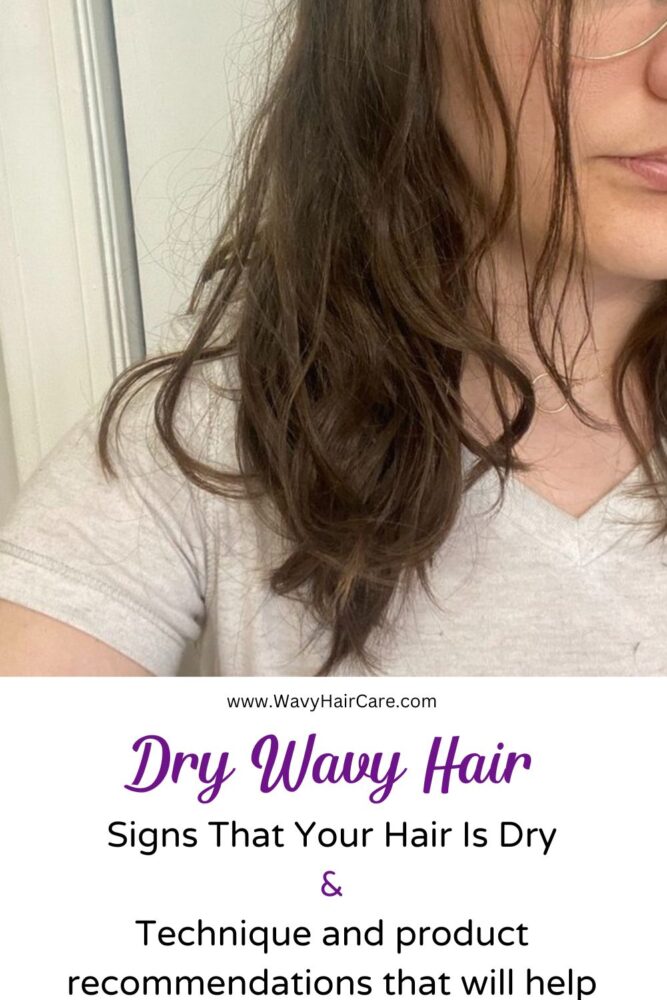 What Causes Dry Hair?
Damage. The biggest cause of dry hair is damaged hair. If you've dyed your hair or if your hair has a lot of heat damage, this can cause your hair to lose some of its protective factors. The exterior layer of our hair is sort of like shingles on a roof when healthy. When damaged, some of those shingles will be raised, allowing too-easy access to the interior of our hair strand. This is what we refer to as high porosity hair. In severe cases, some of the 'shingles' can even completely come off, leaving gaps or holes in our hair cuticle.
When our cuticle is raised or has missing pieces, water and products enter our hair really easily, but they also fall out really easily. This results in damaged hair being more dry than healthier hair.
Living in a dry climate is another big factor. Our hair naturally tries to balance out the moisture level in our hair, with the moisture level in the air. This means that if you were to analyze hair from a really dry climate with hair from a huimd climate, the hair from the humid climate would hold onto more water than the hair in the dry climate. So if you live in a dessert-like climate, you're likely to have dryer hair.
Severe build-up. If product build up or mineral build up from hard water become severe enough, they can lead to hair not absorbing water very well. Essentially, product build up and/or mineral build-up can coat the outside of the hair making it too hard for water to get in, and this can leave your hair dried out.
Over-shampooing this is primarily only a problem for people who also have damaged hair. From a hair chemistry book that I've been reading, shampoo can be harsh on bleached hair because it interacts differently with shampoo. Hair is naturally hydrophobic, so shampoos are typically made with that in mind. Bleached hair becomes hydrophilic, so shampoos basically work "too well" for them and this is drying.
Under-conditioning. If your hair is on the dry side naturally and you never or rarely use conditioner, this can lead it to become dry. Or, if you have dry hair from damage or other factors and skip conditioning that can be the cause.
Sun exposure. Sun exposure is a particular cause of damage and dryness for bleached, naturally blonde or gray/white hair. Dark hair has proteins that protect it from the sun, which lighter hair doesn't have. As a result, sun exposure does more damage to lighter hair and this can lead to dryness.
Hair texture. By hair texture I mean whether your individual hair strands are fine, 'normal', thick or coarse. Finer hair is usually naturally more hydrated, while thick or coarse hair is more dry.
Hydrated Vs Conditioned Hair
People frequently use the word "moisturized" to refer to two separate concepts, which can get pretty confusing. I thought it would be helpful to address the difference. Sometimes people talk about 'moisture' in reference to water, and sometimes they use it in reference to conditioning.
If your hair is dry, in most cases, it could benefit from becoming more hydrated, rather than becoming more conditioned. Conditioned hair is hair that has been treated with products to make it feel smoother and more manageable. Products that advertise themselves as "moisturizing" often do a combination of helping to hold water in your hair, and helping to condition your hair.
Products that are 'very moisturizing' often have heavy oils or butters in them, such as shea butter. These heavy ingredients are great for some hair types, but are typically too heavy for wavy hair. Before starting my curly girl method journey years ago, I thought of my hair as dry so I tried buying a lot of conditioning products.
When I used them all, my hair started feeling greasy or oily. I was so confused about how my hair was bouncing back and forth between dry and greasy and wondered why I couldn't find a middle-ground. I've since learned that the reason was, my hair needed more water, not more oils!
Wavy hair can definitely vary, but as a general rule of thumb, wavy hair is easily weighed down by heavy moisturizing ingredients. If you have dry wavy hair, you do want to use conditioners, but you want to use ones with lighter ingredients.
Techniques To Use To Hydrate Dry Wavy Hair
pre-shampooing (done before washing)
Squish to condish (done while conditioning in the shower)
The bowl method (done after your shower)
Products to use for dry wavy hair
Gentle shampoos or cowashes, these may be particularly helpful for bleach or otherwise chemically damaged hair.
Conditioner with light ingredients
Leave in conditioner with light ingredients
Oil (only with conditioner!). In some climates, using oils make sense because they can help lock humidity out of your hair. However, if you're going to use an oil, they should be used over top of moisturizing products like a leave in conditioner or a curl cream. This way, the oils will help lock those conditioning ingredients into your hair. I have an entire blog post on hair oils for wavy hair if you'd like to learn more.
Deep conditioner, usually with light ingredients.
Protein treatments or masks. If your hair is damaged, then incorporating protein will help strengthen your hair to keep it strong enough to hold on to water better and longer and reduce future damage.
UV-protection hair products. Particularly if you have bleached or naturally light-colored hair, using hair products with UV protection in them can help prevent future damage and help your hair become less dry overtime