There are affiliate links in this post. 
Do I Have To Use Hair Oil When Following The Curly Girl Method?
Using hair oil is not required in the curly girl method. Many oils are permitted in the curly girl method though. So, they're an option, but not a requirement.
What Is The Purpose Of Using Hair Oils?
Hair oils are used to condition/soften the hair, add shine, lock moisture in and block out humidity out, or help break a gel cast. 
Hair oils have two main purposes. One is to help soften the hair and make it more manageable. Many people think of this as 'moisturizing' the hair, but oils don't actually hydrate the hair. They do make it feel softer and more manageable though. This can assist with making detangling easier, and it can just make your hair physically feel better to the touch. They sometimes also produce a slightly shiny look which people like for aesthetic reasons.
The other reason for using oils is to lock moisture in, and humidity out. Many hair oils create a really fine seal over the hair, which can help keep water and conditioning ingredients inside of the hair to keep it from getting dry or feeling rough. They also can lock humidity and other things out of your hair strands. If you live in an area with really high humidity, you may notice that your hair gets really frizzy if you go outside when its humid. This is because high humidity conditions can cause your hair to try to pull in too much water from the air, which results in frizz. Using a hair oil can help stop humidity from entering your hair, and help avoid that frizz.
Important note: Using hair oils on their own will not make your hair more moisturized and in most cases, will actually dry your hair out more! It's a common mistake for people to use hair oils on their dry hair to try to moisturize it.
A third reason within the curly girl method world in particular, is to break a gel cast.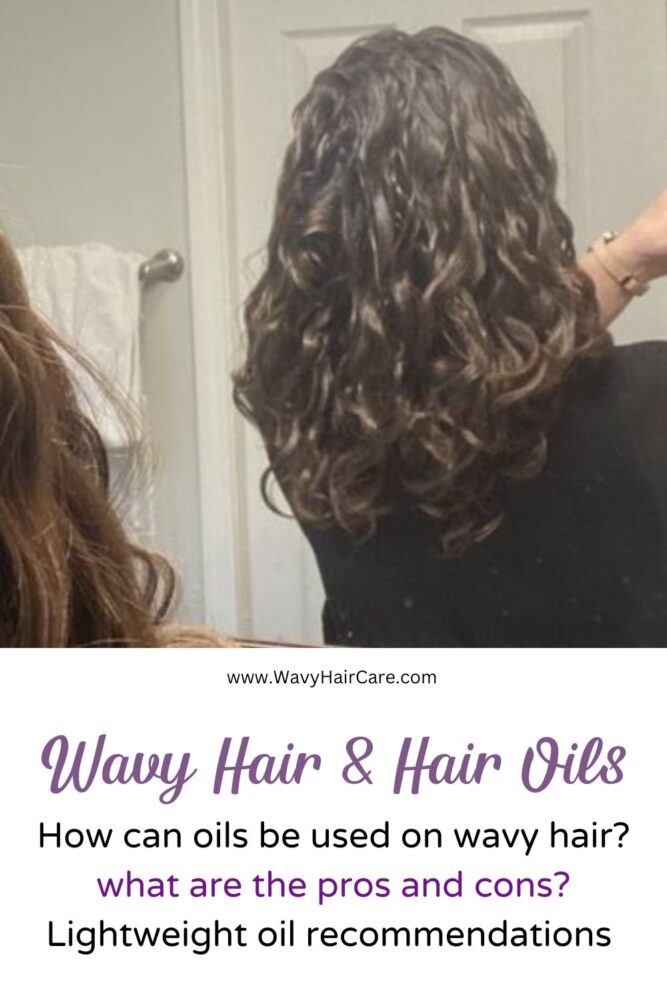 Should You Use Hair Oils If You Have Wavy Hair?
It's really a personal preference! I don't use hair oils, primarily because I don't usually use leave in conditioners or curl creams, so I don't need to use an oil to help seal those moisturizing ingredients in my hair. In general, my hair stays well moisturized and doesn't tangle, so I don't need to focus much on locking moisture or conditioning ingredients into my hair.
I live in Michigan, where we have some pretty humid summer days, but my hair is fairly low porosity so it doesn't react too much to humidity. I can see hair oils being more helpful for people with dry, damaged, tangle-prone hair, especially if they live in an area with really high humidity.
I have a blog post all about how humidity and dew point impact wavy hair if you want to deep dive.
Types Of Hair Oils
There are two main types of hair oils.
Moisturizing oils that are intended to penetrate the hair to soften it,  and make it easier to brush or manage. These oils have a lower molecular weight (meaning they are more lightweight) and will still have some occlusive properties, despite not primarily being used for sealing. Examples of moisturizing oils include argan oil, jojoba oil and grapeseed oil.
Sealing oils. Sealing oils are heavier and are designed to create a film around the hair, to lock moisture in and humidity out. Examples include shea butter and castor oil. These may be too heavy for many with wavy hair, especially if you have fine individual hair strands, low porosity hair or low density hair.
What about serums? People often refer to hair serums as oils, and they are a fairly similar product category. The difference is that serums include multiple ingredients, while 'true' hair oils are a single ingredient.
What Are The Downsides Of Using Hair Oils?
Build-up. Because oils try to seal the hair, they can build up on your hair and keep moisture from getting in over time. If you use hair oils regularly, you should use a clarifying shampoo more often than you would if you weren't using hair oils. Severe buildup can lead to water and hair products being unable to penetrate your hair shaft and your hair getting dehydrated over time. I have a blog post all about clarifying wavy hair to remove build up if you want to learn more.
Bad results. Most people with wavy hair need to use just a really tiny amount of a hair oil, or their results will look weighed down or greasy. In some cases, your hair may even feel greasy if you use too much oil. A little goes a long way, and it's easy to overdo it when using hair oils.
Why Do Hair Oils Make My Dry Hair Greasy?
Hair oils can make hair look and feel greasy because they are oils, and greasy hair is just oily hair. Many times people think hair oils should help moisturize dry hair, so they're confused about why it goes from dry to greasy. This happens because hair oils don't moisturize hair, they just condition it. If your hair is dry, your hair is lacking water, not oil/conditioning.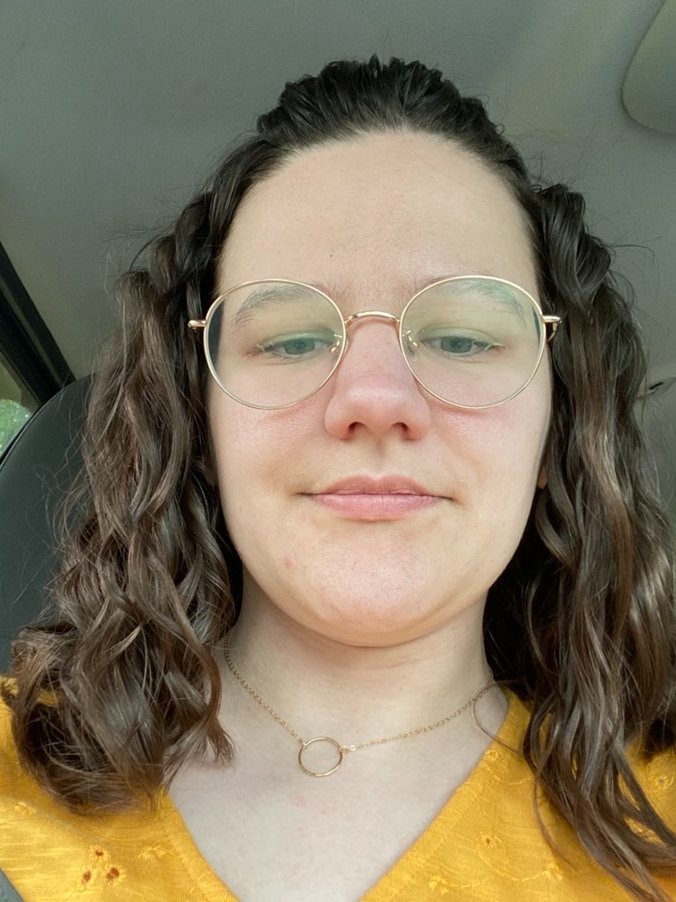 What Are Some Lightweight Hair Oils For Wavy Hair?
The "oil" (it's actually a serum) that I see suggested most often for wavies is Verb Ghost Oil. I own this oil and have used it, and it really is very lightweight. I haven't seen really obvious benefits from using it myself, but again, I don't really need the benefits that oils or serums can provide.
The other oils that I see suggested for wavy hair include Argan and Grapeseed oil. I tried Argan oil to scrunch out the crunch when I was really new to the curly girl method, but I didn't see any obvious benefit from using it so I stopped.
Do Hair Oils Help With Frizzy Wavy Hair?
Hair oils can help with frizz if your frizz is caused by the weather. If you find that your hair gets really frizzy when it has rained or is really humid outside, you may find that using an oil helps protect your hair from those weather conditions and keeps it from getting frizzy as a result.
If your frizz isn't weather related but is due to damage, dryness, breakage, etc then oils won't likely help.
I have a blog post on the causes of frizzy wavy hair and a second blog post on how to fix frizzy wavy hair.
Ways oils are used on wavy hair
Pre-Poos. Pre-pooing is when you use oil to soak your hair before shampooing. The goal of pre-pooing is to keep high porosity hair from experiencing excess swelling during the washing process. It also may assist with the detangling process.
Adding to conditioner. Some people will add a drop of oil to their conditioner before adding it to their hair. This can help make the conditioner extra conditioning.
For detangling. Some people add a little oil to their hair to make their hair smoother and easier to detangle.
To break a gel cast. A lot of people following the curly girl method or wavy girl method will spread a drop of oil across their hands before scrunching the gel cast out of their hair. Oils (or any conditioning product) can help soften a gel cast. Having oil on your hands may also make your hands glide across your hair more easily, which can result in less frizz being created while scrunching out the crunch.
Source: https://themestizamuse.com/how-to-use-oil-for-curly-hair-a-comprehensive-guide/