A while back I was given the chance to be sent customized haircare from Function Of Beauty on another blog. So, I did not pay for the shampoo and conditioner that I was sent. The agreement I was part of didn't include this post, though. I thought I'd share my experience with the brand on this blog on my own.
I see Function Of Beauty asked about in wavy and curly hair groups fairly often. I figured some of you would be curious to hear how customized haircare from Function Of Beauty worked for someone with wavy hair.
First, it's important to know that Function Of Beauty will make super customized haircare for you when you order online, and that this is different from the Function Of Beauty products available at Target. This review is for the products available online only.
How Function Of Beauty works
To order from Function Of Beauty's website you have to fill out a quiz about your hair. It asks you for details about your hair such as your curl pattern, hair thickness, and whether your scalp is dry, balanced or oily.
I put that my hair is wavy, fine, and that I have a balanced scalp.
It also asks you questions about your hair goals and other product preferences. You're able to choose up to five hair goals. The options include deep condition, fix split ends, hydrate, replenish, strengthen, rejuvenate, color correction, lengthen, thermal protection, volumize, anti-frizz, curl definition, nourish roots, shine, soothe scalp, straighten, oil control and reduce brassiness. 
I chose strengthen, volumize, and curl definition.
I think a lot of the time when people think they need to strengthen their hair it's because they're dealing with breakage. I do not have much breakage, but I chose strengthen because I know that strengthening hair products have protein and my hair loves protein. My hair being fine means it needs added strength to support my curl pattern.
I chose volumize because I love volume. I chose curl definition because my hair doesn't stay well defined naturally. I chose anti-frizz because while I don't have a major problem with frizz, I'm always happy to have even less!
At this step where you're selecting your hair goals, you're also given the option to request a silicone-free formula. The shampoos that Function Of Beauty creates are always sulfate-free, so if you choose silicone-free this will help you to avoid the two main culprits that make products not curly gir method approved.
I am not someone who strictly follows the curly girl method, but I do usually avoid sulfates and silcones so I did check the 'no silicones' box.
Next you get to choose which sent you want your hair products to be, or you can opt for no added scent. I chose nude peach which the website said gets the best reviews. You also get to request whether your product has a soft, medium or strong scent. I went with a medium scent.
Next you get to add your name or a nickname which will be added to your product bottles. I just put my name, Emily. Then you choose which color you'd like your shampoo or conditioner to be. Or you can opt for dye-free. I picked pink for my shampoo and a light purple for my conditioner.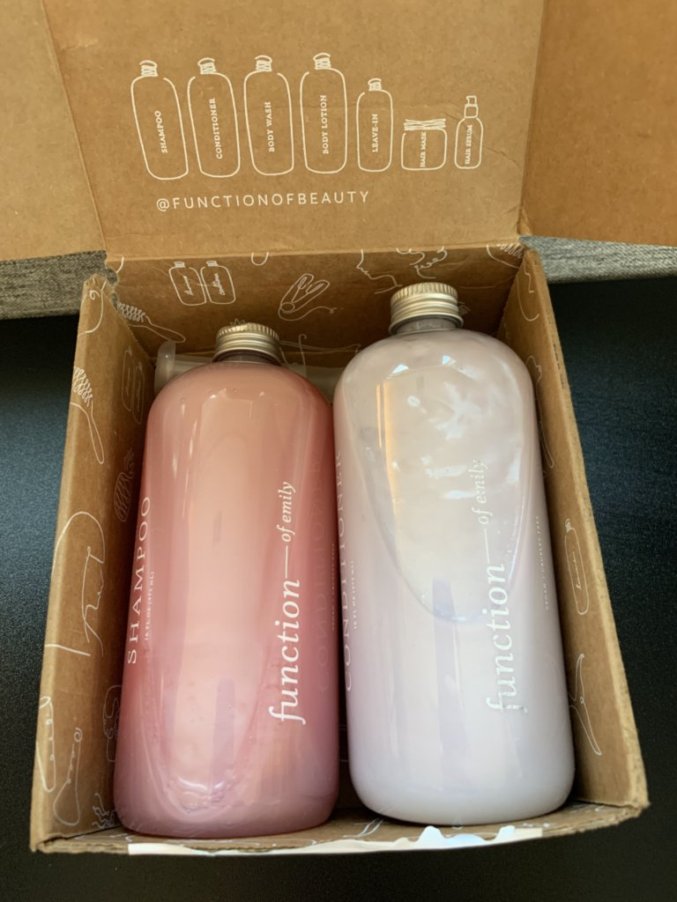 Function Of Beauty Review On Wavy Hair
The shampoo and conditioner that I was sent both work well on my hair. The shampoo feels cleansing without being stripping which is exactly what I like in a shampoo. It foams up a bit more than I'm used to but it doesn't bother me. The conditioner provides enough slip for me to work my fingers through my hair and detangle my hair (if needed) with ease.
I like how I can customize the color of each product, and how the bottles are clear so the color of your product is really visible. It makes my shower look a bit more fun when I look in to see pink and purple hair products side by side. The bottles come with simple twist-on caps, but they also come with pump dispensers.
When mine arrived I swapped out the old caps for the pumps and threw away the lids. I really regret doing that, unfortunately. So I'd advise that you save the caps just in case! I have a tiny stand up shower with tiny shelves in the corners. I have to try to fit a shampoo and a conditioner both on one corner shelf seems how there are just two shelves and there are two people, we each try to use just one shelf.
Anyway, after just a few uses I accidentally knocked the conditioner off the shelf in the shower and when it hit the shower floor, the pump busted right off. I do prefer having pumps on my bottles, but I would have swapped the old cap back on it now that the pump is broken, if I wouldn't have thrown it away.
Now I have to unscrew the pump and shake the conditioner bottle like an old glass ketchup bottle to get the conditioner out. It isn't a huge deal, but it also isn't super ideal because the condition is pretty thick and it does come out too fast this way. The pumps are definitely better!
The fragrance I chose (the nude peach) smells SO good – and it's a really powerful smell! I actually had to double-check if I really chose 'medium' scent intensity rather than strong because I'd definitely say this is a strong scent, but I did order medium.
It's really strong smelling while I'm in the shower, but it also lingers on my hair. If I sniff my hair the day after I washed it, I can still smell the products which is rare for me. So, if you don't like a strong scent definitely go with 'light'!
If you're someone who likes to know what exactly is in your products, you can find out what is in your hair products by visiting your function of beauty account. When you go to my account and click "previous order history" and then "see full order details" and finally "download regimen card" will show you the ingredients of your customized products.
Is Function Of Beauty Worth The Price?
Function of beauty costs $49.99 for a customized set of 16oz shampoo and conditioner. That's more than I've ever spent on a shampoo and conditioner set before. My go-to shampoo and conditioners are $9 per bottle or $18 a set, less than half the cost of this.
I like how the Function Of Beauty customized products worked for my hair. I feel like they have enough cleansing to keep me only clarifying once or twice a month like I'm used to. I think they have enough protein to keep me doing protein treatments about twice a month like I'm used to, too. In other words – I think they do meet my needs well.
However, a lot of shampoo and conditioner products meet my needs well. I am not someone who has a hard time finding shampoo or conditioner in a drugstore or grocery store that work well for my hair. I think this service might be a better fit for people who do really struggle to get everything they need in a shampoo and conditioner in their local stores.
I don't find that the customized Function Of Beauty set makes my hair feel much, if any, different than I feel using other shampoo or conditioner products. The scent of these is really, really good, and customizing the colors is fun. For me, is it worth paying almost double what I'd usually pay? No, it isn't. I don't expect to repurchase from Function Of Beauty unless I find a really great sale.
If you've decided to give them a try and are looking for a deal, look for a referral link. Existing customers can provide special referral links and if you sign up with a referral link you'll get a 20% off coupon, and the person who referred you will get $5.
Is Function Of Beauty Ecofriendly?
The 16oz bottles and pumps are made from recycled plastic. Their products are always vegan, cruelty-free, sulfate-free and paraben-free.
Can you get function of beauty curly girl method approved?
All Function Of Beauty shampoos are sulfate-free, so they should be curly girl approved. For the conditioners, you can request that they are silicone-free, but they may still include other non-curly girl approved products such as waxes or trying alcohols depending on how yours is customized.