I was given the opportunity to try Prose hair products for review. I didn't pay to buy these products. I'm not being paid to write this review. My intention is to do my best to be as unbiased as possible when doing reviews, even when the products were sent to me.
Prose Custom Hair Products On Wavy Hair Review
In the wavy and curly hair groups that I hang out in, every once in a while people start threads asking about custom haircare options. Many people get to a point where they feel like they've tried a lot of products and wonder if getting something custom-made would be a good route to take.
In the past I tried Function Of Beauty. FOB makes semi-customizable products that are sold at Target, and then fully customizable products on their website. I did a Function Of Beauty Review that featured the fully customized products if you want to check that out. I was curious to see how Prose products may compare to Function Of Beauty, as these two brands are the two I most often see discussed when customized hair care is brought up.
I took the haircare survey which asked me about my hair and my routine. They factor in things like your curl texture, hair strand thickness, how simple or elaborate of a routine you're comfortable with, and more. You're also able to share your hair goals and they factor those in as well. From my results, I was sent a pre-shampoo, a shampoo, a conditioner, a leave-in conditioner, and a curl cream. I requested that my products be made silicone-free. All Prose products are sulfate-free, and also free of parabens, mineral oils, gluten, dyes, GMOs, and animal cruelty.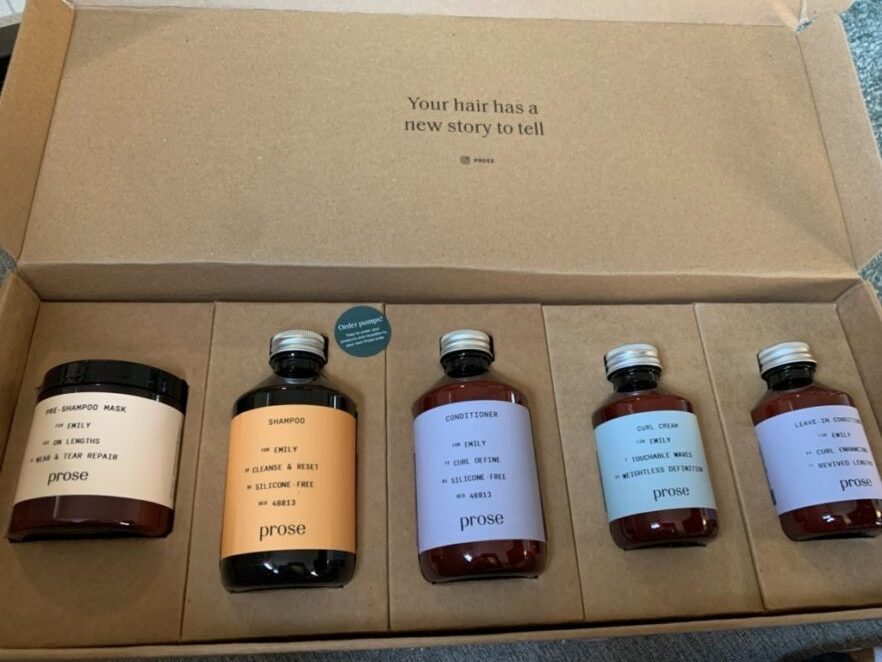 The items arrived in a rectangular box with separate bottles. I was also sent dispensers, but if you want these you have to pay for them. I believe Prose's goal is to have people order the pumps in their first shipment, but keep them for future shipments to reduce plastic waste which I can appreciate.
I have to admit, I was a little bit bummed that I wasn't sent a gel. I know Prose makes custom gels for some people, and my hair really needs a product with a significant hold to style well. I was hopeful that the company may recognize that I'd want a gel because of the information I provided them.
That included that my hair is loosely wavy, that I have fine-strands, and that my hair goals included curl definition. Of course, this is an issue that is limited to me as a blogger. I was sent the items that were suggested to me following my quiz, but if you are custom ordering you could select exactly what you'd like to receive or not. You wouldn't have to go with their recommendations.
I mention that they didn't suggest me a gel because I saw it as an insight that the brand may not be well-versed in my exact hair type. It's a really common misconception that wavy hair should use curl creams but not gels or mousses, so when someone knows that most people who are embracing their waves do need a harder hold styling product, that tells me they are really 'in the know'.
Custom Info On Your Hair & Environment
The shipment also included some paperwork that gave me suggested instructions for how to use each of the products, a list of all the ingredients in the product, and some information about their key ingredients. One of the papers tells you consultation results including your environmental factors (based on your zip code).
This was cool to see because they rated various conditions for my area on a 100-point scale. They said that UV rays in my area are 60, water is 100 (So true! We have VERY hard water here!), pollution 40, humidity 40, and wind 40. It was a bit reassuring to see a company point out that we have really hard water!
They also rated my hair and scalp needs. They ranked flakes at 65, sebum at 5, damage at 11, dryness at 20, and stressors at 30. I thought the other factors were pretty on-par! It takes quite a while for my roots to get oily so I do think my sebum level is low, and my hair doesn't really struggle with dryness or damage so those numbers being low also made sense to me. I wasn't sure what stressors covered, but I was able to log into my Prose.com account and more information was provided which is really nice! It explained that stressors include environmental stress or emotional stress.
I had never used a pre-shampoo before, although I have heard of them. I opted to use just the shampoo and conditioner at first. I thought that would let me get an idea of how those products functioned on their own.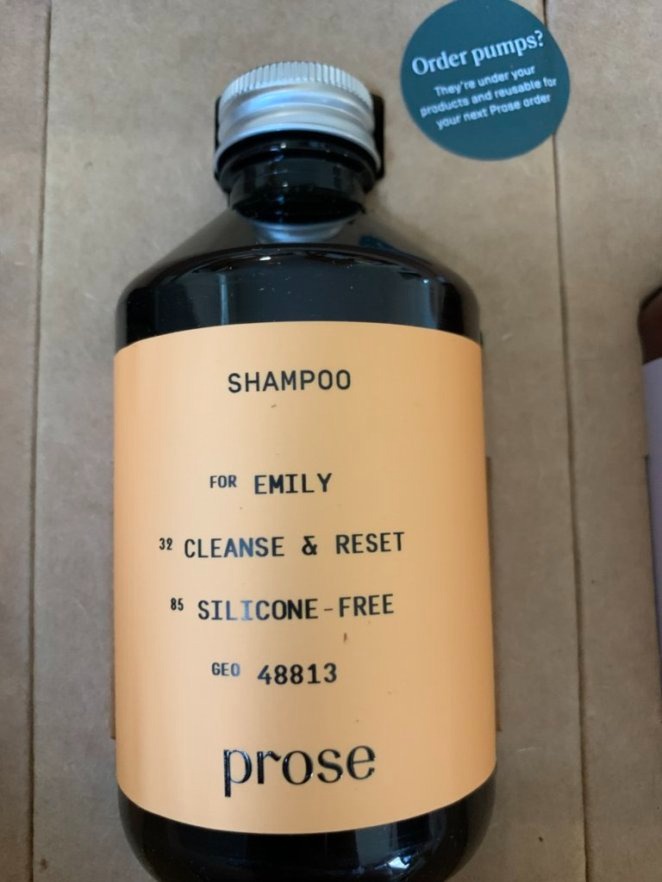 Prose Custom Shampoo On Wavy Hair
The shampoo and conditioner bottles are 8 ounces each, which is smaller than any I've owned before other than travel or trial-sized ones. The shampoo has a mostly clear appearance. The instructions suggested that I use about four pumps of shampoo, which was interesting because I usually use less than that. However, I did find that using more felt good.
It takes a little bit of scrubbing before I get suds, but once I put some elbow grease in, I get a good amount of suds from the shampoo. I like the shampoo pretty well. The smell is just okay to me, but not off-putting. I felt like my hair felt clean but not "squeaky clean" or clarified, which is exactly what I look for from my regular shampoo.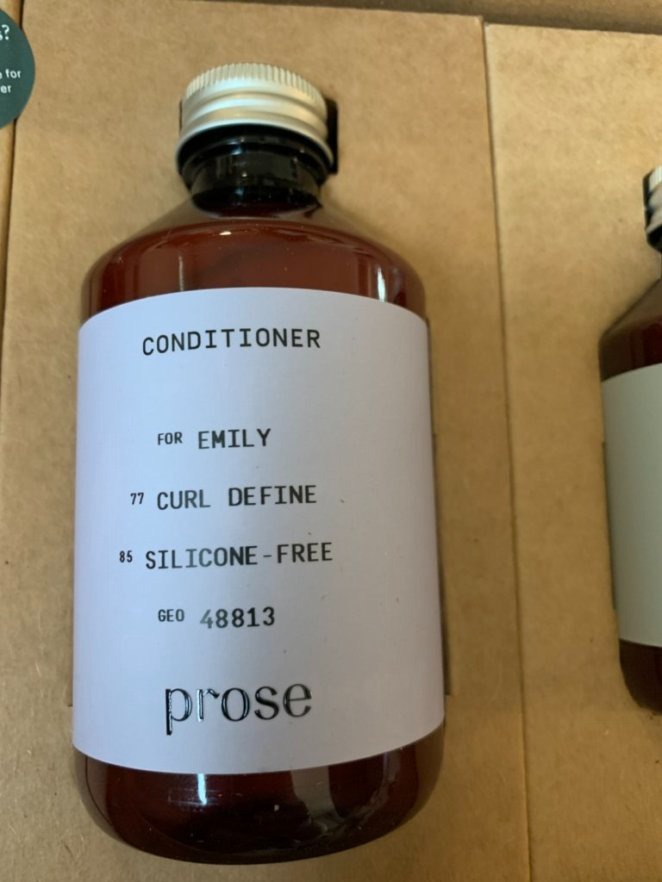 Prose Custom Conditioner On Wavy Hair
The conditioner is more of a white, creamy consistency. It's a bit thinner than some conditioners but isn't watery. The instructions suggested that I use four pumps of this as well, which again is more than what I would typically use. I was able to easily detangle my hair while this was in my hair, and it felt smooth and conditioned without feeling heavy or greasy.
Again, this performed exactly as I like for a conditioner. Though I will say, after a few uses I would sometimes cut back to just 2 or 3 pumps. I am not convinced that my hair really needs 4 pumps, but even when I used 4 pumps, I didn't feel greasy or weighed down or anything negative.
After trying the shampoo and conditioner alone to get an understanding of their performance, I went on to add in the leave in conditioner and curl cream on other wash days.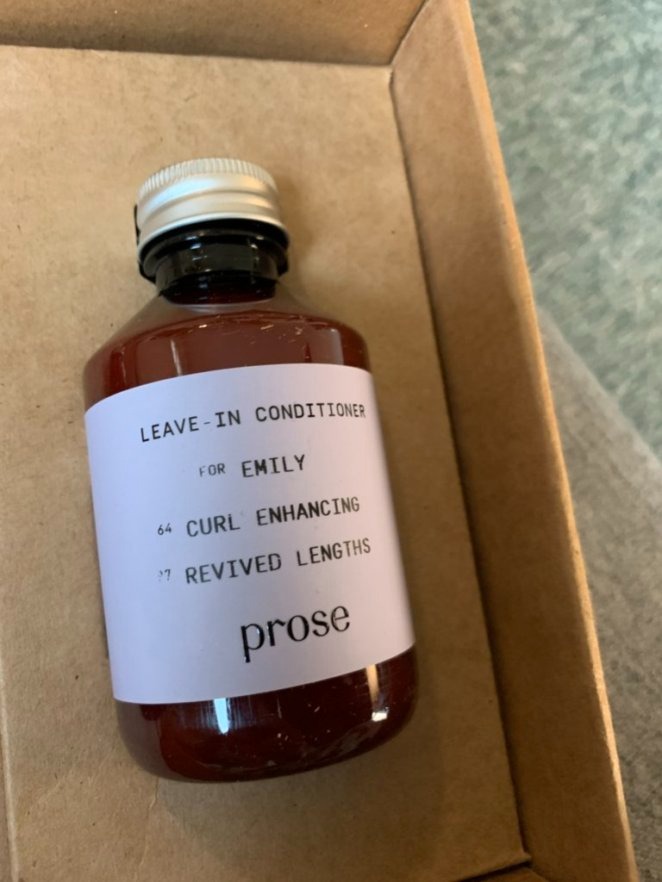 Prose Custom Leave-In Conditioner For Wavy Hair
I liked how the leave-in conditioner comes in a spray form. I don't usually use leave-in conditioner at all. My hair doesn't struggle with dryness, tangles or manageability much at all so I don't feel that I need one usually. However, if I am going to use a leave-in conditioner, it needs to be pretty lightweight and spray leave-ins are usually really light. So, without knowing any other info, if I am going to choose between a leave-in conditioning spray or a leave-in conditioning cream I am going to go for the spray.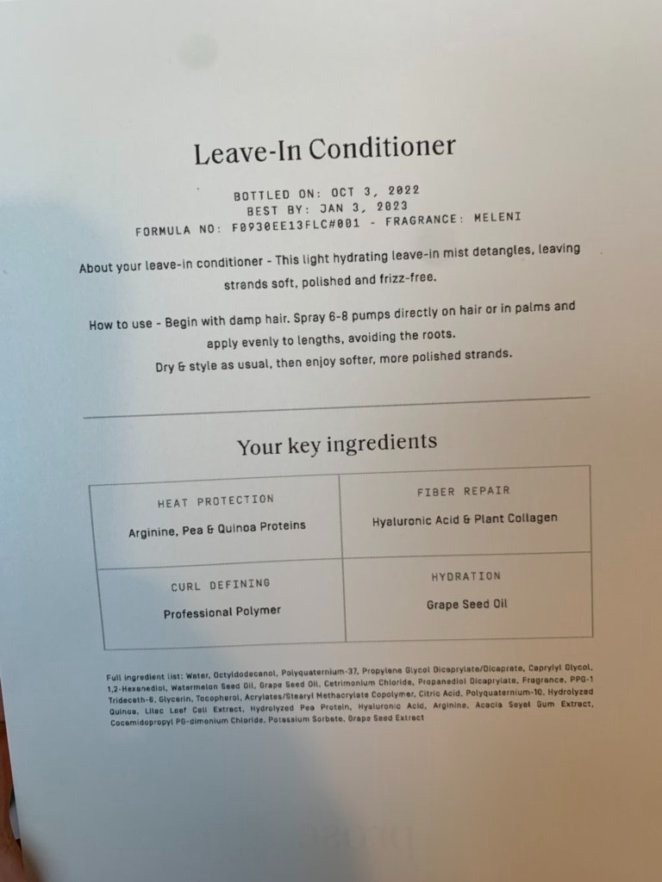 I was sent a paper like this for every product that I was sent. 
The spray instructions suggest that I use 6-8 sprays on my hair. This is supposed to help detangle, condition and de-frizz hair. I don't really have a good way of determining if this helped with detangling or softening/conditioning my hair because my hair doesn't tangle and is naturally quite soft. I found that my results seemed to have a bit more frizz than I'm used to getting, but I usually use a harder hold styler. So, it's also hard for me to really guess if it effectively reduced my frizz or not.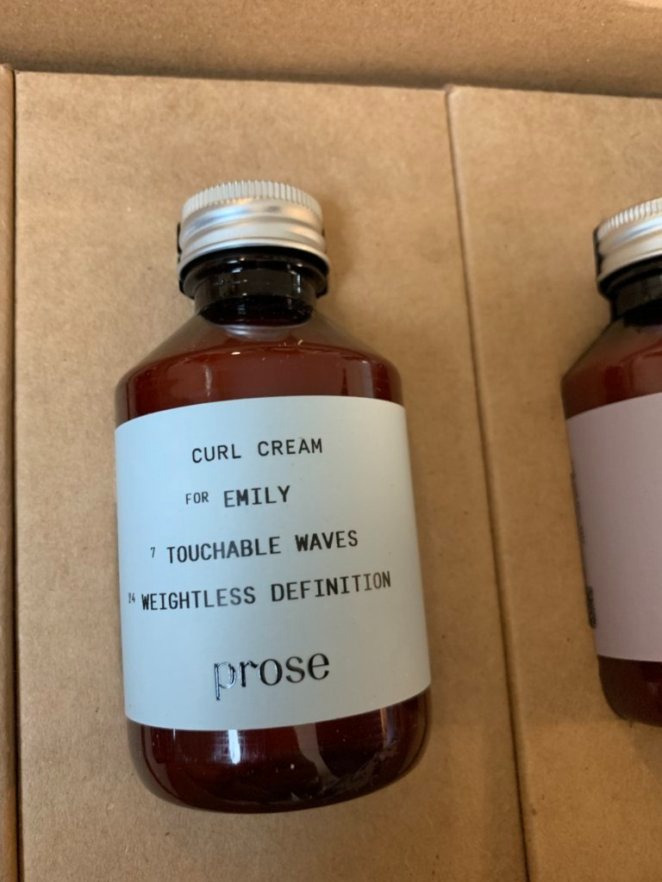 Prose Custom Curl Cream For Wavy Hair
The curl cream that was made for me comes with a pump but it's pretty thin for a cream. Rather than a thick cream, it's more like the consistency you'd often see in a leave in conditioner. Again, I like how these products were formulated light, as that's definitely what my hair needs. The instructions provided said to use 1-2 pumps for my hair, and I did follow the instructions the first time. I got no hold from the product when using that amount, and my results were pretty shapeless, not defined waves.
On an additional wash day, I decided to try using a lot more, to see if I could get curl definition if I used significantly more. In other words, I used treating the cream more like I would a gel. I used 8 pumps and was able to get a really light cast, and my texture was much more defined. The straightest section of my hair (the front right side) was pretty straight, but the other side, the back and the undersides of my hair all held some wave for a day.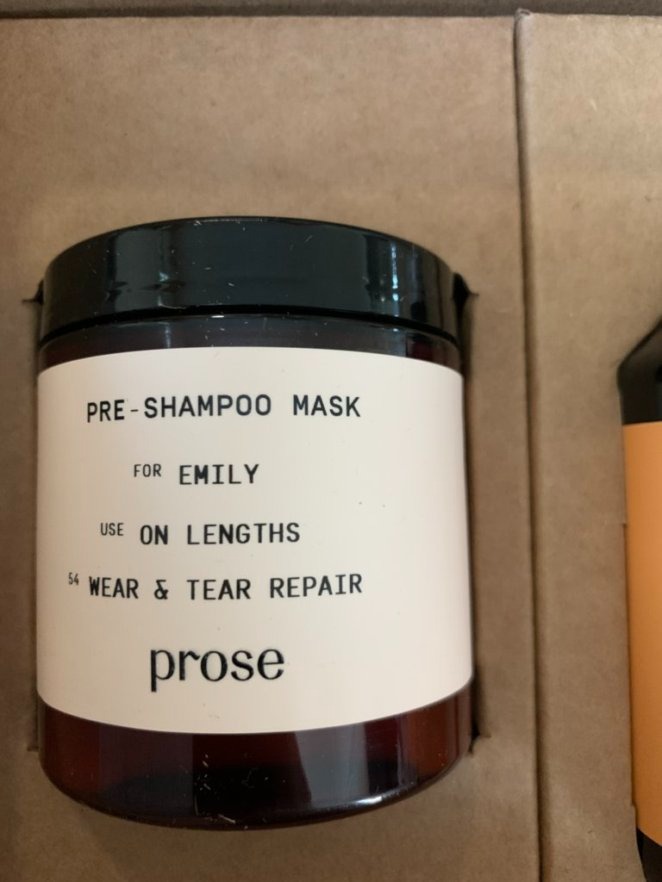 What About The Pre-Shampoo?
I hate to admit, I forgot to go back to try the pre-shampoo until I got ready to prep for this review. Then I saw that it had expired. Sadly, due to some of the ingredient limitations that Prose uses, these hair products have a shorter shelf-life than many other brands. These were made on October 3rd, so their 'best buy' date was January 3rd, you get 90 days to use up the products.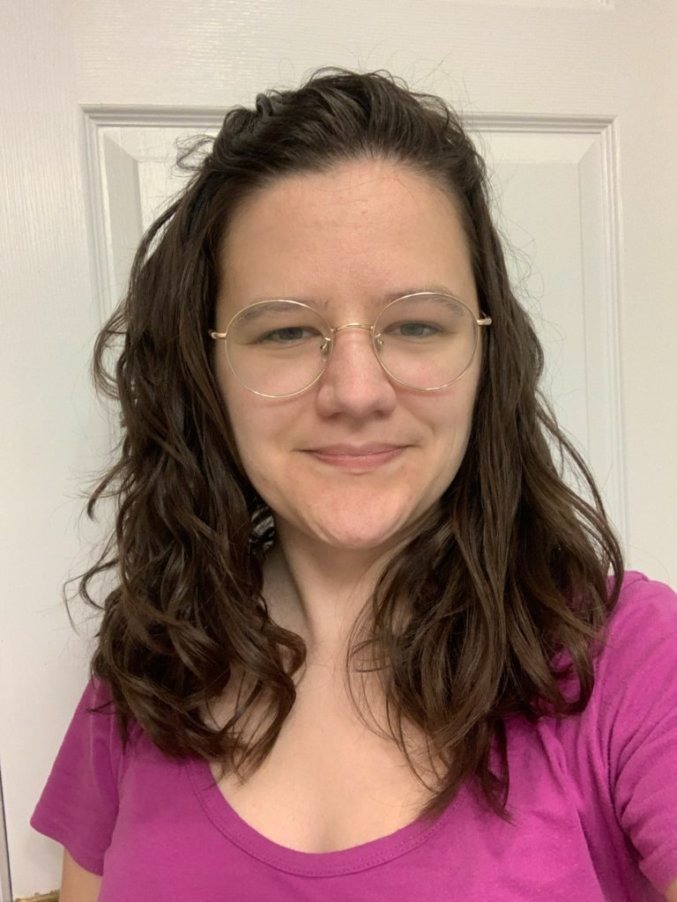 My results from using the prose shampoo, conditioner and leave-in conditioner as suggested, but using a lot more curl cream than they suggested. 
Is Prose Worth The Price?
Because Prose products are custom-made, they do come at a higher price point than some hair care products. The shampoo and conditioner that I was sent were $28 each, the leave-in conditioner and curl cream were $28 each, and the pre-shampoo was $48.
While the four products that I tried did work okay for my hair, none of them seemed superior to other products I've tried that were at a lesser price point. For me, if I'm going to spend more on products, I want to see an additional benefit. Because I didn't see that with the customized Prose products that I was sent, I don't expect to re-purchase from Prose.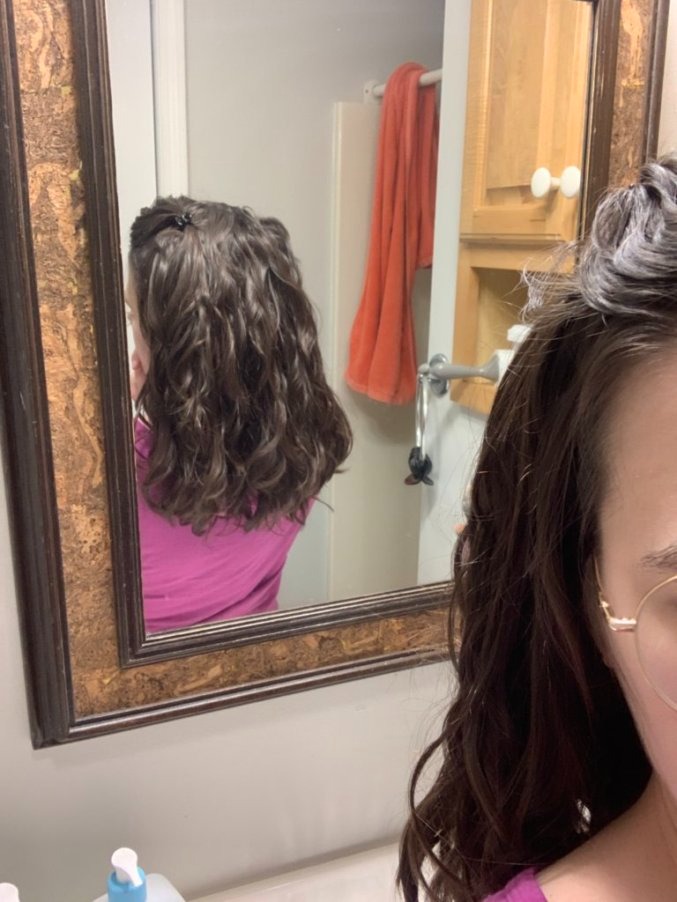 My results from  using Prose.
The Pros And Cond Of Prose Custom Haircare
The Pros
They send you everything right to your door.
They are ingredient conscious and environmentally conscious. I like the values that this company holds.
You can continue to customize your products after your first shipment if you'd like. This could theoretically get you an ultra-customized "perfect" product in the end.
My boyfriend really liked the scents of the Prose products I was sent. I thought the scent was okay, but I wasn't head-over-heels for it.
If you have an allergy to fragrance, you can order your products fragrance-free!
The Cons
The products didn't knock my socks off, they were pretty average/typical in my opinion. I wouldn't have been able to guess that these were customized for my hair, really.
The shampoo and conditioner bottles are noticeably smaller than most.
The products only last 3 months, most haircare products last 12 months after being opened.
Even if I exclusively used these products, I don't think I would use up the leave-in conditioner or curl cream before it had expired. If you're someone who likes to rotate through different products, you almost certainly wouldn't get to use them in time. At least, if you're someone like me who only washes your hair 2-3 times per week.
Check them out: If you'd like to check out the brand, head to Prose.com.