There are affiliate links in this post.

Curly Girl Approved Hairsprays
The only curly girl approved hairspray I have used Pantene Air Spray Level 2. You can read more about my experience with it further down in this blog post. In short, I didn't love it and therefore wouldn't recommend it but experiences can definitely vary by hair type.
I haven't tried the rest of these, so these aren't necessarily recommendations. Finding alcohol-free hair sprays that are curly girl method approved is really tough, though. I thought people may appreciate a list that they can research further if they would like.
Earn $20 when buying hair products online
If you're planning to buy any hairspray online, I'd recommend that you use Rakuten. They offer cashback when you shop online through a variety of retailers. For example, as I'm sharing this you can earn 6% cashback on your Walmart.com purchase.
In addition to their percentage-back programs, they have a signup bonus. If you sign up using my link you'll get $20 cashback, and I'll get $20 as well. So yes, me sharing this will help me out if you sign up. I have used Rakuten to earn cashback for years which is why I'm comfortable recommending it. You use it as an app if mobile, or as a browser extension on PC.

Why are there so few curly girl approved hairspray options?
Traditional hairsprays rely on drying alcohols, and the curly girl method doesn't allow drying alcohols. Sometimes people say that the curly girl method doesn't allow alcohol at all. That isn't true. Some alcohols, such as cetearyl alcohol, are not drying and are actually moisturizing!
Those ones are allowed while following the curly girl method. It's just the drying alcohols that are banned. However, most hairspray rely on drying alcohols.
Looking for hairspray that advertise themselves as alcohol-free is a good starting point when hunting for a curly girl approved hairspray. However, there are some out there that are alcohol-free, but still aren't curly girl approved due to other ingredients.
For example, Sexy Hair Healthy Sexy Hair Pure Addiction Alcohol Free Hairspray is alcohol-free, but it has Sodium Laureth Sulfate which is a sulfate, so it's still not a  curly girl approved product.
Can hairspray reduce drying time on the curly girl method?
I have experimented with timing my hair with just mousse, vs mousse and alcohol-free (Curly girl approved) hairspray, vs mousse and alcohol-containing (not curly girl approved) hairspray. The curly girl hairspray reduced drying time by 2 minutes, while the non-curly girl hairspray reduced drying time by 12 minutes. 
I initially decided to buy a curly girl approved hairspray because I heard that if you use hairspray before diffusing, it can cut your drying time. I bought Pantene Pro-v Airspray Level 2, it was around $5 at my local grocery store. I tried it twice.
The first time, I did my routine as usual except I hair sprayed after adding my mousse, and then timed it. It didn't save any time, and I actually timed it to take 2 minutes more than when I used just mousse, though I think 2 minutes is too close to say it wasn't caused by some other tiny change. For example, maybe I squeezed more water out of my hair at the end of my shower.
I thought that I may not have used enough mousse to see my drying time shortened, so I tried again and used a lot of mousse the second time. The time I got when I used a lot of hairspray was 3 minutes less (42 minutes) than when I didn't use hairspray at all (45 minutes). So, it doesn't seem to save any drying time.
I have had hairstylists at salons use hairspray on my hair to help reduce the drying time, though. So I thought hairspray was known to reduce drying time.
I got wondering if the drying alcohols in regular hairspray is what helps them reduce drying time. So I decided to test a regular hairspray. This time I used Tresemme mega firm control hair spray. My drying time was 32 minutes – so it saved me 13 minutes vs when I just use mousse.
It is possible that it's some other difference in these two hairsprays, but based on trying these two, my guess is that traditional hairspray with drying alcohols can reduce drying time, but alcohol-free ones do not.

Can you use hairspray instead of gel or mousse on wavy hair?
Hairspray can be used in place of gel or mousse for hold in wavy hair. I tested using just hairspray and expected it to not offer enough hold. Instead, I got a cast just like I would with gel or mousse, good hold, and my results were generally similar to when I use mousse. 
The Pantene air-spray is listed as a light hold, and I am used to using hard-hold gels or mousses. I still thought I would try using it in the place of mousse or gel. This meant I would just wash and condition my hair, rinse it out, plop for 10 minutes, then apply hairspray. I used quite a lot of hairspray to try to get good coverage. I diffused in my typical style.
When I tried this with the Pantene airspray (curly girl approved) it dried more quickly vs when I use gel or mousse, it dried in about 35 minutes, 10 less than I usually get when diffusing with my go-to mousse. It did give me defined waves although it says to be a soft hold product.
My hair felt slightly sticky in some spots, my clumps were extremely skinny (stringy) in some places, and my hair overall didn't feel very soft, even after I had scrunched out the crunch. It seemed to have left a texture on the outside of my strands that felt a bit gritty or something. The ends of my hair stayed "pokey" feeling as well.
I typically use hard-hold gels or mousses, so I was curious to see how the Tresemme mega firm control hair spray would do, as it's said to be a much harder hold. This product isn't curly girl method approved.
Again, I just washed my hair as I normally do, plopped for 10 minutes, and then applied the hairspray rather than my typical mousse. I sprayed the front and back of my hair probably 4-5 times, and the center section of my hair about 3 times. It was quite a lot of hairspray, same as when I used the curly girl approved hairspray.
Then I diffused in my normal way. It took me just 30 minutes to diffuse my hair, saving me 15 minutes over how long it takes me with my regular mousse! My hair felt a bit less soft than I'm used to, but it wasn't as coarse feeling as my hair was from the Pantene hairspray.
Overall, I definitely feel like hairspray can work in place of gel or mousse to provide definition and hold for wavy hair. I definitely preferred the results of the Tresemme over the Pantene because my hair felt softer with the Tresemme, but these are the only hairsprays I have tried so far. There may be some curly girl approved hairspays that would give a better feel to my hair.

My "day 1" results from using the Tresemme hair spray and nothing else in my hair. For comparison, the photo below is what my hair looks like without any products.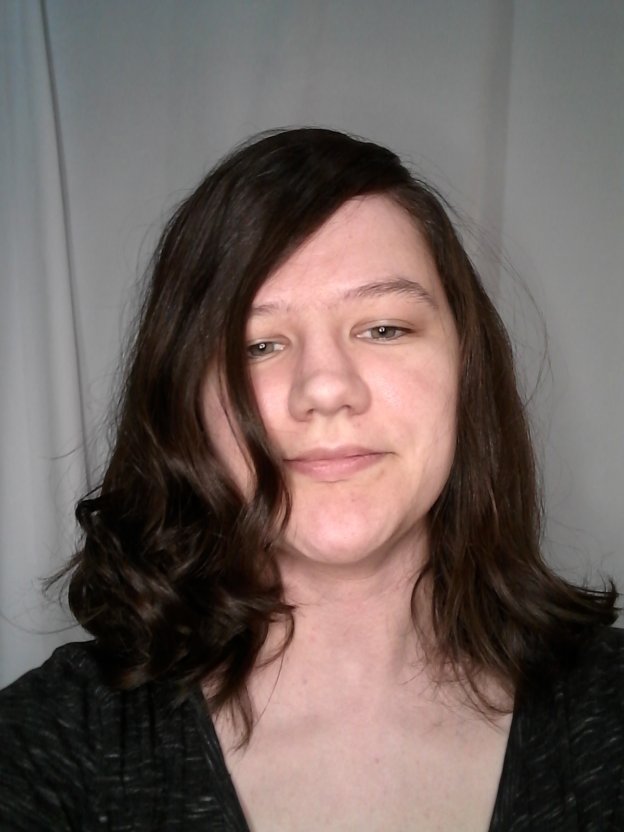 Challenges of using hairspray for hold in wavy hair
With mousse or gel, I am able to easily control where I apply the product. I avoid my roots and scalp, to keep the very top of my hair from getting crunchy or sticky near my roots. With hairspray, it's more challenging to have that level of control. I found that I got hairspray closer to my roots than I'd usually like to. This meant I had to "fluff" my roots more than I usually do.
I found that hairspray made my hair look really shiny, almost wet. My hair is naturally shiny, so perhaps this added shine would be seen as more of a benefit to someone who doesn't have naturally shiny hair? Where for my hair, it's feels like a bit too much shine.
It's challenging to know if you've got good, even coverage. With gel, it's quite easy to physically feel which sections of your hair have gel in them and which ones don't. It's slightly harder to tell whether there is mousse in your hair, but you can still feel it if you are mindful.
With hairspray, it's so light, and is just dampness, that when you hairspray wet hair, it seems pretty impossible to know where you've covered and where you haven't.
With one of the two hairsprays I used, my hair felt gritty or slightly coated, which I found a bit unpleasant.
I had more super-skinny or stringy curl clumps than I usually get with other products.
Benefits of using hairspray for hold in wavy hair
Hairspray is very lightweight and won't weigh your hair down.
Hair dries faster when it only has hairspray in it vs when it has gel or mousse included.
The one hairspray that I used provided really long-lasting results.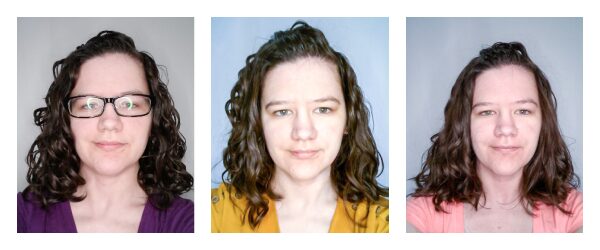 Day 1, day 2, and day 3 of my results with using just hairspray for hold and definition on my naturally wavy hair. I didn't refresh in any of these photos. I did pineapple my hair at night. Check out my post how to sleep on wavy hair if you're new to the idea.
Can hairspray offer as much hold as gel or mousse?
Some hairsprays can offer as much hold as gel or mousse. A strong-hold hairspray held my naturally wavy hairstyle for 3 days as well, if not better than I typically see from gel or mousse.
Can you refresh wavy hair after using hairspray?
I have shared before that I prefer to avoid refreshing my hair, if I can. I find it easier to just get really good hold on day 1, and then I won't have to refresh. Still, I was curious if hairspray would re-activate when wet, the way that gel or mousse typically do.
After taking my "Day 3 morning picture" shown above, I dampened my hair with my misting spray bottle (I have this one from Amazon for around $7, it's nice for refreshing hair). I just dampened my hair, diffused it until it was dry, then scrunched out the crunch. It did give me a bit of a cast after dampening.
The top row below is my hair before refreshing. The second is after refreshing.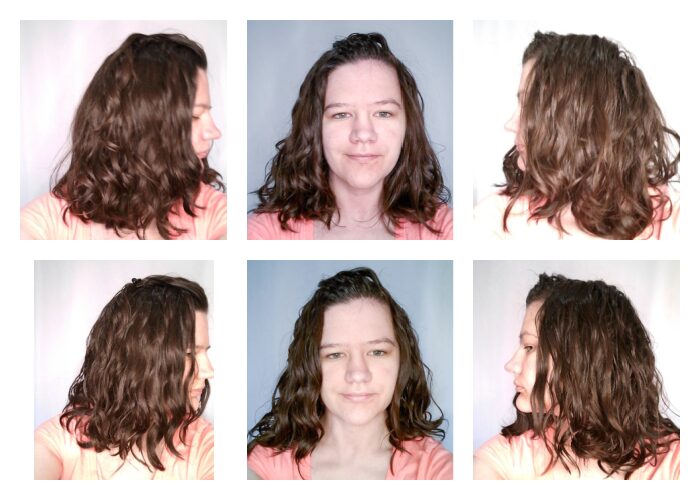 I definitely regained some definition from refreshing, and my curl pattern became a bit more consistent than it was before refreshing, too.  Though I also lost a bit of volume. Still, I'd consider it somewhat successful.
Ways to use hairspray while following the curly girl method
Using hairspray in the place of gel or mousse is not the only way you could use hairspray while on the curly girl method. Here are different ways you could choose to use hairspray while following a naturally wavy hair care routine.
As a stand-alone styler, instead of gel or mousse, to provide definition, frizz control and hold.
To finish off your look, to hold down frizz or fly-away hairs.
Spray just the roots of your hair, for added root volume.
To refresh hair that has gone frizzy, perhaps especially halo frizz. You could spray your hand with hairspray and smooth it over the top of your hair to slick down frizz.