I Used To Cringe At The Thought Of Using Gel
I remember when I first started to consider trying the curly girl method, the thing that I was most hesitant about was gel.
I had always just used shampoo and conditioner. The only time I used anything else was for formal events like weddings, where I had an updo that I was trying to preserve. I didn't like that hair-sprayed feeling.
In my teens when I realized that my flat iron was damaging my hair and I decided to start using a heat-protecting spray, I tried a few varieties before I found one I could live with. I didn't want my hair to feel like it had any products in it.
I was born in the early 90's and have a lot of older siblings. I remember some of my older brothers using blue or green gel in their hair in the late 90's or early 00's to make their hair hard and "spikey". Hair gel was something I associated with wet-looking, stiff hair. I didn't want my hair to look wet or feel stiff.
So when I started looking up curly girl method routines and finding that almost every routine included gel…I was disheartened. For some reason, it didn't immediately occur to me that these people I was watching clearly had hair that wasn't wet-looking or stiff, so it probably didn't feel super yucky either.
I tried to skip gel, at first. I just tried to not brush my hair and let it dry to see what it would do.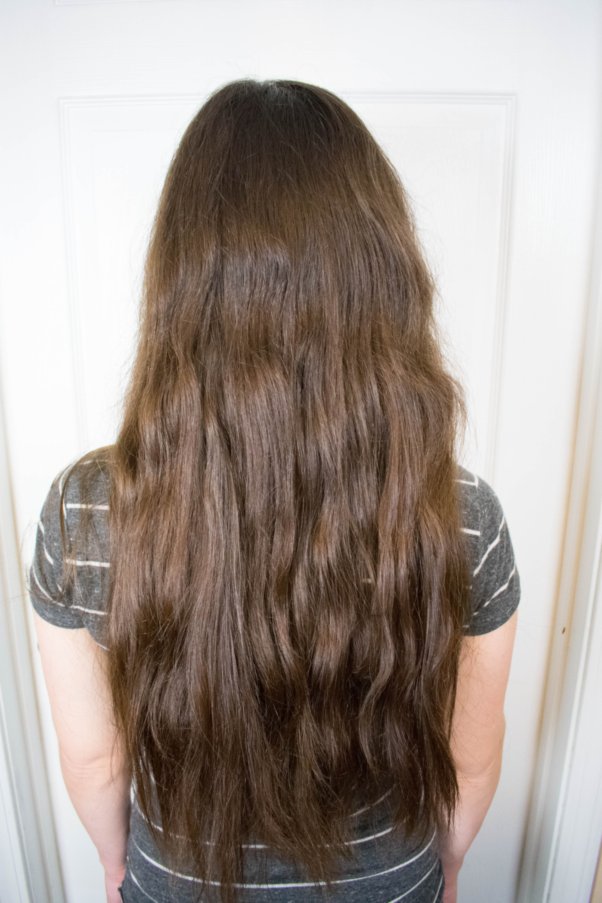 This was more texture than I was used to seeing, and less poofiness than I was used to seeing – so I was encouraged. I decided to try the gel thing, even though I thought I would hate how it made my hair feel. I didn't use anywhere near enough the first time, so I didn't get a gel cast at all. My hair appeared to have less frizz though, which was exciting.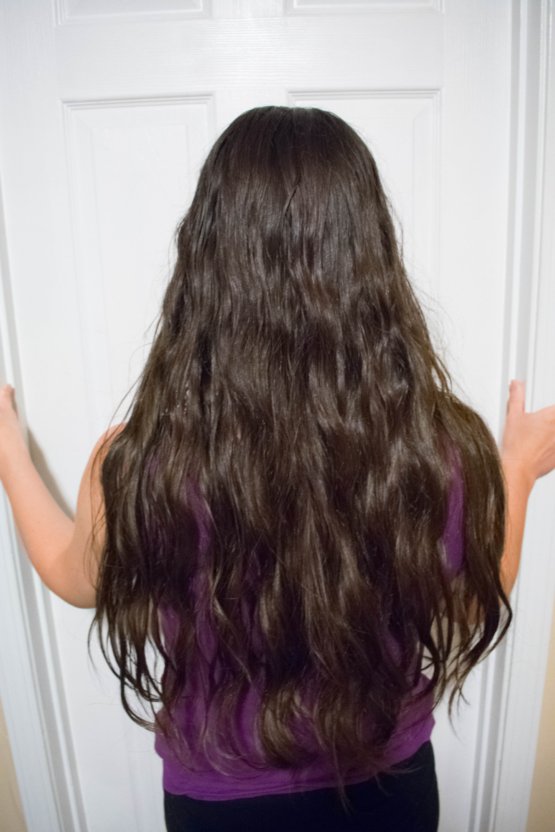 It took me a while, but I finally started using enough gel to hold more of my wave pattern in. I still didn't get a full cast, so I wasn't really using enough still. But seeing how using more gel lent more definition to my waves helped me to really see them for the first time. I remember being absolutely shocked the first time I got a couple of near-spirals like this.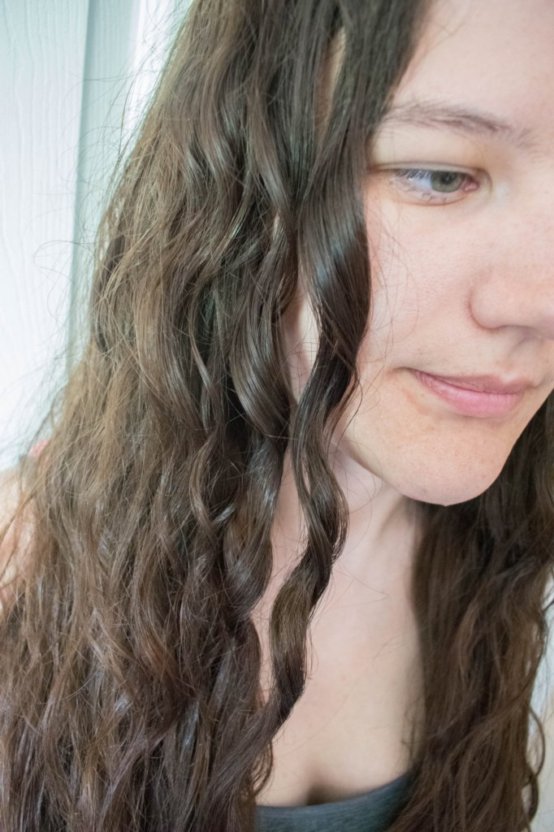 It took quite a while before I actually used enough gel. In fact, I don't think I ever managed to use enough gel when my hair was super long. I think the first time I truly got a cast was after I cut my hair. Still, here are some pictures from when I started to use a bit more gel and got a bit more definition.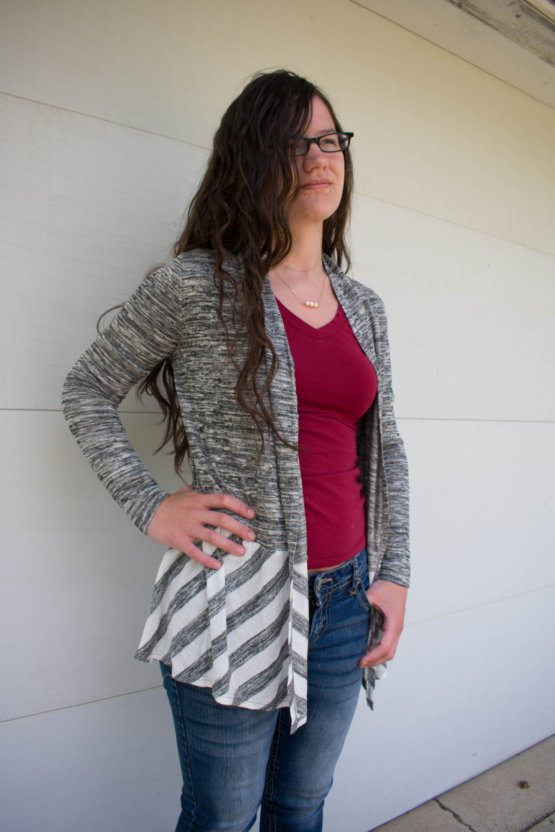 In hindsight, I can look back and see that my hair was never pin-straight, whether I used gel or not. Still, it was using gel and getting more defined waves that made it clear to me that my hair was actually wavy.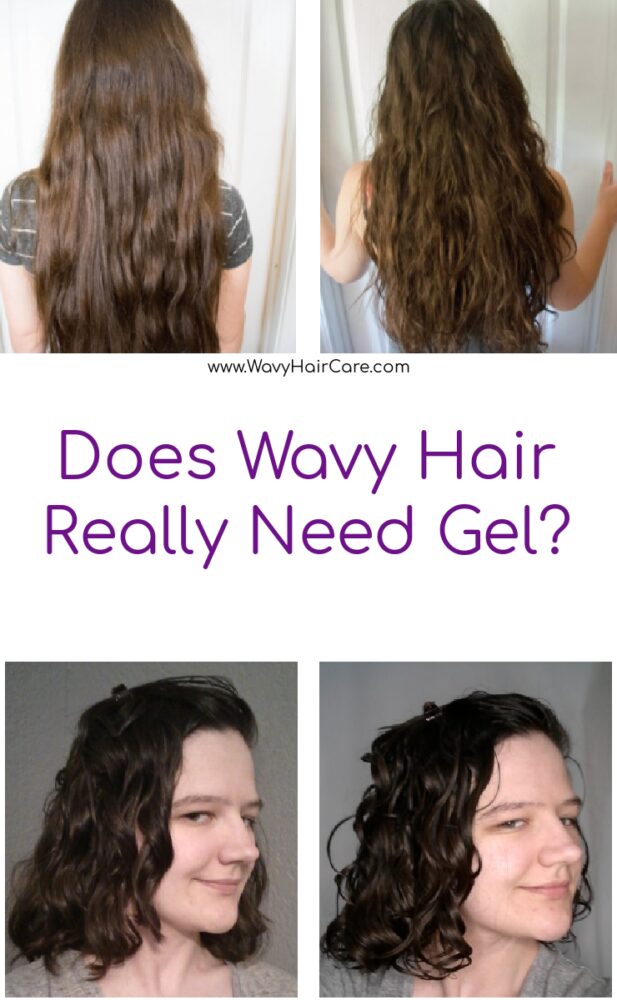 Does Wavy Hair Really Need Gel In The Curly Girl Method?
You can follow the curly girl method without using gel. However, gel can make a dramatic difference in curl definition and frizz control. Most people are happier with their results if they use gel or another styler with hold, but it's ultimately a stylistic choice. 
Most people with wavy hair seem to prefer that their waves are somewhat defined, and most people like to try to avoid frizz. Gel is a huge help with both of these. In the graphic below, the photos show my hair recently on a day when I didn't use gel or any styling products (left) and another day where I used mousse (Right).
In the left photo where I didn't use any styling product, I have a couple of defined waves in front, but in the back, my hair is just sort of a big puff. It's not straight, but there aren't defined waves.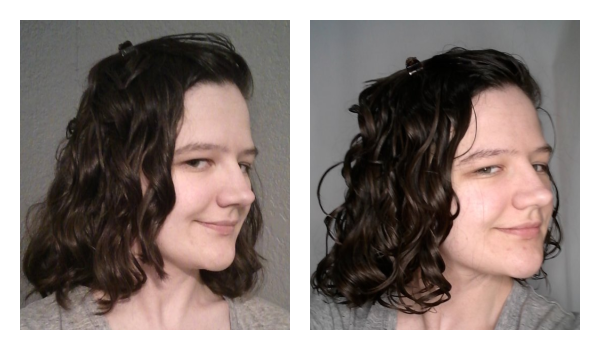 The photo on the left was taken right after my hair dried. While it looks okay there, within a few hours my hair would lose definition without gel or other product helping to hold the shape. When I do use gel or mousse that has a good hold, I can move around, even touch my hair a little bit, and my waves won't fall apart, fall flat, or lose all of their definition.
In other words…do you need gel, specifically? No. Do you need some sort of product with hold? Literally need? No. Do you need one to get the results you like? Probably. 
Can I Use Mousse Instead Of Gel?
Some types of mousse have a lot of hold and are a good replacement for hair gel. Other types of mousse don't really lend any hold and won't be a good replacement for gel, it really depends on the product. I actually prefer mousse over gel myself. I have a post comparing 10 types of hair mousse that can show you how much the results can vary.
Though to some degree, gel is the same way! I have a post comparing 15 types of gel on wavy hair as well, which shows how some last longer than others. Some gels have a lot of hold, others only offer soft hold. Some types of hair custards can also offer some hold, making them acceptable swaps for gel.
I have even found that sometimes hairspray can offer enough hold! See my post on hairspray for wavy hair if that interests you. I always recommend that people with wavy hair use some product with hold, but I don't think your styler has to be gel. Gel does seem to be the most common choice of styling product with hold, though.
I have a blog post should I use mousse or gel on wavy hair that talks more about the differences if you're interested.
Ps – many try to use a curl cream or an oil in place of a gel when they are starting the curly girl method. Creams and oils just seem less intimidating than gel, for many.
Oil doesn't offer any hold, and most curl creams only offer very minimal hold. Also, people with wavy hair can usually only use a small amount of cream without getting weighed down. So, creams are not a good option to rely on to get enough hold.
The Importance Of a Product With Good Hold
I will say, some people with wavy hair have a really strong wave pattern that can support itself. They may be able to just wash their hair, not use any stylers, and keep their waves for multiple days. It is more for people with wavy hair to have somewhat of a delicate pattern, so it will lose its shape if they don't use a product with hold, though.
The collage below shows my hair on wash day, after 24 hours, and after 24 hours, after using a mousse with good hold. You can see that I lose some definition as the days go on, and gain a some frizz.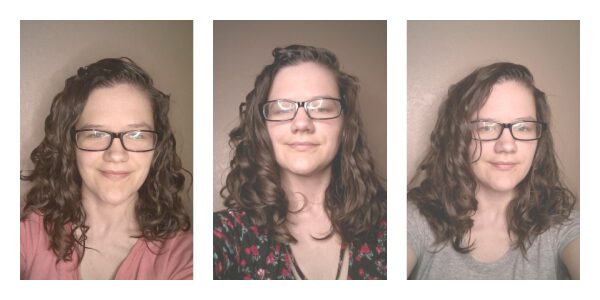 This second collage (below) shows my hair on wash day, and after 24 hours, after using a mousse without good hold. I didn't have as good of definition even on wash day, as a result of the product not supporting my pattern as well. Then by day two, my straighter side had fallen almost completely straight, and my curlier side still had some wave but had significantly lost shape.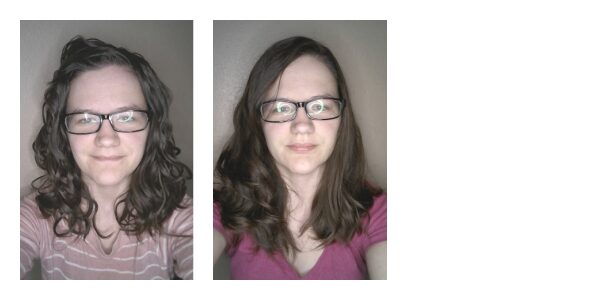 When I don't use a product with hold at all, my hair falls flat even faster! So, while I don't need gel (or another product with hold) to "make my hair wavy", I do need a product with hold to help my natural pattern last very long. Without the support of a product with hold, my hair pattern just collapses on itself.
Using Gel Doesn't Have To Leave Your Hair Crunchy
If having crunchy, stiff hair is what worries you – I completely understand! I don't want crunchy hair either. However, I do strive to get a crunchy cast on wash day. The important thing to understand is, that feeling is temporary. You let the gel (or mousse or other styling product with hold) dry in your hair and get crunchy.
Then, once your hair is 100% dry, you squeeze your hair and it will break that gel cast and get rid of the crunchy feeling. Your hair won't look wet or feel as stiff anymore.
However, it will maintain it's shape and help control your frizz even after you have squeezed your hair to get rid of the crunchy feeling. If this is new to you, I highly recommend you check out my post What Is A Gel Cast & How To Create One.
The left is while my hair is in a gel cast (stiff & crunchy!) and the right is after I have squeezed my hair to scrunch out the crunch. (I also clipped my bangs back).
I don't like how a gel cast looks or feels, but my hair is only in the cast for a short time on wash day.
Does Gel Leave Hair Sticky?
Some types of gel are a sticky consistency and will make your hair feel sticky when you apply them. No gel should leave your hair feeling sticky after it has dried, though. If your hair does feel sticky after it has dried with gel in it, this is a sign that you used too much.
Or in some cases, gel may leave your hair sticky if you touched your hair too much, or tried to break the cast before your hair was 100% dry.
Should Gel Leave Hair Feeling Stiff?
Many types of gel will create a cast, which is a crunchy "shell' like feeling oer the outside of your hair. You can squeeze your hair to "Scrunch out the crunch". After scrunching off the cast, your hair shouldn't remain feeling very stiff. It shouldn't be "crunchy" anymore.
However, if you are used to not using any products, you may have an adjustment period. My hair doesn't feel product-fre when I use gel or mousse, but it doesn't feel stiff or bad. It's just different than what I used to be used to.
If having your hair as soft as possible is really important to you, you can try to explore types of gels that will leave your hair feeling as soft as possible while still offering definition. Some will leave your hair feeling stiffer than others.
Is Gel Bad For Your Hair?
Gel isn't bad for your hair. It's safe to use gel regularly.
I occasionally hear people say they've heard that using gel will break or damage your hair. I'm not sure where this come from, but gel is designed to be safe to use regularly.
Also, some people fear that gel will cause build-up. Gel can cause build-up, but so can any/all products (including shampoo and rinse-out conditioner). People who subscribe to the curly girl method feel that products that have silicones build up faster than silicone-free products, so you may choose to avoid gels with silicones.
Even if you are silicone-free, and only use shampoo and conditioner, it's recommended to use a clarifying shampoo to get rid of build-up periodically. Gel shouldn't cause excessive amounts of build-up, but paying attention to how your hair looks, feels and acts so that you can monitor how often you need to clarify is a good idea whether you're using gel or not.
Gel Recommendations For Wavy Hair
I tend to prefer mousse, so I have more experience with mousse than gel. However, a few types of gel that I have used with success and would recommend to others with wavy hair are:
LA looks sports gel. I have used 3 variations – Sports gel (blue), Mega Mega (yellow) and Extreme Spikes (yellow-green). All worked well for me.
Aussie Instant Freeze Gel. I found LA looks to hold my style longer, and LA Looks is cheaper and comes in a bigger bottle, but this is a decent gel, and it's glycerin free which can be helpful for those who live in high humidity areas. It's about a medium hold, which can work better for people who find that their hair gets so crunchy that they have a hard time getting the cast off.
Garnier Fructis Pure Clean Gel. This is a pretty cheap gel (around $3.50) and I found it to have longer-lasting hold than la looks gel. If you're looking for a really hard hold at a great price, this would be my recommendation.
Harry's sculpting gel. This one smells pretty masculine, and is a little more money (around $8) but it has EXTREMELY hard hold, and a little goes a long way.
Dippity Do Girls With Curls Gelee. This costs a little more (around $12) but it is very long-lasting, and offers great volume and pretty good definition, which are my exact style goals.
Still Worried?
I hope this post has encouraged you to be less intimidated by gel. If not, I'd encourage you to look around the internet for before/after scrunch out the crunch images.
Gel may make hair look and feel bad when it's wet, but the results after the cast has been scrunched out look significantly different. If you want soft, product-less looking curls, it is possible to get that while using gel.
Looking to learn more about wavy hair or the curly girl method? Check out my blog post directory for more blog posts that will interest you.