This is a guest post from Angela Norman.
If you have wavy hair that's gray, silver, or white in color, you may be clueless as to the best ways to care for it. Having naturally wavy hair is enough to know that you need to be specific in your routine, but when you have hair embracing aging gracefully, learning to love and care for your gray, silver, or white strands can lead to making some changes.
Naturally wavy hair can require some extra steps within your hair care routine, but when it's light in color due to aging or going blonde, some other hair products can help. Regular trims are essential for all hair types since no product can help split ends once they begin to occur.
Maybe your waves are starting to go gray, or as a natural blonde, you're beginning to notice the lighter white and silver-colored strands. Or maybe you long for that bleached-white look, so you're working with a hair care professional at the salon to dye and color your hair.
Of course, you still have to take care of your wavy light color at home since you can't afford to go to the salon that often. Let's dive into some commonly asked questions on caring for your gray/silver/white hair. 

How to care for your naturally wavy hair?

Most common question that every woman with wavy hair has looked up at least once is how to care for your naturally wavy hair. If you're lucky enough to have wavy silver, white or gray hair, your hair type can help you choose the right products to ensure you keep those waves soft and luscious. Here are some of the best tips for taking care of your locks:
Condition often – conditioner is essential after shampooing to ensure your waves are soft and detangled. Find a conditioner that's not too heavy to use daily. 
Find a shampoo specific for your waves – overwashing hair strips natural oils your hair needs to stay shiny and healthy. Wavy hair tends to be drier than straight hair, so wavy or curly hair shampoos are gentler and hydrating for your locks.
Look for products used on wavy hair – there are three types of wavy hair often termed as Type 2 hair type. Wavy hair is different from curly hair in that it is not as tightly coiled. This means that wavy hair needs different types of conditioners than curly hair. Conditioners that are designed for curly hair can be too heavy for wavy hair, which can weigh down the waves and make them look flat. If you have wavy hair, it is best to choose a conditioner that is designed for wavy hair. These conditioners are typically lighter weight and will not weigh down your waves. They will also hydrate your hair and help to keep it looking its best.
From what I have used and also experienced sulfate-free shampoos are gentle on your hair but don't produce as much lather. The curly girl method is based on this belief that sulfates are harsh, but from what I've read, there is a spectrum of intensity with sulfate-containing shampoos, and sulfate-free shampoos so some sulfate-free shampoos are gentler than some sulfate-containing shampoos now.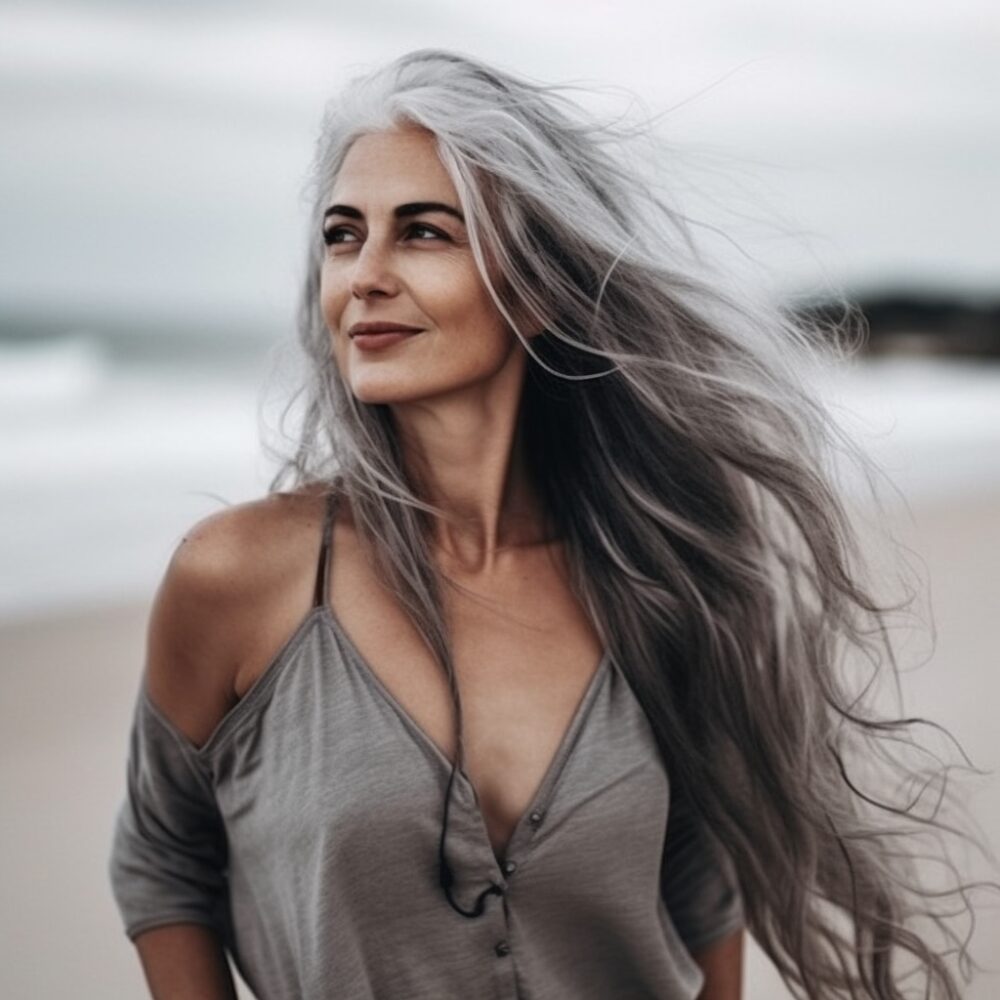 Why does gray wavy hair require special care?
Hair graying or turning white naturally is primarily caused by a decrease in melanin production, which is the pigment responsible for the color of our hair. As we age, the melanocyte cells that produce melanin gradually decrease in activity, resulting in a loss of color pigmentation. This leads to the appearance of gray or white hair strands. As the hair undergoes this transformation, it becomes drier and coarser. 
The environment outdoors and its elements can also cause your hair to be more limp or discolored, so it's necessary to wash it, and just like with wavy hair, a sulfate-free shampoo is best for your white or silvery strands. It helps remove buildup without being too harsh, keeping your needed oils and nutrients intact.
Your wavy strands, gray or white-colored hair needs more conditioning. Investing in a slightly more expensive but intensely hydrating conditioner will help ensure your locks get the moisture they need.  
Gray hair, which tends to be coarser in texture, can benefit from a heavier conditioner that provides more moisture and helps soften and smooth the hair strands. On the other hand, white hair, which can be more fragile and delicate, may require a hydrating conditioner that is lightweight and won't weigh down the hair. This type of conditioner can help nourish and hydrate the hair without causing additional damage or making it appear limp. It's important to choose a conditioner that suits the specific needs of your hair texture and condition.
Your hair needs nutrients and proteins, so look for products to ensure it stays strong and keeps its structure. Formulas with silk proteins are known to help strengthen and define your waves.
Will my hair get straighter or curlier as I go gray?
It's normal when you start to grow gray hairs that they have a different texture and curl, even if your hair is naturally straight. It happens because slower oil and melatonin production in the hair also affects the structure. However, it's important to note that the exact changes that occur can vary from person to person and are not always predictable.
In some cases, gray hair may become coarser and thicker, which can make it appear straighter than before. In other cases, gray hair may become more wiry or frizzy, which can make it appear curlier than before.
Even if you decide to dye the hair you may notice that it is more curlier or wavy. In fact, dying your coarse graying hairs may make it more damaged in the long run. Opting for any styling products to provide more moisture can help give your scalp more nourishment to smooth out the curly or wavy strands.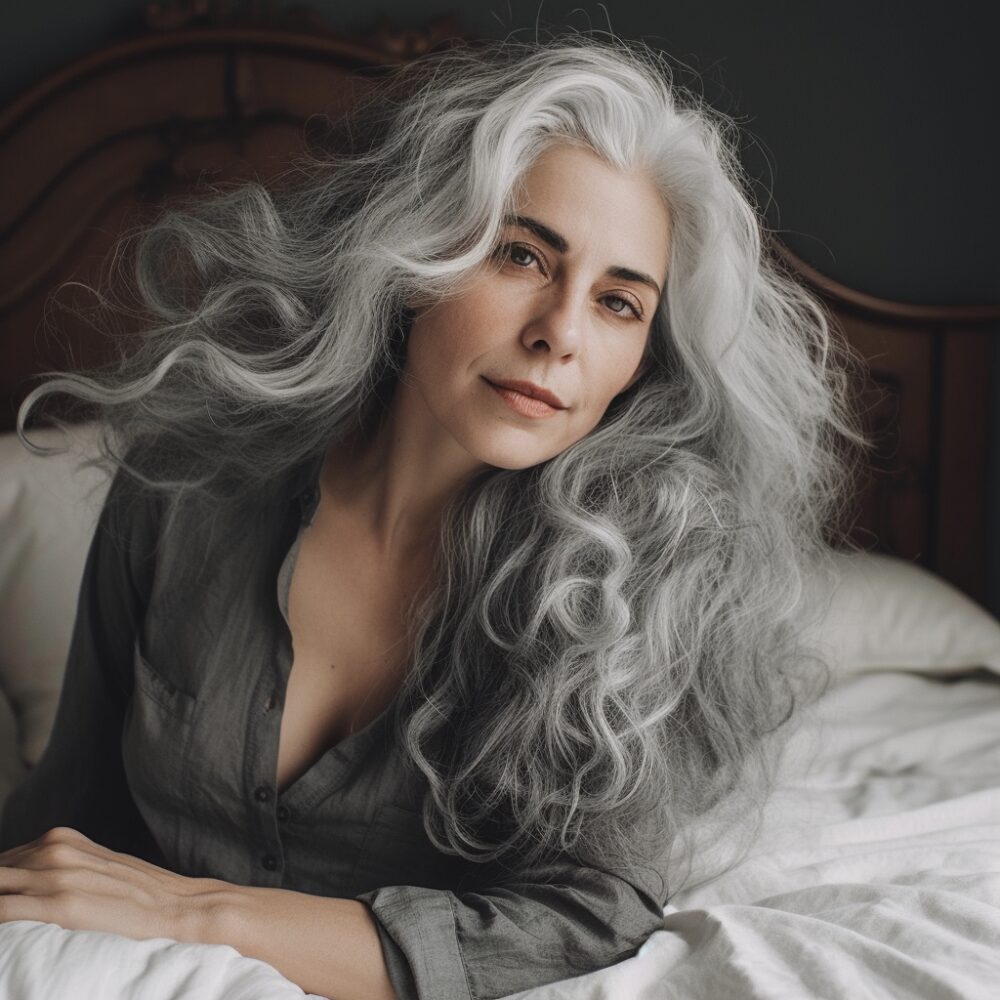 What do I do when my hair is only partially gray?
Partially gray strands, also called "pre-gray" or "salt and pepper" hair may also require a different level of care. Sometimes you may find some unruly gray hairs that are thicker and coarser, but that doesn't apply to all of your hair.
Gray and non-gray hairs are usually intermixed, making it challenging to isolate them for targeted conditioning. While it may not be feasible to separate the strands, there are alternative methods to ensure that gray hair receives the necessary hydration and nourishment. Using leave-in conditioner, hydrating mask, or a hair oil for dry and damaged hair is great for providing extra moisture. 
How to care for hair when it's "salt and pepper" rather than fully gray
Sometimes your wavy hair starts to turn "salt and pepper," and it can present new challenges in terms of hair care. 
Moisturize regularly: As hair grays, it can become coarser and more brittle. To combat this, it's important to moisturize regularly with products designed for aging hair. Look for shampoos and conditioners that contain ingredients like keratin, biotin, and natural oils to keep hair soft and hydrated.
Use a wide-tooth comb: Wavy hair can be prone to tangles, especially as it starts to gray. To avoid damaging your hair while detangling, use a wide-tooth comb and start at the ends, working your way up to the roots.
Avoid heat styling: Heat styling tools like blow dryers, flat irons, and curling irons can further damage already fragile hair. Try to limit the use of these tools as much as possible, and when you do use them, use a heat protectant spray to minimize damage.
Protect hair from the sun: Gray, white, or bleached hair tends to be weaker and has less protection from melanin, making it more susceptible to damage from the sun. The absence or reduced levels of melanin in these hair types can be likened to going outdoors without wearing sunblock. In contrast, individuals with brown or other melanated hair colors have some inherent "sunscreen" provided by the protein in their hair, offering natural protection against sun damage.
By following these tips, you can help keep your salt and pepper wavy hair looking healthy and vibrant. Remember, embracing your natural hair color and texture can be a beautiful thing, so don't be afraid to experiment with new styles and looks as your hair transitions.
The reduced amount of melanin in gray hair also makes it more prone to damage from brushing, combing, using heat tools. In general, it's just a "weaker" hair state that requires gentler care or it will end up more damaged.
What hair products should I use for White/Silver/Gray Wavy Treatment
Consider incorporating a deep conditioning treatment or a hydrating mask once a week when your hair feels drier than usual, or each time you work on those gray strands. A good deep conditioner for your hair contains emollients and humectants, maintaining moisture levels. They draw in water and seal it, so your hair can stay glowing and hydrated.
Hair oil products are another way to nourish your gray, silver, or white-colored waves. They also work well at taming frizz when your hair gets too many flyaways. Apply a few drops of hair oil like this Surface hydrating oil to the middle and end of your strands to help seal in moisture and protect your wavy hair from damage.
Any time you plan to go outside in environmental elements, particularly the sun, you should apply a heat protectant to your hair. This is also necessary if you use heat-styling products like a hairdryer, curler, or straightener for your light-colored waves. Using a heat-protectant spray or cream like this Propolis infused heat protectant spray ensures your strands aren't damaged by heat styling or the sun.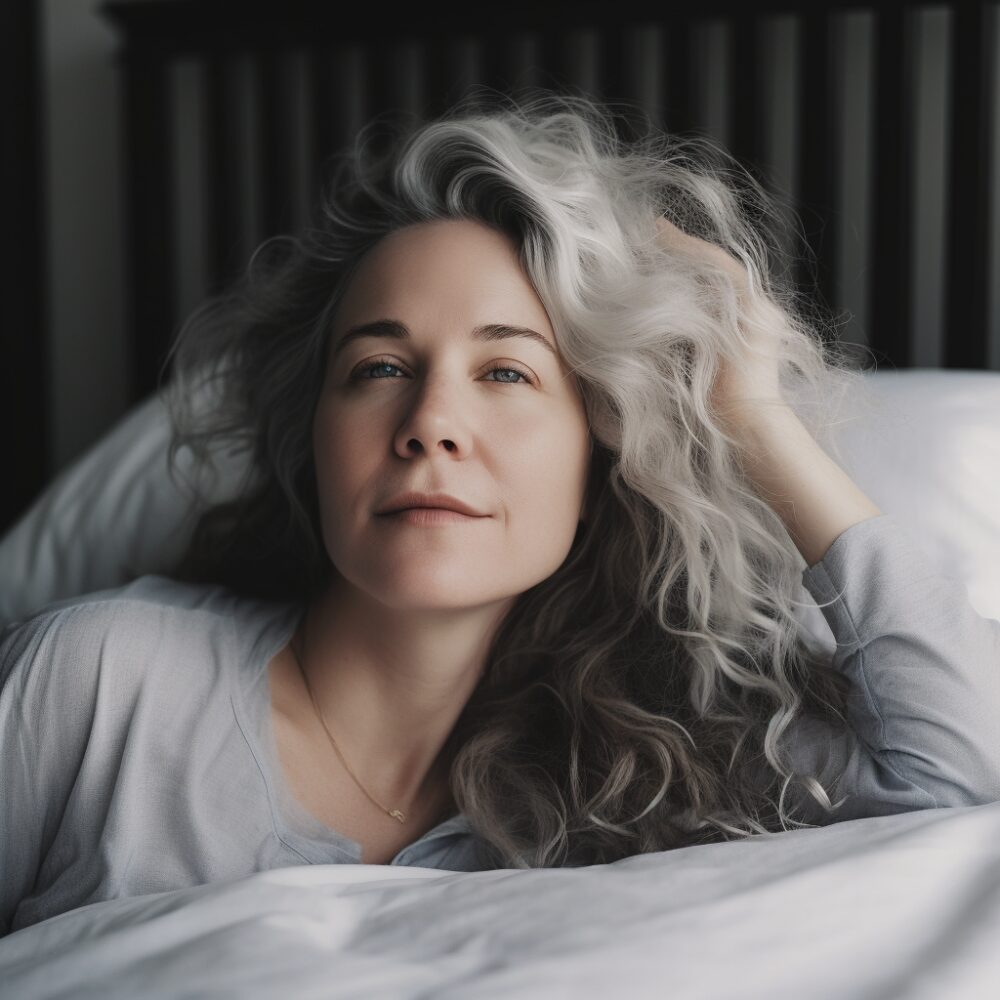 How can I dry my white or gray  wavy hair?
If you can air dry, you should scrunch excess water from your hair and allow it to dry naturally. Use a gentle clip or hair tie to keep your hair away from your face. Wrapping a heavy t-shirt or microfiber towel can help with air drying. Once your hair is dry, you can use your fingers to separate your waves.
If you'd rather blow dry your hair instead, you should do so with a diffuser to give you more control over your style and boost your hair's volume. And be sure to utilize a heat protectant beforehand.
Maintain your wavy gray, white, or silver locks by using a silk or satin pillowcase when you sleep, as they've been proven to help reduce hair breakage and frizz. 
What can I do about my unruly gray hairs when most of my hair isn't gray yet?
If you have unruly gray hairs among your non-gray hair, there are several things you can do to manage them: 
Use a temporary hair color: If you're bothered by the appearance of your gray hairs, you can use a temporary hair color to cover them up. Temporary hair color is a quick and easy way to blend in gray hairs with the rest of your hair until they become more widespread. 
Embrace the grays: Alternatively, you can embrace your gray hairs and wear them proudly. Gray hair can be beautiful and unique, and can add character to your overall look. Consider getting a new haircut or hairstyle that showcases your gray hairs. 
Use a styling product: If your gray hairs tend to be unruly or flyaway, you can use a styling product like hair gel, mouses, or hairspray to keep them in place. Make sure to choose a product that works well with your hair texture and style. 
Get regular trims: I have shared this before as well but regular trims can help keep your hair healthy and prevent split ends, which can be more noticeable in gray hairs. Aim to get a trim every 6-8 weeks to keep your hair looking its best. 
Use moisturizing hair care products: Gray hairs can be more prone to dryness and frizziness, so using moisturizing hair care products can help keep them soft and manageable. Look for shampoos and conditioners that contain hydrating ingredients like keratin, biotin, and natural oils.
The change in texture and curl pattern can also be influenced by other factors, such as hormonal changes, medication, and environmental factors like humidity.
Ultimately, how gray hair will behave is unique to each individual and can be difficult to predict. 
However, by using the right hair care products and techniques, you can help keep your gray hair looking healthy and vibrant, regardless of its texture or curl pattern.
Learning to love your locks and their color is worth the extra effort to ensure your hair stays full, soft, and healthy. It can be helpful to talk about your desires with your hair professional, so they can provide recommendations for your hair care routine and what products will work best for you so your wavy light-colored strands stay frizz-free and luscious for years to come.