Is Following The Curly Girl Method Expensive?
The curly girl method can be followed on a small budget. People often hesitate to start the curly girl method because they fear it'll be expensive. It's easy to get the impression that embracing your naturally wavy hair has to be expensive. A lot of content for wavy curly hair does feature high-end products. However, influencers or content creators are more apt to use expensive hair products than a non-influencer with wavy hair.
You certainly can spend a lot of money on your hair if you want to, but it's not necessary to get good results or to follow the curly girl method.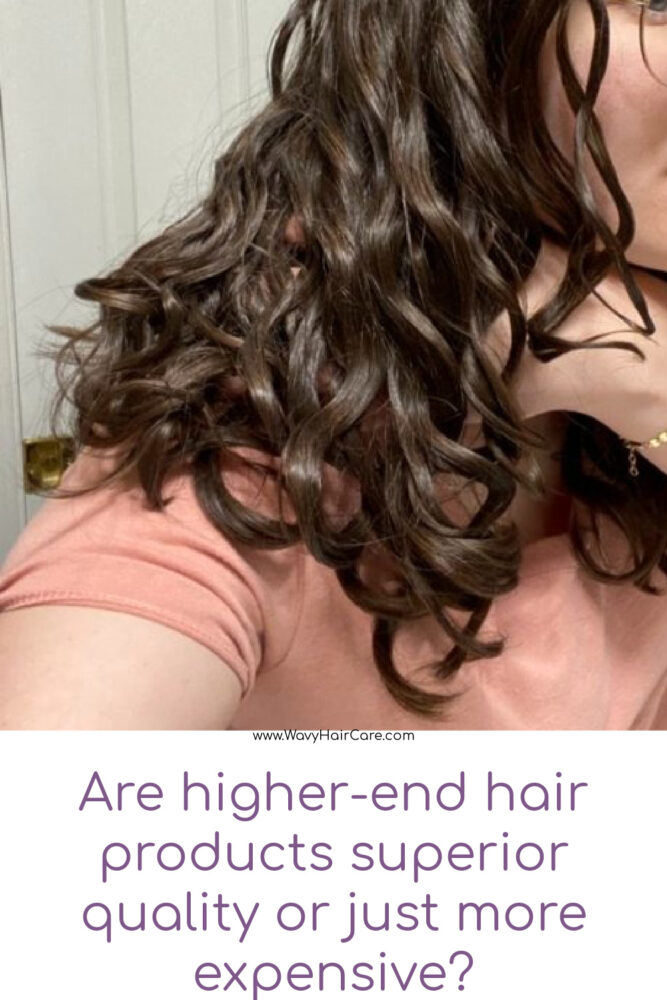 Are More Expensive Hair Products Better Quality than Drugstore Hair Products?
This is a hard question to give a specific answer for. It really depends on the specific products you're comparing. There are some hair product ingredients that are more expensive, and gentler ingredients that may be better for your hair than cheaper, harsher ingredients. If a brand uses expensive ingredients in their hair products, the product likely will cost more.
However, many brands price their products expensively even though the products contain the same cheap ingredients that are in much cheaper hair products.
Is Expensive Shampoo Better Than Cheap Shampoo?
Some shampoos may have premium ingredients, but in my searching so far, I haven't found that to usually be the case.
Oftentimes, brands will market their products based on one or two "star ingredients". The core message that companies try to sell is often something like "Our shampoo is amazing because it has quinoa extract!" or something like that. They'll usually highlight an ingredient that you really won't find in a bunch of other shampoos.
In many (if not most!) cases, these highlighted ingredients aren't really the most important ingredients in the product. They often highlight unique ingredients that are put into the product in very small amounts, just for the sake of making their product seem really novel.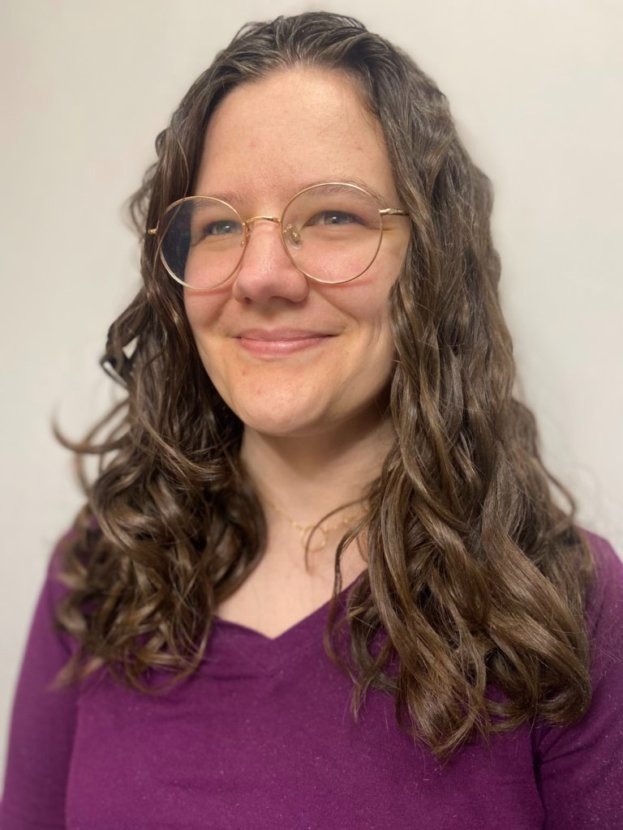 Let's Deep Dive Into Comparing One Higher-End Hair Product With Cheaper Alternatives
I'll use Curlsmith as an example because they're a really popular brand in the wavy and curly hair community, and they are sold at a higher price point than most drugstore products. The Curlsmith Essential Moisture Cleanser says that its "handpicked ingredients" are rosemary, sunflower seed oil, aloe leaf, and basil. It costs $26 for a 12oz bottle. To help you visualize, 12oz is the most common soda can size.
Haircare companies have to list ingredients based on weight. Meaning, the first ingredient listed is the most prominent in the product. It's almost always water or aqua, so that leaves 4 other ingredients that really matter. The top 5 ingredients in a hair product make up about 80% of what is in the bottle. In other words, those top 5 ingredients are really the core of what the product is really made of.
In the Curlsmith Essential Moisture Cleanser, none of those four "hand picked" ingredients are listed in the top 5. In fact, the highest of those four is the sunflower seed oil, and it's 8th on the list. All four of the handpicked ingredients only exist in quite small amounts. They aren't likely making a big difference in how the cleanser actually performs.
The Curlsmith Essential Moisture Cleanser top 5 ingredients are
Water
Cocamidopropyl betaine
Sodium Methyl Cocoyl Taurate
Lauryl Glucoside
Sodium chloride
We'll skip water seems how that is the primary ingredient of nearly every shampoo or hair cleanser ever.
Cocamidopropyl betaine is the top  ingredient in this shampoo other than water, and it is a cleansing ingredient so that makes it the primary cleanser in the product. Is it a really expensive, extra special ingredient? No. Other shampoos that contain cocamidopropyl betaine include Love Beauty and Planet Sulfate Free Shampoo, Soothe & Nourish shampoo ($7), Suave Luscious Curls Shampoo ($8),Giovanni Tea Tree Triple Treat Shampoo ($8), Pacifica Pineapple Curls Curl Defining Shampoo ($10), Herbal Essences Bio:renew Argan Oil & Aloe Sulfate Free Shampoo ($7), and Suave Professionals Men 2-in-1 Alpine Fresh Shampoo + Conditioner ($5). The first two I listed don't just contain Cocamidopropyl betaine, but have them as the primary cleanser just like the Curlsmith cleanser does.
The third ingredient, Sodium Methyl Cocoyl Taurate is a surfactant that allows oil and water to mix, which aids with the cleansing process. this ingredient is also very commonly found in many cheaper shampoos. Some examples: Suave Kids Naturals 3 in 1 Shampoo ($6), suave pink smooth performer shampoo ($6), Love Beauty and Planet Sulfate Free Shampoo, Black Tea Kombucha & Red Ginger ($7), Dove Hair Therapy Rescue & Protect Sulfate-Free Shampoo ($11) and Marc Anthony Strictly Curls 3 X Moisture Oil+ Cream + Butter 2 in 1 Scalp Scrub+ Shampoo ($8).
The fourth ingredient is Lauryl Glucoside which is a surfactant that helps lift dirt and impurities so they can wash off easier. This is also found in many more affordable products. Those include Giovanni golden wheat deep cleanse shampoo ($8), Mixed Chicks Kids Shampoo ($10), Straight Arrow Mane 'N Tail Herbal Gro Shampoo ($4), Pacifica Sunshine Highs Toning Shampoo ($12), SoCozy Kids curl shampoo ($7).
The fifth ingredient is sodium chloride…aka table salt! We all know that this is a highly affordable ingredient. It's widely used in shampoos because it thickens the substance, making it less watery and easy to work with.
Is it worth it? 
Personally, when looking at the ingredients that come in the $26 Curlsmith shampoo, and seeing how those ingredients are present in similar quantities in many shampoos that are half the price or less, it's hard for me to think the price difference is really related to quality of performance.
A personal anecdote on drugstore hair product quality
About two years ago I went in for a deva cut with a curl specialist. When I first sat in the chair, she said my hair looked really healthy. She felt my hair and asked how I've been caring for my hair. At the time I was using Not Your Mother's shampoo and conditioner most wash days. I was using a Shea Moisture deep conditioner 1-2 times per month, and I was using a variety of different gels and mouses depending on the day.
However, I wasn't regularly using any expensive gels or expensive mouses. Some of my most common go-to's were Cake Curl whip mousse and harry's sculpting gel. None of the products I was using regularly cost more than $15 each. I've never used salon products regularly or high-end hair care products regularly.
After sharing my routine with her, the stylist said I should switch to salon quality products because drugstore products would damage my hair. But…she had already told me my hair was healthy and this was after a very long period of using drugstore products…so they clearly weren't damaging my hair.
Are Hair Products Sold in Salons Better Quality Than Those Sold in Stores?
Hairstylists sometimes tell clients that the best hair products are the ones that are sold in salon. Even when a brand sells the same product in salon and in retail stores, stylists will sometimes say that the salon version is different than what is sold on retail shelves. For example, many curly hair specialists use Innersense brand products in their salons, and sell them to their clients. Innsersense products are also sold at Ulta and other retailers. Some will say that if you buy Innersense products from a hair stylist, the quality is better than the Innersense products bought at Ulta.
Is that true? According to the cosmetic chemists who host the Beauty Brains podcast, it's false!
Here's what the experts had to say.
"The truth is these salon brands depend on 'diverted' product to boost their sales. They want to have it both ways. They want to tell you that Paul Mitchell is a salon-only brand which makes it seem more exclusive, but they also want the high volume sales that they can only get through mass market outlets like your local Kroger. Additionally, they don't want to anger their salon distributors because people are able to get the same stuff but for cheaper."
If you want to help your favorite stylist, you can purchase from your salon to help them out. A lot of hair stylists profit more from selling products than they do cutting hair. So, it can be a way to be generous to your hair stylist. Will the products you buy from your hair stylist be superior to the bottle of the same product purchased from your local drugstore though? Nope! They're the same product.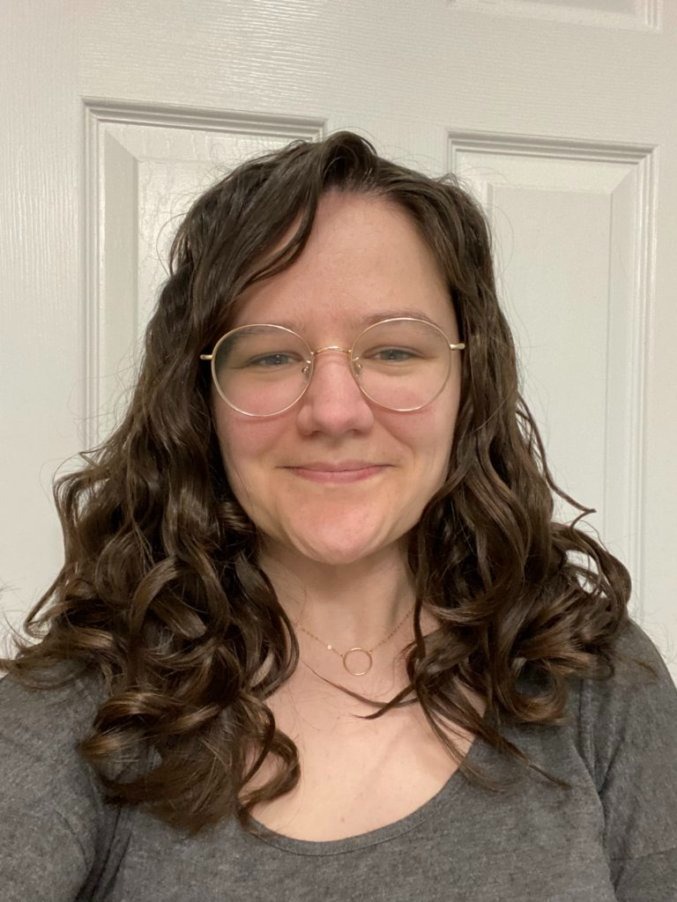 Are Salon Products Made With Higher-Quality Versions of the Ingredients?
Sometimes people say the reason why salon brand products are more expensive is because they use premium-grade ingredients. According to the chemists at Beauty Brains, this isn't the case, either. The quotes below is from their blog post summarizing their episode on salon ingredients.
"They make up this story of products being inferior. In nearly all cases, they are not."
"it is NOT true that salon products buy higher quality grades of cosmetic ingredients than companies that make retail products…..It is true, however, that you can purchase better types of ingredients."
In the podcast episode, they explained that raw materials for hair products are usually available to any/all businesses who want to purchase them. If you're a supplier of dimethicone or Sodium Cocoyl Isethionate, why would you refuse to sell to retail brands? It would be limiting your ability to make profit, and almost all businesses are out to make as much profit as possible.
The chemists explained that there isn't a two-tier quality system when buying ingredients. There isn't cheap dimethicone for retail brands, and fancy expensive dimethicone for salon brands. Some ingredients do come in multiple varieties. They used the example that dimethicone is available at different molecular weights. However, any/all brands have access to buying dimethicone at different molecular weights…and that's how it generally works for almost all hair product ingredients.
Do Salon Hair Care Brands Have Access to Higher-Quality Ingredients?
Ingredient suppliers don't make rules like "Only salon-brands can purchase this ingredient".
Something that can happen at times, is a particular cosmetic manufacturer (For example, Suave or their parent company Unilever) could pay a premium to a raw ingredient supplier for exclusive access. This would mean they'd create a contract stating that this supplier won't sell a particular ingredient to any other company.
To get an ingredient supplier to agree to this, the brand has to agree to buy really large amounts of that ingredient for several years. This way, the raw ingredient supplier will know they'll be selling a lot of the ingredient, even though it's just to one company.
Generally, salon brands don't sell as much product as retail chains. So typically, it's only retail-sold brands that sell enough product to make it reasonable for them to pay for an exclusivity contract which requires buying a really massive amount of an ingredient. So generally, salon brands don't usually have access to exclusive ingredients.
Are Salon Deep Conditioner Treatments Superior To At-Home Deep Conditioners?
Some hair salons offer deep conditioning treatments that can range from anywhere from $20-$200 for a single treatment, or even more. Have you ever wondered if those deep conditioning treatments are using exclusive ingredients that are extra powerful? Or are you just paying way more when you could get similar results at home? After all, many deep conditioning products on the market are under $20, and you get a whole jar – not just a single use!
Here's what the beauty brain chemists had to say about this in their summary of beauty brains podcast episode 178.
"in terms of whether you're getting some great benefit from these pricey treatments versus something you could just do at home…I've not seen any good evidence of that.  Consider that there are no special ingredients that go in a salon conditioning treatment that couldn't also be put in your standard at-home product. I looked at the Clairol Professional Color Vibrancey Repair Packet and they have standard conditioner ingredients Amodimethicone, Stearamidopropyl Dimethylamine, Panthenol…you know, the same type of stuff you get in store brand conditioners."
This is just one example, of course. However, I think it makes sense to be highly skeptical of salon-provided products if you're someone who seeks out value more so than convenience and/or paying for the nice experience of having a deep conditioning treatment at the salon.