For some people, the bigger curl clumps they can get, the better. We all have different styling preferences. The size of my curl clumps isn't something I usually focus on a whole lot, personally. However, I know that it's something other people do strive for so I thought I'd share this information for people who want bigger curl clumps.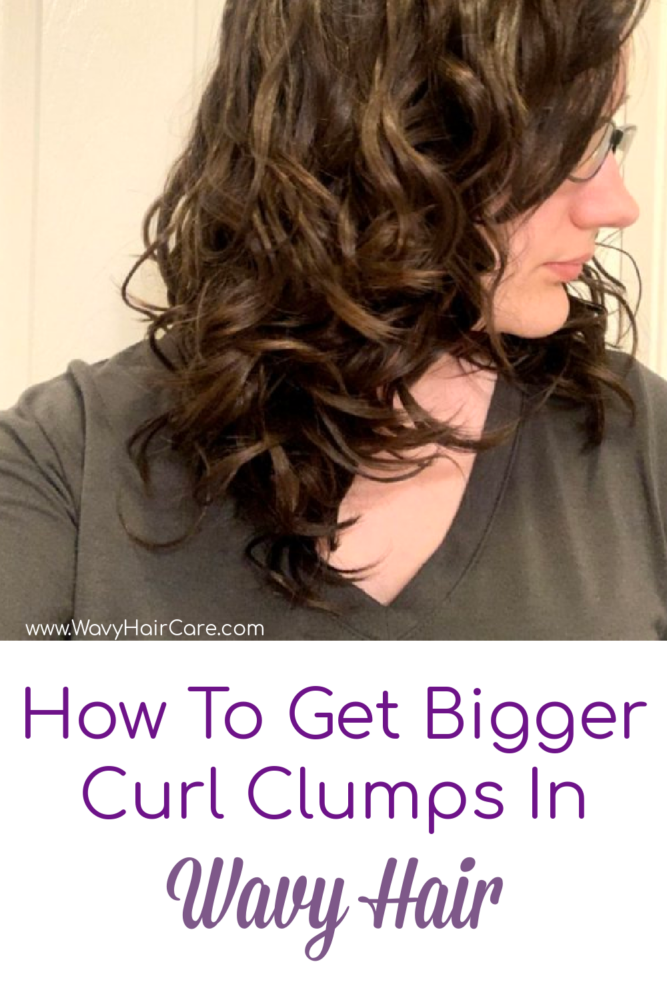 How To Get Big Curl Clumps
The most important factor for getting bigger curl clumps is water. Focus on getting a lot of water into your hair and then lock the style in with gel to maintain those big curl clumps as your hair dries. 
Style your hair while it's soaking wet. You can apply your leave-in conditioner and gel right in the shower if you want to! If you like to get dressed before applying your gel, it may help to use a spray bottle to re-wet your hair before adding your gel. You want it as we as possible while styling.
Try the bowl method to get your hair extra wet while styling without losing too much of your gel.
Glaze your products in, don't rake or scrunch. Raking and crunching both end to break up curl clumps into smaller sections.
Try the plump method. I haven't tried this one yet, but it is said to create big curl clumps!
Deep condition regularly. While having your hair soaking wet on wash day will help a lot, keeping your hair well moisturized overall can assist with your hair clumping more easily, too. If your hair is prone to being dry, deep conditioning as often as once a week may be beneficial.
Don't brush your hair after the shower. The bristles in a brush or teeth in a comb will separate your hair into smaller clumps.
Use protein treatments or bond repair products if your hair is damaged. If your hair cuticle is damaged, your hair will struggle to retain water. Using protein treatments or bond repair products can help repair your hair so it can hold in more water and stay more moisturized.
Squish to condish each wash day. Squish To Condish helps get water into the center of your hair, and can help work your hair products into the hair strand as well. This is especially helpful for lower porosity har.
Try a denman brush or scrunch it brush. Styling with a brush can give you some control over the size of your curl clumps.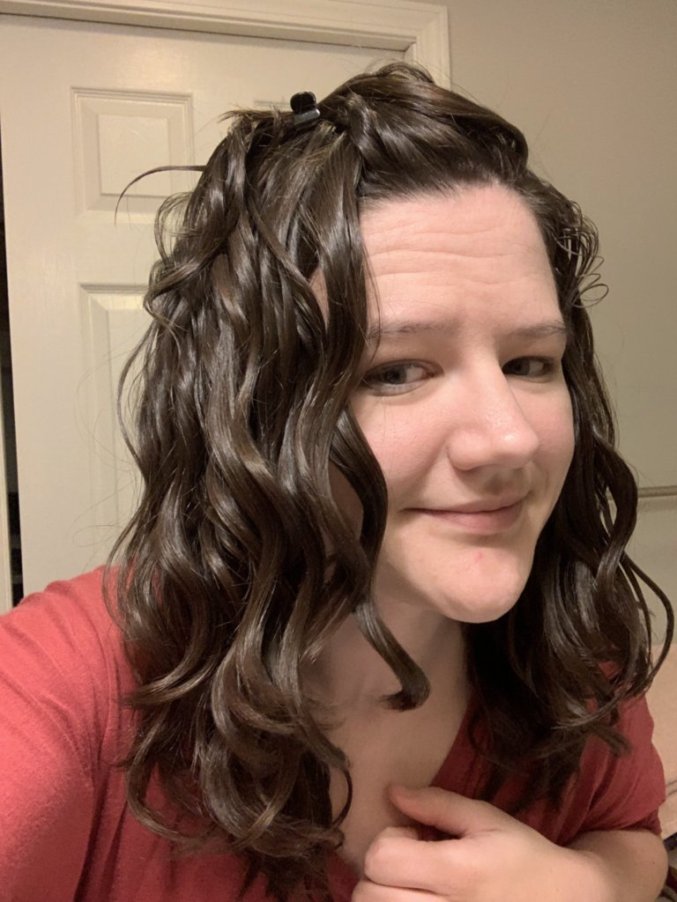 My hair when I did the bowl method which is supposed to encourage big clumps. 
Why You're Struggling With Clumps
Understanding why your hair isn't clumping well may help you to solve the problem. Here are some common reasons why hair may not clump or may only clump in thin clumps.
Your haircut. If you had your hair thinned or feathered it can keep your hair from clumping. Hair usually clumps best if sections of hair are all the same length. Some layers are usually beneficial for wavy hair, but if you have too many layers or feathered or razor-cut hair, this can disrupt clumping.
You're adding products on hair that is too dry. Think of your gel (or mousse) as 'capturing' your hair as it is formed when its wet. If its not in clumps when you apply your gel, you'll be capturing your hair in those skinny clumps, instead of in big clumps. If your hair gets too dry before you add gel, the clumps will fall apart and then the gel will capture those skinny clumps.
You aren't getting a gel cast. For some wavy hair types, their hair won't clump without support from gel or mousse. If you wash your hair without any products and it doesn't clump, then to get clumps you'll likely need to use a lot of gel and get a gel cast. I have a blog post on what is a gel cast and how to get one if you aren't familiar with the concept.
You may need protein. If your hair used to clump well but now it's stopped clumping, your hair may be lacking protein and over-moisturized. Over-moisturized hair can get "fluffy" and shapeless.
You may need moisture. Frustrating when I just said that over-moisturizing can cause a lack of clumps, I know…but it's true. Too much protein or needing moisture can cause skinny curl clumps or a lack of clumping, too.
You're touching your hair as it dries. If you're touching your hair too much (including microplopping too much, scrunching too much, or laying down while your hair is still wet) after you've added your products. Once you've applied your gel you need to leave your hair alone so that it can form a cast and dry to preserve the clumps you created.
You brushed your hair after adding gel. Some people with tight curly hair can brush their hair after adding gel to help distribute their gel all through their hair. For many with wavy hair, this will break ther curl clumps apart too much. Wavy hair is usually less durable than curly hair, so we have to treat it more delicately to avoid disrupting our clumps.
You have product build up. If you have residue outside of your strands they may not 'play nice' with hair around them. If you haven't done a clarifying wash in a few weeks or more, I'd recommend seeing if this is the solution for you. I have a blog post on how to clarify wavy hair.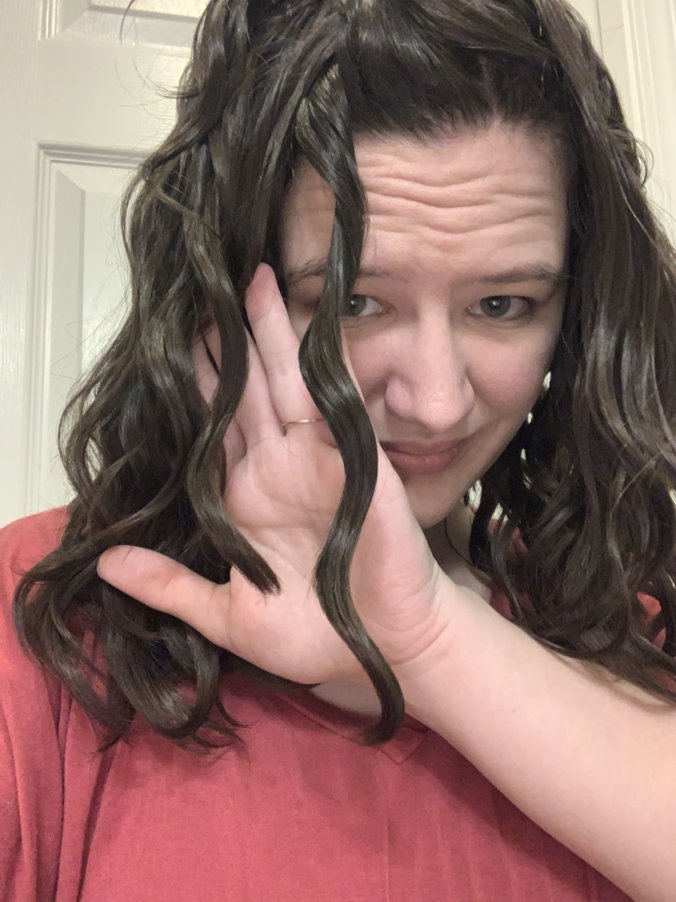 Showing a single clump. This was a day when I used the bowl method. 
How To Solve Your Skinny Clump Problem
If you still can't find the cause of your skinny curl clumps, I'd advise you to watch your har closely throughout your routine on wash day. Note how big your clumps are in the shower, and then after getting out of the shower.
If you plop or microplop, note the size of your curl clumps before and after. Note the size of your curl clumps before and after applying your products. Watch the size of your curl clumps before and after you diffuse your hair.
If you keep a close eye on your curl clumps throughout your routine, you should be able to notice at what step of your routine your curl clumps fall apart the most. This will tell you what part of your routine is causing the problem.
It is normal for your curl clumps to get a little smaller when flipping your head around, and when adding products, but you should maintain clumps still.
If you see at any point in your routine that your clumps have gotten super skinny or fallen apart completely, you can try spraying your hair with water to re-gain clumps. Then in the future try to be more gentle at that step of your routine to avoid your clumps falling apart.
Are You Expecting Too Much?
In closing out this post, I wanted to highlight the possibility that you may be expecting too much from your hair. A few truths to keep in mind…
It's normal for your waves to break up after the shower. Sometimes I see people who are upset that they have big, fat clumps in the shower and then they get skinnier before their hair dries. It's normal to have bigger clumps while in the shower than you have at any other time.
Sometimes when I'm in the shower I only have five or six clumps across my whole head! If my hair dried in that few clumps, they would be massive and it would look a bit unnatural. Remember not to expect your "shower clumps" to stay.
If you have low density hair, your clumps will be thinner. Sometimes people with lower density hair want to get big clumps similar to those that people with high density hair gets. When you have lower density hair, you literally have fewer hairs on your head than someone with high density hair. Due to that, it's to be expected that clumps will be a bit smaller if you have lower density hair.