There are affiliate links in this post.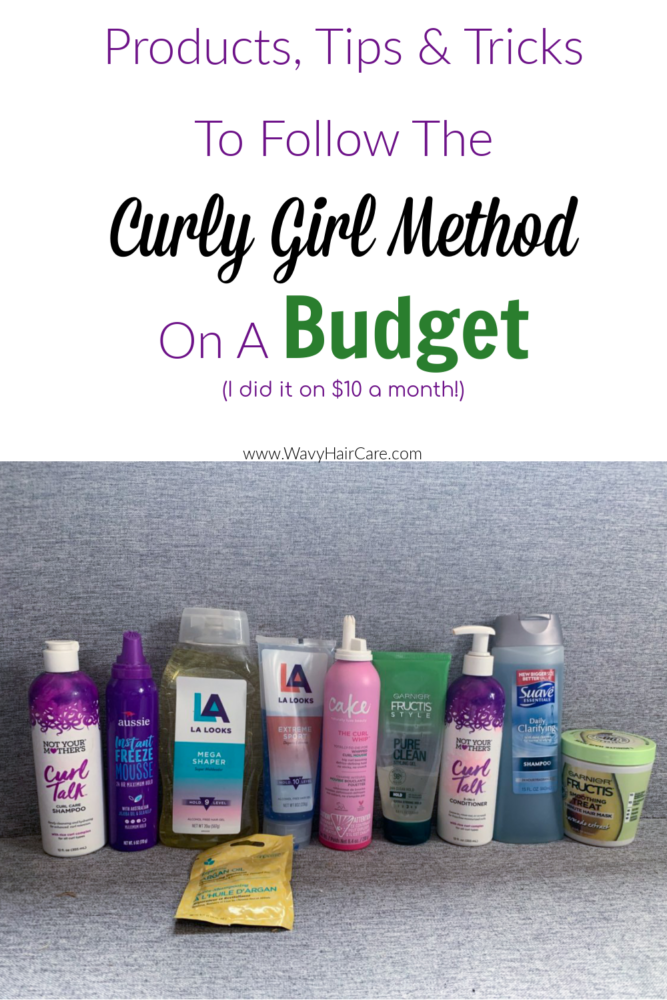 It's possible to spend a ton of money while doing the curly girl method. There are some curly girl method-approved products that are quite pricey, and some people like to try lots of new hair care products on a regular basis. For some people, it really adds up.
Often, wavy or curly YouTubers or influencers are sharing new products with readers all the time. It can give some followers the impression that following the curly girl method requires buying a lot of expensive products on a regular basis. In my view, it's okay to spend a lot on your hair if that's what you enjoy.
However, I know other people don't want to spend much on their hair (or feel they shouldn't or can't due to their income or budget). For those of you who are wondering if you can do the curly girl method on a budget, yes you absolutely can. In this post I'm going to share tips and tricks for following the curly girl method while sticking to a budget.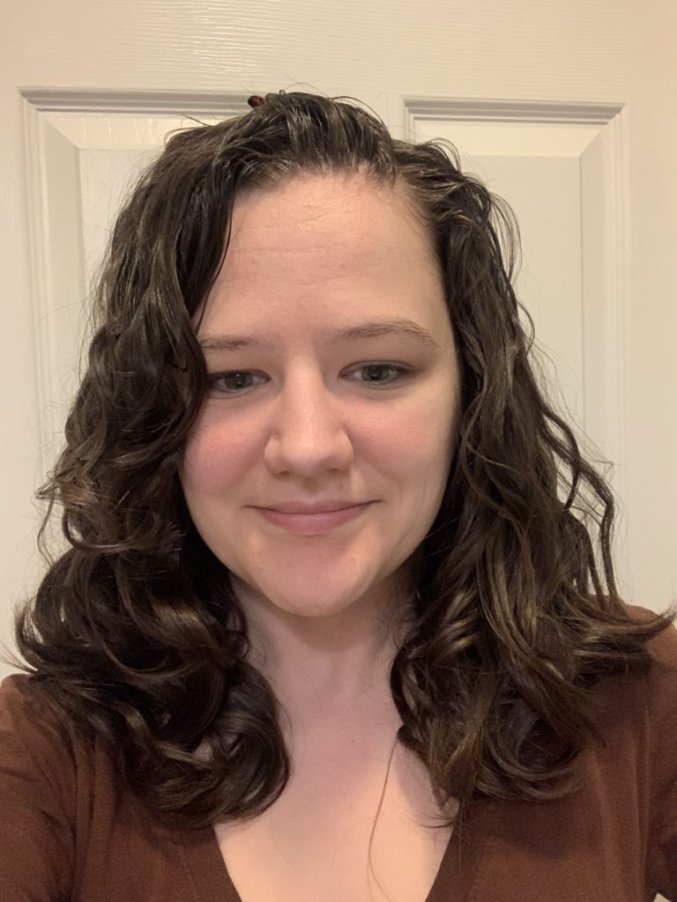 Be A Minimalist
The curly girl method doesn't really require that many products. Some claim you just need two products, a conditioner and a gel. Personally, I think most waves need a shampoo, as cowashing with conditioner jus doesn't work out for many of us. I do think many can get away with just shampoo, a rinse-ou conditioner most wash days.
What do you really need for the curly girl method?
This is somewhat personal, but in my opinion most people with wavy hair need:
A clarifying shampoo (for occasionally using to remove buildup)
A sulfate-free shampoo (For regular wash days)
A silicone-free conditioner (For regular wash days)
A gel or a mousse. 
A deep conditioner (to use occasionally if hair gets rough or dry feeling) 
A protein treatment (to use occasionally if hair gets over-moisturized) 
Products that are essential for some (not all) with wavy hair
I think some wavies need a leave-in conditioner, but others don't. If your hair gets tangled easily or feels rough/dry, I'd say you need a leave-in conditioner. If it doesn't, you can skip it.
A blow dryer with a diffuser attachment. Some may have hair that dries quickly enough on its own, but many of us would have wet hair literally all day if we didn't diffuse, making a diffuser essential. My favorite diffuser is the xtava which is $22 but I've also used this Conair one that's only $13 and it's great for the price. If you need a hair dryer, I paid about $30 for my Revlon Salon turbo hair dryer and used it multiple times a week for 3+ years…and then I just upgraded, it didn't break.
A wide-tooth comb. If your hair tangles a lot, this is a must. If not, you could probably skip it but they're useful for anyone, if you can afford it.
An old t-shirt to use to plop your hair. Only essential if you damp style your hair.
A satin pillowcase, satin bonnet or buff to protect your hair while you sleep. Useful for everyone, but probably only truly needed if your hair tangles a lot. I use a Bedsure satin pillowcase and am happy with it. The set of two was $9 and I've had them about two years now. They wash well.
A shower cap (to keep your hair dry when showering on non-wash days). You could just try to keep your head away from the showerhead if you really had to…but these are super helpful.
Scruchies so you can put your hair up without getting dents or damage. Many use these a night to pineapple their hair while they sleep. You won't really need these if you're okay with leaving your hair down full time. I can't find them on the website, but in person my Walmart sells a two pack for .88!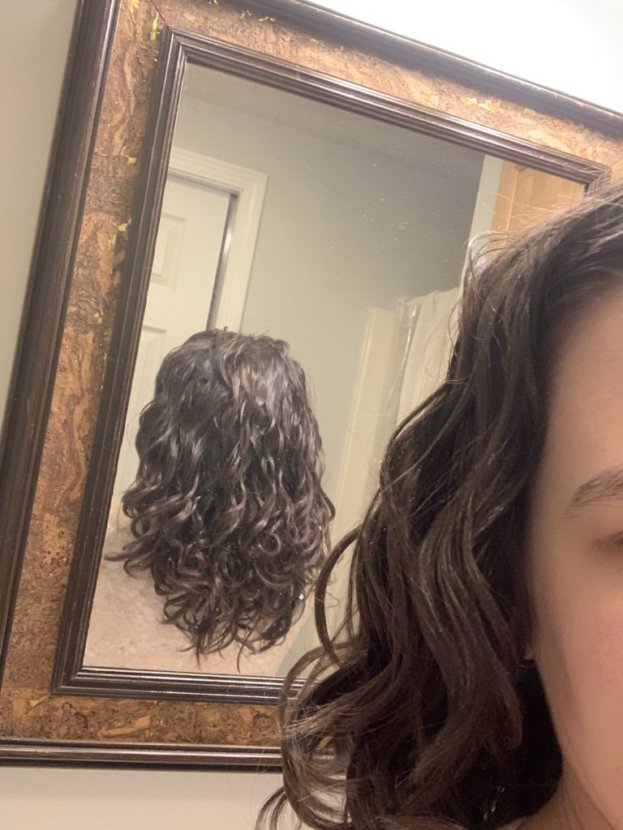 Focus On Technique, Not Products
Often times when people spend a lot of money on the curly girl method, it's because they try o buy a new product each time they have a new problem. There are some cases where you may need a new product to solve your problem. However, in many cases changing your technique can change your results!
I did a blog post about how hair care technique makes a bigger difference than products. It's easy to want to turn to products for a 'quick fix' but if your techniques are poor, even the best products often won't help. In other cases, products may help, but you could change techniques instead. For example, I notice some gels help me to get bigger curl clumps than others, but I can also be mindful of how wet my hair is when I apply my products if I want to get bigger curl clumps with any styler.
Buy Drugstore Options
There are a lot of drugstore products that are curly girl method approved! A lot of the same products can be found at grocery stores, Walmart, and Target as well. Some curly girl approved products can even be found a discount stores like TJ Maxx or dollar tree! Yes, the dollar tree. I did a dollar tree CGM routine post!
If you're used to looking around online, especially following influencers, it can be easy to hear a lot about higher end products. However, if you hang around in wavy hair communities with 'regular people' you'll see people talking about more affordable products that are CGM approved.
Try Samples First
If you do want to try a hair product that is a little more expensive, it can save money if you buy a sample or travel size first. Of course, no all products are available in sample sizes. However, those that do offer miniature sizes can be a good way to test products before committing to spending the amount for the full size.
Ulta offers some of my favorite products in trial or travel sizes that I have never seen in trial sizes anywhere else. For example, they make a foil packet of Shea Moisure's manuka honey & yogurt protein treatment and a travel size of not your mother's curl talk mousse. They also sell smaller sizes of Curlsmith and Innersense products, which are more expensive. I waited until black Friday and then bought the travel sizes when they were around 50% off, letting me try them for the lowest out of pocket possible.
Use Hair-Care Exchange Sites
There are some online communities where people can buy, trade or sell partially used hair products. Usually this involves selling or trading the entire container, however much is left. In some cases though, some of the groups allow for samples to be exchanged instead.
I've done this before, where I have a gel that I didn't love that someone else wants to try, and they have a product that I want to try. So we each bought travel beauty containers and made each other a sample, and shipped them to each other. It can be a fun way to try products that don't come in sample sizes. Or to just sell products that you don't wish to use, or buy partially-used products for a reduced price.
Trade With Friends
If you have friends or family members who are also following the curly girl method, trading with them can be a great way to try more products without spending more, too.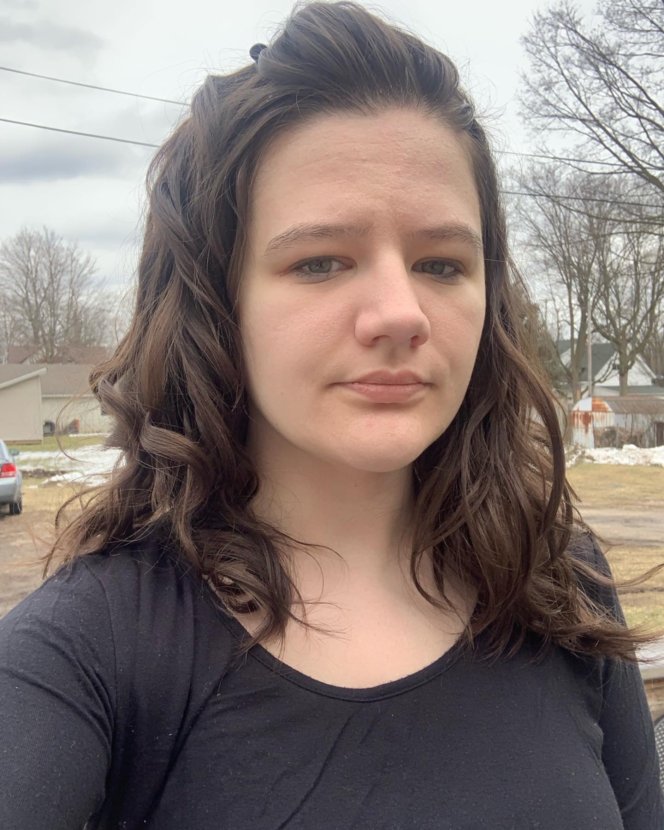 Be Mindful Of Advertising
We all like to think we are immune to the impact of advertising, but none of us really are. If you find yourself wanting to purchase products that you've seen on social media or in ads, check-in with yourself to see if you really truly want to make that purchase or not. Try to make sure you aren't just being sold by good marketing.
Do you really want it? Is it likely to really be worth the money? Does it suit your budget? If you aren't completely sure that you want to make the purchase, try delaying it a week or two and see if your desire changes.
With social media, ask yourself if you want what products the person has used, or if you are just wanting your hair to look like hers. I've seen people admit that they used to buy almost anything they saw a particular influencer recommend, and she was disappointed over and over again when hose products didn't meet her expectations. She eventually came to realize that she was buying the products the influencer was using because she envied that woman's hair…which was just different from her own.
It's hard to know how much of someone's results are caused by their products, but it's definitely worth keeping in mind tha your results won't be just like theirs because you have different hair.
Get "Regular" Haircuts Or Cut Your Own
In wavy and curly hair groups, a lot of people talk about devacuts and other dry curl cuts. These haircuts are noticeably more expensive than 'regular' wet haircuts. While I do think some people get added benefits from getting a devacut or dry curl cut that may be worth the money if you can afford it….if you are sticking to a budget, getting an affordable haircut is a great way to cut costs. Or even cutting your own hair!
I know cutting your own hair sounds crazy to some, but I used to cut my own hair using a dry curl cut method. I couldn't give a straight haircut to save my life, but it's harder to really mess up a dry curl cut because the layers aren't expected to be perfectly straight anyway.
Damp Styling Can Reduce Your Product Use
I like to plop my hair for about 10 minutes and then apply my mousse or gel. I primarily like to do this because it gives me better volume and helps my hair to dry faster. However, another added benefit is that I use less gel or mousse! Lear more about this in my post damp styling vs wet styling wavy hair.
If you apply your gel or mousse on soaking wet hair and then plop or microplop, you'll end up using more of your products because some of it gets absorbed by your towel. With damp styling, you can use a little less which can save a little money in the long-run.
Don't Style Your Hair On "Down Days"
If you don't want to, you don't have to style your hair on days where you won't be going anywhere. Havig a stay-a-home weekend? Skip styling your hair and your products will last longer and you'll save a little money. Some people believe that you have to style your hair wavy each wash day in order to 'train' your hair to keep being wavy or curly. I have never found this to be true, personally. I've always occasionally skipped styling my hair and have never seen any negative side effects.
Only Buy High-End When It's A Great Deal
The silver lining for higher-end products is, they can be greatly discounted at times! You'll likely never see LA looks gel 50% off, but I got Curlsmith products half off around Black Friday last year. If you do want to buy higher-end products, try to wait for a really good deal.
Save Nicer Products For Special Occasions
Save your higher-end products for special occasions and/or use your cheaper products for more casual days. I like to style my hair most of the time, even if I'm not leaving the house. Which is quite often for me, as I work from home. However, I am more likely to use my really cheap styling products if I am going to be staying home anyway.
How Cheap Can You Do The Curly Girl Method?
The first two years or so that I followed the curly girl method I did so on less than $10 a month.
On my regular wash days I used Not Your Mother's Shampoo and Conditioner which were around $8 a bottle and would last me about 3 months or $48 a year. On regular wash days I used LA looks gel which was $2 per big bottle and would also last me a couple of months, costing me about $12 a year. Once a month I'd use suave clarifying shampoo which was $1 for the bottle, this would last me the entire year. Two or three times a month I'd do a deep conditioning treatment using Garnier Fructis Treats which are about $6 per jar, and these would last me at least four months, maybe six…so that would be about $12-$18 a year. That would all add up to about $79 a year or under $7 a month on average.
After a while my hair got healthier and started to get over-moisturized, so I had to spend a bit more to buy protein treatments. So, what you have to spend can vary depending on your hair's needs. I can be done on a limited budget, though!
Budget-Friendly Curly Girl Method Products
Suave daily clarifying shampoo. (Walmart link)$1 for a regular-sized bottle or $2 for a huge bottle. I only clarify 1-2 times a month so this lasts a long time!
Not Your Mother's Curl Talk Shampoo, conditioner, masque, gel and mousse. (Amazon link or walmart link) Yes, I love almost the whole line! Do take note that the defining cream from this line is not CGM approved. Anyway – these products are usually priced around $8 each, and sometimes go on sale for bogo 50% off at Ulta.
Not Your Mother's Naturals Royal Honey shampoo and conditioner. (Amazon link) These smell great and are protein free.
Garnier Fructis 3-in-1 treats. (Walmart link) These say they can be used as a rinse-out conditioner, leave in conditioner or deep conditioner. I pretty much only use them as a deep conditioner. I have used the coconut, papaya and avocado versions and liked them all. They're around $6 for the 13oz tub which lasts me a long time. Some stores sell a miniature size for around $3 if you just want to test it out.
Aussie Insant Freeze Mousse.(Walmart link) A lot of people love the aussie instant freeze gel, but I prefer the mousse. At around $3.50 it's an affordable mousse that gives me strong hold.
LA looks gels. (Walmart link)These come in a HUGE container for $2. I've used the sports, mega, and max spikes versions. My local dollar tree also sells a smaller bottle for $1.
HASK protein mask packets.(Walmart link) These are around $2 and I can get 2-3 uses out of a packet.
Neutral Protein Filler. This is only available at SallyBeauty, but it's about $4. You can mix a few drops of this into a blob of conditioner or a blob of deep-conditioner to add protein to your hair or do a protein treatment. Way more affordable than most pre-made protein treatments.
Johnson's Kids curl defining shampoo. Around $5, works well for fine hair that is easily weighed down.
Johnson's kids strengthening conditioner.(Amazon link)Around $5, has a little protein in it.
Cake Mousse.(Amazon link)This is usually around $9, but Amazon and Walgreens both run BOGO 50% sales on Cake products fairly often. This mousse gives me great results and I like to use it to refresh my hair with on day 2+.
Garnier Frucis Pure Clean Gel. If LA looks gel doesn't work for you for whatever reason, my next recommendation for an affordable gel would be this. It's around $3.50 and has good hold.
You may also be interested in checking out my wavy hair product recommendations page. It includes any/all products that I recommend, so some are more expensive than others but I'm pretty frugal so most of my recommendations are under $15 per item.
Use Ratuken For Cash Back And A Sign Up Bonus
If you shop for hair products online, you can save money by getting cashback on your online purchases. I've used Ratuken for years. It's somewhat similar to credit card rewards, in that it gives you a percentage of what you spend back at the end of each quarter. The percentage that you can earn back varies by retailer. For example, right now Ulta is offering 3% cashback through Ratuken, and Target is offering 1% back.
On a computer, Ratuken is a browser extension that you click on before purchasing. It can also alert you to coupon codes available for the site you're on! On mobile, it's an app hat you would open before navigating to the retailer's website.
If you're new to Ratuken, sign up through my link and we'll both get a bonus $25 as long as you make a $30 purchase through Rauken within the first 90 days of joining.