I got a couple of comments and emails this week that have made me realize I need to cover some more naturally wavy hair care basics on here! Please continue to leave me comments or messages with any questions that you may have and I'll keep trying to produce content to help you out.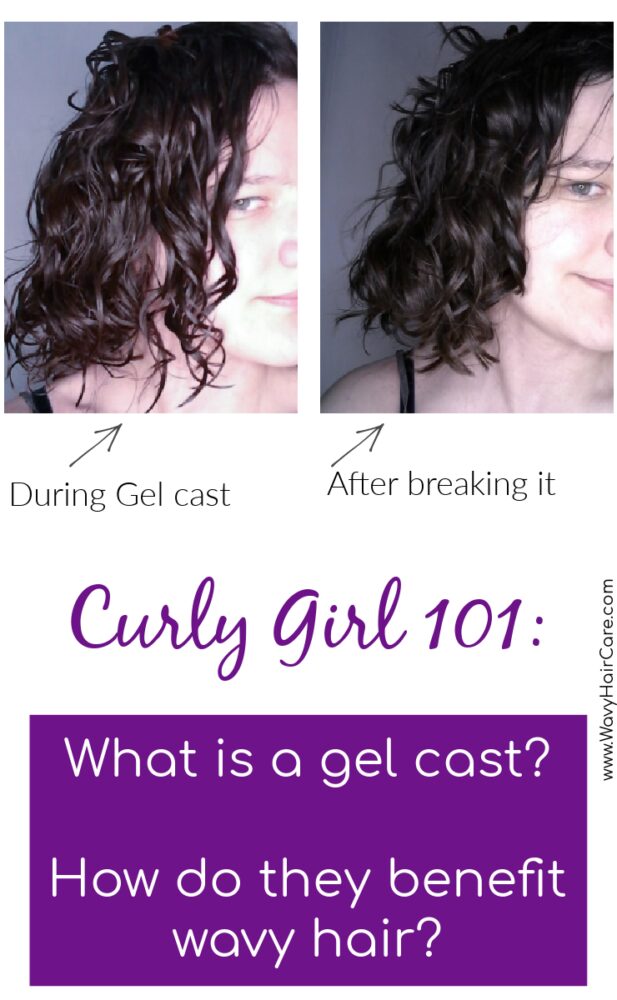 What Is A Gel Hair Cast?
A gel cast is a crunchy feeling that forms around hair when we apply gel or mousse. The "gel cast" forms around the curls to hold their shape. Most people scrunch the cast to get rid of the hard feeling. If your hair has ever felt crunchy after using gel, that was a partial gel cast.
When hair is in a gel cast, it will feel hard or crunchy on the outside, and will look shiny or wet. Generally speaking, products with a harder hold will create a harder cast. We tend to say 'gel cast' but you can get a cast from many types of mousse, and sometimes other hair products like custards.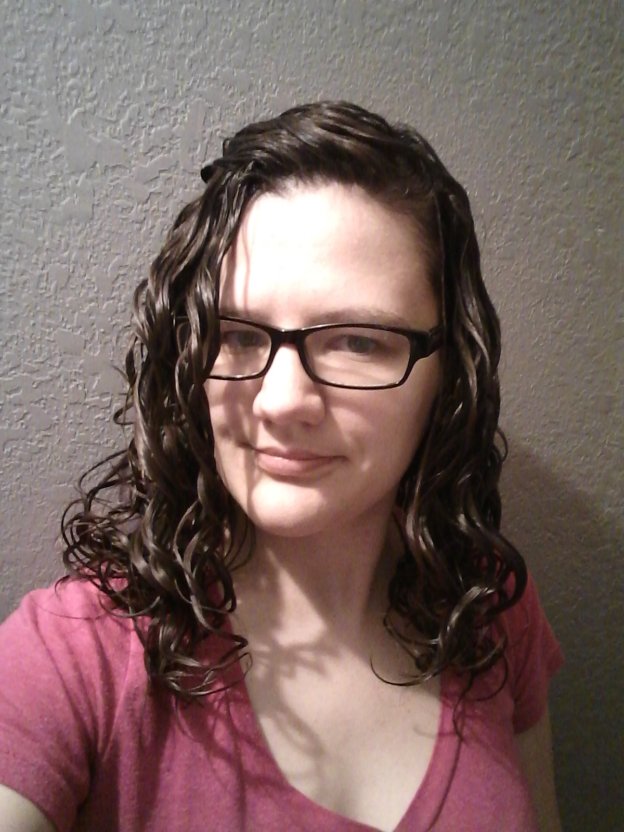 This is my hair in a gel cast. It is dry despite looking wet. Gel casts just create a shine that looks like wet hair.
What is The Purpose Of A Gel Cast?
The purpose of a gel cast is to help waves or curls hold their shape while the hair dries. The gel cast also protects the hair from the elements. Even once the cast is broken, hair will maintain better definition, hold, and frizz control compared to hair that was never in a gel cast. 
For me, if I don't get a cast, my waves will not hold themselves up for more than a few hours. Getting well-defined, long-lasting waves requires starting with a good cast, for me.
Before & After Scrunch Out The Crunch
Before scrunching out the crunch (aka breaking the gel cast) your hair will look skinnier, wetter, and stiffer. After, it will look and feel softer. Some like to leave their hair in a cast, but most people scrunch it out. Here is my scrunch out the crunch before an after: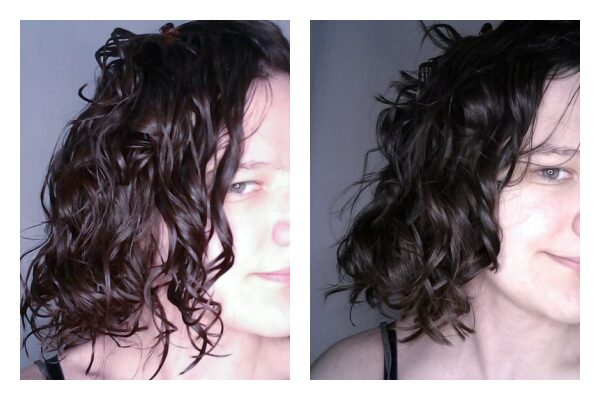 How To Get A Hair Cast
To get a cast, you'll want to use a product like gel or mousse that has a strong level of hold. Apply the product on wet hair and let it dry without touching it to form a gel cast.
La looks gel is well-known for being a very hard-hold gel, it is curly girl approved and very affordable at about $2 per large bottle. Out of the mousses that I've tried so far, the one that gives me the best cast is Not Your Mother's Curl Talk Mousse.
You'll want to use the product while your hair is wet (called wet styling) or damp (called damp styling). I have experienced with both and find that my hair typically does best with damp styling, but you may have to try both to see what works best for your hair.
I have a blog post comparing damp styling vs wet styling if you want to check that out. You definitely want to apply products on hair that is at least damp though, never dry. Applying products to dry hair will usually result in really stringy waves.
You may need to use your gel rather generously to get a cast over all of your hair. My hair is very thick, but when my hair was about armpit length, I had to use about 4 palmfuls of gel or mousse to get a full-head cast. Now my hair is just above my shoulders and I use about 2.5 palmfuls of mousse to get a cast.
Once the styling product is applied to your wet or damp hair, let it dry. You can air dry or diffuse, but you want to avoid touching your hair as much as possible until it is 100% dry. I have a blog post comparing air drying and diffusing if you'd like to see the pros and cons, as well as photo results of each of those options.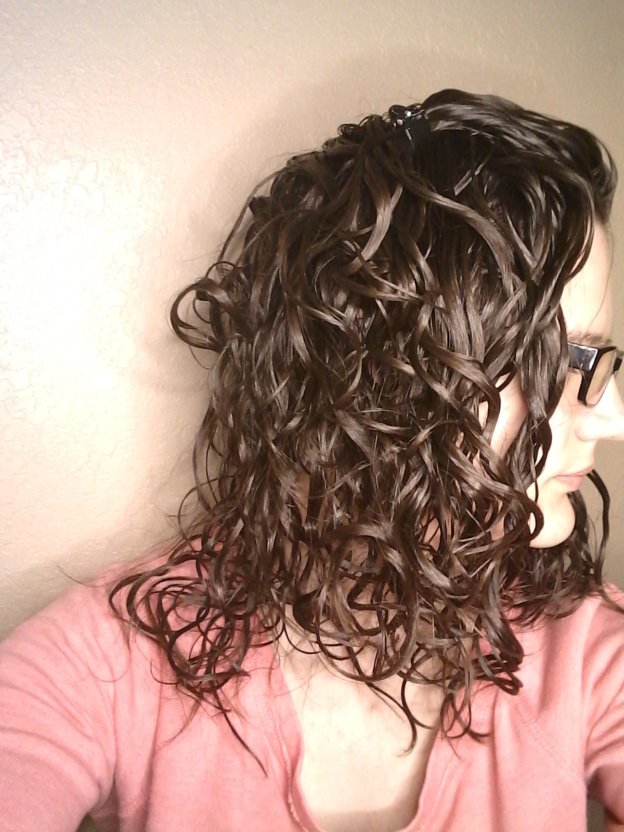 My hair in a cast created by mousse. 
Can mousse create a hair cast?
Many types of mousse can create a hair cast and have long lasting hold. Not Your Mother's Curl Talk mousse and Aussie Instant Freeze Mousse are two examples. I have a blog post comparing 10 types of mousse on various attributes, including how well they create a cast if you want to see others.
I prefer mousse over gel, but I need a hard hold so getting a good cast from my mousse is a must. For some reason, a "mousse cast" just isn't really a term I've ever seen used, which is why I keep saying gel cast in this post!
If you're curious about mousse, check out my blog post should I use gel or mousse on wavy hair to learn more about the pros and cons of each.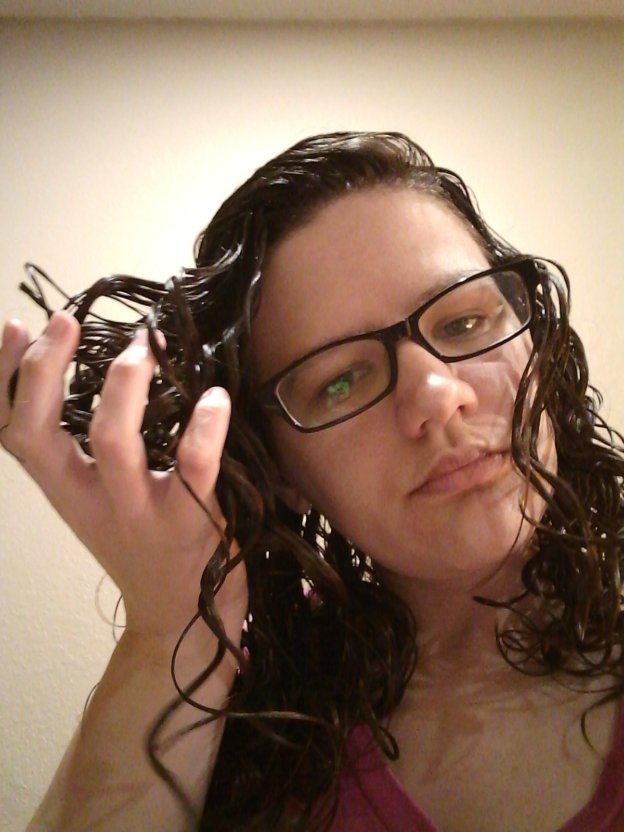 How To Break A Gel Cast
This is also called 'scrunching out the crunch' and that is shortened to SOTC in many wavy or curly hair communities, just FYI.
To break a gel cast or scrunch out the crunch, gently scrunch your waves. You can do this with bare hands, or with a tiny dab of oil or conditioner in your hands. It's important to wait until your hair is 100% dry before you try to break the cast, or it may give bad results.
If you're unsure if your hair is totally dry or not, very gently place your hand on your hand in various areas. If any area feels cold or cooler than the rest of your hair, then that area is not totally dry yet and you should keep waiting. Typically, the last place to dry is close to your roots and/or in the back of your hair so those are the main places to check for coolness/dampness.
If you have a really hard cast and have a quiet environment, you may be able to hear the cast breaking, sort of like a soft shell cracking. Other times you may not hear anything, but you should feel the texture of your hair change after you squeeze it, it should become softer. If it looked wet or shiny while in the cast, it should look more natural once squeezed.
If you're really struggling to get rid of that crunchy feeling, check out my post what to do when you can't scrunch out the crunch.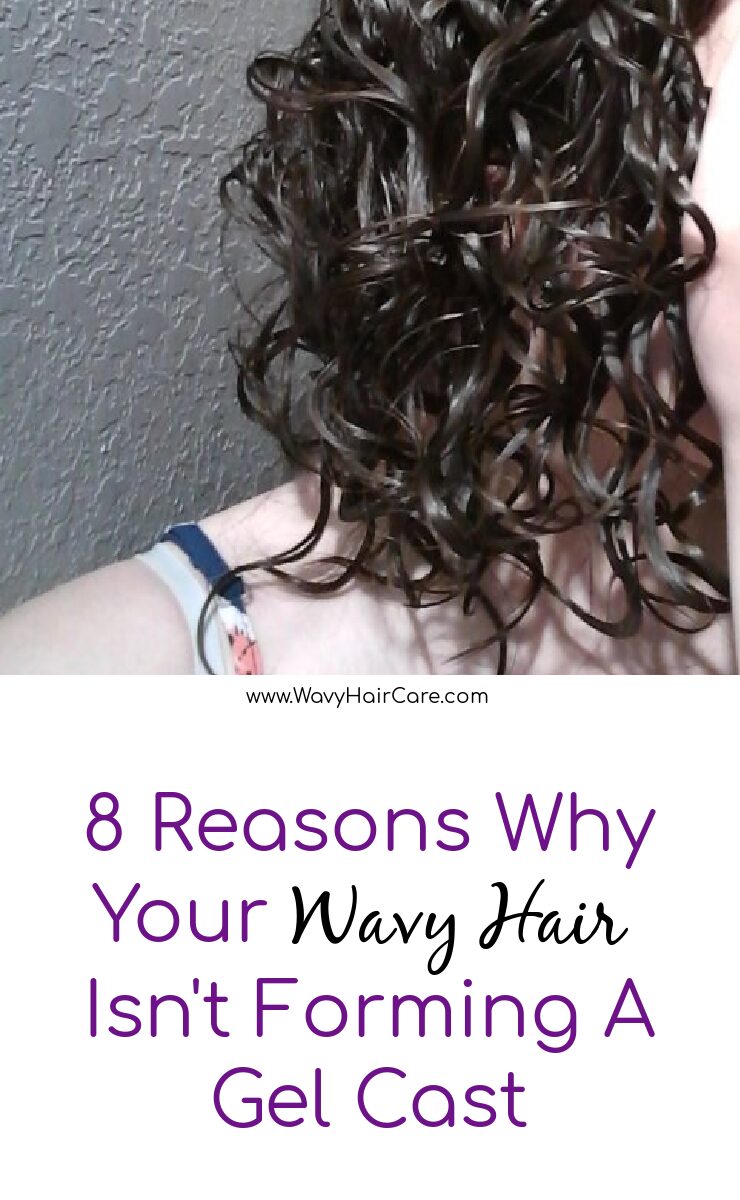 Why Isn't My Hair Forming A Gel Cast?
You may not have used enough product. If your hair is long or thick, you may be surprised at how much you have to use to get a cast.
Your gel or mousse may not create a cast on anyone. While most types of gel and mousse will produce at least a soft cast, some just aren't formulated to do so. You can google the specific gel or mousse you're using to see if others get a cast with it or not.
Your leave-in conditioner or cream may be to blame. Sometimes leave-in conditioners or other moisturizing products can disrupt a gel or mousses ability to create a cast. You can try to skip using your leave-in conditioner or cream one wash day to see if your gel/mousse will create a cast if used by itself.
Your hair may be lacking protein. If you used to get a cast with the product you're using, and you aren't using a new leave-in or cream, but you just suddenly stopped getting a cast? Then you may need to do a protein treatment. When my hair is really lacking protein it won't form a cast anymore.
You may not have applied your product evenly. If you have hard spots in some areas, but not others, you may need to work on applying your product evenly, or you may need to use a bit more product. A common problem is to have a cast on the sides but not in the back. This is usually the result of not getting enough gel in the back of your head. It's just easy to accidentally neglect the back, it seems.
You may have touched your hair too much before it dried. If you try to scrunch out the crunch before your hair is dry, it may not really have a crunch yet. It may also disrupt your cast from working properly, and introduce frizz if you do this. This is why it's important to be 100% sure your hair is 100% dry before you try to break the cast.
You applied product on soaking wet hair, and the gel dripped out. This is why I prefer damp styling over wet stylng. My hair holds a ton of water, and if I apply my gel or mousse in the shower, it falls back out. For others, they can apply to wet hair and get great results though. I think it depends on how much your hair holds onto water and how much it drips.
Plopping or microplopping pulled the product back out. If you use a towel or t-shirt on your hair to plop, microplop, or otherwise touch your hair, you may pull some of the product back out of your hair. If you pull too much back out, it may not leave enough in our hair to form a cast.
I went into even more depth on this in another post – Why you aren't getting a gel cast & how to tell if you are getting one or not!