My hair was curly when I was a toddler! How can I get my curls back?
I see questions similar to this posed in wavy/curly hair groups all the time. I recently saw a post from a curly hair stylist who said she hears it from her clients all the time, too. I thought it was worthy of a blog post so, here we go!
If I had curly hair as a kid shouldn't my hair be curly or at least wavy now?
Your curl pattern from childhood is not necessarily the same curl pattern that you should have as an adult. Our early childhood curl pattern is not our 'true' pattern for our whole lives, at least not necessarily. Likely if your hair was curly as a baby, it is at least mildly wavy now. 
Some people have straight hair as a child, but their hair gets wavy or curly as they get older. Others have wavy or curly hair as a child that gets straighter.
I don't want people to start the curly girl method or wavy girl method expecting their results to match their childhood photos, because odds are, it won't.
However, if your hair was curly as a child, it likely isn't pin-straight. It likely is at least somewhat wavy. My own hair wasn't curly when I was a baby. It got "poofy" when I was about six, and even poofier when I was about 12. Then around 24 it got super frizzy.
In hindsight, I know that the reason my hair was poofy at 6, and really poofy at 12, was because my hair was getting wavier or less straight. However, it didn't look obviously wavy because I was brushing my waves out into poof. I didn't know how to care for my wavy hair.

If you've regularly brushed your hair after it dries or right out of the shower, then I'd definitely encourage you to try to not brush your hair after the shower to see how it dries. It may have more texture to it than you knew you had! Check out my post why you shouldn't brush wavy hair to learn more about how it can ruin the wave pattern and hide waves/curls.
I'd also encourage you to check out my post signs that your "straight" hair is actually wavy. Sometimes what happens is young children have curly hair, and then it gets a bit straighter as they get older.
People sometimes think they got a damaging haircut as a young child. People are told stories like "You had gorgeous curls as a baby, but I took you to get a haircut when you were 4, and for some reason your curls just never grew back!"
In cases like that, the haircut wasn't what made your hair go straight. Instead, the hair at the end of your strands was hair that grew out of your head as a baby or young toddler, and your hair was naturally curly then.
While the hair closer to your roots at 4 years old, was hair that came out of your head at ages 3-4, and your hair had become straighter. So once the old "baby hair" was cut off the ends, all that was left was your hair from ages 3+, and your hair was just naturally straight after that age onward.
Of course, this is just an example, the change can happen at most any age.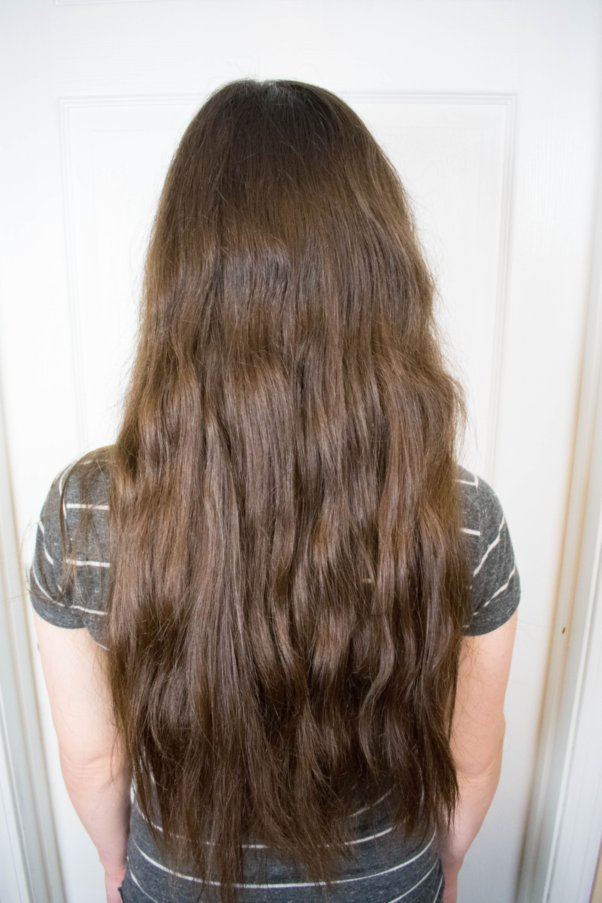 Me a few years ago before I discovered the curly girl method. I was treating my hair as straight hair so it acted pretty straight! While I look at this now and can see that my hair was not perfectly straight, I somehow just saw it as straight back then. Seems weird now. 
Many people still have wavy hair and don't know it
Regardless of whether your hair was wavy or curly as a child or not – if you are hoping your hair is naturally wavy, it may be! As I said above, my hair was straight as a child but is wavy now. Mine changed with age.
If you have always thought your hair was straight, you're probably brushing/combing it regularly, and you're probably not using any leave-in products with hold like gel or mousse.
That is a typical way to care for straight hair, and if you care for naturally wavy hair like straight hair, it will make it look straighter than it "wants" to be or could be. If you instead begin to care for it more like wavy/curly hair, it can make a dramatic difference in how it looks, in many cases.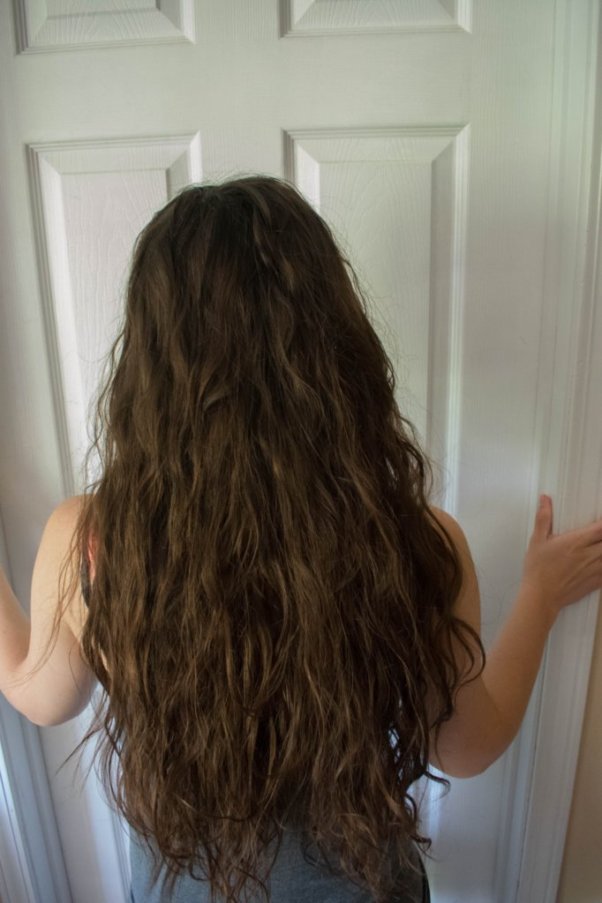 The first time I tried using gel (didn't use nearly enough) – I was shocked at how my hair was starting to look wavy to me. 
In hindsight, I can see that my hair was wavy even before I had used gel. However, I had always thought of wavy/curly hair as being well-defined into specific waves/curls rather than 'just' lumpy. So seeing my hair clump into individual waves after using gel is what made me see it as wavy. 
How To Test If Your Hair Is Still Wavy
If you're hoping that your hair is naturally wavy, I'd encourage you to check out my post how to test if your hair is wavy. It will basically go through the steps to treat your hair like it is wavy after you wash it.
If it brings out a wavy or curly texture in your hair, then congrats! You may not have the exact curl pattern from your childhood, but that doesn't mean your hair is totally straight. While you can't bring your childhood hair back, you can embrace the hair that you currently have to help bring out your current curl pattern.
If you find that your hair is wavy, I have dozens of other blog posts that can help you et started taking care of your waves! Check out my wavy hair blog post directory page to see a list of titles of all of my blog posts.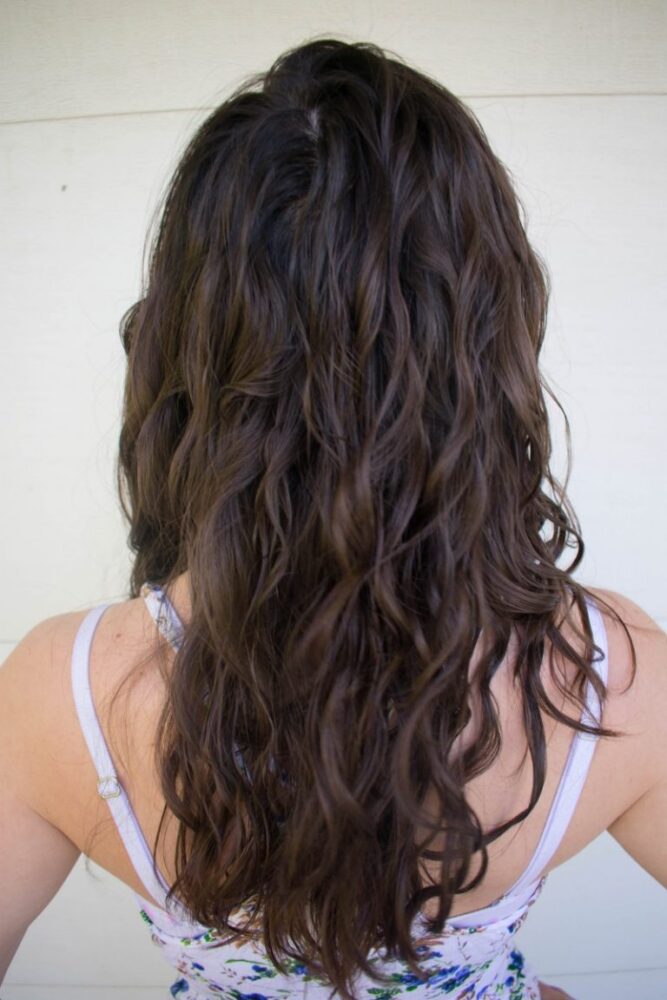 My hair about 6 weeks after I started the curly girl method. Getting a haircut and using enough gel made a dramatic difference! 
If you have a young child that has hair that is only curly at the ends
It may not be curly anymore once you cut the ends off. However, in other cases, after a haircut the curls will spring up shorter. For some kids, their hair is straight on top but curly at the bottom due to being weighed down by the length of their hair.
If that's the case, cutting the hair will make it lighter and help it curl more. This is usually the case for adults who have hair that only curls at the end.
However with young children, it's more likely to only be curly at the ends because their more recent growth is just naturally straight hair. If that's the case, their hair will stay straight after the haircut. Children go through changes in their hair every few years, which is why this is the more likely scenario for kids, but not the more likely scenario for adults.
Can straight hair become wavy?
Hair can and often does change textures with age! So yes, straight hair does sometimes become wavy or even curly in other stages of life. Baby hair is different from little kid hair, and older kid hair is different yet, as it adolescent vs young adult hair, vs older adult hair. It's common for young children to lose their curls after getting a haircut, perhaps around ages 2-5.
There are many other ages/stages of hair changes as we continue to grow older. Hair changes a lot when we have hormonal changes in particular. It's really common for people to see changes in their hair around puberty, pregnancy, after childbirth, menopause, with birth control changes, and more.
Some people find that their hair gets curlier with hormonal changes, while others have their hair get straighter. Certain medications like birth control and chemotherapy can also cause changes in hair texture.