You've reached the day where you had planned to wash your hair. Or the day when you usually wash your hair. But you don't have the time, energy, or interest in washing and styling your hair. How can you do if you want to put off wash day? That's what this post is all about!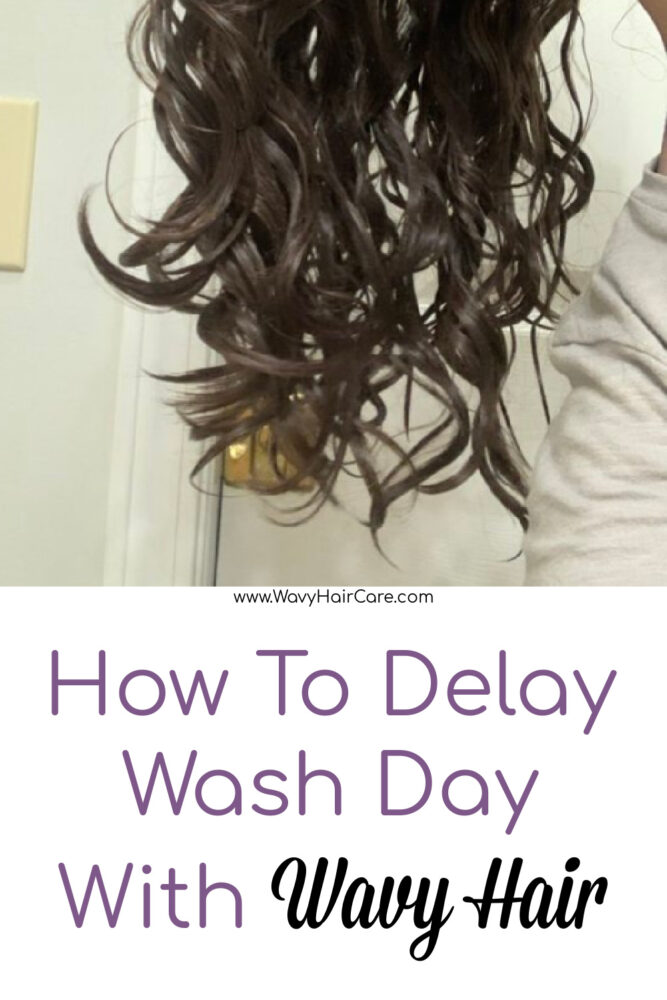 How To Delay Wash Day With Wavy Hair
Refresh each day if you want to have your hair stay wavier between washes. Sometimes when I refresh my hair on day 2, I only see a minimal improvement in my results after refreshing. Yet, I find that if I refresh daily I can get 4 days of "wearable" hair.
By wearable hair I basically mean hair that I'm comfortable leaving down and letting other people see it. If I don't refresh daily, I will usually feel like I have to wash my hair on day 3. So daily refreshes give me at least 1 more day before I need to refresh. I have a blog post comparing hair refresh methods on wavy hair.
Dry shampoo. If you aren't ready to wash yet but your hair is looking greasy, try dry shampoo. Most dry shampoos will tell you to spray a the roots and then brush through the lengths of your hair. Most wavies try not to brush their waves, but that doesn't mean you can't use dry shampoo. When I use dry shampoo I just gently rub it in rather than comb it through. Err on the side of not using enough rather than using too much. The more you use, the harder it is to work it into your hair without disrupting your waves.
Braids. Putting your hair into a braid or two are a great option if your waves are looking wonky or misshapen. Once they're in a braid, nobody can see your natural pattern anyway! If you're struggling with frizz you can try adding in some leave in conditioner, curl cream or even a tiny bit of gel or mousse to help slick down the fly-away pieces.
Bun. There's a reason why "mom bun" is a thing – it's a great way somewhat disguise your hair when it could be washed. It isn't just for straight hair, you can do it with wavy hair as well. Using a satin or silk scrunchie instead of a traditional hairtie can help reduce frizz and breakage.
Use conditioner sparingly on the top portion of your hair. If you focus your rinse-out conditioner and any leave-in conditioner on your mid-lengths and ends, your scalp won't look greasy as quickly as it will if you use conditioner on your roots.
Wash now, style later. If you have the time and energy to wash your hair but not style it, try the 'wash now, syle later' technique! You can wash and condition your hair, let it dry and just skip over the styling process. Then later when you have the time to style, simply re-wet your hair (no need to rewash) and style from there.
Wear a hat. I've never felt like 'myself' while wearing hats, but if you're someone who can feel comfortable wearing a hat, they're a great way to hide your hair!
Wash now, DON'T style later! Okay, I admit I just came up with this goofy phrase because it was following 'wash now, style later'. What I mean is, if you don't have the energy to style your hair, you can just was it and not style it! I do this sometimes. Does it mean my hair looks poofier, frizzier and less wavy than when I style it? Yup! I don't think there's anything wrong with that, though. There are times where styling my hair just doesn't take its way onto my priority list. Don't feel like you have to syle your hair. It's always optional.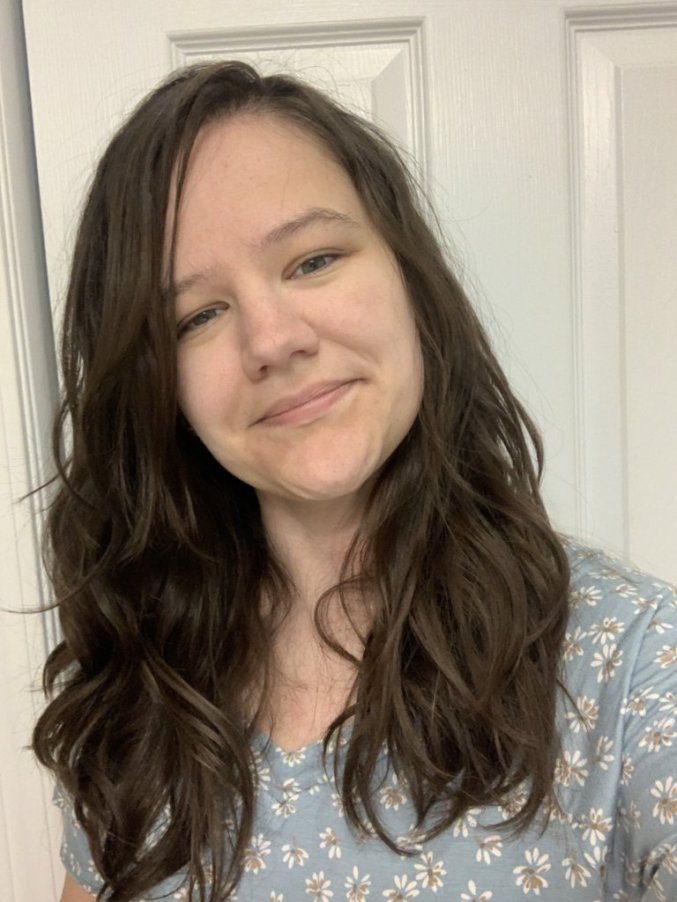 My hair on a wash day where I didn't style it. 
Find a quicker and easer routine. If you find yourself regularly wanting to put off wash day, that could be a sign that your current routine is taking more time or effort than you have to give, or want to give to your hair. Nothing wrong with that! Try experimenting with quicker routines to see if you can find a go-to routine for wash days where you don't have as much time or effort.
Everyone's hair is a bit different, but I have experimented with my own hair and shared my quicker and easier wavy hair routine that still gives me results I like a while back.