There are affiliate links in this blog post. 
What do I do with my hair after wash day?
Wash day is going okay, but when I wake up the next day my hair is a mess. What do I do?
How can I revive my curls in the morning?
I've gotten a variety of emails and comments essentially asking the same thing. Refreshing is something I don't love doing, personally. I find that it can be one of the harder aspects of managing wavy hair. So, I totally get why people have questions and want help when it comes to reviving their curls on non-wash days by refreshing.
In the past, I wrote about refreshing my hair a couple of different ways. I have a post titled how to refresh wavy hair with just water, and how to refresh wavy hair with mousse. I realized that it wasn't as complete as it could have been. The last couple of weeks I've been working to compare different methods for refreshing wavy hair.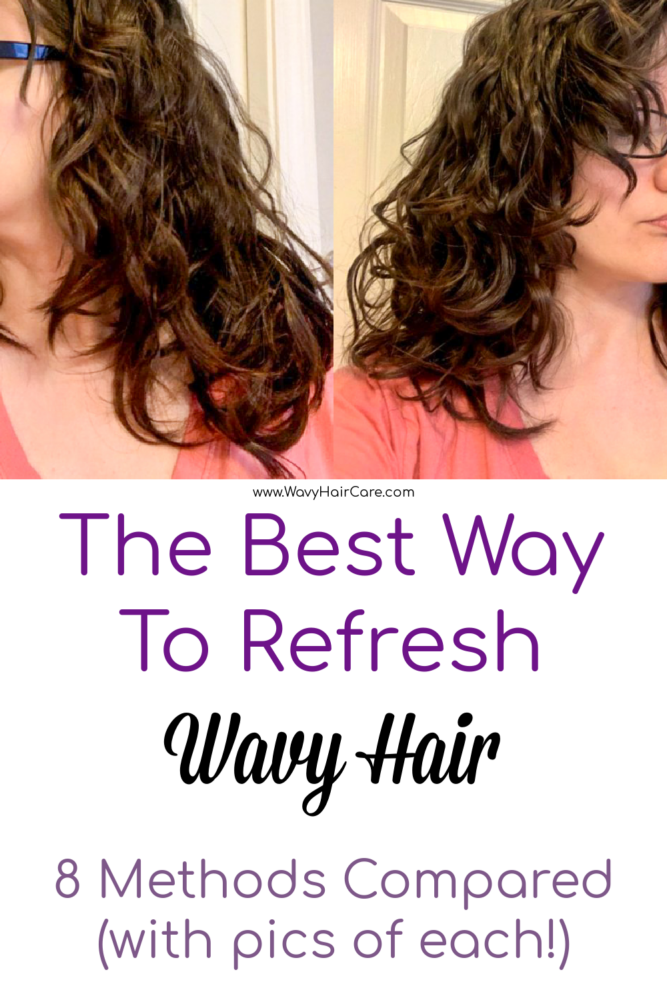 Comparing 8 Methods For Refreshing Wavy Hair
My goal is to show you guys the results I get from these different methods, so you can see which one might work best for your hair. I took pictures before and after refreshing each time, so that you guys can see the results for yourselves.
In an attempt to keep things as fair as possible, each wash day I washed and styled my hair the same way. Each night I slept on my hair in the same way. My goal was to keep everything identical except refreshing with different methods. I tested eight different refresh methods!
Refreshing Wavy Hair With A Misting Bottle
If you used gel or mousse on wash day, you can reactivate those products by adding a little water. You could do this by wetting your hands and then touching your hair, or similar. The most popular way to get your hair a little wet is by using a spray bottle or misting bottle. I simply used water. Sometimes people do this but mix some leave-in conditioner or gel into the water.
I have this misting spray bottle from Amazon that I used. I used it all over my hair, so that every part of my hair felt slightly damp, but nowhere felt soaked. After misting my hair, I scrunched it for two reasons. One, my hair is low porosity so to get the water into my hair, scrunching helps. The other reason was to help my waves pop back up after being dampened.
After scrunching the misted water into my hair, I diffused my hair. I did 1 minute on four sections of my hair, until it felt dry. This was with my Dyson dryer and diffuser which dries about twice as fast as my old blow dryer. Meaning I would have diffused for about 2 minutes per section with my old blow dryer.
My hair formed light gel cast, and although my hair felt dry after diffusing I waited about an hour before I scrunched out the crunch, just to make sure my hair was truly 100% dry. If I break a hair cast before my hair is totally dry, that tends to introduce frizz. Not sure what a gel cast is? Check out my post what is a gel cast.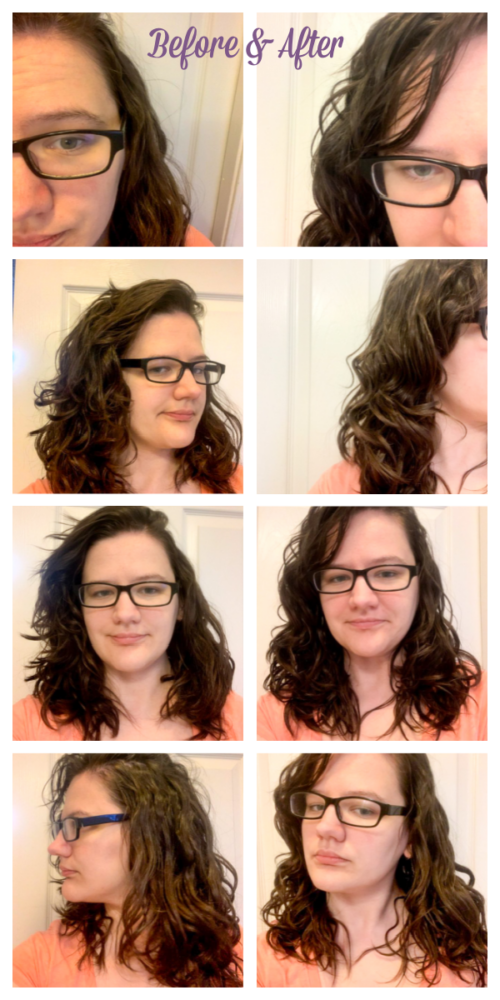 I found that this refreshing style gave me back some definition, and reduced some frizz. It took away some of my volume and loosened my curl pattern a little bit.
Refreshing Wavy Hair By Soaking Hair With Water
Somewhat similar to the misting method, this method involves just adding water. The difference is, instead of just dampening your hair, this method totally soaks your hair.
For this method, I started my shower but stayed outside of it. I dunked my head under the showerhead until my whole hair felt soaked. Then I diffused my hair until it was dry. It took more than half an hour to diffuse, which is longer than it takes me to diffuse on wash day! However, I usually plop first.
I'll be honest, I didn't expect to get any cast from this method. I thought adding so much water to my hair, without adding more gel or mousse to my hair would leave it without any cast. I was wrong. It did form a light cast. I waited about an hour after diffusing before breaking the cast.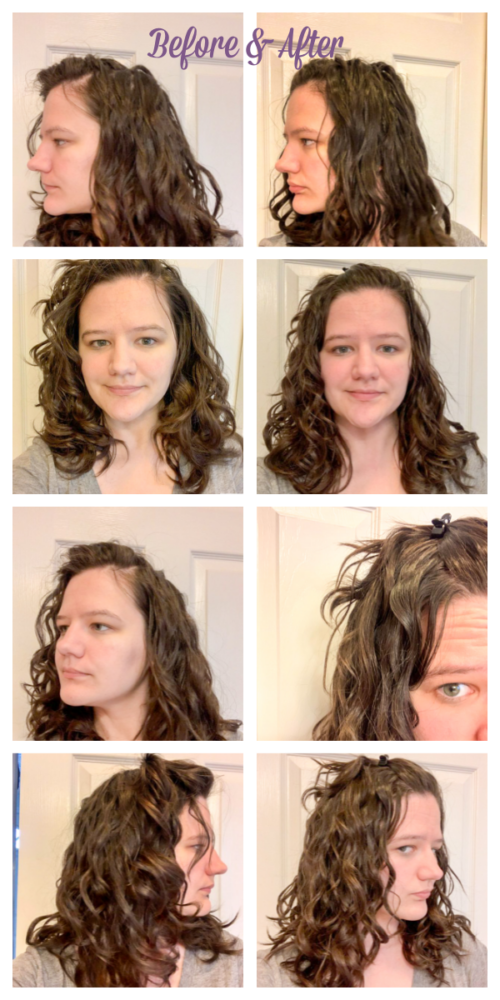 I regained quite a bit of definition, but I lost some volume and curl tightness, and also gained some frizz. For me, the worst part of this refresh method is how I have to diffuse for so long. Personally, I'd rather just re-wash and style my hair than just wet it and diffuse it from soaking wet.
Refreshing Wavy Hair With Gel
Refreshing your hair in the morning by adding more gel is one of the more common refresh techniques. Some people re-wet their hair (a little or a lot) and add gel. Others just add gel.
For this test, I didn't add any water by itself, but I did have to wet my hands a couple of times just to make it possible to transfer the gel off my hands without my hair sticking to my hands. I used NYM curl talk gel (Here's the curl talk gel on Walmart.com – it's the regular hold, not the new hard hold type that is available at Ulta). I chose this gel because it's a softer hold and light.
If I use gel on wash day, I use about three palmfuls on my hair. To refresh, I used about two quarters worth – so significantly less than I would use on wash day. My goal was to just very lightly goat the outside and underside of my hair.
I used wet 'prayer hands' and then scrunched it in. Afterward I diffused my hair with my Dyson hair dryer for 1 minute per section. I had a light gel cast after. I waited about an hour after diffusing before breaking the cast to ensure that my hair was totally dry.
I found that refreshing with gel helped with frizz a little, regained some definition and just helped to make my hair look more uniform or less 'messy'. I could tell that it gained me some hold, as well. I lost some volume, mostly at the roots – but not as much as I lost through some other refresh methods.
Refreshing Wavy Hair With Mousse
This is the most common way that I have refreshed in the past. I refresh by adding in more mousse. I especially like to refresh with Cake brand mousse (Walmart link or Amazon link), as it doesn't leave my hair feeling sticky even if I apply it dry. It doesn't feel producty either, so I can use quite a bit.
For this refresh I used about 2 palmfuls (compared to 3.5 or 4 that I'd use on a wash day). After adding the mousse I diffused for about four minutes with my Dyson, which left my hair feeling pretty dry. I waited an hour before breaking the cast that formed, just to ensure it was totally dry.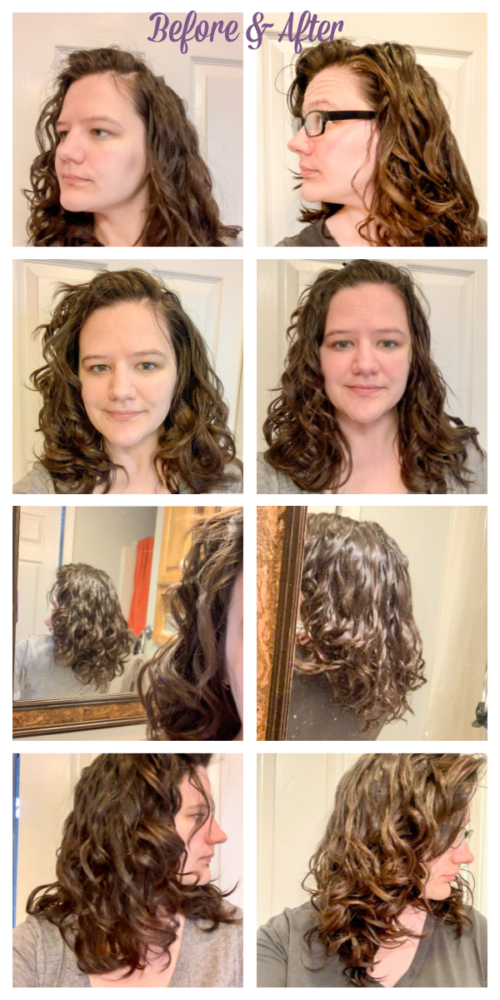 Refreshing with mousse regained me a little definition and hold, and reduced some frizz. I lost a little volume, but not a lot.
Refreshing Wavy Hair With Refreshing Foam
Some products exist that are specifically designed to be used for refreshing your hair. I used Not Your Mother's Curl Talk Refreshing Foam (Walmart link) for this test. This product is different from the curl talk mousse.
I used quite a bit of this foam, my aim was to feel like I got light coverage over all of my hair. I used about 12 pumps in total. After adding the foam I diffused each 1/4 of my head for about 1 minute with my dyson dryer. This made it feel pretty dry, but I waited a full hour before breaking the light cast that formed.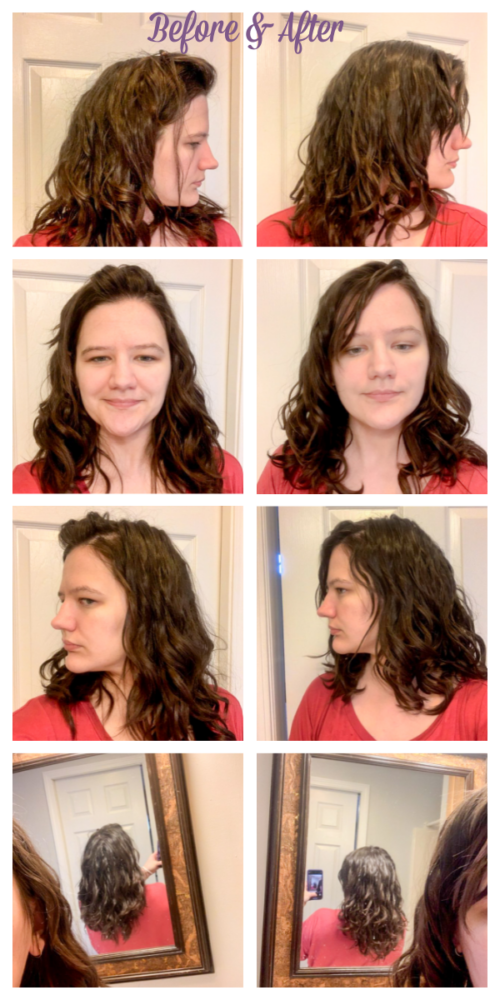 I found that the refreshing foam helped me to achieve a little bit more definition and hold, but it seemed to increase my frizz. Unlike many other refreshing methods, I didn't seem to lose any volume from this!
Refreshing wavy hair with steam.
A long time ago I watched a Manes By Mell video where she shared that one of her favorite ways to refresh her hair is using steam. Some people achieve this by hanging out in the bathroom after a hot shower so that their hair can take in some of the steam. Others use facial steamers or clothing steamers to apply the steam.
I used the HiLife clothing steamer that I have (Link to it on Amazon). I let it heat up so that it was producing steam. I tried to use steam on each 1/4 of my head for about 1 minute.
Side note? I've seen people say that refreshing hair with a clothing steamer is really dangerous. This may be true for clothing steamers that get really hot, but I didn't find this to feel dangerous, and I'm a worrier – not a risk taker. The steam comes out warm, but not super hot. It's less hot than standing over a pot of boiling water, for example?
I was easily able to move the clothing steamer around keeping enough distance from my hair and scalp so that it didn't feel uncomfortably warm at any point. It may be different if your clothing steamer gets hoter.  If you're concerned about that, you could try a facial steamer instead as those are made with the intent of your skin getting somewhat close to the steam they produce.
I did not get a cast at all when refreshing with steam.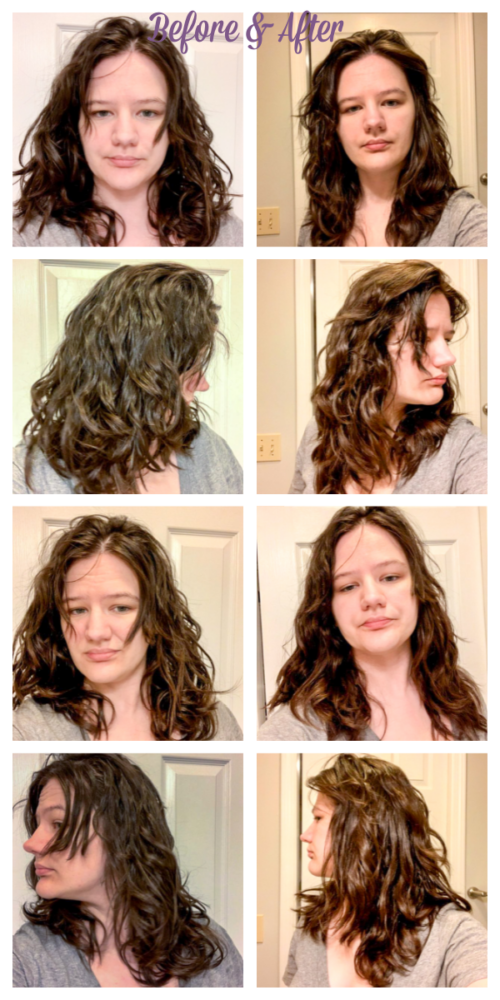 Refreshing my wavy hair with steam made it shinier! My boyfriend even commented that my hair looked really shiny after. I think it also reduced my frizz. However, it made my waves fall pretty flat, and I lost definition as well. These photos were taken right after using the steam, and within an hour or so, my hair fell even flatter!
I've often said that part of maintaining my waves is fighting against water – and it seems that steam/humidity is clearly not my waves' friend. However, I do think this is the exact opposite of how some other hair types work! Some people's hair curls up better when it's able to hold in more moisture.
Refreshing Wavy Hair With Marisa's Refresh
Further down in this post you'll see that I share results of asking people in a wavy hair group how they refresh their hair. I made the poll using various methods I was familiar with but told people to add a poll option or leave a comment if they refresh some other way. Only one person added it to the poll, but three other people commented that they refresh with gel using Maria's refresh method.
I hadn't heard of this, so I had to look it up. This video is from the YouTube channel Marisa's Curls. She uses gel with just a little water, and she uses prayer hands to add it to her hair. I used Aussie Insant Freeze gel (Walmart link) for this refresh, because it's lightweight and acts like medium hold for me despite claiming hard hold. Also, it's what Marisa used in her refresh video!
I diffused for 1 minute per section, and waited an hour before breaking the light cast that formed.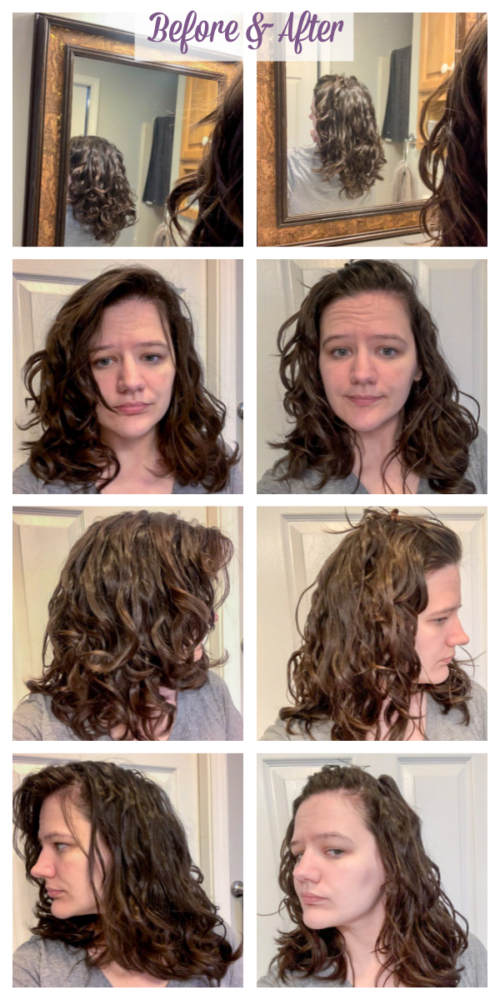 Marisa's refresh helped my hair gain more hold, and it reduced my frizz a little bit. I lost some volume and it stretched out my waves some. I think my waves are just too fragile to be able to use even gentle prayer hands on them without it pulling my hair a bit flat.
Refreshing Wavy Hair With Leave-in Conditioner
I don't usually use leave in conditioner. My hair is low porosity, prone to getting over-moisturized and isn't prone to tangling, so I don't really need the extra conditioning. However, it is common for people to refresh by adding in leave-in conditioner, and I had never tried it before. I Thought I should give it a try and include the results.
I used a leave-in conditioner that I knew isn't too heavy for my hair. It's Giovanni's direct leave-in weightless moisture conditioner (walmart link). I used about 1 pea-sized amount in each 1/4 of my hair (so about 4 peas worth total). To make sure that it would adhere to my hair and not stick, I wet my hands before applying, but I didn't intentionally wet my hair.
After adding the leave-in conditioner I diffused each 1/4 of my head for 1 minute to dry it. I didn't get a cast.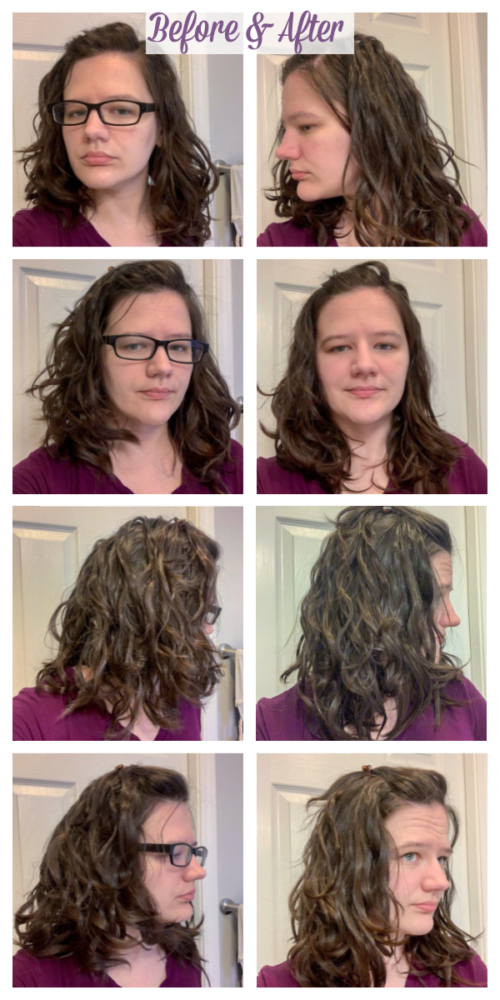 I lost some volume and curl tightness with this refresh. I didn't see a noticeable change in frizz. It seemed to give me a slight increase in definition, which surprised me.
What Is The Most Popular Way To Refresh Wavy Hair?
The most common wavy to refresh wavy hair is by rewetting it a little. The second most common way is to just fluff your roots in the morning. The third most common way is to add in some watered-down gel. 
In the wavy girl method Facebook group I asked people to answer a poll sharing their preferred way to refresh their wavy hair. I had 184 responses for the poll.
| | |
| --- | --- |
| Rewet a little with water | 69 |
| Just fluff the roots | 26 |
| Add in watered-down gel | 23 |
| Add mousse | 15 |
| Wet hair 80%, add gel and mousse | 14 |
| Add refreshing foam | 11 |
| Completely soak hair | 8 |
| Add more gel | 6 |
| Add leave-in conditioner | 5 |
| Use steam | 2 |
| Rewet with lavender water | 2 |
| Rewet and add curling spray | 2 |
| Marisa's refresh | 1 |
Do I Have To Refresh Wavy Hair?
Refreshing your hair on day 2, 3, etc isn't a requirement. It's a personal choice. Some people find that they are unhappy with how their hair looks after sleeping on it unless they refresh it. If you find that you can sleep on your hair and still be okay with how it looks, it's okay to skip refreshing!
People who refresh their hair do so for different reasons. Some are looking to get some tightness back in their waves or curls, others are looking to reduce frizz, some are looking to add hold, and others are looking to regain definition.
What Is The Best Way To Refresh Wavy Hair For Definition?
I regained the most definition by refreshing by completely resoaking my hair with water. 
What Is The Best Way To Refresh Wavy Hair To Get Rid Of Frizz?
I got rid of the most frizz when I refreshed with gel or mousse. Some other refresh methods actually added more frizz! 
What Is The Best Way To Refresh Wavy hair To Regain Curl Tightness?
None of the refresh methods increased my curl tightness, they all result in my hair getting at least a little straighter. The only way I know of to get tighter waves is to re-wash and re-style my hair from scratch. 
What is The Best Way To Refresh Wavy Hair To Add Hold?
Refreshing by adding in a product with hold (gel, mousse or refresh foam) are all good ways to add hold and extend your style longer between washes. 
How To Reduce The Need To Refresh
If you don't like refreshing (I don't!) there are some things you can do to reduce how often you need to refresh. I find that getting really strong hold on wash day reduces my need to refresh. The more hold I get, the better my style stays put without getting messy or losing definition.
In particular, using a hard hold gel or mousse and using enough to get a gel cast is the most helpful for me.
Protecting your hair while you sleep can make a big difference, too. Check out my post how to sleep on wavy hair for more information on that.
Being mindful of how you are putting your hair up or back matters, too. Tight hair ties can dent or bend your curls, and putting your hair in a tight style can push it flat. If you put your hair up, you'll want to do so with gentle accessories like scrunchies instead of thin hairties, and leave your hair a bit looser so it doesn't get pulled out of shape.
Adjusting your expectations for your day 2 hair (and beyond) can help, too. Sometimes people feel like they need to have 'wash day hair' everyday. I don't expect my day 2 or day 3 hair to look the same as my washday hair. Wavy hair just changes over the course of the week!
On day 2 and beyond, I expect my waves to be a bit looser and a bit more frizzy. I'm okay with that unless I have somewhere special to attend or will be getting my picture taken or something like that. Accepting that my day 2 and day 3 hair are looser, frizzier, a bit less refined in general, reduces my need to refresh.
Alternatively, you can wash your hair more often, even every day if you want to. At least, that's my opinion. Others are strong advocates for only washing 1-2 times a week. I haven't seen any harm from washing more often, myself.
Related blog post of mine: How often to wash wavy hair.