What is the easiest wavy hair routine?
Do you have any advice for how to do the curly girl method if you don't have much time to do your hair?
What can I do with my hair on days where I am really busy?
I am a mom of two under two and I can't spend an hour on my hair on wash day. Do you have tips for how to do this in as little time as possible?
I have a chronic illness. Do you have a routine that I might be able to do on a low spoons day?
These are all samples of a type of question I've received that in my mind, ultimately boil down to "How can I embrace my wavy hair with less effort or less time?"
Let me add the disclaimer that I am not saying that opting for a lower maintenance or less time-consuming routine means you are being lazy. I used that in the title because it's a way that people commonly describe easier hair routines, and I thought it would help people find this post. There are endless reasons why you may choose to go for a routine that is simpler or faster, ad there is no shame in any of those reasons in my opinion. Nobody should feel obligated to spend a lot of time on their hair in my opinion!
Anyway, back to the topic of so-called lazy wavy hair routines. I didn't feel great about my answer to people who were asking me for quicker or easier hair routines until recently.
Over the last several weeks, I've been trying to find a routine that took less of my time, but gave me results I was comfortable with. I've found a routine that I'm shockingly happy with. I started out trying to find a routine that might be "acceptable" for people who needed or wanted an easier route, but I expected to have to sacrifice the tightness of my wavy curls quite a bit.
In the past I had tried to compare air drying and diffusing, and my air drying results were never satisfying to me. I've always felt like I pretty much have to diffuse my hair to near-dry to get results I was happy with. That isn't the case, though!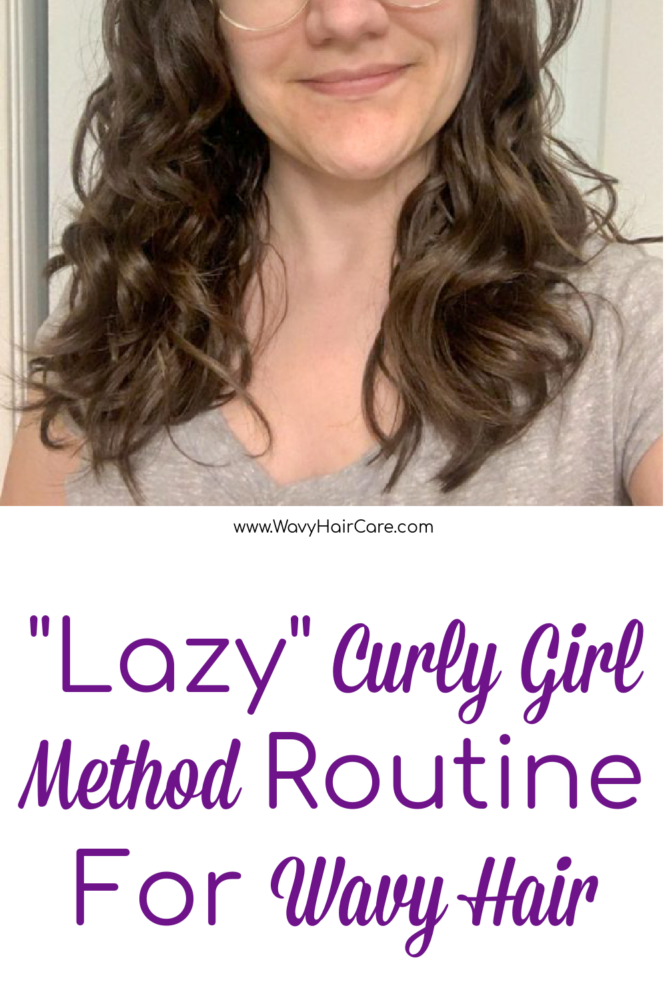 Simplified Curly Girl Method Routine For Wavy Hair
Shampoo hair.
Condition hair, squish hair while conditioner is in it.
Rinse conditioner out completely.
Scrunch hair to get excess water out and encourage curl clumps to form.
Plop hair for 10 minutes.
Remove the plop, apply Cake the curl whip mousse by glazing and scruching.
Diffuse each 1/4 of your hair for 2-3 minutes (about 10 minutes total)
Air dry until 100% dry.
Scrunch out the cast.
This is my results from the above routine: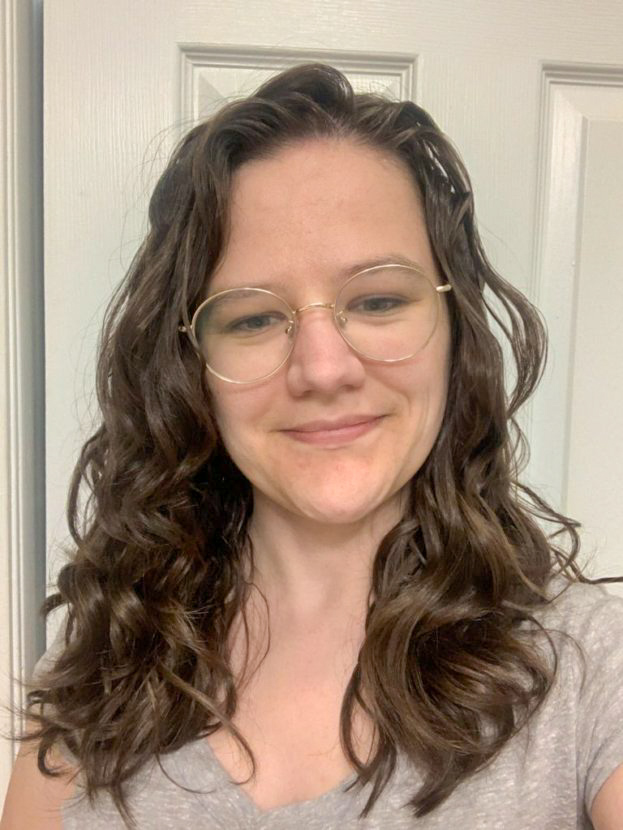 For me, this routine takes about half an hour total. When I first was exploring lazy hair routines, I tried to air dry with foams. I had seen people say that they can exclusively air dry and get good results if they use foam, as foam doesn't make their hair dry much slower, and is really lightweight.
Can people with wavy hair air dry?
Anyone can air dry if they want to. Of course, the larger question is can you air dry and be content with your results? That will really depend on your hair type, what products you use, and your style preference. If you'd like to skip diffusing, it's definitely worth experimenting with your hair to see if you can find a no-diffusing routine that works for you.
Gels will really add to your drying time. Foams are the best for air drying because they're the lightest, with mousses being a close second. I tested air drying my hair with two different foams. The photos below are a result of those attempts. The left is dippity do girls with curls foam, the right was when I used not your mother curl talk foam (not their mousse!).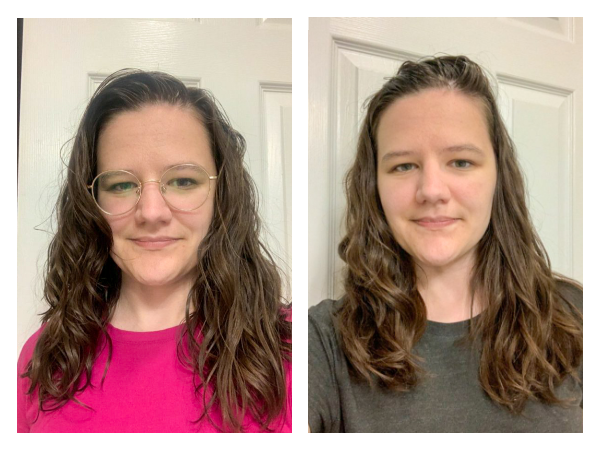 Of these two products, I definitely prefer the curl talk foam. The dippity do foam left my hair feeling really stiff and producty. I had a hard time breaking the cast which is something I had never experienced before!
I thought air drying with foam worked fine for the curlier side of my head, but I didn't really like how it left the straighter section of my hair looking really quite straight. It took my hair about 4 hours to dry when using foam and not diffusing at all. While I was able to do that because I work from home, I didn't really like my hair being wet that long and having to avoid touching my hair that whole time.
I thought this would be a reasonably easy routine for some people who are just looking to avoid time actively doing their hair, or people who can't diffuse. That's certainly what some people who want an easy wavy hair routine are seeking.
I know that other people are seeking a routine that combines less active time doing their hair with also having their hair 'ready' sooner. I also know that there are other people who can't allow their hair to be wet for 4 hours, so it wouldn't suit their needs. Due to that, I then I experimented with diffusing for just 10 minutes. I usually diffuse for around 40.
I found that if I diffused for 10 minutes, I would only have to wait about 2 more hours for my hair to air dry. I was shocked that 10 minutes of diffusing would cut my air drying time in half! 10 minutes didn't seem like it would be long enough to have an effect, but it did. It also resulted in my hair maintaining a tighter curl pattern, and my waves started higher up on my head vs when I exclusively air dried.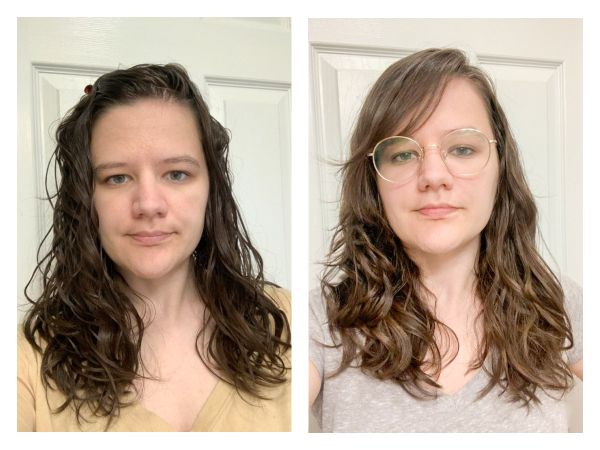 The photo on the left is my hair with the dippity do girls with curls foam after diffusing 10 minutes and then air drying. The photo looks like I didn't fully scrunch out the crunch, but I did – or at least I really tried. This foam really leaves my hair stiff! The photo on the right is my hair with not your mother's curl talk foam after diffusing for 10 minutes the air drying.
After testing the foams with 10 minutes of diffusing and then air drying, I decided to try my favorite mousse the same way, and that's when I got my best results yet, in my opinion. That photo is just below the routine part of this blog post if you missed it. While foams may be lighter than mousses, I found that I got better hold from the Cake mousse than I did the foams. Plus, my hair still dried in about 2 hours.
Can I Skip Styling My Hair Wavy?
Yes! If you don't have the time or just aren't up for styling your hair wavy, you can skip over styling. It won't make your hair any straighter or make you lose progress. I'd say I probably skip over styling my hair around once a month at least. Sometimes I'm too busy, sometimes I'm not feeling well, and sometimes I'm just not feeling like spending time on my hair! I have never seen it make any difference in my results on the next wash day.
Tips For A Low-Maintenence Wavy Hair Routine
Use fewer products. A lot of people with wavy hair can skip over a leave-in or a cream. For many, using just shampoo, conditioner and a mousse OR a gel can be enough.
Skip over brush styling. Brush styling can aid in creating ringlets, but it can be REALLY time-consuming.
Plop or microplop to reduce your drying time.
Experiment with using less product. For example, instead of a palmful of mousse per section, try using a quarter-sized amount. I feel like I get my best results if I use enough gel or mousse to get a cast. However, some people with wavy hair can get good results without a cast. If that's you, you might get away with using less gel or mousse and it may make your hair dry faster.
Refresh. If you can't get a wash day routine that is less time-consuming, maybe try finding a great refresh routine so that you can go longer between washes and save time that way instead.
Blow dryer holders. If you struggle with diffusing for physical health reasons, they make blow dryer holders that can keep you from having to hold up the hair dryer while diffusing.
Upgrade your blow dryer. If you're just bored of how long it takes to diffuse, consider investing in a higher end blow dryer. I have the Dyson blow dryer which is pricy but it dries my hair a lot faster than my old Revlon blow dryer did.