Once you've learned that your hair needs protein, it can still be confusing to figure out how to incorporate it into your routine. If you're new, it can even be challenging to figure out which hair products have protein and which don't! Thankfully, you don't really need to learn every hair product ingredient out there in order to learn to detect protein-based ingredients in hair products. You can make an educated guess based on how the product is marketed.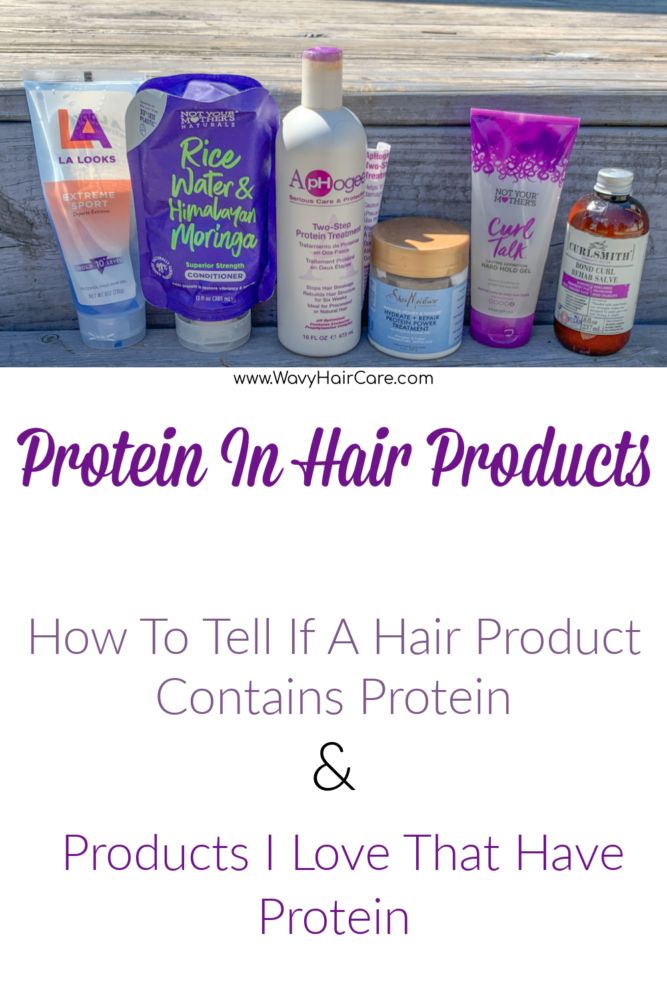 Signs That A Hair Product Has Protein
The product describes itself as…
Repairative
Strengthening
Fortifying
For bleached hair
For damaged hair
Restoring
Renewing
Reconstructing
Protein is not just for damaged hair, but damaged hair does need protein so most protein products are marketed at damaged hair. In a nutshell, protein-containing hair products will market themselves as lending strength to your hair.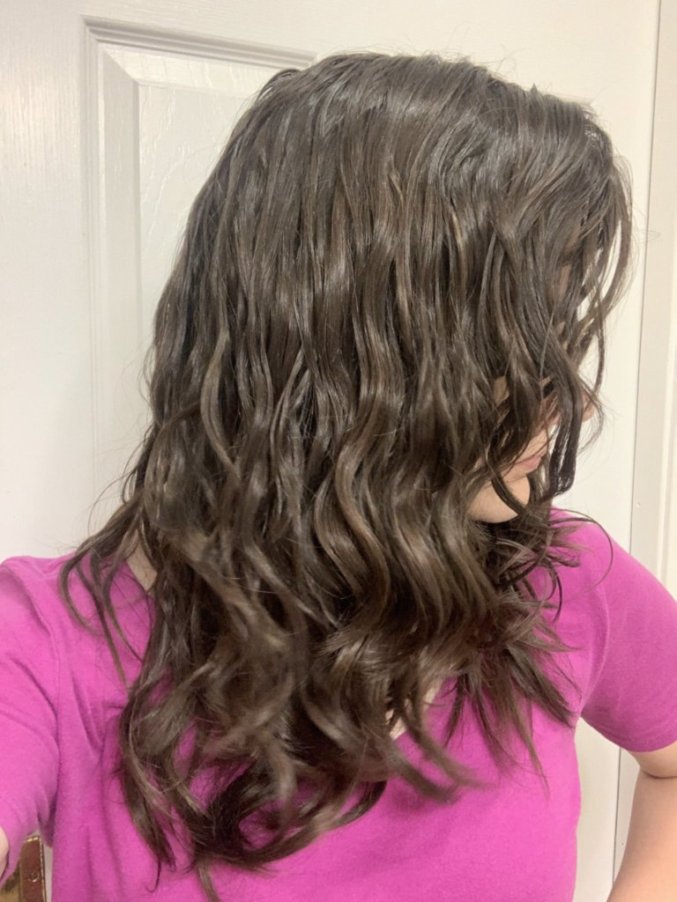 Ingredients that are protein
In addition to learning the terms used to describe protein hair products, it can also be helpful to learn some of the more common protein-based ingredients that come in hair care products. Those include…
Hydrolyzed + something that sound like food or crops. (A few very common ones are hydrolyzed oat, hydrolyzed rice, hydrolyzed quinoa, hydrolyzed silk, hydrolyzed wheat, and hydrolyzed soy).
Keratin
Hydrolyzed Silk
Collagen
Amino acids
Peptides
Sometimes the ingredients will even say protein such as 'soy protein'.
Tool for Determining If Hair Products Have Protein
If you want some help with finding out if a particular product has protein, you can copy the ingredients list into isit.cg.com. This site primarily exiss to le you know if a product is curly girl method approved or not. However, it also will break ingredients down by category including proteins. So if you input an ingredients list that has ingredients that the website recognizes as proteins, it'll list them like this: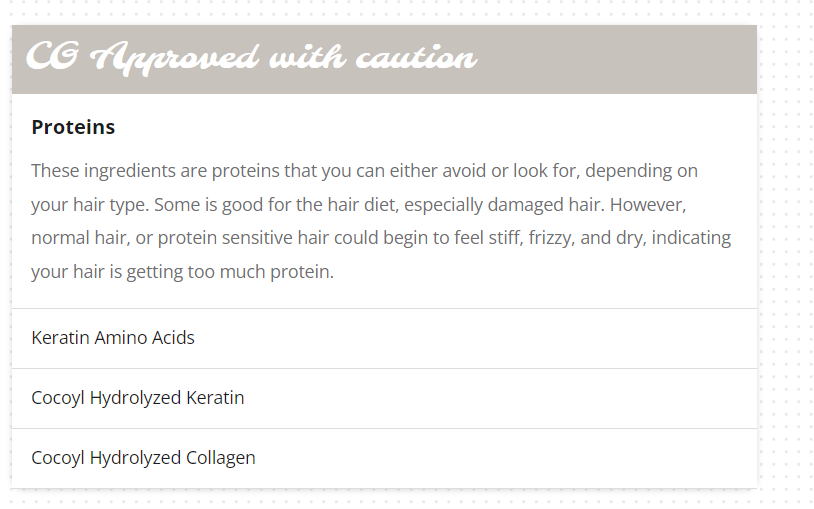 I will say though, the system doesn't recognize every possible hair ingredient. If you run ingredients through the site and it lists any as "probably okay" that usually means the system just doesn't know what those ingredients are. I've had experiences of copying ingredients lists into the site and it listing proteins in the "probably okay" section, and not listing any proteins in the protein section. So if you try to check a product that has lesser known protein ingredients it may not list them as proteins. It's not perfect, but it can be a big help.
Not All Proteins Are Created Equally
Some proteins are stronger than others, some are bigger in size than others. Your hair strand size can impact which types of proteins your hair will do well with.
If your hair is fine, food-based proteins may be too much for your hair to handle. Amino acids are really small proteins that can successfully penetrate fine hair or low porosity hair.
Also keep in mind that the protein size that you want may vary depending on why you're using protein. The two main reasons why hair craves protein are due to porosity, or due to strand thickness.
If your hair needs protein because it is high porosity, you'll want proteins that can penetrate your hair strands because they can get inside and fill in any gaps of missing or damaged cuticle.
If your hair needs protein because it is fine and therefore just weaker/less strong than thicker hair strands, you may not need the protein to penetrate your hair strand. Instead, protein adhering to your hair to help strengthen it externally may be beneficial. Also keep in mind though that if you are using protein that is staying outside of your hair, if you use too much that can cause protein overload. Protein overload is basically just protein buildup, but it's more likely to occur if you have low porosity fine hair. So while you may see some benefit from using larger proteins in your fine low porosity hair, you may also be at risk of protein overload if you use too much of them.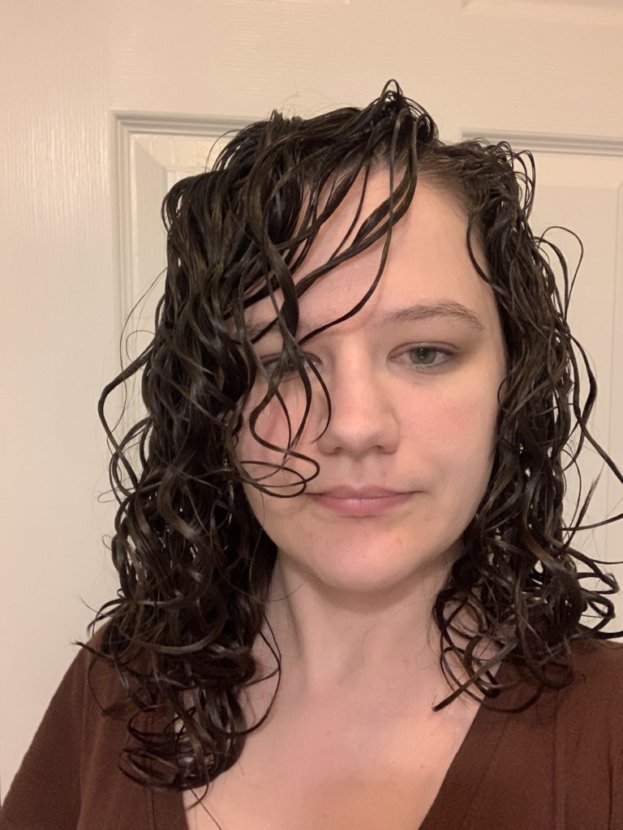 Do You Have To Use Protein Treatments?
Often when we talk about protein moisture balance, we hear about protein treatments. Do you have to use protein treatments though?
Not necessarily. Pretty much any category of hair product can include protein. This includes shampoo, rinse-out conditioners, deep conditioners, leave-in conditioners, gels, mousses, curl creams and more.
Lots of people can maintain an ideal moisture-protein balance without using protein treatments. If you can get enough protein in the rest of your routine, you may not need protein treatments. If you are confused about how much protein your hair needs, I'd recommend checking out my post What Products To Use Based On Your Wavy Hair Type.
If you find yourself over-moisturized, you probably to want to do a protein treatment. Most non-protein-treatment products that have protein are balanced between moisture and protein. For example, your leave-in conditioner may have protein, but it likely has just as many moisturizing ingredients as it has protein ingredients.
If your hair has become over-moisturized and you use products that have protein but are balanced, it won't correct your imbalance. To correct an imbalance, you need to use more protein than moisture.
Do Homemade Hair Protein Treatments Work?
Early on with this blog I shared a homemade protein treatment using gelatin. So, you may be surprised to hear my opinion that most homemade protein treatments don't work. Lots of people try rice water rinses, or making homemade hair masks from ingredients like egg or avocado.
Some believe that adding these food products to your hair will help your hair absorb protein from those foods. My understanding is that proteins from food products only can benefit our hair if they are broken down into smaller molecules. This is why hair care products hydrolyze food-based products before adding them to haircare products.
I do think the gelatin treatment works, but gelatin packets contain hydrolyzed gelatin making it different from homemade hair masks that mix up foods in a bowl and apply them to your hair.
Wavy Hair Products With Protein
These are all products I personally use and would recommend. 
Not Your Mother's curl talk shampoo & conditioner. (The conditioner is not ideal for tangle-prone hair though) [Amazon / Walmart]
Not your mother's curl talk hard hold gel. (exclusive to ulta)
Not Your Mother's Rice water & himalayan moringa shampoo & conditioner. (Target and ulta)
Hask keratin protein packet.  [Walmart]
Shea moisture manuka honey & yogurt protein treatment. (Despite its name, this is a deep conditioner with protein rather than a 'true' protein treatment.) [Amazon / Walmart]
Neutral protein filler from Sally's. This is just pure protein, which is cool because you can mix it with a dab of conditioner or gel or any other hair product in your palm and it will increase your protein intake. However, it is a product to be cautious with because it is pure protein so you don't want to overdo it.
Aphogee two step protein treatment. This is the strongest protein treatment I know of. It is a true protein treatment, meaning it shouldn't be used if your hair is balanced. [Amazon Full Size / Amazon Sample Pack]
LA looks mega shaper gel. (Stupidly overpriced online, get locally it's around $2)
Dippity Do Gelee. [Amazon]
Curlsmith Bond Curl Rehab Salve. This is sometimes referred to as a protein treatment, but it's really a bonding treatment. It does have protein in it though. I have found that it helps my hair even though my hair isn't very damaged. [Amazon]
Giovanni smooth as silk conditioner. [Amazon]
Sources: Science-yhairblog.blogspot.com & Manes By Mell