There are affiliate links in this post.
When I was new to the curly girl method I read about protein overload and was scared of protein as a result. I successfully avoided using much protein for quite a while without a problem. I think after about a year and a half, I started experiencing moisture overload.
I'd wash and style my hair the same way, using the same products as before, but I'd barely get a cast when I used to get a hard cast. Plus, my waves would fall flat after just a few hours or less than a day, when they used to last multiple days. I couldn't avoid protein any longer.
Once I saw how much my hair benefited from some protein, I started incorporating it into my routine more often. I remained afraid of really 'strong' protein treatments though. Yet, I continued to find myself in moisture overload fairly frequently when using more mild protein treatments. If you haven't already, I'd recommend learning your hair type and how your hair type impacts what products you should use.
A year or so ago, I finally decided to try a strong protein treatment…the Aphogee two-step protein treatment. I bought the sample packet at first. It went really well, so I've since bought the full sized bottle.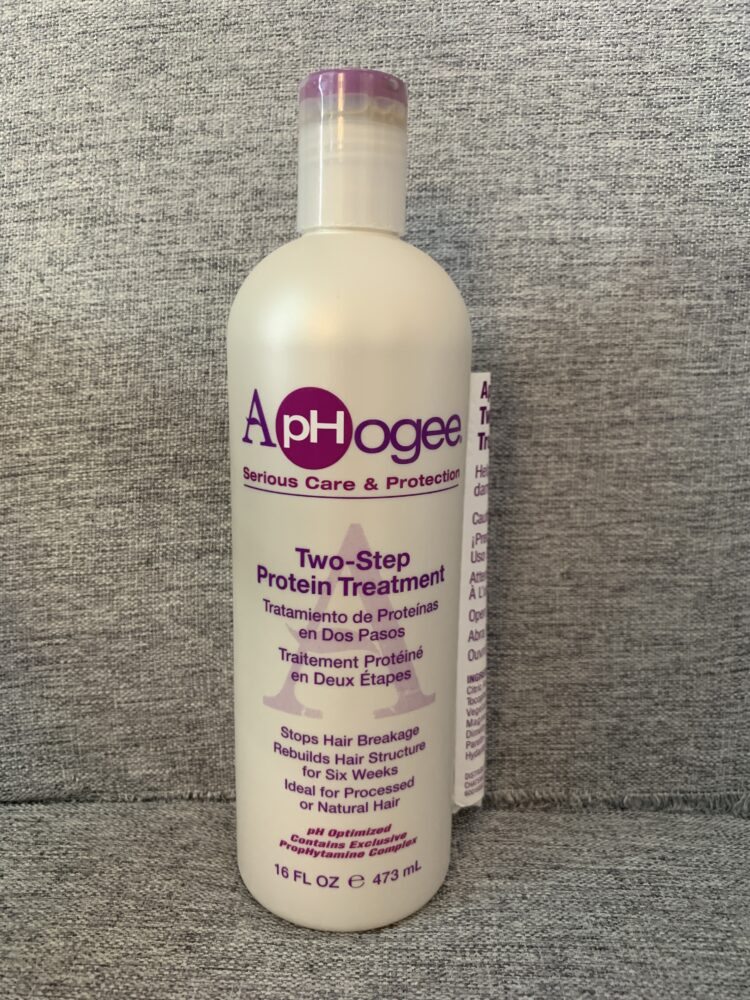 Aphogee Two Step Protein Treatment Review
This system is designed for hair stylists, not for ordinary people. It will warn you of this on the label. In my opinion, that really speaks to how powerful of a protein treatment this is. While I have said before that a lot of people are too afraid of using protein on their hair (like I used to be) and it leads them into moisture overload.
I don't think protein should usually be scary…but I do think there is very good reason to be cautious with the Aphogee Two Step Protein treatment, because it is a powerful treatment. If you use it when your hair doesn't need protein, it could definitely give you protein overload. I'd advise you to only try this if you are confident your hair needs protein.
The second step of the treatment (Balancing Moisturizer) is not curly girl method approved, if that matters to you.
Be sure to read the instructions yourself to ensure you're doing it as directed. In short though, you shampoo your hair, squeeze out excess moisture, apply the first step of the treatment throughout your hair, and then bonnet-dry or gently diffuse your hair until it is dry. It's important that the force of the air from your blow dryer isn't blowing your hair around during this step.
As your hair dries with the protein treatment in it, your hair will get very stiff. It will feel similar to how hair feels when it's in a hard gel cast. If it begins to stiffen and then you move it too harshly, it could break your hair.
The first step of the protein treatment is a very thin liquid. If it is any thicker than water, it's very minimal. This makes it a bit hard to apply, especially when applying from the foil package. I applied it by squirting some directly over my head so that it trickles down my scalp. The to get my length I gather some hair into my palm and then squirt some of the product into my palm and gently squish it into my hair.
I don't own a bonne dryer so I diffuse my hair by hover diffusing. I usually pixie diffuse, but for this treatment I hover diffuse so that I can keep my hair from being touched at all as it dries. The protein treatment feels a bit sticky if it dries on your skin.
After my hair is dry, I get back in the shower to rinse it out. At this point the instructions say to use the moisturizing treatment. The first few times I used this protein treatment I did follow it up with a protein-free deep conditioner. I was afraid that may experience protein overload otherwise.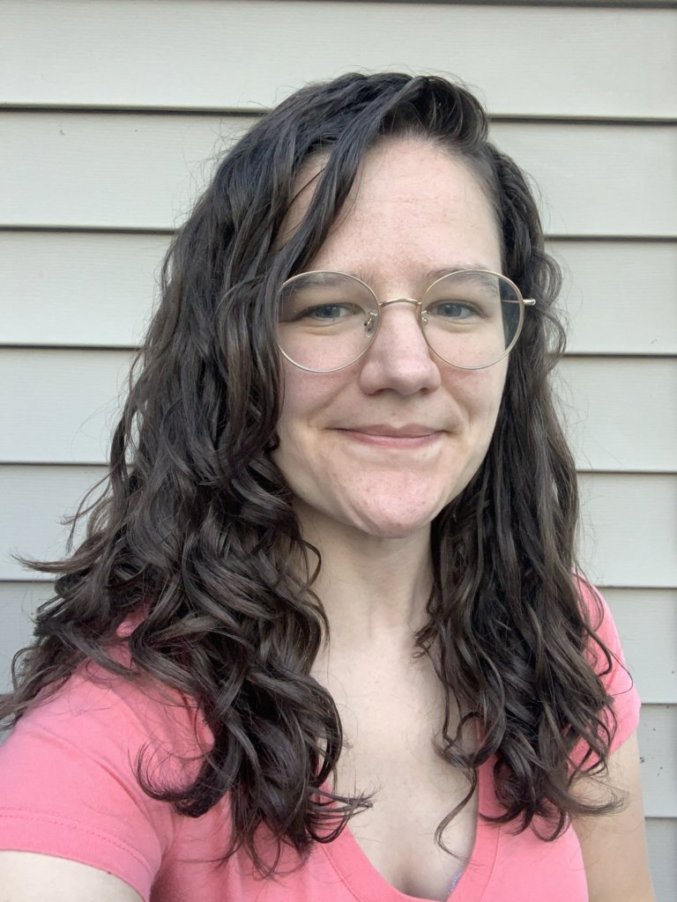 Do you have to do step two of the Aphogee Two-Step Protein Treatment?
People often recommend following up any protein treatment with a deep conditioner. I think this makes sense if your hair is well balanced and you want to add protein and moisture both. However, if your hair is over-moisturized, then doing a protein treatment and a deep conditioner will leave it in roughly the same spot on the moisture-protein spectrum as where you started.
So if I am trying to pull my hair more towards the protein end of the spectrum, I will do a protein treatment and not do a deep conditioner afterwards. At least, that's what I do for "regular" protein treatments designed for regular consumer use, such as the HASK keratin packet or SheaMoisture manuka honey and yogurt protein treatment.
This Aphogee two-step protein treatment is much stronger, though. So I was afraid to use it without doing step 2 (or some other protein-free deep conditioner, at least). The first few times I used the protein treatment, I did follow it up with a deep conditioner, but I didn't feel like it resulted in that much stronger of a strong protein treatment result than the other protein treatments I had used. I was hoping for a more powerful result.
Eventually, I decided to risk trying just the first step. I've done that three or four times now, and I have yet to experience protein overload. I have only used this when I am very confident that my hair needs protein, which I think is really key. However, I do think if you know your hair really is in need of protein that it can be safe to use by itself.
As I rinse this out of my hair, my hair physically feels stronger/more durable but not stiff or tangly. I use it no more than once a month.
I really like this product and see myself using it for a long time to come. I do think it should be used with some caution though, and is probably one to avoid unless you're fairly confident in your understanding of your moisture-protein balance.
If you're looking for milder protein options, I have a list of wavy hair protein products and my wavy hair product recommendations page provides protein info for each product that I list.