In wavy and curly hair communities, there are two hair dryers that most people talk about wanting. One is the Dyson Supersonic, which I did a Dyson Supersonic On Wavy Hair review of a long time ago. The Dyson is the most expensive hair dryer out there, and I think generally seen as the best. However, the sometimes people will argue that the Shark is actually just as good, or even better, at a lower price point.
I've always wondered if the Shark really could be as good or even better than the Dyson, given that it sells for about half the cost. In my Dyson review I shared how I don't love the diffuser attachment that comes with the Dyson. As someone with wavy hair, the diffuser is a big deal as I use it each time I do my hair. Plus, the Dyson is designed to have magnetic attachments, so diffusers or attachments from other blow dryers don't work with it unless you get really creative with finding a way to make the attachment stay in place.
The Shark HyperAIR comes with a diffuser that I thought looked a lot better, which was one of the top reasons I was interested in trying the dryer. I didn't want to pay full price for it, but I watched eBay until I found a working model that was around $60 shipped and jumped on that! I did make sure that it was real and not a knockoff.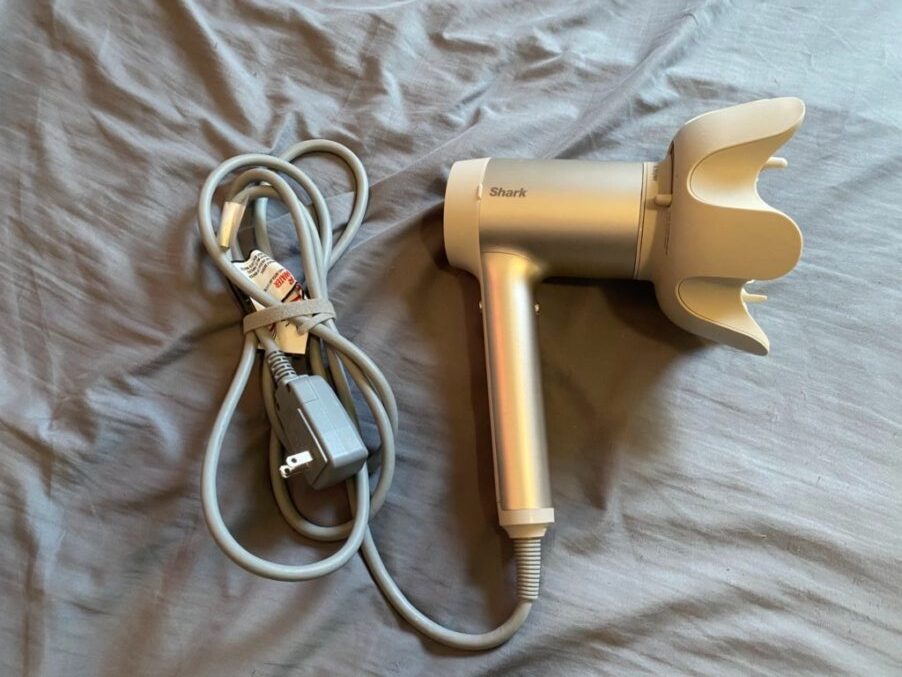 How The Shark HyperAIR Compares To Basic Hair Dryers
The Shark HyperAIR is a clear step up from a basic hair dryer. For me, the only reason I'm interested in a higher end hair dryer is to reduce how long it takes to dry my hair. My hair definitely dries faster with the Shark HyperAIR than it does with a basic blow dryer like my $30 Revlon. The Shark claims to be less damaging than other hair dryers. I don't really feel like I can speak to the validity of those claims as I don't understand the technology or science well enough. However, I did use a cheap blow dryer for a couple of years and I wouldn't have ever called my hair 'damaged' during that time. So in general, I don't worry a ton about diffusing damaging my hair.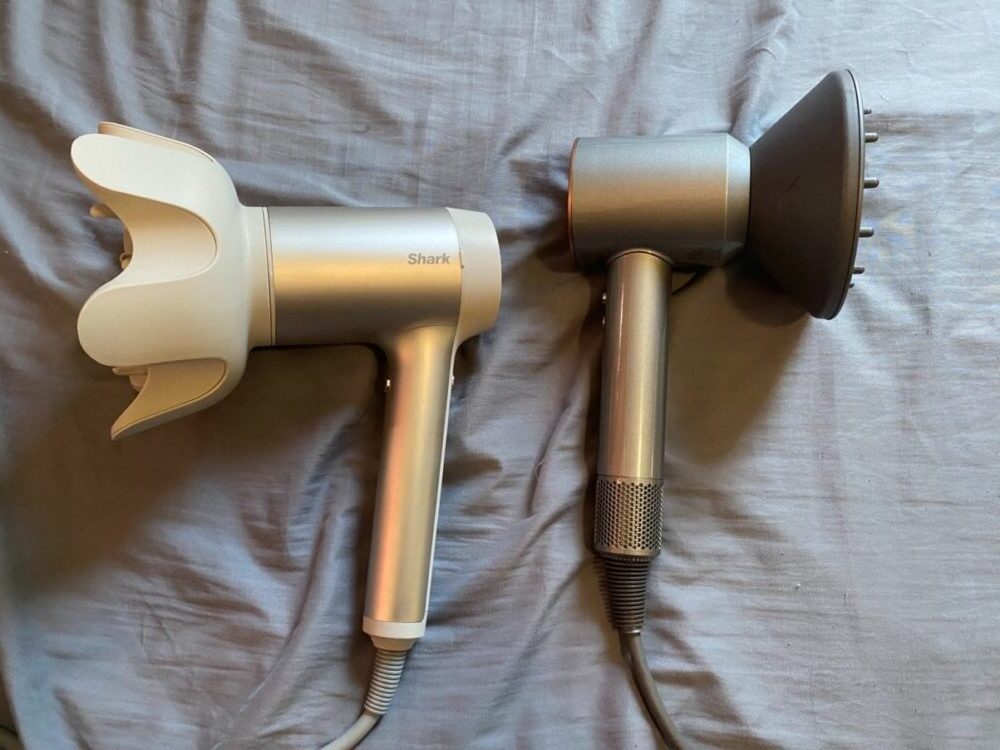 How The Shark HyperAIR Compares To The Dyson SuperSonic Hair Dryer
For the sake of this review, I did my hair the same way on two different days (using the same products and the same amount of products) and timed them. When I did my hair with the Dyson on low heat and speed, it took me 46 minutes. When I did my hair with the Shark on low heat and speed, it took 53 minutes. My hair seemed almost dry at around the 45 minute mark with the Shark, but my roots were still more damp than the ends, even though I had extended the prongs in the diffuser.
With the Dyson diffuser, I don't find that my roots stay wet longer than the rest of my hair. I've tried the Shark diffuser on various prong lengths and find that my roots always stay wetter longer than my ends. I don't really know why this is, because it seems to me like the shark diffuser shape is better suited to dry my roots than the Dyson diffuser seems to be…but in practice, I don't see those results.
I really thought I would prefer the Shark diffuser to the Dyson diffuser because the Dyson diffuser is quite short so it's not as ideal for long or thick hair. The Shark diffuser is bigger, adjustable and has air holes in the prongs. I do think this reduces the odds of your hair being 'smushed' into weird shapes while in the diffuser. But, it doesn't seem as effective at evenly drying my hair which is a bummer. The need to go back over my roots adds to the overall drying time which make this dryer less effective for me overall.
Something that is nice about the Shark is that on low heat, my scalp never gets uncomfortably warm. With the Dyson, I have to regularly hit the 'cool shot' button even on low heat because it's really hot. With the Shark, I would consider increasing to medium heat if I could while diffusing. However, the Shark is designed to auto-select settings for different attachments. For the diffuser, it sets the heat to low.
My boyfriend is used to me using the Dyson, so maybe he's just used to that sound. However, on days when I have used the Shark he's commented that he finds the sound particularly irritating. It is higher pitched than the Dyson, so it is a bit squeaky sounding. It doesn't particularly bother me, but I am sure he isn't alone in disliking the type of noise that the Shark makes.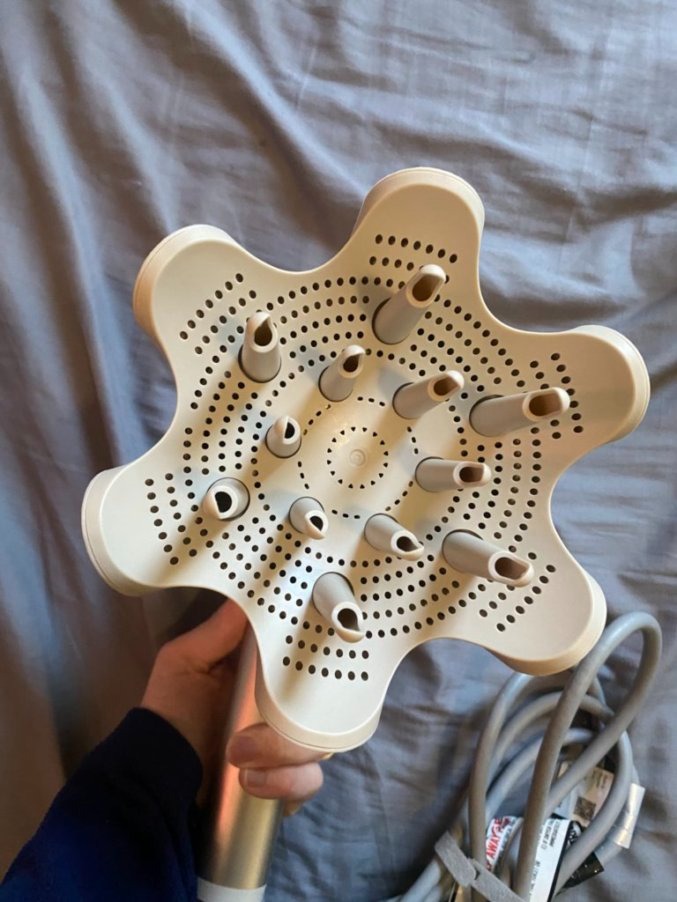 What Will I Use In The Future?
I plan to go back to my Dyson. The Shark is a nice dryer for sure, but it does take a bit longer to dry my hair than the Dyson does, and my #1 priority is diffusing fast.
If I were looking to buy a higher-end dryer, I'm honestly not sure what I would choose. On one hand, the Dyson is the most effective in my experience, but it's also more than twice the cost of the Shark. I'm not sure if I'd find it to be worth an extra $200 to save about 5 minutes per wash day. In a way it doesn't seem worth 5 minutes. At the same time, that time does add up over the years and I would expect these hair dryers to last many years. So maybe it is worth it over the course of several years.
Something to consider is, if you're open to buying used, you can get a used and working Dyson for around, if not lower than what the Shark costs new. Or, you can get the Shark for not much more than what low-end hair dryers would cost new. Yet another option is refurbished. Both brands offer refurbished versions at a discount.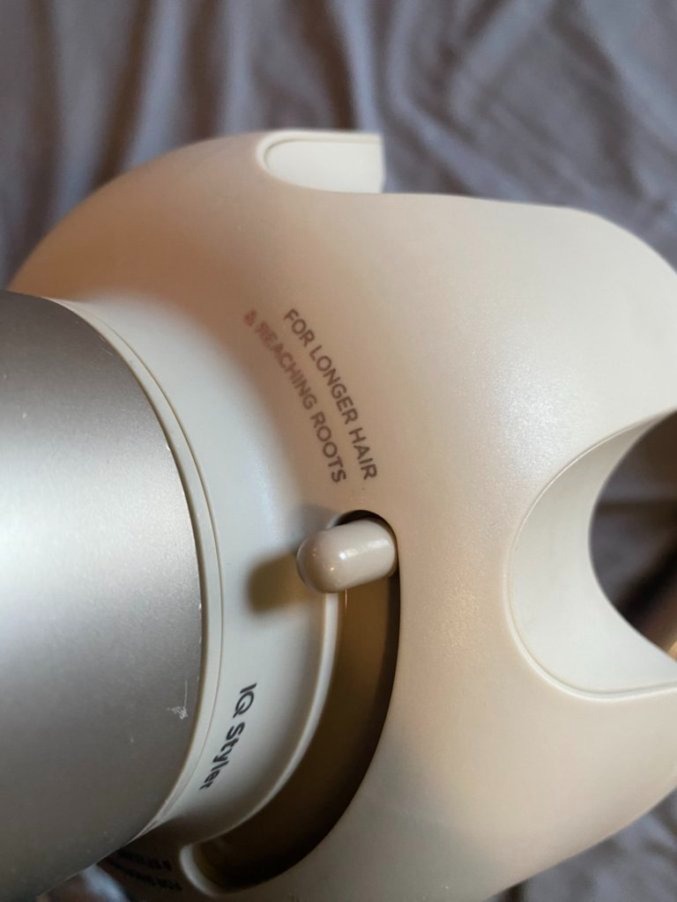 If you've tried both of these hair dryers, let me know which you prefer and why in the comments!