There are affiliate links in this post. 
In my gift guide for wavy curly girls, I mentioned how getting the Dyson SuperSonic Hair Dryer as a gift would make anyone feel spoiled! My boyfriend doesn't read my blog unless I ask him to edit or otherwise help me. I didn't ask him to edit that post, so I was shocked that he got me the Dyson SuperSonic for Christmas. I didn't ask for it, I hadn't told him about it, etc. I'm usually a frugal person so I felt a bit bad that he bought it for me, honestly. He's super sweet. $400 is a lot for a blow dryer though.
I can't deny that I love it, though! My hair would literally take all day to air dry, so I have to diffuse. Yet, I find diffusing to be my least-favorite part of styling my hair wavy. It just gets boring because it takes so long. The Dyson makes washday more enjoyable for me because it reduces how long I have to spend diffusing.
Using The Dyson SuperSonic And Diffuser On Wavy Hair
My first thoughts and biggest overall takeaway? It's REALLY hot. You can use it heatless, or on low, medium or high heat. The "low" heat on this is equivalent to the 'high' heat setting on my old dryer. It's so hot that I have to push the 'cool burst' button often or it would be uncomfortable on my scalp.
The Dyson website says that they use intelligent heat control, which measures the air temperature 40 times per second to regulate the heat. This regulation of the heat prevents extreme heat damage. I assume this is, in fact, true – but that doesn't mean that it doesn't feel really hot on your head.
They also say that their blow dryer attachments are engineered to stay cool to the touch. I have found his to be true. When I had my hair diffused in a salon last summer, the prongs of the diffuser she used were painfully hot on my scalp. With the diffuser on the Dyson SuperSonic, I don't find that the diffuser prongs get painfully hot, it's just the air itself that can get uncomfortably warm.
My next big takeaway from using this blow dryer is how much more comfortable it is to use. The Dyson blow dryer is shorter than many blow dryers, so even with the diffuser on it, it's shorter than just the body of my old blow dryer was. This means I don't have to hold my arm as far out from my head when holding this blow dryer. It's easier on my arm and shoulder.
The blow dryer is also weighed differently than most. The motor is in the handle of the Dyson SuperSonic, which makes it feel more balanced to hold, vs most blow dryers that are more top-heavy.
By far and away, the biggest benefit of this blow dryer in my opinion is how fast it dries my hair. It cuts my diffusing time almost in half. I can diffuse in about 25 minutes with this, vs about 45 minutes with my old diffuser.
Dyson Hair Dryer Diffuser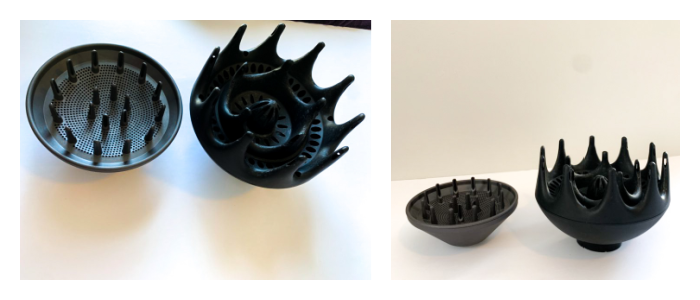 Initially, I thought the Dyson hair dryer diffuser was a pretty good size. The circumference seems pretty similar in size, but it is more shallow than my old XTAVA black orchid diffuser. I can still gather 1/4 of my hair in the differ at a time, so I can still diffuse in my typical style of diffusing 1/4 section at a time. The diffuser attaches to the base magnetically, but the magnets are quite strong so it stays on really well.
The downside is that my hair does seem to collect in an odd formation in the Dyson diffuser at times, and I think that is a result of it being rather shallow.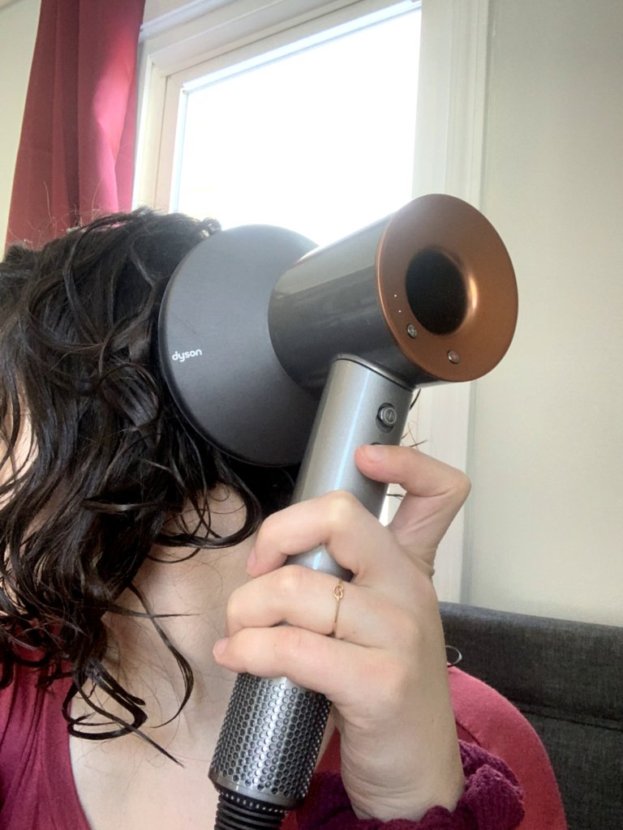 My old dryer had buttons on the side facing where the air comes out. The buttons were similar to a rocker style light switch, far in one direction was off, tipped to the center was low, and tipped to the far side was high. I found this easy to adjust the heat or air settings (or to turn it off) while diffusing my hair. I didn't need to look, I could just feel.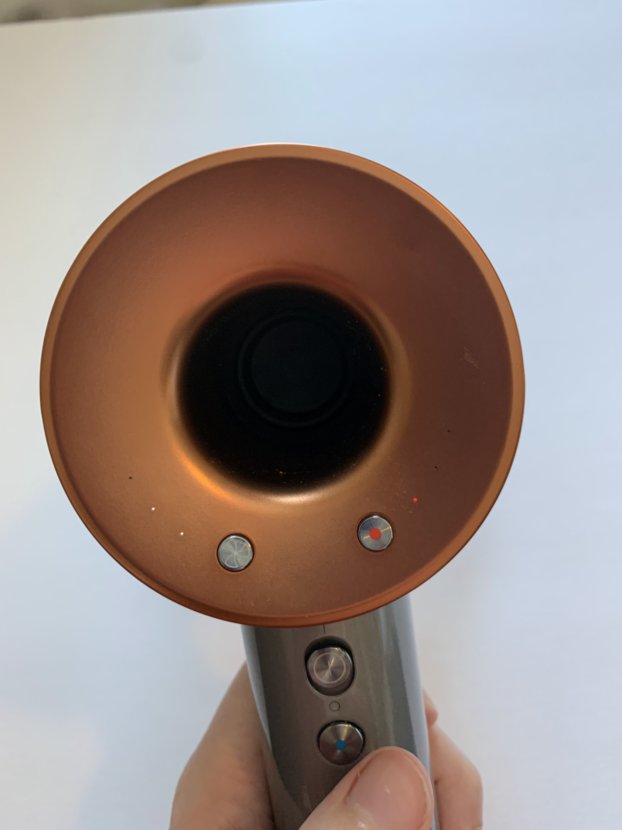 See the two white lights to the left of the button on the left? That's because the fan is on level 2. See the red button to the right of the right button? That's because it's on heat level 1.
On the Dyson, the buttons are on the back of the diffuser handle, opposite of where the air comes out. This feels "backwards" to me, after years of using my blow dryer with buttons on the other side. Also, adjusting the airflow and heat is just a single button, you just push it multiple times to increase the temp or speed further. For example, tap it 3 times for high heat.
If you don't remember what the setting was when you started, and how many times you've pushed the button, you won't know what setting it's on unless you look. The light-up indicators that tell you what heat and speed you're on are on the backside of the blow dryer so you have to stop diffusing and flip the diffuser around so you can see it.
It feels like this blow dryer was built with the assumption that it would primarily be used by hair stylists or others who are doing hair for someone else, rather than using it on yourself.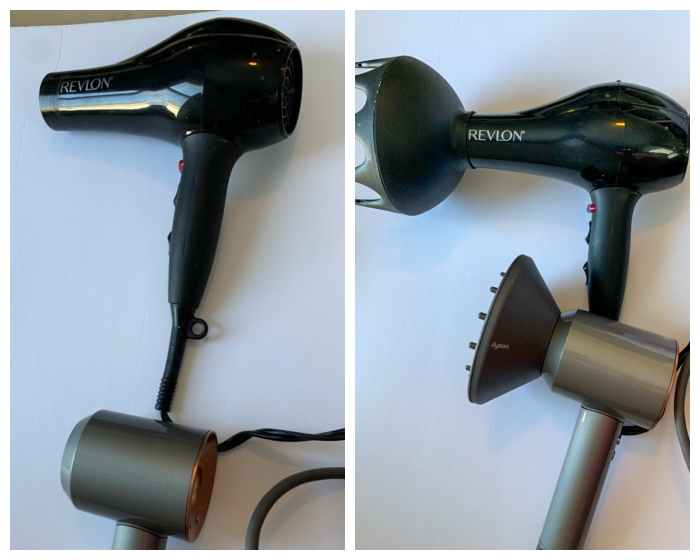 The dyson hair dryer and diffuser are both much shorter than my old ones! 
Using The Xtava Diffuser With the Dyson Hyper Air
I wasn't so unhappy with the Dyson diffuser that I thought it needed replaced. I did prefer the depth of my old xtava diffuser though, and I was curious about the claims of the hair dryer drying even faster if you switch to a deeper diffuser.
I bought a snozzle pro attachment. I had read that you can use this silicone sleeve to attach the Dyson to the xtava. Once it arrived, I realized I needed another part, unfortunately. Apparently, the Dyson hair dryer used to come with two different concentrator nozzles. When my boyfriend bought me my Dyson a couple months ago, it just came with one concentrator.
The snozzle pro needs the narrower concentrator attachment to attach the xtava to the dyson. I had to buy that narrow concentrator attachment for the dyson, so I could use the snozzle pro. Dyson was sold out of their attachments (I'm wondering if those are being discontinued?) but I found an off-brand attachment on Amazon for $13 that is compatible. It's the one titled "1 count (pack of one)" not the one titled "styling nozzle".
I was able to get the xtava diffuser attached to my dyson using that concentrator attachment and the snozzle pro, but it isn't easy. The snozzle pro fits on the Xtava diffuser VERY tightly, so it takes a bit of wrangling to get it on. Then I found that it pops off if you don't handle it fairly carefully. My first time trying to diffuse my hair, the setup came off three times at the diffuser end.
It also came off on the blow dryer end a couple of times, but that's simply magnetic, so it's easy to get it back on if it falls off on the blow dryer side.

On the left is my Revlon hair dryer with XTAVA diffuser, center is the Dyson blow dryer with XTAVA, the right is the Dyson dryer wth dyson diffuser. You can see how the difference in the lengths of the blow dryers and the diffusers both impact the angle that my arm is at while diffusing. The dyson with dyson diffuser is definitely the most comfortable to hold. 
The XTAVA diffuser is deeper which makes it longer. As a result, using the XTAVA diffuser and dyson blow dryer together means the setup is bigger (and a bit less comfortable to use) vs using the Dyson blow dryer with the diffuser it comes with. However, it's still noticeably shorter than my old blow dryer was with the XTAVA on it.
An upside to the XTAVA diffuser being longer means the blow dryer doesn't feel as hot on my scalp. I found myself hitting the 'cool shot' button far less frequently when I was using the xtava diffuser, even though I kept the heat setting the same. I think the added length gives the air just a little bit more time to cool off before it hits my scalp.
When I timed drying my hair with the Dyson dryer and Dyson diffuser, it was 28 minutes. When I timed myself drying with the Dyson with the Xtava diffuser, it was 25 minutes. I suspect this difference isn't actually due to the difference in the diffuser size. My guess is that it's due to me hitting the cool shot button less often when using the Xtava, so I effectively use more heat.
While the time difference is minimal, there is the added benefit of not getting any smushed or 'wonky' ends because my hair fits better in the xtava diffuser bowl. I assume this difference could be even more significant for people who have longer hair than I have.
My boyfriend is trying to come up with a solution that will keep the Xtava diffuser on the Dyson dryer better. Once we get that figured out, I'll plan to share it with you guys. I do prefer using the xtava diffuser on the Dyson, I just wish it would stay on securely.
Even though I don't dislike the Dyson diffuser that much, the fact that I do prefer the Xtava diffuser on the Dyson does say something a little negative about the Dyson diffuser, I suppose. I'd love to see Dyson come out with a new diffuser with a deeper bowl.
Is the Dyson SuperSonic Cordless?
The Dyson SuperSonic is not cordless, it has a 9 foot cord length. Or the professional edition of the Dyson SuperSonic has an 11 foot cord. 
Is the Dyson SuperSonic Ionic?
The Dyson SuperSonic does use Ionic technology. It produces negative ions to reduce static. 
Is the Dyson SuperSonic Quiet or Loud?
When researching for this post, I was a little surprised to see others say that the Dyson SuperSonic is quiet. I hadn't thought about it being a quiet blow dryer, personally. I did notice that it has a different sound than my old blow dryer, but I personally don't find it more (or less) of a bothersome sound.
With my old dryer, and this Dyson, I have to turn it off if I need to talk to my boyfriend, we can't talk over it without raisng our voices. However, I do use it on the second speed setting. We could just speak a tad louder than usual and hear each other if I used the low speed setting, I think.
For me, the difference in the sounds or sound level isn't a meaningful difference. I can imagine that others might find the sound of the Dyson better (or worse) than other blow dryers seems how the sound does have a different pitch.
Here is a quick video comparing the speed settings on my old blow dryer and the Dyson if it helps you to compare the sound levels and the pitch.
Is The Dyson SuperSonic Worth It For Wavy Hair?
I really have loved being able to reduce the time I spend diffusing my hair. I wash my hair 2-3 times a week, and diffuse (almost) every single time. The Dyson saves me about an hour a week.
More than simply saving me time, it makes wash day more enjoyable for me, because diffusing (and how long it used to take) has always been my least favorite part.
I think there is a real benefit in that. I had my old blow dryer (the revlon Salon 1875w turbo dryer) in use regularly for over 3 years and it held up well and was only $25 or $30. I imagine this Dyson blow dryer will last me at least that long. I think over time, it will be worth the cost for me. I see it as an investment in saving myself a lot of time, over time.
However, if you have hair that naturally dries faster, the amount of time that it saves you may be so minimal that it wouldn't be worth paying for. Or, if you are a mom with young kids and every second counts…maybe saving time on your hair would be even more worth it for you than it is for me. I think it really depends on your situation, and how you value your time.
It also, of course, depends on your budget. $400 is a lot of money for me, but for others it may just not be possible to find $400 for anything non-essential. For others, $400 may not be a lot of money to them at all. So, I think it really just depends.
I will say, I absolutely don't think buying a Dyson is essential for wavy hair. For my hair type, diffusing is essential because my hair would take all day to air dry. However, I got by with my $30 blow dryer and $20 diffuser for 3+ years, and could keep using it. That system still works well for me.
How To Save Money On The Dyson SuperSonic Hair Dryer
The Dyson website offers refurbished SuperSonic hairdryers for around $299 sometimes. These are usually final-sale, but they come with a limited one-year warranty.
Buy it from Ulta or Sephora to earn points. Both of these retailers offer points on purchases, and those can be redeemed for coupons on future purchases. While it won't save you money upfront, it can save you money in the future if you go through one of those programs.
Use Rakuten when you purchase online. If you're new to Rakuten, it's a cash-back program that offers a sign up bonus. The amount varies throughout the year, but it's always at least $25. Meaning you can sign up with my link today and you'll get $25 cash back as long as you make a $30 purchase through Rakuten in the next 90 days.
In addition to the sign-up bonus, Rakuten gives you cash back on your online purchases. It varies by retailer, but many offer 1-10% back full time. As an example, Ulta currently is giving 3% cash back on orders placed with Rakuten. Rakuten will also help you find active coupon codes to save when ordering.