First, I want to say that I know my hair doesn't seem especially short. I got a haircut a couple of months ago, and I only lost about 1-2 inches of length at the longest layer, so it doesn't look much shorter than it used to be.
However, I got a lot of layers added in, and that has resulted in the shorter layers of my hair being much shorter than they used to be.
My shorter layers are about chin length. Because of those shorter layers, I can't style my hair the way that I used to, and get results that I feel look good. Here is a collage showing my before and after. In the back the length difference is minimal, but on the sides, where I have shorter layers, it's fairly significant. This is because I was given a shag-style haircut.
I used the same styling techniques in the 'before' and 'after'. As I think you'll probably agree, my old styling methods did not work as well with my new, shorter haircut!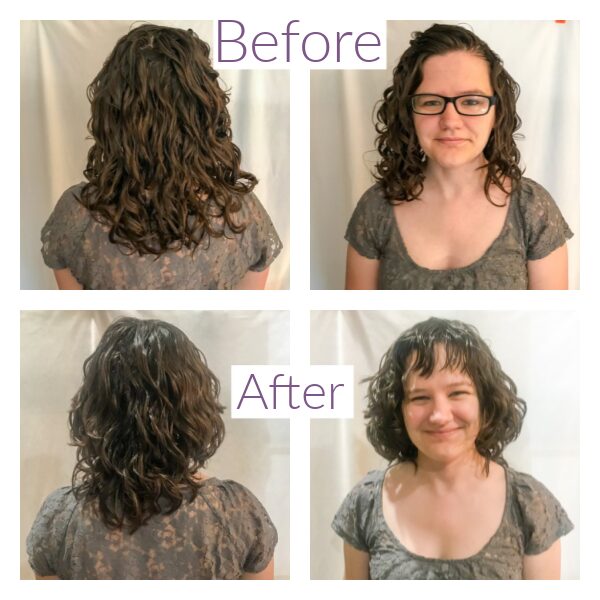 I wasn't in love with my haircut mostly because it just wasn't what I had in mind. You can read more about that in these two posts if you'd like:
Getting a devacut on naturally wavy hair [my experience]
Dry curl cut on wavy hair advice
Anyway! Since getting a shag-style haircut, I've had to change up my regular routine. I used to do a lot of methods that encouraged volume. I did almost all of the methods listed in my post 13 methods to get more volume in wavy hair, post prior to my haircut.
After getting a shag haircut and having shorter hair (at least on the sides) I no longer liked the appearance I got when using techniques that aimed for 'all the volume'. I felt like it resulted in 'all the poof' more so than 'all the volume'.
My hair is growing out more now, but I thought I'd share the routine I've been using for shorter wavy hair, for those who have shorter hair and/or shag haircuts, this may work better for you than my other routines from when I had longer hair.