There are affiliate links in this post.
Back when I didn't know my hair was naturally wavy, I always aimed for sleek hair. For years I straightened my hair even though I thought it was already mostly straight. I knew that straightening my hair made it less 'poofy' and sleeker, which I preferred.
Once I discovered my naturally wavy hair, and how to get definition in my waves, that changed. I now love volume! There is no right or wrong here, I just prefer volume over sleeker with waves for some reason. If you want to get more volume with your naturally wavy hair, this post is for you!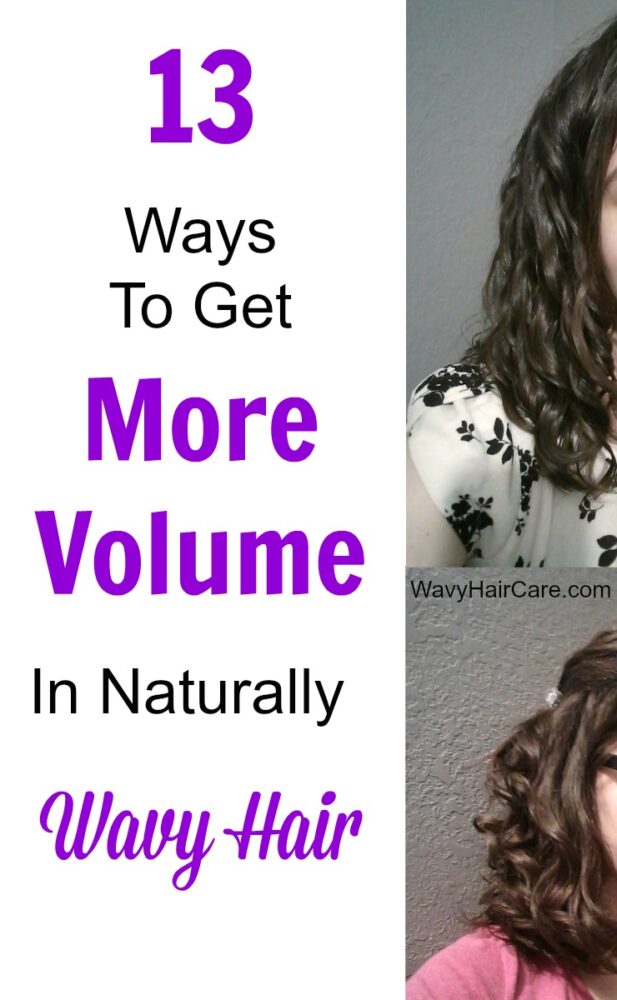 How To Get More Volume In Wavy Hair
Diffuse instead of air dry
Diffuse while your head is flipped upside down
Wash & style your hair upside down
Move your hair as it dries
Clip your roots
Plop your hair
Microplop your hair
Get a volume-enhancing dry curl cut
Clarify regularly 
Avoid greasy roots 
Use light products
Only use as much product as you really need. 
Mousse instead of gel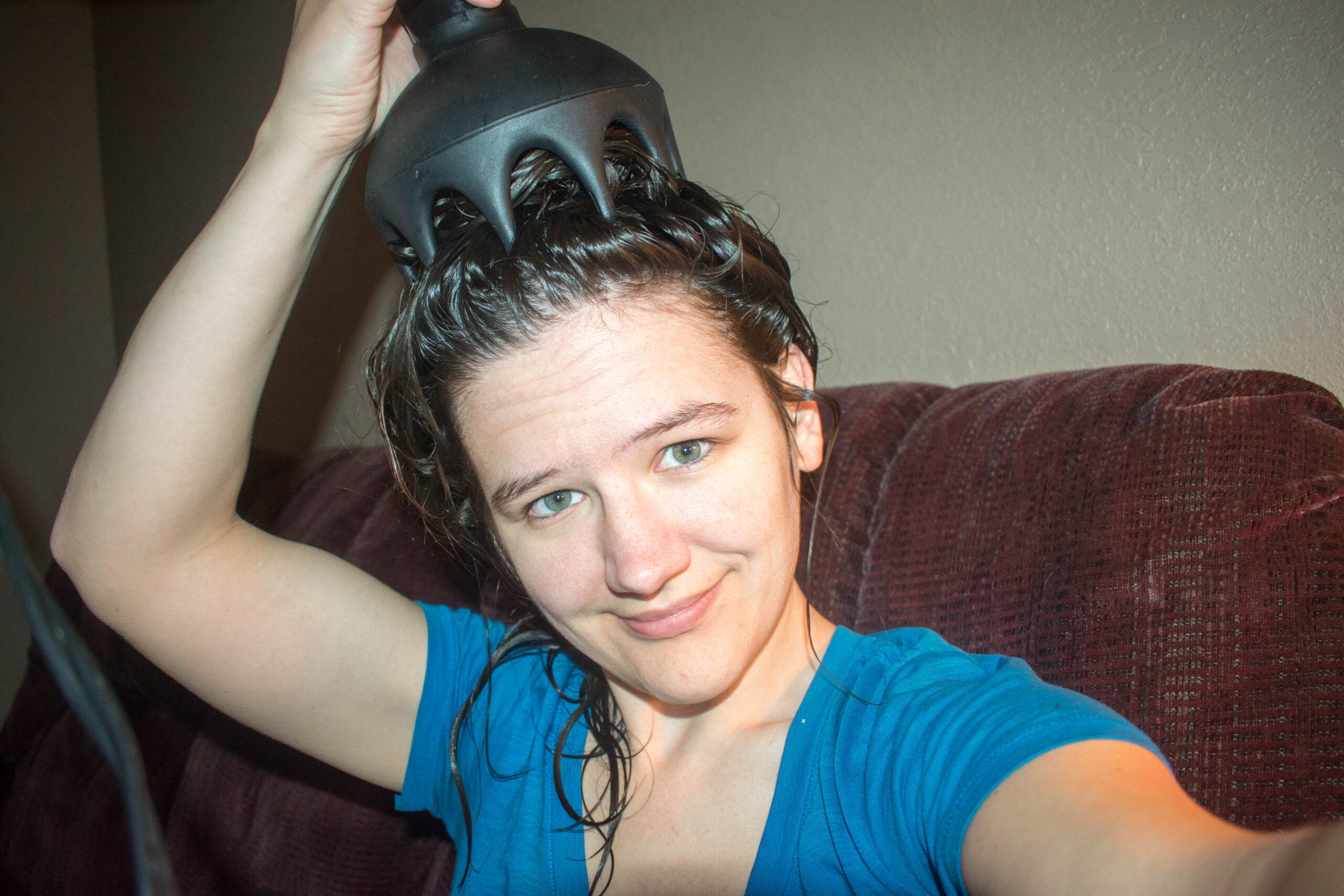 Diffusing for Volume
Diffusing your hair dry instead of air drying is a great way to get more volume. I have a blog post sharing 4 tutorials for different ways to diffuse your wavy hair. When you air dry, your hair stays wet longer. The water in your hair can weigh your hair down as it dries.
Your hair will stay in the pattern its in while it dries. If your hair weighs down from water as it dries, it will dry in a pattern that is more elongated or stretched out, rather than voluminous.
Diffused rightside up (left) vs diffused upside down (Right). 
Diffusing upside down for root volume
Turning your head upside down when you diffuse can add more volume than diffusing right-side up. Upside-down diffusing is particularly helpful for root volume. Many wavy-haired people have the hardest time with volume at their roots.
If you diffuse while upside down, gravity will allow your hair to drop away from your scalp, and if you diffuse it in that position, it will dry with your hair slightly raised, creating volume near your roots.
Wash & Style your hair upside down for more volume
Don't just diffuse upside down, do your whole routine upside down! Flipping your hair upside down while you're shampooing and conditioning can help with root volume. You can even stay upside down while adding in your leave-in products and styling products.
It may seem minor, but many find being upside down even before their hair starts drying can improve root volume. Check out my post on upside down vs rightside up hair styling to see a comparison.
Get more root volume by flipping your hair as it dries
Whether you diffuse or air dry, flipping your hair from one side to the other periodically as it dries, can help with volume. If you stay upright with your hair simply falling to either side the entire time that your hair is drying, it will dry in that straight-down position. At the roots, your hair will be pulled pretty tight due to gravity pulling your hair straight down.
If you flip most of your hair over the top of your head to the right for a while, then reverse, flipping most of your hair to the left for a while, this can create additional volume. Instead of your hair drying in a straight-down position, it will dry with the hair being angled to both sides, creating some root volume.
Important tip: Be gentle with your waves as you flip your hair. If you move your hair too harshly before it dries, you may break apart your curl clumps.
Root clipping for added volume
The key to root volume is all about keeping your hair from drying tight up against your scalp. Root clipping is a method for getting root volume by using clips to help your roots stand upright as they dry. You simply run clips (I own this set) through your roots along the part in your hair. You want to place them carefully so that you ensure they are holding your hair upright.
This is a nice video tutorial showing how to root clip wavy hair. She starts clipping around 2:30.
Plopping Hair For Volume
My wavy hair is really thick and takes forever to dry. If I were to step out of the shower and leave my hair down while I got dressed and ready to diffuse, I'd lose a lot of volume. The water would drip out the ends of my waves and curls, pulling them straighter that whole time.
Plopping is basically just lowering your hair down into a t-shirt and wrapping it around your head. This will hold your hair in their natural pattern, on top of your head. The t-shirt will absorb some of the excess water as well. See my plopping tutorial with pictures for a better explanation.
Different people find success with plopping for different amounts of time. For me, if I plop too long, it can actually reduce my volume. The weight of my hair being piled on top of my head can weigh down on my roots.
However, if I plop for just a little while (around 15 minutes) it will help my hair begin to dry while still holding their natural texture, and without weighing my root down. My goal is to plop until my hair is done dripping. In other words, to take my hair from soaking wet to just very damp.
Plopping for the right amount of time gives me more volume by keeping my waves from getting really weighed down by the water in my hair. I still diffuse after plopping to maximize volume, but plopping is a key step!
Microplopping hair for added volume
Microplopping is taking a t-shirt, gently gathering your hair into it from the tips on up (to preserve your natural pattern) and then gently squeezing the t-shirt. This is sometimes done to remove excess water or excess product from the hair. It can also be done to help re-shape the original curl pattern. See my microplopping tutorial with pictures for a more thorough explanation.
As I explained in the plopping section above, my hair really holds a lot of water, and is easily weighed down by that water. When I remove the plopping t-shirt from my head, my waves can be pretty tight. From there, my goal is to add mousse, and start diffusing.
This only takes a few minutes. However, just in that few minutes worth of time, my waves sometimes start to fall a lot straighter! If that happens before I have a chance to start diffusing, I will microplop.
When I see that my waves have started to fall, I microplop to reinforce their tighter pattern again, and then start diffusing. This increases volume by tightening up my waves again, or keeping them from drying in a straighter or more stretched out pattern.
This was my results from cutting my own hair, not in any special way. Losing weight can help volume some. Specific curl enhancing cuts can be way better! 
Get a dry curl cut to enhance your volume
Yes, your haircut can impact how much volume you can get! If your hair is all one length, it will likely have less volume vs if you have well-placed layers. In other cases, not having enough layers can create "triangle hair" where all your volume is at the bottom of your hair.
Devacuts or other dry curl cut haircuts can really enhance volume higher up on the head. Google Devacut before and after photos. You'll be surprised at the difference it can make!
Clarify Your Hair Regularly For Better Volume
Clarifying regularly is an aspect of haircare that many overlook. There are many benefits to clarifying your hair regularly. One of those benefits is avoiding weigh down. If you have build up, it can weigh down your hair, especially at the roots.
How often you need to clarify will depend on many factors including whether you have hard or soft water, how often you shampoo, what ingredients are in your hair care products, and others. It may take some trial and error to figure out how often you should clarify.
If you find your roots feeling heavy or looking weighed down more than usual, try to clarify to see if it helps. Also check out my blog post on clarifying wavy hair if you need to learn more.
Avoid Greasy Roots To Encourage Volume
Of course, to some extent, how greasy your roots are is just natural. However, greasy roots can cause you to lose volume, at the roots but it can also travel down your strands.
If you're new to the curly girl method and in the transition phase, you've basically signed up to have greasy roots for a while, to try to avoid having greasy roots as often in the future. That's okay, but it will likely reduce your odds of getting great volume until your hair adjusts. Perhaps you can keep in mind that if you outlast the transition phase, a reward will be a bit more volume!
To help combat greasy roots between washes, you can use dry shampoo. Dry shampoo is designed to absorb some of the oils sitting on your scalp. This can pull the weight of that oil off your roots a bit, and keep it from traveling down your strands and further weighing your hair down.
Washing more frequently can be another way to combat greasiness. Again, if you're in the transition phase, you probably don't want to wash more often, as the goal is to train your hair to be washed less often. It's up to you how long you want your hair to last between washes, though.
I commonly hear washing once a week suggested in the curly girl community. I personally never go more than 4 days. It seems common for wavy haired people to wash a bit more often than those with curly hair, as our hair tends to be a bit more oily.
Use Light Products To Get Better Hair Volume
Using products that are too heavy can weigh you down and reduce your volume. If your hair is low porosity, thin or fine, you are likely to be easily weighed down by certain ingredients in hair care products. We often call products heavy if they contain a lot of oils or butters. Oils and butters are great for some hair types, but cause weigh down for others.
When I started the curly girl method, I started with Shea Moisture brand products. They were quite heavy, and really weighed down my hair. They were just too heavy for me! It took me a while of trying different products to see what did and didn't weigh me down.
Personally, I can use mid-weight products without being weighed down. Others need oil-free products to maximize their volume. The Not Your Mother's Blue Sea shampoo and conditioner is a common choice for those who need light products.
Take note of how your hair reacts to your leave-ins, creams and styling products as well. Any leave-in products are more likely to leave you weighed down than rinse-out products.
I have a blog post about how to tell if your wavy hair is weighed down, if you're still unsure!
Use less product to increase volume
Another way that products can way you down is if you use too much. Even if your hair care products have relatively light ingredients, if you use a lot, it can still weigh your hair down.
It can be beneficial to experiment with using different amounts of products and comparing your results. You may find that using a pea-sized amount of a leave-in gets better volume than using a dime-sized mount.
Even gel or mousse can weigh your hair down. Try to find the sweet spot with your products, where you get the benefits you're seeking without weighing your hair down. For example, with a gel or a mousse, you likely want to use enough to get a cast. In that case, your goal would be to use just enough product to get a cast, and no more, to avoid unnecessary weigh-down.
Mousse Can Give Better Volume Than Gel
This is definitely a generalization and probably an over-simplification. It's a general rule of thumb, and every rule of thumb has exceptions, of course. Generally speaking though, mousse is lighter than gel. For this reason, many wavy haired people use mousse instead of gel, because they get better volume with mousse.
See my post on mousse vs gel if you want to learn more. I find that I get better volume with Aussie Curl Mousse or Not Your Mother's Curl Talk Mousse than I do LA looks gel. My hair may react differently than yours though.
Again, experiment with your hair to see what works for you. Not all gels are the same, and not all mousses are the same. I haven't got to try them yet, but I've heard that liquid gels are a great light option for those who prefer gel.
Looking for more wavy hair styling info? Check out the "wavy hair techniques" section in my blog post directory for more relevant blog posts.