There are affiliate links in this post.
If you've been around my blog much at all, you likely know that I am all about diffusing. My hair holds onto water for hours if I try to air dry. I get much better results from diffusing, and it keeps me from waiting around all day on my hair to dry!
Something I've occasionally been asked in comments is what I think the best diffuser is. Until a few months ago, I had only ever used one diffuser, the Xtava black orchid. I bought it because it was recommended by a YouTuber I followed, so I bought it and liked it and stuck with it.
For Christmas, my boyfriend bought me the Dyson Supersonic hairdryer. It comes with is own diffuser and the Xtava isn't compatible with it, so using the Dyson brand diffuser was my first time trying a new type of diffuser.
After that, I got curious about other diffusers. I ordered a few other diffusers on Amazon (ones that I saw were most frequently purchased) to learn more about differences in diffusers, and so I could do this post for you guys!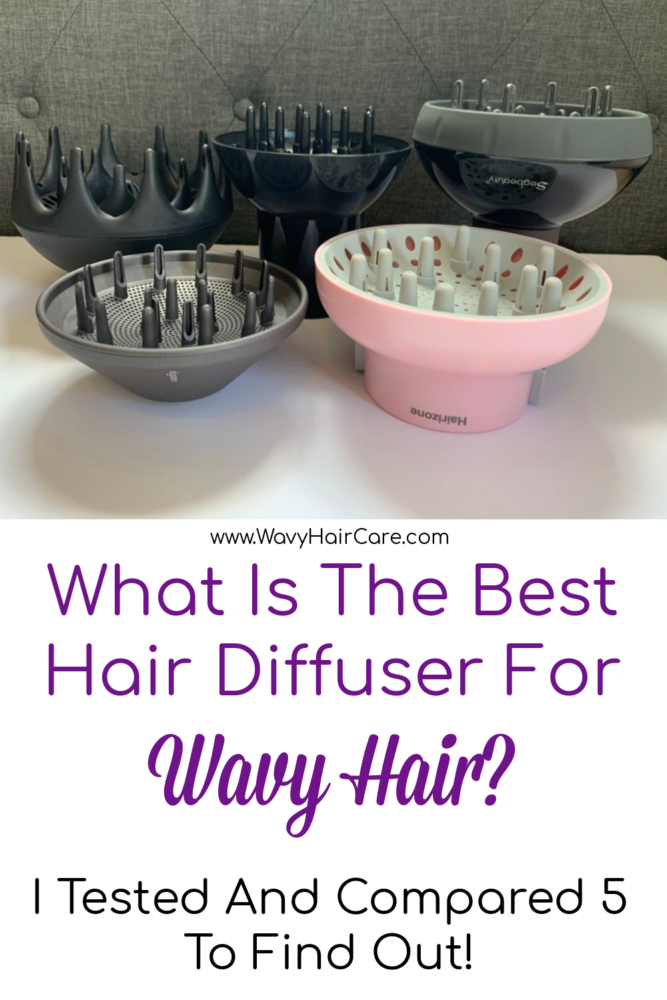 In an attempt to keep my comparisons similar, I used the same hair products each time that I tested a new diffuser. I also attempted to use the same product styling techniques and styling routine. This way, hopefully any changes in results I got on different days could be attributed to the diffuser.
The Dyson diffuser only works on the Dyson hairdryer, and the other diffusers can't be used on the Dyson. So, I did have to use a different hairdryer when testing the Dyson diffuser vs the others.
Five Hair Diffusers Tested On Wavy Hair
Conair Volumizing Diffuser Review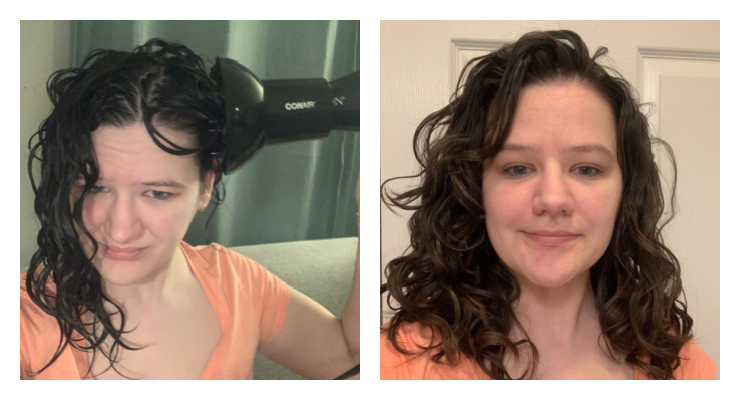 The Conair Volumizing Diffuser. This is an affordable hair dryer that claims to fit "most" hair dryers. It has an opening of 2.5 inches at first and it gets narrower and squeezes inside so it can adjust to some different barrel sizes. Frustratingly, they don't list the full range of sizes that it can fit. They list 20 hairdryer models that it can fit on. My "Revlon Salon 1875W 20X better grip turbo hair dryer" has a 1.8″ barrel and the Conair volumizing diffuser fits securely.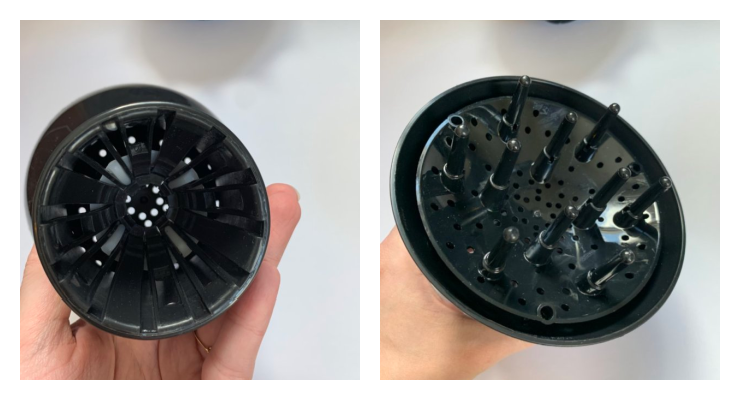 The price on Amazon is currently $12.99, when I bought it, it was on sale for $9.99. When I unpackaged it, I was struck by how lightweight it felt. It feels cheap, frankly. I was expecting the results to be poor based on it feeling cheap. I was pleasantly surprised, though! It did feel strange to use at first because of the light, hard plastic that the diffuser is made out of.
The prongs are really firm, they are not curved like I am used to, the prongs are all the same length. This means the diffuser doesn't really curve around your head. The prongs didn't get hot or bother my scalp. The lightweight diffuser is kind of nice because it makes holding it up a little easier.
Air comes out of the Conair volumizing diffuser pretty evenly, but a little bit more comes out around the edges of the diffuser than the center due to there being bigger holes on the exterior. It took me 52 minutes to diffuse with this diffuser using my Revlon on low heat and low speed.
I was able to fit 1/4 of my hair in this diffuser at a time without it 'smushing' my curls. I was able to pixie diffuse without the diffuser causing the ends of my hair to be misshapen. It dried my hair pretty evenly from roots to ends when pixie diffusing.
The only slight downside I found with this diffuser is the skinny prongs are the longest piece on the diffuser, so if you move around some of your curl clumps can slip out of the diffuser. Overall,  found this to be a nice diffuser for the price!
SegBeauty Upgraded Hair Diffuser Review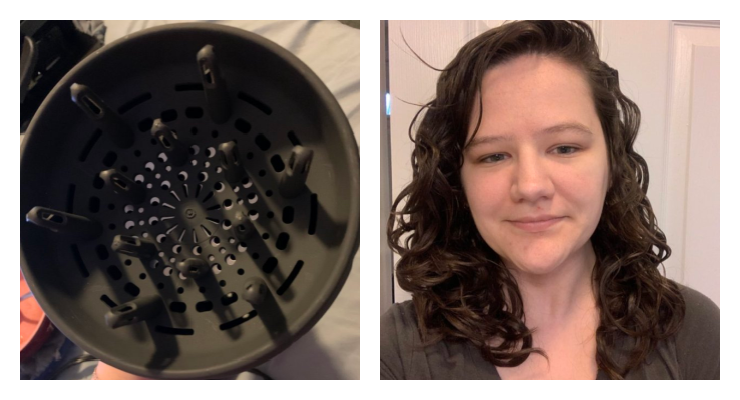 The SegBeauty Diffuser that I ordered felt sturdy. It has a sleeve that slides over the end of your hairdryer that slowly tapers so you push your blow dryer in until it is snug. The one I ordered is said to fit hair dryers from 1.57 inches to 1.97 inches. SegBeauty does offer other diffusers for hairdryers with different barrel sizes.
A unique feature to this diffuser is the "fast heating panel". This is a shiny silver panel that is underneath the surface of the diffuser, so you can see it through some of the holes in the diffuser but your hair doesn't directly contact it.
The fast heating panel is supposed to make the diffuser more efficient. It's also unique because you can adjust the airflow of the diffuser, basically blocking some holes or letting them all push air through.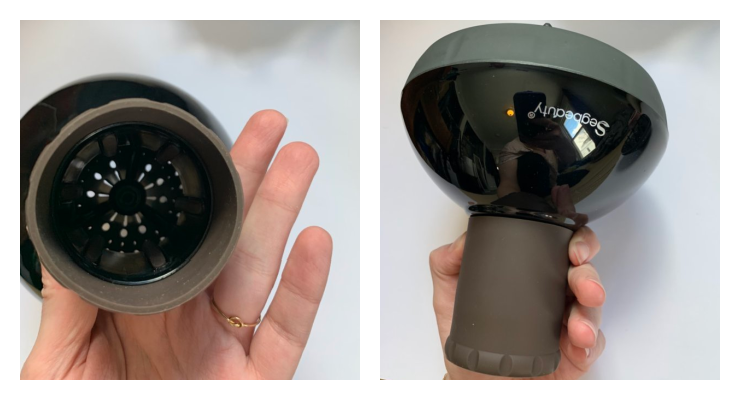 The prongs on the diffuser are longer than the diffuser bowl, so the prongs touch your head but the bowl doesn't. The prongs are all one length so it isn't super comfortable against your head, but it dries the roots well. I did notice that the prongs get warm, but not uncomfortably hot, at least with me using low heat.
It took me 48 minutes to get my hair dry with the SegBeauty diffuser. The bowl is a good depth, so I was able to fit 1/4 of my hair into the diffuser at a time and pixie diffuse without getting misshapen curls.
Overall, I liked this diffuser but I didn't see any significant benefits from the unique features that it claims. I wasn't conscious of it getting warmer aster or getting warmer than other diffusers due to the 'fast heating panel'. I also didn't really see much purpose in the adjustable airflow settings, because I can adjust the airflow of my hairdryer already.
I didn't dislike anything about this blow dryer, but it didn't stand out as special in any particular way, so my instinct would be to go cheaper. It is $21.99 on Amazon.
Hairzone Universal Hair Diffuser Review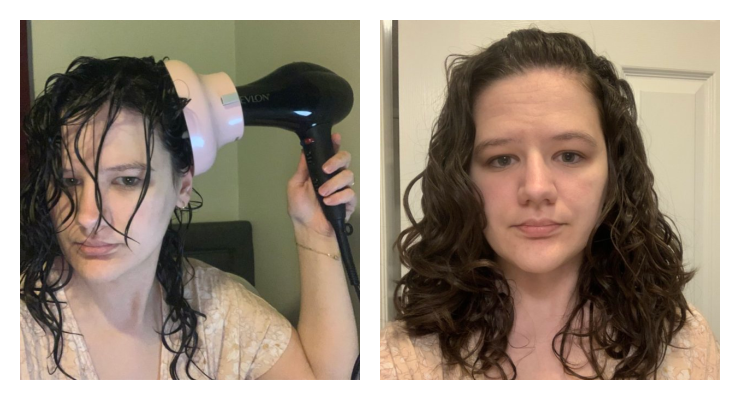 This Hairzone Diffuser has a really wide range, it fits hairdryers with a barrel size of 1.7 to 2.6 inches. It attaches to your hairdryer in a unique way. It has buttons that you squeeze which relax this inner mechanism while you place your blow dryer to the diffuser. Then you release the buttons which allow the mechanism to close around your blow dryer.
Based on the unique way it attaches, I was initially the most curious about this diffuser. Unfortunately, it wound up being not so great in practice. While it did fit my hairdryer in the sense that it did close around my hairdryer and stay on, it was really loose. It could be wiggled from side to side while on my dryer.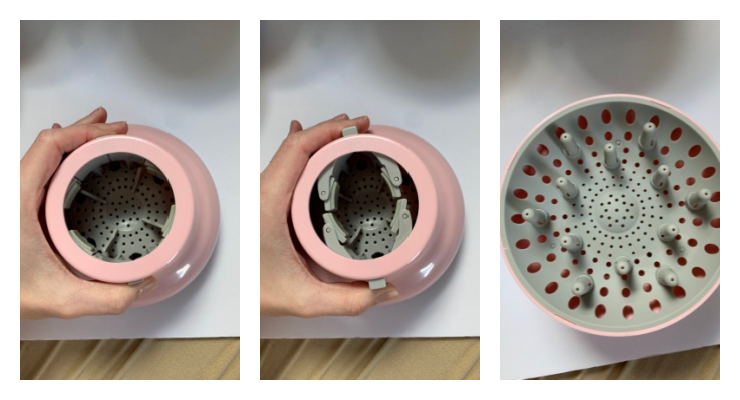 This was the only diffuser I tried that didn't give me a secure fit. It's also the only diffuser I tried that seemed to have a really weak airflow. IT seemed like airflow from the blow dryer was somehow getting lost before it was reaching my hair.
The prongs on this diffuser are short, and the circumference of the diffuser bowl is really large. This resulted in air blowing across a wider space. When diffusing the front sections of my hair, I couldn't get an angle that wouldn't blow air onto my ears which I found uncomfortable.
The holes in this diffuser are bigger than the ones in the other diffusers…perhaps that is part of why it feels like the airflow is weaker, is it is just more spread out? Despite being a large diffuser, it didn't dry my hair evenly. I found that the exterior of my hair dried first, but the underside of my hair (like close to my neck) were still wet despite pixie diffusing. I suspect this was due to the low airflow.
I finished diffusing by hovering at a weird angle under my hair to get heat to the wet parts. I also found that the ends of my hair dried in strange shapes, I Believe due to the bowl being too short (and/or the prongs being too short) so my hair got 'smushed' in the diffuser. It took 59 minutes to dry total.
Overall, I didn't care for this diffuser. It sells for $25.
Dyson Diffuser Review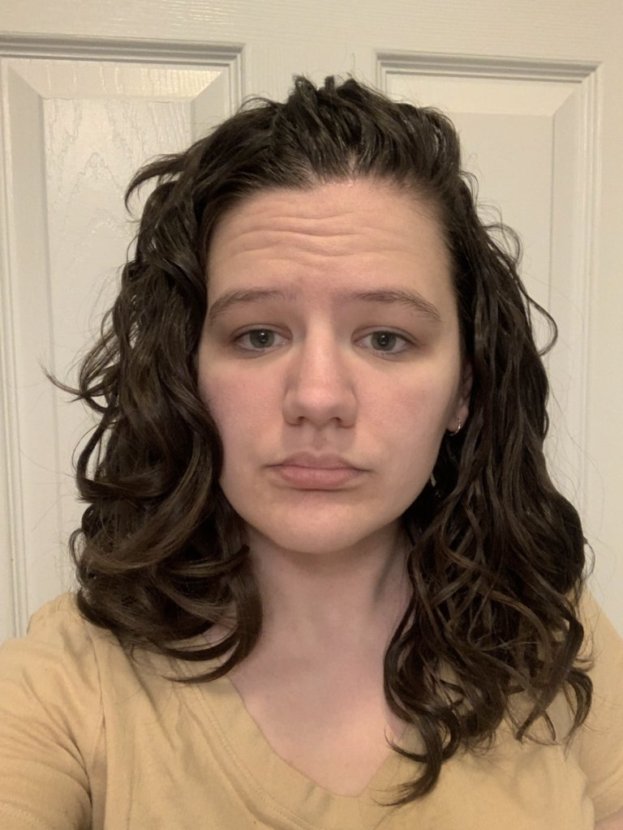 My results with the dyson diffuser. I have more hair pulled up from behind on one side than the other, and my hair has longer layers in back. This is why my hair looks longer on one side. It didn't dry uneven, although this photo looks that way. 
As I mentioned higher in this post, with the other diffusers I tested them all on the same hairdryer. This one only fits the Dyson hairdryer so keep in mind that there is that difference in my testing of this diffuser. I have used this diffuser many times since I got it in December, but I wanted to use it with the same routine that I used with the other dryers, for the sake of a more fair comparison.
The Dyson Diffuser is on the shallow side and it has relatively short prongs. The diffuser itself and prongs do not get too hot, but the hair dryer gets really hot. While I can gather 1/4 of my hair at a time in the diffuser, it does feel cramped and pixie diffusing this way will result in misshapen curl clumps at the ends.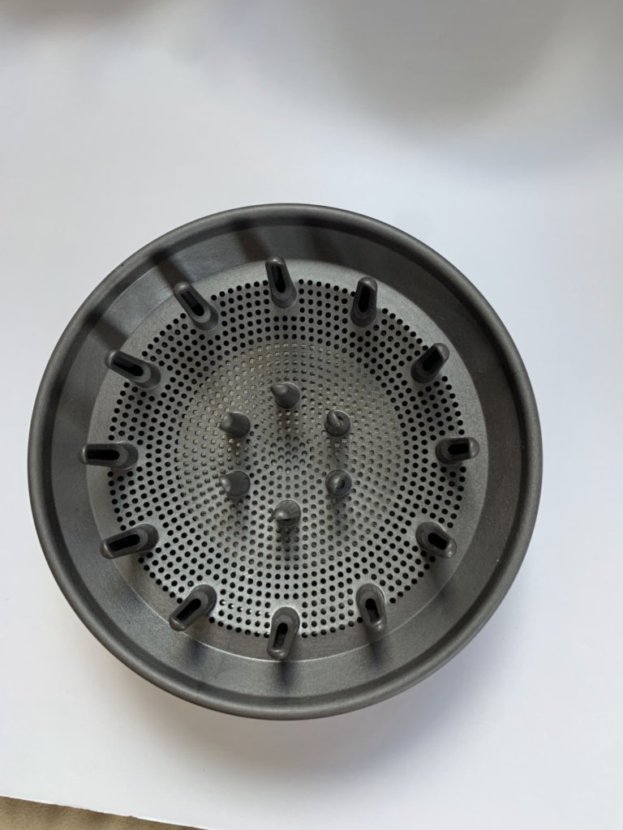 The air feels well spread out over diffuser, and while the prongs are short, enough air comes out of the prongs that my roots dry pretty evenly along with the rest of my hair while pixie diffusing. My hair dried in 32 minutes with this diffuser, but I think most, if not all, of that is due to the Dyson dryer rather than this diffuser. You can see my full Dyson SuperSonic Hair Dryer Review to learn more.
Overall, I think the Dyson diffuser is okay, but not great. I really wish it was deeper or had longer prongs. If you hover diffuse, I think this diffuser would work just fine. The trouble with bent/misshapen ends only happens from pixie diffusing with short diffusers. Still, the Dyson dryer is not a cheap dryer at all so I wish it came with a super awesome diffuser..and while this is not that bad (I use it regularly for now) I do wish it had a deeper bowl.
Xtava Black Orchid Diffuser Review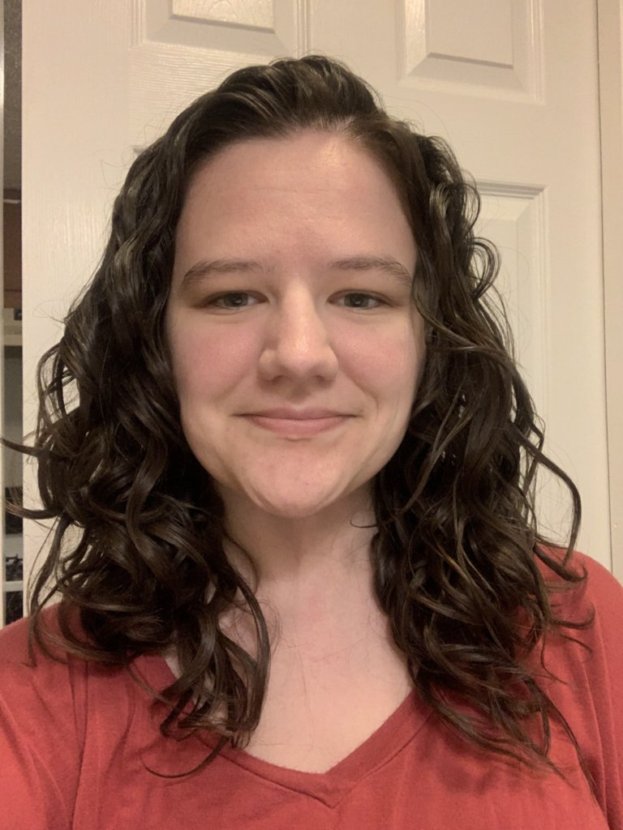 My results from using the Xtava black orchid diffuser. 
I've used this diffuser hundreds of times by now. Still, I wanted to test it with the same routine as the other diffusers for the sake of consistency.
The Xtava black orchid diffuser is big, and really deep. The outer prongs are longer than the inner prongs, so the diffuser can curve to your head a little bit, which I find more comfortable than most other diffusers feel to me.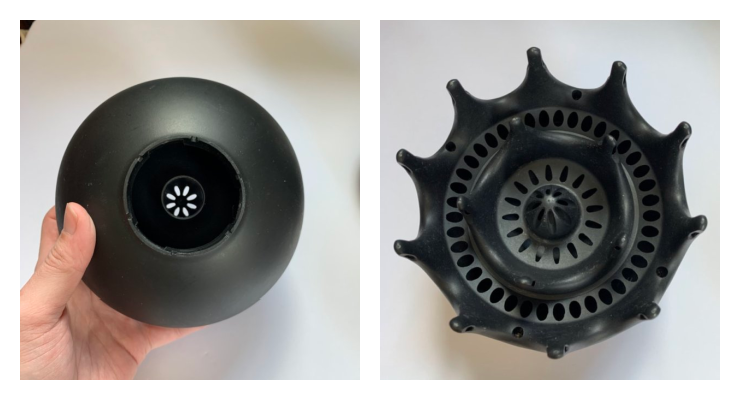 Thanks to the size of the diffuser, I am able to get 1/4 of my hair at a time into the diffuser without it being 'smushed' or getting misshapen ends on my curls. In addition to not smashing my curls, the prongs on the outside being longer help hold your hair into the diffuser, I think.
The diffuser is bigger and longer than some others, which means it does put more distance between your hand and your blow dryer, which can cause a little discomfort.
I diffused my hair for 49 minutes with this diffuser, putting it at pretty similar times as the Conair and SegBeauty diffusers.
After testing the others,  found that my Xtava black orchid was still my favorite! It gives me good results, it dries my hair pretty evenly, it easily holds my hair in the diffuser, it doesn't get super hot. It is pretty reasonably priced ($21.97 on Amazon at the moment). I've had mine over 3 years and have used it multiple times a week that whole time and it has held up great.
The downside of the Xtava black orchid is it is specifically made for hair dryers with a 1.8 inch barrel. There's jus one hole and your hair dryer needs to be just the right fit. There is a thin ring inside of the diffuser when it arrives, i had to take mine out to get i to fit my hair dryer. Some other hair dryers will fit the Xtava with that ring on. So I guess technically it fits two blow dryer sizes – 1.8 inches without the ring, and slightly smaller (not sure what measurement) with the ring in.
There are quite a lot of hair dryers with that 1.8inch barrel size. So if you are in the market for a hair dryer and a diffuser both, this shouldn't be too big of a problem. However, if you already own a hair dryer and are looking for a diffuser to fit, it may or may not work. Simply measure the width of the end of your hair dryer's barel to see if it will work.
I wish that the Xtava Black Orchid fit on my Dyson hair dryer. In my Dyson Supersonic review I shared how we had tried the snozzle pro "trick" but I found it to be a bit clunky to use. My boyfriend is working on trying to make something to adhere the Xtava to the Dyson better.
What is the best hair dryer for wavy hair?
The Xtava black orchid! It's large enough for long thick hair, it dries your hair evenly, you can use it to pixie diffuse without it twisting your hair, and it's affordable. Just make sure it fits your hair dryer! 
Hair Dryers That Fit The Xtava Black Orchid Diffuser
Black Orchid Hair Dryer. Xtava makes a hair dryer that matches the black orchid diffuser, sometimes they ca be purchased separately, sometimes they sell them as a unit. At the moment they aren't available on Amazon, unfortunately.
Revlon salon 1875w turbo dryer (my dryer)
INFINITIPRO BY CONAIR 1875 Watt AC Motor Pro Hair Dryer with Ceramic Technology
Wazor Professional Infrared Ionic Hair Dryer with Diffuser 1875W Tourmaline Blow Dryer
Elchim 3900 Healthy Ionic Hair Dryer
INFINITIPRO BY CONAIR Mighty Mini (popular because it's short!)
Conair Pro Silver Bird Hair Dryer
Andis 80480 1875-Watt Tourmaline Ceramic Ionic Hair Dryer