There is an affiliate link in this post.
Air Dry VS Diffuse Wavy Hair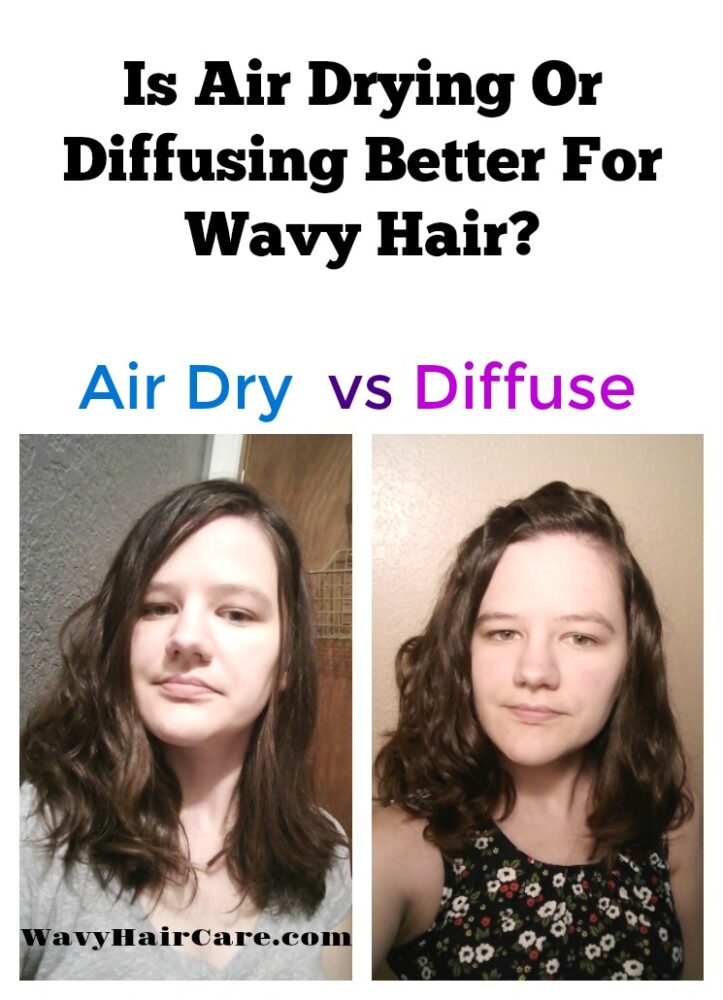 Both of these photos were with no product like gel or mousse. Each way was done just two days apart, my hair was not cut in between. I don't consider either of these good results, my hair doesn't do well without gel or mousse. Still, my hair has more volume and a tighter curl pattern when I diffuse.
**Update, November 2020. I wanted to update this post to try to give some comparison of air drying or diffusing with mousse. See the graphic below. I used the same products as I had used before, but to try out air drying with a fan to speed it up. I also did a lot of microplopping to try to encourage volume and waves despite air drying. This broke my clumps up into smaller pieces than I would usually have.
So, I don't think the clump size shown in the photos below are 'fair' comparison. Still, this gives you an idea of the volume difference an the difference in the tightness of my waves. Diffusing helps a lot with volume, and it helps a lot with keeping my waves tighter. Air drying lets my waves loosen up quite a bit before they dry.
Air drying is on the left, diffusing is the photo on the right. In both I used NYM curl talk shampoo and conditioner, and suave captivating curls mousse.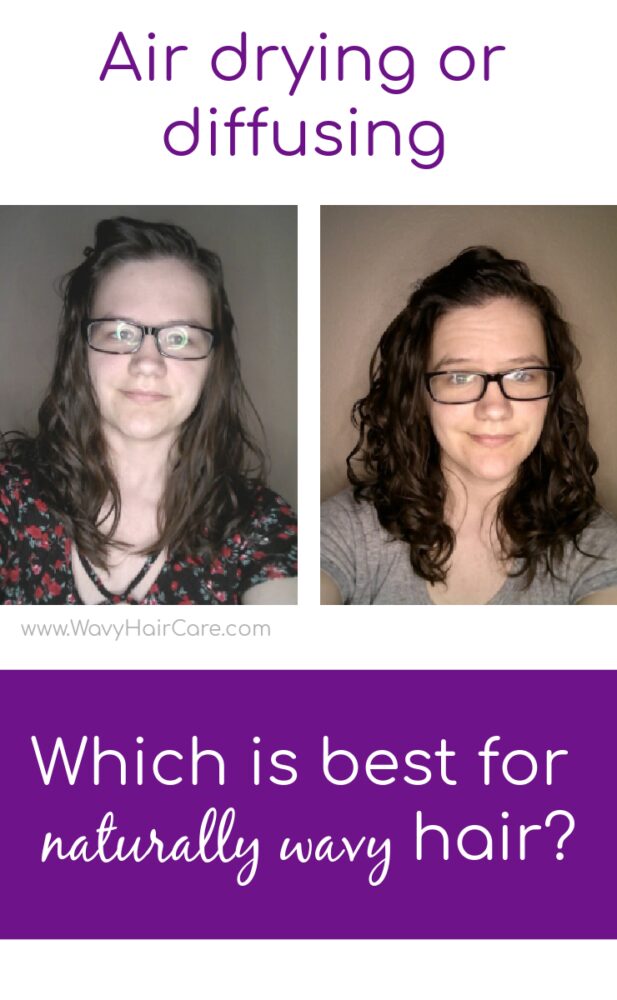 Is Air Drying Or Diffusing Better For Wavy Hair?
Diffusing wavy hair may help your hair to dry in a tighter hair pattern, and with more volume, but will likely introduce some frizz. If you want tighter waves, diffusing is best. If you prefer elongated waves or are worried about damage, air drying is best. 
So – should you air drying or diffuse? It totally depends on what your hair goals and hair concerns are! Keep reading to learn more details about the pros and cons of air drying or diffusing wavy hair.
The benefits of air drying wavy hair
Air drying is a great option if your top hair priorities are to avoid frizz and damage, and are less concerned about volume or tightening your texture. If your ultimate goal is to protect your hair from heat damage, air-drying is your best choice.
The benefits of diffusing wavy hair
Diffusing wavy hair is a great option if you want to maximize volume and curl tightness, and aren't as worried about frizz. Diffusing also helps the hair dry quicker, making it a good time-saving option.
Psst…if you are looking to maximize volume, check out this post: 13 tips for maximizing volume in wavy hair.
The best of both worlds?
If you want to strike a balance between the benefits of diffusing vs air drying, there are ways to try to achieve that. You can diffuse on low heat and low speed. Diffusing on a lower speed will take longer than diffusing on high heat or high speed, but will do less damage to your hair.
Low speed will also introduce less frizz. You can even hover diffuse to keep heat further from your strands. You can also diffuse part way and air dry the rest. How long you want to diffuse is up to you. Some may just diffuse for 5 minutes and then let the rest air dry, others may diffuse until almost completely dry. The balance you want to strike is totally up to you.
Going outside to air dry is another possibility that may slightly speed up the process. However, consider the weather. Going outside before your hair has dried if it is humid or windy may introduce frizz.
How long does it take wavy hair to dry?
Wavy hair can take anywhere from about 20 minutes to 10+ hours to dry, depending on thickness, porosity and length. 
How long your hair takes to dry can vary a lot depending on your hair thickness, porosity and length. Whether you are air drying or diffusing will be a major factor as well. If your hair takes several hours to air dry, this may be a good reason to diffuse your hair instead of air drying.
If you use mousse or gel, you'll want to refrain from touching your hair until it's totally dry. It can be really challenging to not touch your hair if it takes several hours to dry!
My wavy hair is a bit past collar bone length, and very thick. I had microscopic hair analysis done last year. It found that my roots were low porosity, while my lengths and tips were high porosity. It's possible that may have changed, but I haven't noticed big changes in my hair, so I am guessing it hasn't changed much.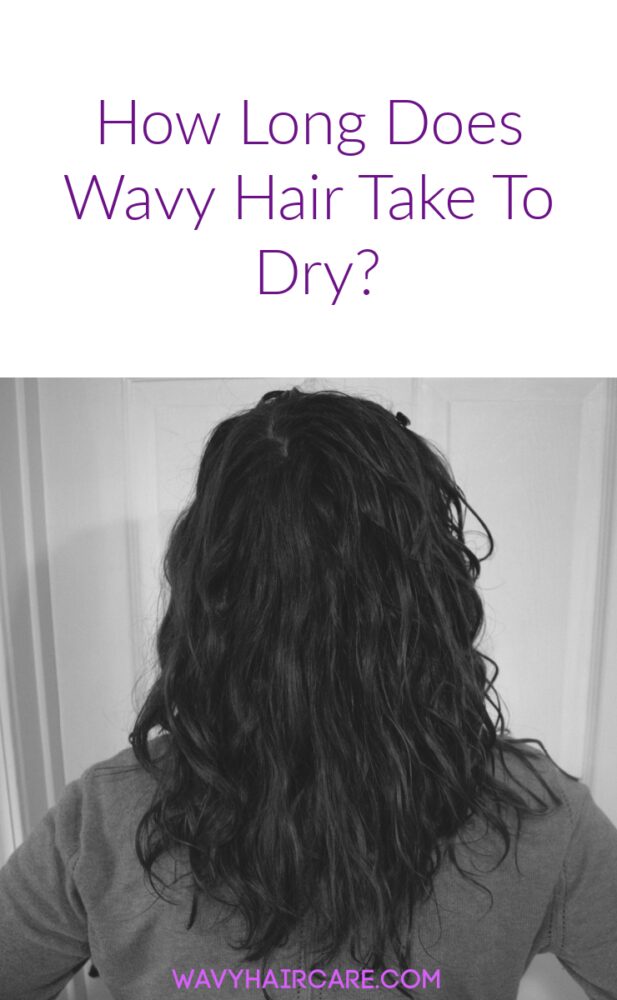 How long does it take long thick curly hair to air dry?
My mid to high porosity, very thick, long wavy hair takes about six to eight hours to air dry if I don't use gel or mousse.
Currently, I don't know how long it would take my hair to air dry with gel or mousse if 100% air dried. I did run an experiment to come closer to air drying. For the sake of this post, I used the same shampoo, conditioner and mousse as I had used to diffuse in the past.
Except this time I used the mousse and then didn't diffuse, but instead sat in front of a fan on 'low' speed. Not 100% air drying because of the fan, but a lot closer to air drying than diffusing. It took 5.5 hours of sitting in front of the fan for my air to dry with mousse in it.  Without the fan, I think it would literally take a whole day!
When I diffuse my hair, it takes longer to dry if I use gel or mousse vs when I have no product in it. My hair taking longer than 6 to 8 hours to air dry with gel or mousse just doesn't feel practical for me, and sitting in front of a fan that long isn't practical either most days.
That's the primary reason why I choose diffusing. To save time. However, other people say their hair will air dry in 1 hour. If your hair naturally dries quickly, that makes air drying more practical.
How long does it take to diffuse thick long wavy hair?
It takes me about 35 minutes to diffuse my long, thick wavy hair dry if I have no products in it. If I use mousse, it takes about 45 minutes to diffuse, or about an hour and 20 minutes to diffuse if I use gel. 
This is part of why I prefer mousse over gel!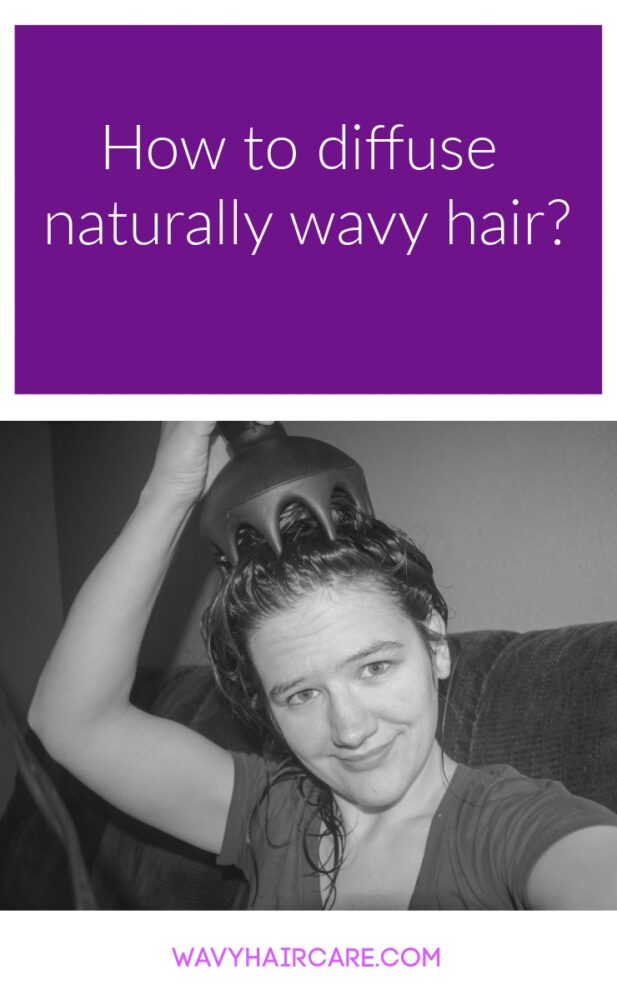 How to diffuse wavy hair?
Update – I have a new blog post showing 4 tutorials for diffusing wavy hair. It also shows results for all 4 methods so you can see which methods are best for various styling preferences.
I currently use a couple different methods of diffusing. For the first two years that I followed the curly girl method, I did pixie diffusing. I learned how to pixie diffuse from this Real Life + Curly Girl YouTube video below.
How To Pixie Diffuse Wavy Hair
More recently, I learned about hover duffing from the Manes By Mell YouTube channel. I have found that hover diffusing gives me more bounce to my waves, and just a less stiff look and feel to my hair. I've also found that hover diffusing requires more movement, which causes my waves to separate into smaller curl clumps sometimes.
Sometimes I really want fat curl clumps, and sometimes I really like the bounce. So, I have been using different diffusing methods on different days.
How To Hover Diffuse Wavy Hair:
Best hair diffuser for wavy hair
Blow dryers and diffusers come in a wide range of price points. Personally, I think any dryer that has a couple of heat and speed settings will do. You probably want the option to diffuse on low to medium speed, and low to medium heat if you want to pixie diffuse. If you want to hover diffuse, you probably want a higher heat and higher speed.
Having a blow dryer with both options gives you the full range of diffusing possibilities. Most affordable blow dryers will have multiple heat and speed settings. I don't see any need to purchase high-end blow dryers. Not all diffusers will fit on all blow dryers. The end of the blow dryer is called the barrel, and barrel sizes can vary.
When I was new to the curly girl method, I bought the Xtava Orchid diffuser on Amazon because I saw a lot of other curly girls using this diffuser. It is designed to fit blow dryers that have a 1.8 inch barrel. I just went to my grocery store and picked up a pretty cheap blow dryer that had that barrel size.
It was the Revlon pro collection salon performance turbo hair dryer. I believe it was around $25-$30. I have been using this blow dryer for over 2 years now and it's still working well. The Xtava orchid diffuser is a bit unique in it's size. It is VERY big. Even when my hair was all the way down my back, I could load all of my hair into this diffuser at once.
The extra large size doesn't seem particularly beneficial to me, because I have to diffuse my hair in sections to avoid it drying in a funky way. I do like the spikes/prongs because those allow me to carefully load my waves/curls around the prongs. I've seen other diffusers that are nearly flat inside.
My recommendation would be to buy any diffuser that has good-sized prongs, and any blow dryer that has a few heat and speed settings. The price can change at any time, but at the moment I'm writing this, the Xtava Orchid Diffuser is available in a blow dryer bundle for about $50, which is a bit less than what I paid for a cheap blow dryer at my grocery store ($25-$30) and the Xtava orchid diffuser on its own ($30).
More questions about diffusing?
I have received a lot more questions about diffusing than I answered here, so I made a new blog post: Your questions about diffusing wavy hair answered.