You've used gel or mousse after a shower and have let your hair dry. You have a great, hard cast over your hair. Everything seems to be going well until you try to break the cast. You squeeze, you scrunch, and your hair stays crunchy. You scrunch some more, and maybe it gets a little softer, but mostly? It's still crunchy.
Fear not, there are a few more things you can try to get this cast out of your hair!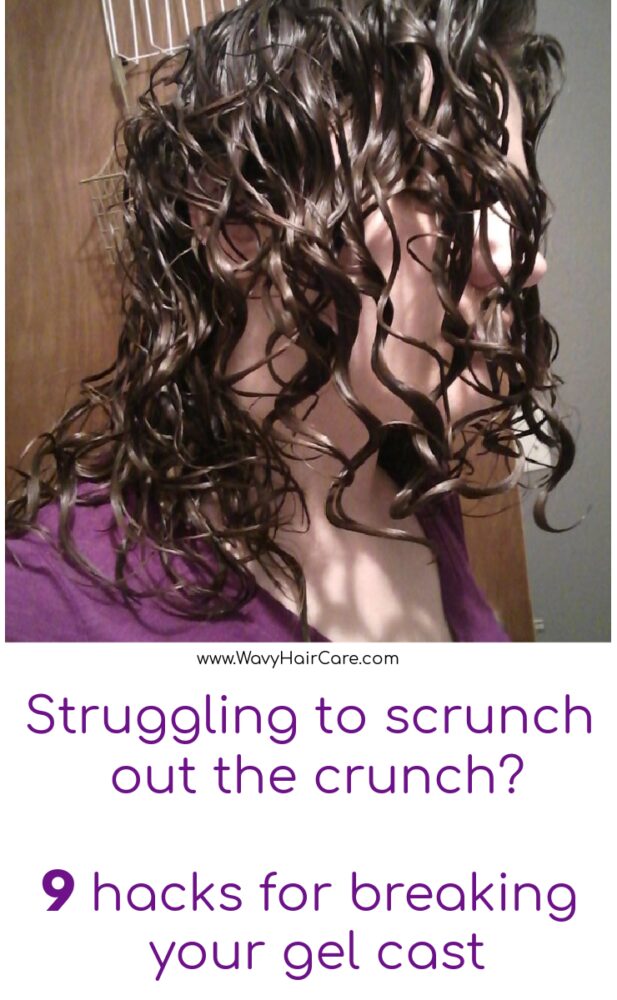 How To Scrunch Out The Crunch
Clap out the crunch instead. For really thin pieces of hair that have a cast, sometimes clapping your hands with the hair between your hands works better than squeezing or scrunching.
Use a t-shirt. Instead of scrunching your hair with your bare hands, try scrunching your hair with a t-shirt or microfiber towel.
Squeeze sideways. If scrunching in the typical "bottom up" formation doesn't work, sometimes I squeeze sideways instead. Basically taking a single curl clump into my palm and then pulsing my fingers around it.
Use a little oil. If you have argan oil, coconut oil, etc – take a tiny dab and roll it over your hands before scrunching your hair. Some use oil to scrunch out the crunch because it can introduce less frizz. However, it may also help loosen up your hair to get the crunch out.
Use a little conditioner. Using a bit of leave-in conditioner on your hands while scrunching out the crunch can help soften the cast to make it easier to scrunch out.
Fluff your roots. Gently slide your fingers into your hair at the root, and wiggle or shake a bit. Many people do this as part of adjusting their hair after a cast, anyway. It can help scrunch out the crunch near your roots, and add a bit of volume to your root area as well. If you're struggling to scrunch out the crunch, sometimes fluffing the roots will help by softening the top of the hair first.
Pick out your roots. If fluffing with your fingers isn't enough, you may find that using a pick at your roots can help soften your hair more than you can achieve with your fingers. I would advise starting slowly so that you don't comb out too much and break up or flatten your waves more than you intended to.
 Add water. If other methods don't work, using a mister or otherwise adding a bit of water to your hair and letting it dry, then trying to scrunch out the crunch may make it easier.
Give it time. If you don't have anywhere urgent to be, you can try to just give it time and try scrunching again later. If you styled at night, you can try to sleep on the cast (in a pineapple) and it may crunch itself out overnight.
How to prevent difficulty with scrunching out the crunch in the future.
Use less product. If you regularly have a hard time getting the crunch out of your hair, it can be a sign that you're using too much. Try dialing back how much gel or mousse you're applying to see if that helps.
Use a softer-hold product. If you're using a hard hold gel or mousse and always have difficulty with getting the crunch out, it may just be more hold than what you need. Switching to a light or medium hold gel or mousse may be a better option for your hair type.
Aim for bigger clumps. Most often when it's difficult to scrunch out the crunch, it's on skinny curl clumps. If you switch technique to something (like squish to condish) that encourage larger curl clumps, you may find that it's easier to scrunch the crunch.
Check your product distribution. If your cast is only too hard in certain sections of your hair, it may be that you are piling too much product in one area. For example, it's common for people who use only a scrunching technique to apply their products to find that the tips of their hair end up with more product than the lengths. This can result in having the tips of their hair extra-crunchy, and really hard to scrunch out, while the rest of their hair scrunches out fine. If this is the case, using prayer hands or glazing techniques before scrunching may give you better product distribution and keep your tips from getting too crunchy.
Style on soaking wet hair. I prefer damp styling myself and often recommend it. However, it doesn't work for everyone. For some who get a cast that is too hard to easily break, they'll find that their cast is easier to break if they apply their gel or mousse went hair is soaking wet.
If you have any extra tips or tricks for how to scrunch out the crunch when it's really hard – leave them in the comments below.