What Does Stringy Hair Mean?
Stringy hair is when wavy or curly hair is forming lots of really thin curl clumps rather than bigger curl clumps. Stringy hair is often more limp and less bouncy than usual.
Sometimes people use stringy hair and limp hair interchangeably. While stringy hair may also be limp, they aren't the same thing. You can have stringy hair that is not limp, and you can have limp curls that are not stringy. So, I see them as two different things. For clarity, this blog post is specifically talking about stringy hair, not limp curls.
I have a separate post on how to fix limp wavy hair if that's the information you were seeking.
What Causes Stringy Wavy Hair?
1. Lack of hydration or moisture.
Often called "dryness", this is the most common cause of stringy wavy hair. If your hair is lacking moisture it can have a hard time forming curl clumps.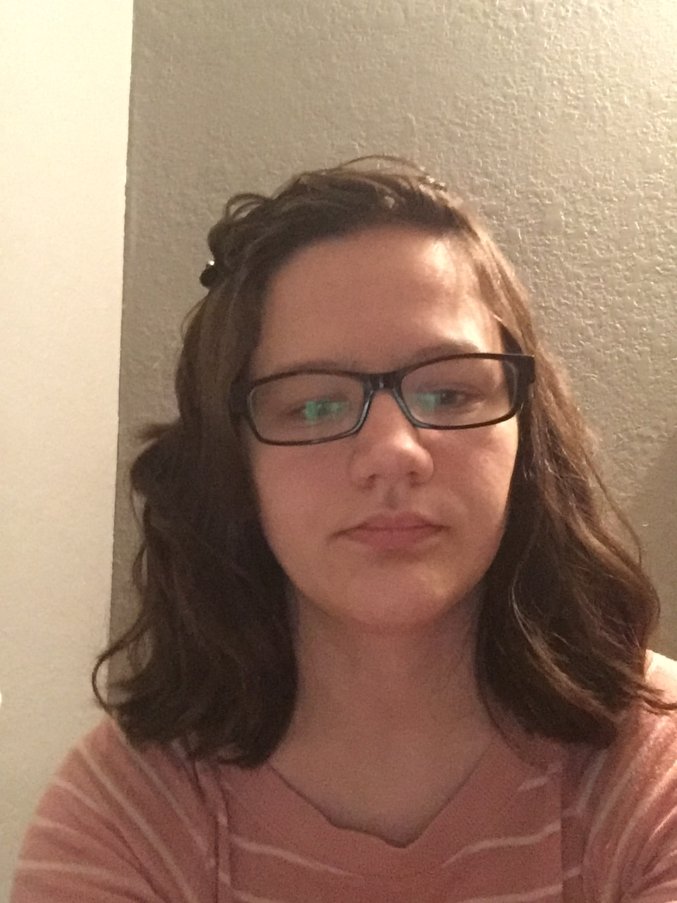 2. Lack of hold – or too strong of hold
Wavy hair often needs a product with medium or strong hold to keep well-clumped. If I don't use a product with hold such as gel or mousse, my hair won't be truly straight, but it won't have defined waves.
It will be sort of puffy or fluffy with a few big swoops in it, like the photo above. While my hair sort of turns into one big lump without products, others will have really piecey stringy hair without products. Some people have to strike a balance because their hair will be undefined without products, but may become almost too defined with hard hold products.
3. Too Much Protein
Many people say they can tell that they have started to over-do it with protein treatments a little bit when their curl clumps get smaller than usual.
4. Your haircut
If you've had your hair thinned, cut with a razor or had a lot of layers added to your hair, this can cause stringy hair by not allowing your curls to clump well.
To get clumps, your hair needs to form little curl families that all snuggle together in the same shape. If your hairs all are at slightly different lengths, this can keep them from being able to form the same shape and create a clump.
5. Low density hair is a factor
I have dense hair myself, so having hair that seems stringy is really rare for me. I am able to style my hair in different ways and get really big clumps or thinner clumps, without my clumps getting so thin that they seem stringy. For people with low density hair, they are likely t have less versatility in how they can style without getting a stringy look.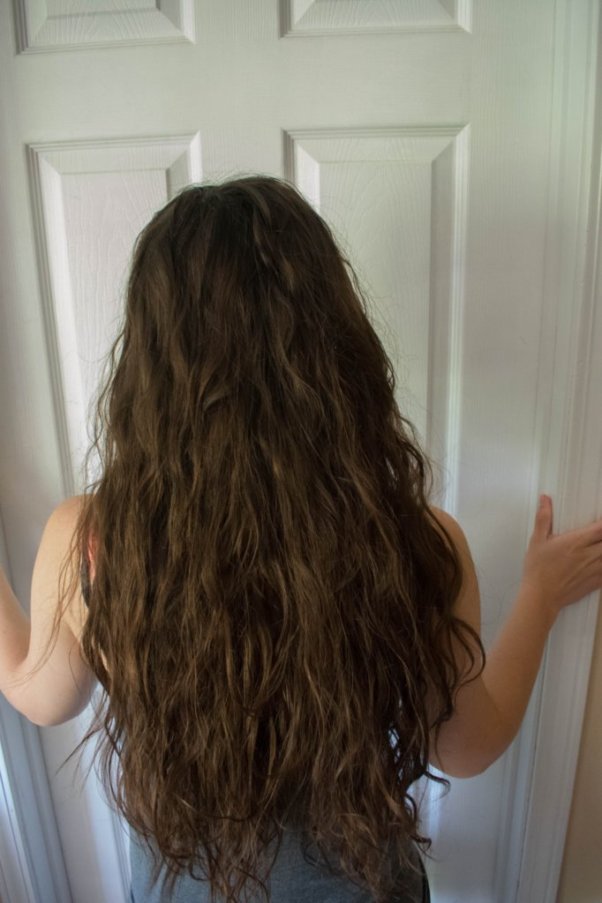 I wouldn't say this is truly 'stringy', but my curl clumps were definitely thinner when I was new to the curly girl method. 
6. The transition phase
I never really had a transition phase when starting the curly girl method. Many people do though, and having stringy hair is commonly reported as part of the transition phase. Many people say this naturally gets better with time.
My belief is that it usually does get better with time, but that it really comes down to your hair becoming better moisturized the longer you're caring for your hair gently.
I still thought this deserved its own bullet point though because while moisture may still be the cause, it's important to recognize that it can take time to really get your hair where you want it to be. Correcting the moisture may not happen overnight.
7. Damaged hair ends
It's common for the ends of our hair to be more damaged than the rest of our strands, because they are the oldest. If your ends are damaged, not wanting to curl up the same as the rest of your hair, or just look scraggly, then they may be preventing your strands from clumping well with their "neighbors".
8. Brushing your hair
If you brush your hair, especially in the time between the end of your shower and the time that your hair is dry, this can cause stringy clumps. Brushing or combing separates your hair into sections, so the more teeth a brush has or the closer those teeth are t each other, the skinnier clumps you'll get after combing/brushing.
Some people with wavy hair are able to use a brush or a comb during styling, such as using a denman brush to work gel through your strands but how wet your hair is at this stage will likely determine whether your hair re-clumps after being brushed, or if it stays separated.
Others may just not be able to brush their hair without getting a stringy result, even if they brush while their hair is still really wet.
9. Friction during styling
If you're rough with your hair while styling it and introduce friction, this can cause a lot of separation in your clumps. For example, if you were to rub a traditional twel against your hair roughly while it was drying, this could cause your clumps to separate into really thin sections.
Some common styling techniques that make contribute to your strands becoming too thing may include scrunching, microplopping, the raking product application method, moving a lot while styling, flipping from upside down to rightside up, etc. Many of these will vary how much they impact your clumps depending on how gently vs roughly you do them.
10. Damp or dry styling.
The photo used in the main graphic in this post was my hair on a day when my hair got too dry before I added products. I usually damp style instead of wet style. I like to plop for about 10-15 minutes and then add my products. That day I was trying to take pictures of my hair while plopping for a blog post I wanted to do.
I took too long taking photos and plopped for too long, my hair got too dry and my clumps were a lot thinner than usual as a result. When we add our styling products it sort of sets our hair at that stage. So if your hair isn't "set" before it gets too dry, it may separate into stringy clumps. I have a post on wet styling vs damp styling if that interests you.
I personally am usually happy with the results I get from damp styling, but some may find that even damp styling leaves their hair stringy. When I was new to the curly girl method I preferred wet styling, but my hair started reacting better to damp styling after a while.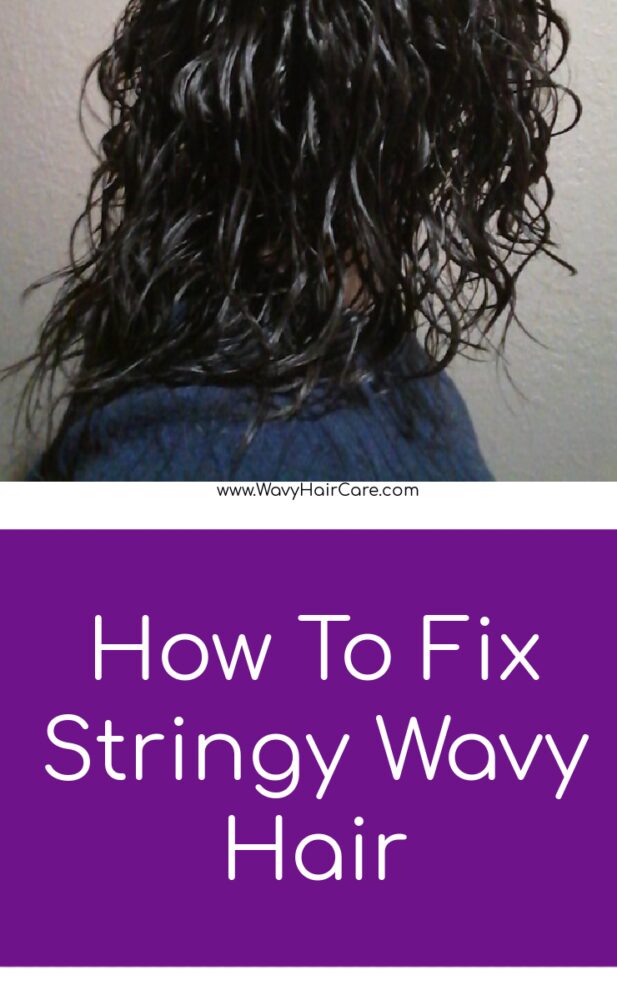 How To Fix Stringy Wavy Hair
1. Get your hair more moisturized
I see this as a day-to-day factor, as well as a long-term factor. If your hair has been under-conditioned for a long time, you likely won't have a magic overnight transformation. However, you can condition your hair well regularly and it will help some each day, and the impact will improve your hair's overall moisture balance over time.
There are lots of ways to moisturize your hair. Choosing a good conditioner, using a generous amount and letting it sit in your hair for a couple of minutes before rinsing it out. Use a leave-in conditioner or cream on wash day and add a little more on refresh days. Do deep conditioning treatments/masques up to once a week.
2. Squish to condish
This squish to condish link will take you to a YouTube video showing how it's done. People often confuse squish to condish with just squishing/scrunching. Squish to condish is designed to get more water into your hair strands, and is different from regular scrunching.
Doing squish to condish while in the shower should result in you seeing your waves clump up nicely in the shower. It can also help your hair stay more moisturized because it helps get conditioner into your strands better, too.
3. Only brush while in the shower
If you've been brushing your hair after your shower, this is likely breaking up your clumps. Try to style without brushing and see how much of a difference it makes in your clump size. If you are really attached to using a comb or brush to distribute product, make sure yu do s while your hair is REALLY wet, like soaked.
4. Wet style instead of damp or dry styling
I admit, I like damp styling, but I don't struggle with stringy clumps. For those who do, locking in their style while their hair is really wet (and therefore in fatter clumps) can help.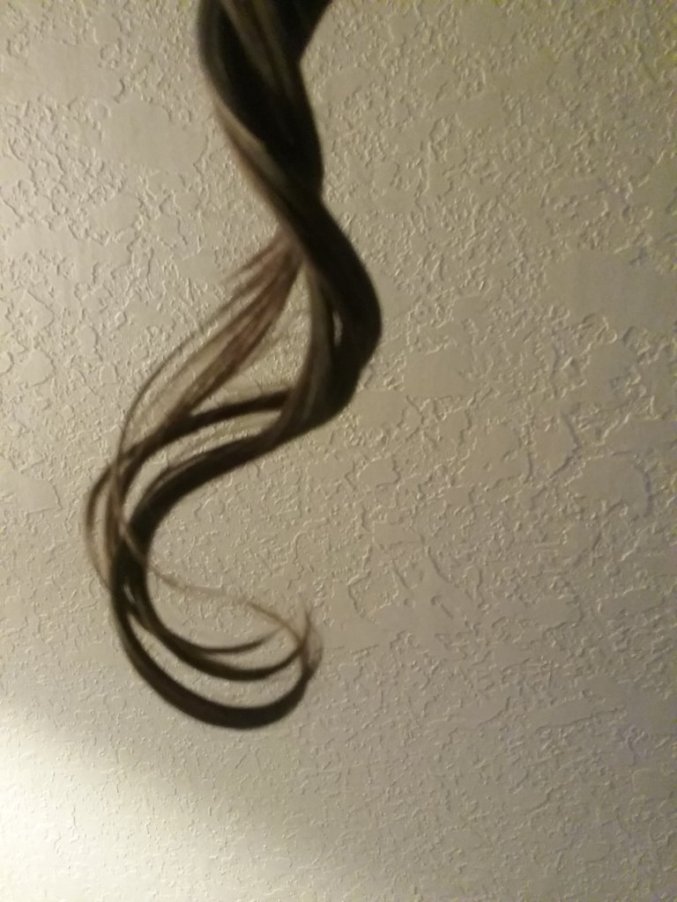 This clump has sort of broken into multiple skinny clumps. It would likely benefit from having the ends trimmed so they align. 
5. Trim your ends
If your ends are damaged, split or scraggly looking, get a trim. You may be shocked at how important your ends are to getting your hair t clump.
6. Avoid razor cuts and thinning
If you've gotten razor cuts or thinning in the past, let that style grow out and get a different type of haircut when you can. Perhaps one with long layers.
7. Do a clarifying wash
Hair can "act up" in all sorts of ways if you start getting build-up. If it's been a while since you've tried clarifying, give it a go and you may be surprised how your clumps act afterwards. I have a blog post about how to clarify wavy hair if you need it.
8. Try Softer Hold Products
I often advocate for trying hard-hold gels or mousses. They work best for me, and I think they tend to work best for most wavies. However, some people who have stringy wavy hair have hair that gets overly-hard in response to hard hold proudcts.
If your hair gets really stringy and crunchy and you struggle to scrunch out the crunch, a soft to medium hold styling product may work better for you. Ps – check out my post for how to break a stubborn gel cast if you're someone who struggles to scrunch out the crunch.
9. Less protein
If you think your hair gets stringy when it has too much protein, the solution, of course, is to use less protein. Consider doing a protein treatment less often, or check out the ingredients in your regular wash day products. If you have a lot of protein in them, maybe swap one out for a protein-free product and see if that helps.
10. Try gel instead of mousse.
Many wavies feel like gel helps hold their clumps together better than mousse does. As I shared in my mousse vs gel post, I prefer mousse. If you're battling stringy hair and are using mousse, it might be worth seeing how gel compares.
In my wavy hair gel comparison blog post, I rated each of the 15 gels based on various factors. One of the things I rated each on, was whether they result in skinny, average or thick clumps. So, feel free to go see that page to see which specific gels may assist with getting bigger clumps.
Cast Clumps Are Skinnier Than Dry Clumps
This is just a side-note that I thought may be helpful. How big your clumps look while in the cast are not usually the same as how they'll look once you break the cast. It's normal for your clumps to look quite skinny while in a cast, and to "expand" after the cast is broken. How much they expand can vary a lot from person to person.
I personally find that my clumps to tend to correlate. So if my cast clumps look fatter than usual, my curl clumps once dry will likely be fatter than usual, too. But, if you're new to watching the size of your clumps, don't worry too much if your cast clumps look thin. Here is a cast and after the cast is broken photo to show how the appearance of mine change in thickness.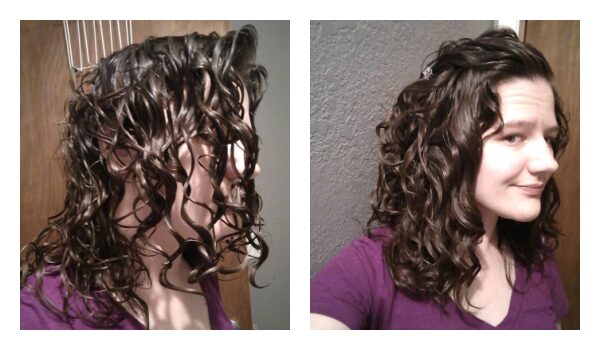 Other blog posts of mine that may interest you:
Wavy hair curl pattern chart to determine your curl type
How much hair shedding is normal with the curly girl method?