There are affiliate links in this post. 
If you have wavy hair and are looking to start the curly girl method by purchasing everything you need at a Target or Target.com, this post is for you!
My Walmart curly girl method starter routine & starter kit post has been pretty popular. I thought others were likely to prefer Target over Walmart, so I'd do a Target one too. I may eventually make more for Ulta and other stores. Let me know if you guys are interested in posts like this for other retailers and I'll add them to my blog post ideas list.
My goal with this starter kit is to give you everything you'll need to get started on the curly girl method with wavy hair. With the Walmart set, I really tried to go as cheap as possible. With this one, I'm still being price-conscious, but I'm recommending some products that are a few dollars more, that I think are well worth the extra money.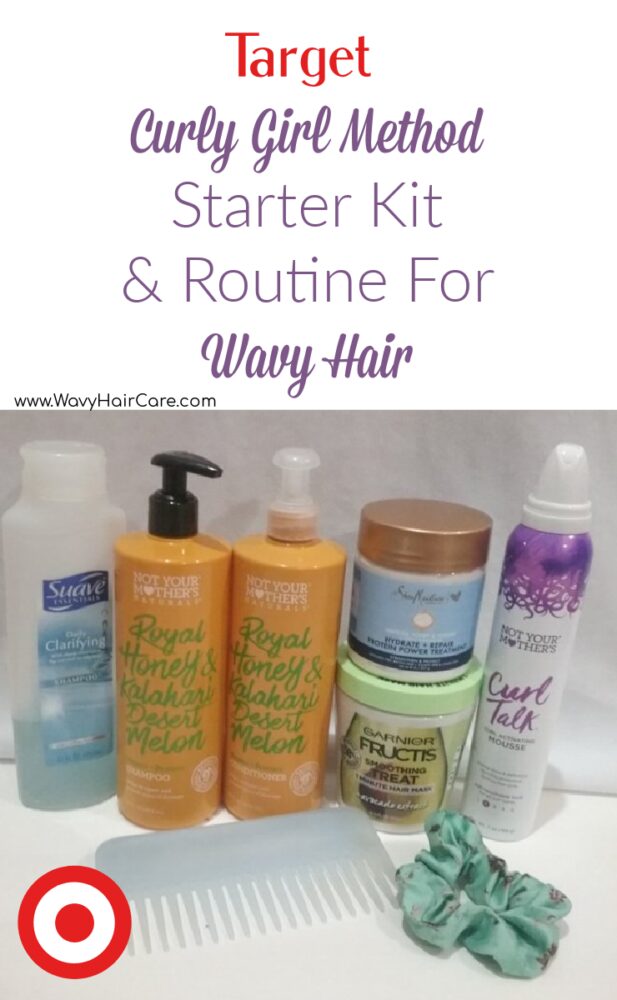 Target Curly Girl Method Starter Kit For Wavy Hair
Suave daily clarifying shampoo. (To use to get rid of any buildup before starting CGM, and to use about once a month while on CGM).
Not Your Mother's Naturals Royal Honey & Kalahari Desert Melon Shampoo (for all other wash days).
Not Your Mother's Naturals Royal Honey & Kalahari Desert Melon conditioner (for use each wash day)
Not Your Mother's Curl Talk Mousse. (to hold and protect your style on wash day).
Garnier Fructis 1 minute mask. (Deep conditioner to use weekly if your hair is dry, or on clarifying days if your hair is well-moisturized).
SheaMoisture Manuka Honey & yogurt protein treatment* (if needed).
Scrunchies.
A reusable shower cap or packs of disposable shower caps** (likely needed)
A wide-tooth comb.
A satin or silk pillowcase, or a satin or silk bonnet or buff. The goal being to have your hair resting only contacting satin or silk as you sleep.
Maybe a blow dryer with a diffuser attachment.** (if needed)
An old t-shirt.
Maybe a leave-in conditioner**** (if needed)
*Protein treatment. You may choose to skip buying a protein treatment. Not everyone needs to do protein treatments when they are new to the curly girl method.
If your hair is dyed, heat damaged or fine-textured (meaning your individual strands are "baby fine"), then your hair likely will benefit from protein treatments. If not, it still may benefit from protein eventually, but you aren't as likely to need this early on).
**A reusable shower cap or packs of disposable shower caps. Most people who start the curly girl method begin to only wash their hair a couple of times a week. You'll want a shower cap to keep your hair dry when you shower on days when you won't be washing your hair. If you plan to keep washing your hair daily then you won't need a shower cap.
***Blow dryer/diffuser. This is only if you want or need to diffuse. My hair takes 6+ hours to air dry without leaving products in my hair, and would literally take all day to air dry if I used mousse. For me, diffusing is a must. If your hair dries in a shorter timeframe, you may choose to air dry. If you need your hair to dry faster than it will air dry, you'll need a diffuser.
****Leave-in conditioner. I personally have never found leave-in conditioners to be necessary for my hair type. I have tried a few, and they all either weighed me down, or seemed to not do anything at all. Therefore, I can't really say I love any particular leave-in conditioner.
However, I do recognize that for some people their hair really gets rough feeling between washes, or feels really rough/straw-like if they use mousse if they don't have the added moisture of a leave-in conditioner. So, if you have hair like that, you may want to also pick up a leave-in conditioner.
I didn't love them on my own hair, but I have tried Kinky Curly Knot Today leave-in conditioner and As I Am Leave-in Conditioner, both of which can be found at Target. Neither of these weighed me down, so I believe they can be a good choice for people with wavy hair.
I didn't see any particular benefits from using them, but my hair has never been super dry so perhaps the added moisture just isn't a noticeable change for me. If you choose to try a leave-in conditioner, I'd recommend adding it right after your shower, before you plop.
Why I'm recommending these specific products
Suave daily clarifying shampoo
This is a strong clarifying shampoo that will bust through build-up like we want it to. It's cheap, but it does the job so why pay more?
NYMN "Royal honey" shampoo and conditioner
This "royal honey" line from NYM is a protein-free shampoo that is affordable and light enough for most people with wavy hair so it won't weigh your hair down, yet it's also moisturizing enough to make my hair easy enough to work through while in the shower.
It should work for a wide range of wavy hair types. It's protein-free. It's very subjective, but I like how this line smells, too!
NYM curl talk mousse
This is one of my main go-to mousses. It offers the best hold out of any mousse that I have tried to date. It also offers great volume and good frizz control.
Garnier Fructis 1 minute mask
These masks are affordable and aren't super heavy. Some deep conditioners are really heavy which is just too much for most people with wavy hair. I have tried the avocado, coconut and banana variations of these and enjoyed them all. They're all protein-free.
SheaMoisture Manuka Honey & yogurt protein treatment
This is a protein treatment that my hair just loves. Many products from the SheaMoisture brand are designed for dryer hair and stronger curl patterns. I generally advise that wavies stay away from SheaMoisture, most of their products just aren't made for wavy hair. This protein treatment is an exception. It is not heavy, even on fine hair.
Scrunchies
Traditional hair ties will leave dents in your hair, and can cause breakage. Scrunchies are great for wavy/curly hair because they allow you to put your hair up without denting or mishappening your curls.
A wide-tooth comb
If your hair tangles at all, you'll want a wide-tooth comb to de-tangle with while in the shower. Even if your hair doesn't tangle, having a wide-tooth comb to use in the shower can help align your hair before you start styling.
A satin or silk pillowcase
Satin and silk are very smooth fabrics, so rubbing your head across satin or silk produces less friction than a cotton pillowcase or most other fabrics. Most people with wavy or curly hair sleep on a satin/silk pillowcase, wear a satin/silk bonnet, or wear a satin/silk hair buff at night to reduce tangles and keep frizz at bay.
An old t-shirt
Cotton t-shirts are smoother than traditional bath towels. Drying your hair with a traditional bath towel can create a lot of frizz. Many of us 'plop' our hair by wrapping an old t-shirt around our hair to help it dry. Others microplop, which is basically squeezing our hair while we have a cotton t-shirt in our hand, to help pull excess water out of our hair.
Want different products? I have a wavy hair product recommendations page you can check out for other products that I'd recommend, many of which are also available at Target.
Money-Saving Tips:
Remember to check Target's Circle app for any coupons that may be available on these products, or check the current ad for other deals. For example, I've seen Target run deals such as get a $10 gift card when you spend $40 on haircare.
If shopping online, use the Rakuten app (mobile) or browser extension (laptop/desktop) to get cashback when shopping at Target.com. If you're new to Rakuten, sign up using my Rakuten link and you'll get $20 cash back after making your first $20 purchase (I will, too!).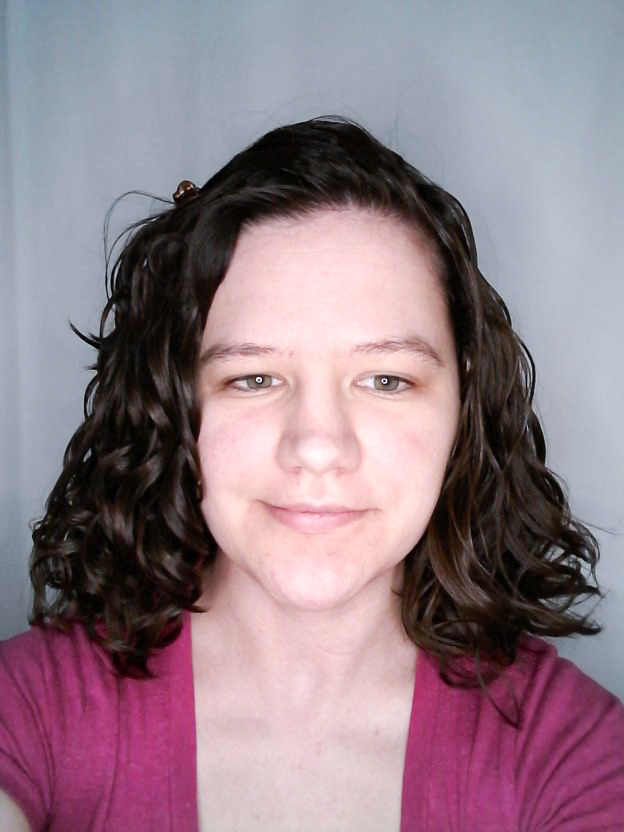 This is my hair when using this routine (NYMN royal honey shampoo and conditioner, curl talk mousse and the routine shared in this post).
Target curly girl method starter routine for wavy hair
Okay, you've got your products, let's move on to a routine! Now, I will say, you can use these products for any routine you want. I am just recommending this routine for those who wish to use this as a guide.
Day 1 Target Curly Girl Method Routine For Wavy Hair
It's important to know that your first wash day on the curly girl method is NOT a typical wash day. Sometimes people see day 1 routines and then repeat that each wash day…that would be a mistake. This is basically a clarifying routine, so you'll do this on day 1, and then about onc ea month every month after that.
Get your hair really soaked while in the shower. Once your hair is wet, lean upside down. You'll remain upside down until the end of your shower.
Use Suave Daily Clarifying Shampoo to cleanse your scalp. It's alright if shampoo gets on your strands, but you want to focus it on your scalp. You don't need to intentionally apply shampoo to your strands. This is a rather intense shampoo, so your hair may not feel its best during this step. That's okay. What we're trying to do is strip your hair of any buildup that you have from previous products. Ironically, buildup can make our hair feel better because it coats our hair and makes it smooth. So, once that buildup is gone, our hair may feel rougher than we were used to. However, this will improve somewhat after we deep condition.
Rinse out the shampoo. 
Condition with NYM royal honey conditioner on your strands. You don't want to apply this to your scalp or the roots of your hair, just the lengths. If you have damaged or dry ends, you may apply extra to your strands. Use the wide-tooth comb to gently detangle if needed, or to align your hairs if there are no tangles.
Add water. Quickly dip your hair under the showerhead to add a bit of water to your hair.
"Squish" your hair by cupping your hair from the ends up towards your scalp. Squeeze and pulse your hands with your hair gathered in them. This will help pulse some water and conditioner deep into your strands to help get them nicely conditioned. Do this in sections around all of your hair.
Rinse. Once done squishing conditioner through all sections of your hair, rinse the conditioner out.
Deep condition. Apply Garnier fructis treat deep conditioner to your strands, again avoiding your scalp and roots. Add a bit of water, scunch all areas of your hair. Then let the deep conditioner sit in your hair for 5 minutes. Or, if your hair feels rough or hard to manage at this phase, you may choose to leave it for 10 or even 15 minutes.
Rinse the deep conditioner out of your hair completely.
Un-stick your hair. Run your fingers across the back of your head to pull your hair away from the back of your head.
Scrunch the back your hair to help your waves pop up.
Scrunch side to side. Lean upright (finally!) and look up to the right, while scrunching your hair hair on the left, in back. Then look up to the left, while scrunching your hair in the back right.
Get out of the shower. 
Plop your hair. I have a how to plop tutorial with visuals if you are new to this concept.
Wait 5 minutes. You may want to use this time to get dressed, do skincare, etc.
Add mousse. After the 5 minutes, remove your plop t-shirt and add mousse. Aim to get mousse over all of your strands, without getting your scalp. I use a glaze motion and then scrunch. Try to make sure you are getting mousse distributed to all of your hair. It's common for newbies to neglect the back of their hair due to underestimating how much hair is really in the back (it's noticeably more than are on the sides of your head!). If you have low-density hair, as little as a goofball of mousse may be enough. My hair is really dense so I have to use very 3 large handfuls or 4 regular handfuls, and my hair is shoulder length. I'd base your estimate for how much to use on how dense your hair is, as well as how long it is. It will likely require trial and error to figure out how much your hair needs.
Diffuse or air dry. Or you can do some of both, if you'd like. If you plan to do both, I'd recommend diffusing for a while and air drying the rest of the way, rather than air drying first. Check out my how to diffuse wavy hair blog post if you need a tutorial.
Wait until your hair is 100% dry. Do not touch your hair while it dries, as this can disrupt your cast and your results. If you aren't sure if your hair is totally dry, insert your fingers into your hair (between the curl clumps) and see if it all appears to be the same temperature, or if any places feel cool at all. If you feel any coldness, that means that part is still damp. If in doubt, wait longer!
Scrunch out the crunch. Once your hair is 100% dry, squeeze/scrunch your hair to break the cast. If your hair didn't get crunchy, check out my post Why you aren't getting a cast, but most likely, you need to use more mousse or you touched your hair too much. If you squeeze your hair a ton and it's still stiff, check out my post Can't break hair cast, but most likely you used too much mousse.
That's it! That's your first wash day.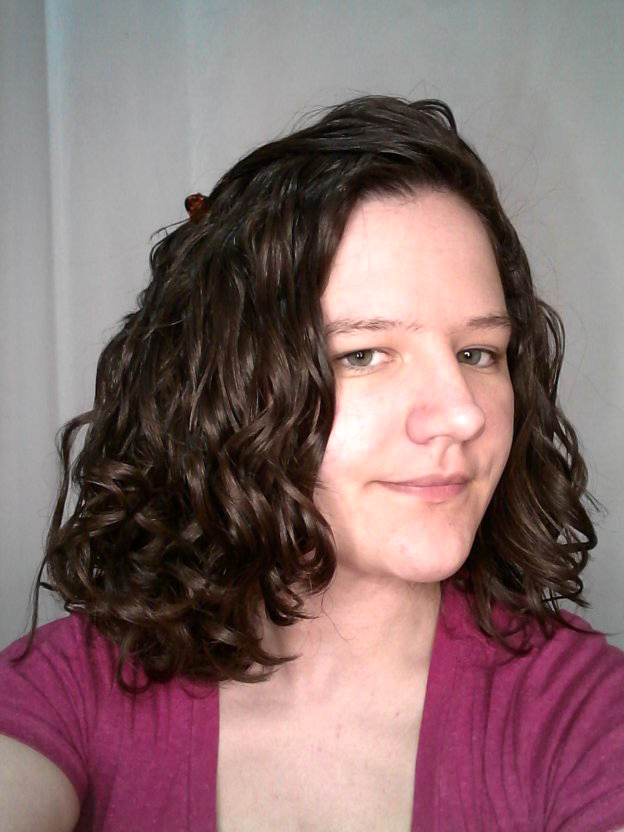 My results from using these products and this routine. I don't know what was up with that random straight clump. Such is wavy hair life, sometimes!
Your next wash day.
If you used way too much mousse or something, you may want to wash again quickly. If not, your next wash day will likely be 2-3 days later. Most people with wavy hair wash about every 3 days.
Regardless of when it happens, your routine for your second wash day will just be slightly adjusted from the above. So, rather than list a full routine, I'm just going to share what you'll edit about the above routine.
Step 2: You will skip step 2 from the above routine. You will not use that clarifying shampoo again for about a month. That shampoo is designed to remove build-up, so it only needs used occasionally. Instead of using that clarifying shampoo, you'll use the NYM royal honey shampoo. It's gentler and more moisturizing.
Step 8: You will skip the deep conditioning step. You won't use that garnier treat product on your 'regular' wash days. You used it on day 1 because you clarified, which is harsh on your hair so you deep conditioned to help add more moisture in after an intense cleaning. You'll want to deep condition in the future on days when you clarify (again, about once a month).
Weekly To Monthly Routine For 'Dry' Hair:
If your hair seems "dry", meaning that it feels rough or hard to manage, you may want to do deep conditioning treatments with the garnier mask. I'd say anywhere from once a week to once a month. This would mean following the day 1 routine except skipping the step 2 where you used the clarifying shampoo.
If you decide that you want to do deep conditioning treatments, your deep conditioning routine days would follow the 'day 1' routine except:
Step 2 would use the NYM royal honey shampoo instead of the clarifying shampoo.
Weekly To Monthly Routine For Damaged Or Fine Hair:
If you have hair that is heat damaged, chemically damaged (from a perm, chemical straightening treatment, or from being dyed) you may want to do protein treatments with the shea moisture mask.
Depending on your hair, you may want to do protein treatments anywhere from once a month to once a week. If you want to do protein treatments your protein treatment routine would look like the day 1 routine except:
Step 2, you'd use your NYM royal honey shampoo instead of the clarifying shampoo.
Step 8, instead of using the garnier mask, you'd use the shea moisture protein treatment, and you'd leave it on for 10-15 minutes rather than 5.
If your hair seems "dry" like it needs deep conditioning, and damaged like it needs protein, then you can use both, I'd recommend rotating them such as doing a deep conditioning one Friday, and a protein treatment the next Friday and so on, if you want to use both.
Where to go from here?
From here, you can begin to edit this starter routine to try different techniques to see what works best for your hair type. The most common adjustment people need to make first is the amount of mousse that they need.
It's just really tough to know how much mousse to use until you have a few attempts under your belt. Beyond that, continue to adjust based on what seems to work best for your hair. This routine involved damp styling rather than wet styling, but some people prefer wet styling. S
ee my post on damp styling vs wet styling to learn more about these. This routine included plopping, but some prefer microplopping. There are almost endless possibilities and differences in techniques. Your journey will be all about finding what works best for you. This is just a jumping off point!
I recommend focusing on technique changes rather than product changes until/unless you're certain a product is the problem. People seem to seek out product-based solutions, but more often than not, technique is the answer, not product. You can always check out my blog post directory which lists all of my blog posts by title if you're looking to learn more about wavy hair.