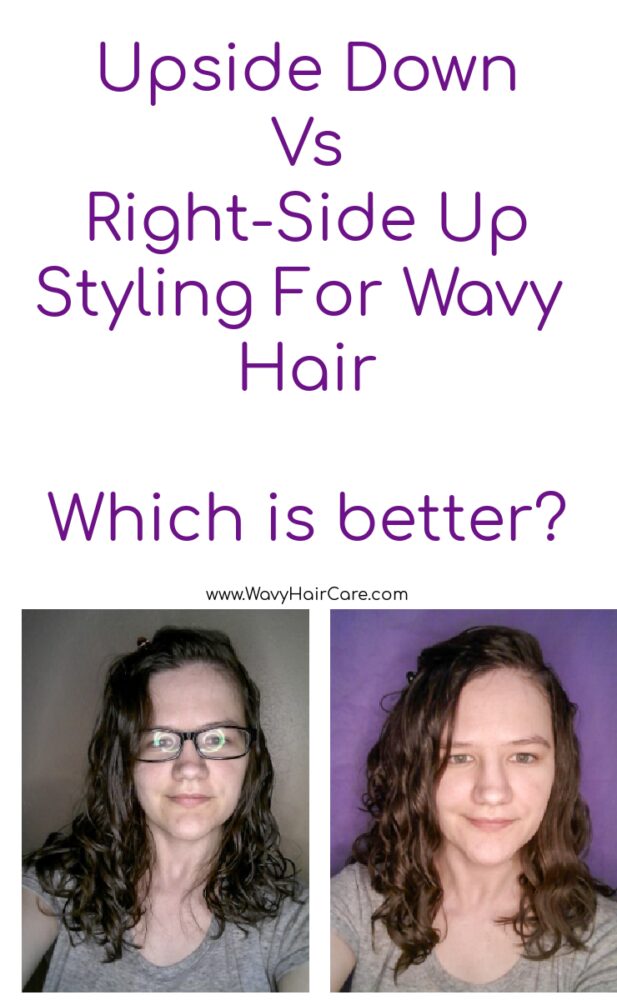 When watching curly girl method forums or groups, I often see discussions about right-side up vs upside down styling for wavy hair. I have experimented a bit with both, but primarily style upside down.
I thought a comparison post might be helpful for those who are new or who have only experienced one way or the other. To make sure I got as fair of a comparison as possible, I took pictures on two wash days. I used the same shampoo, conditioner and mousse both times.
I used Zotos All About Curls no lather shampoo and daily cream conditioner, and Suave captivating curls mousse both days. I was a bit weighed down both wash days, with flatter roots and my curl pattern starting lower on my head than usual. I think the Zotos are just too heavy for me. Still, I thought the results were worth sharing.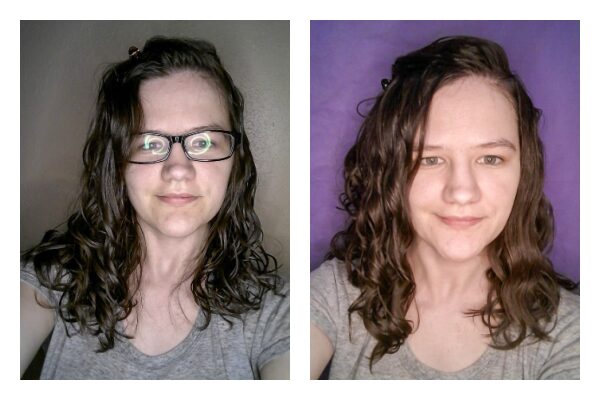 Upside Down Vs Upright hair styling
The photo on the left is when I stayed right side up. The photo on the left is styling upside down.
On the 'upright' side, I squished my hair in the shower right side up, held my hair upright in a t-shirt )to hold my hair and help it to dry slightly without plopping), applied my mousse rightside up, and diffused rightside up.
On the upside down side, I squished my hair in the shower upside down, plopped my hair upside down, applied mousse upside down, diffused upside down for the first 5 minutes, then flipped upright to finish diffusing. That's how I always diffuse when styling upside down, if I try to diffuse upside down longer, it messes up my pattern in the back of my head.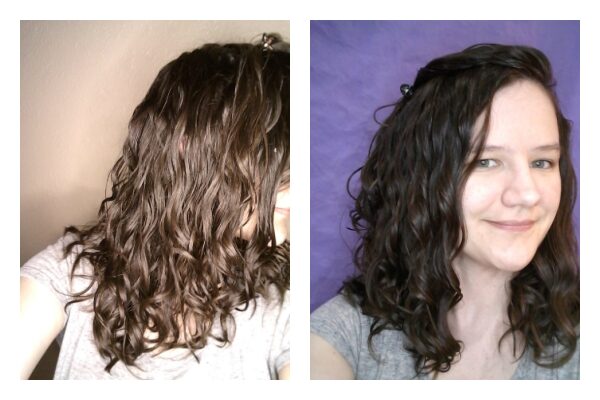 Upright styling on the left, upside down styling on the right.
Is rightside up or upside down hair styling better?
If you prefer volume, upside down styling will give you better volume. If you prefer to control where your hair parts, rightside up styling is better. 
I have almost always done upside down styling. Everyone has different preferences for their hair, but I find that my hair goals are met better when styling upside down.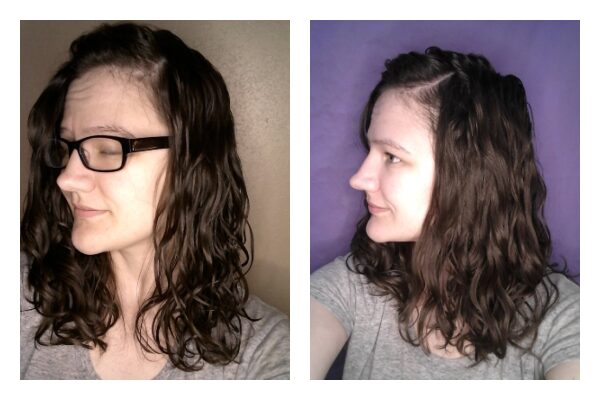 Upright styling on the left, upside down styling on the right.
---
While it's not my preferred styling technique, there are definitely benefits to right-side up styling.
Benefits of styling hair right-side up
Having easy control of where your hair parts. You can simply part your hair before you add products and you will have complete, perfect control over where your hair parts!
No mess in the back of your hair. A big challenge with styling upside down is keeping the back of your head from being "messy". I have learned tricks to overcome this. However, many people who are new to the curly girl method and try upside down styling will be very frustrated with figuring out the back of their head. For some, right-side up styling is preferred because it doesn't require extra effort to style the back of your hair.
Downsides of right-side up hair styling
Less root volume due to hair drying against the scalp. However, you can use root clips to prevent this.
Roots can stick. If applying product rightside up, it's easier for your hair to "plaster" to your scalp. The firs time I ever tried rightside up styling, my hair was stuck to my head from about my ears on up! In future attempts, I made sure to apply my styling products while leaning really far to the opposite side, which helped prevent this. When applying to the back of my head, I had to lean way backwards. It helped my roots to not stick, but that potential issue and making sure you style in ways to prevent that is key.
Smaller curl clumps. My clumps just seem smaller/skinnier when I scrunch my hair rightside up.
More challenging to get product up to the roots. I haven't mastered this, so my hair doesn't always cast all the way up my strands and causes frizz as a result.
Benefits of upside-down hair styling
More root volume.
More volume in general. I get slightly better volume even past my roots.
Bigger curl clumps. I get huge curl clumps when I squish my hair upside down in the shower. Once I eventually do flip my head upright, those clumps do break into smaller clumps, but they still are bigger than if I scrunch right side up.
No "plastered scalp" worries.
Easier to get product to the top of the strands.
Downsides of upside-down styling
You can't control your part very much. This can result in your hair falling in your face, or your part just being "messy".
Hair can get stuck to the back of your head if you don't intentionally prevent it. I have a blog post sharing how I style my hair upside down without messing up the back. It goes through all the tips and tricks I use to get good results while styling upside down.
Conclusion
Both upright and upside down styling have different pros and cons. On some level, you just have to choose which sounds preferable to you. With either method of styling, you're likely to need to overcome some of the challenges.
If you choose to style upside down, you'll have to focus on the back of your head to avoid it getting 'messy' in the back.
If you choose to style rightside up, you'll have to be conscious of your application technique to be able to get product all the way up your strands and to avoid the top of your hair being too flat to your scalp.
I prefer upside down styling because I choose to prioritize volume quite a bit. If you love volume, check out my post 13 methods for getting more volume in wavy hair. However, I also think upside down styling comes easier to me because I have practiced it longer and know how to accommodate my hair upside down better. So, I have less skill at overcoming the challenges of upright styling.
Curious about other hair styling techniques for wavy hair? I have a whole section of "technique" section full of blog posts in my wavy hair care blog directory.