There are affiliate links in this article. 
Why Does Humidity Cause Frizz?
When it's humid, our hair absorbs water from the air. Of course, we all recognize that when we wet our styled hair by soaking it under the showerhead, this basically resets our style. When it's really humid out, our hair will absorb water in different areas at different rates. The areas that absorb a lot of water will reset, while the areas of our hair that stay drier may not. This is why our hair can end up frizzy, losing its curl clumps, falling flatter/straighter and just looking more messy.
Is All Wavy Hair Sensitive To Humidity?
Not necessarily. Higher porosity hair is more likely to frizz up in humidity because it will take in water more easily, and has a raised or even damaged cuticle which can make it more prone to not staying sleekly clumped with nearby hairs.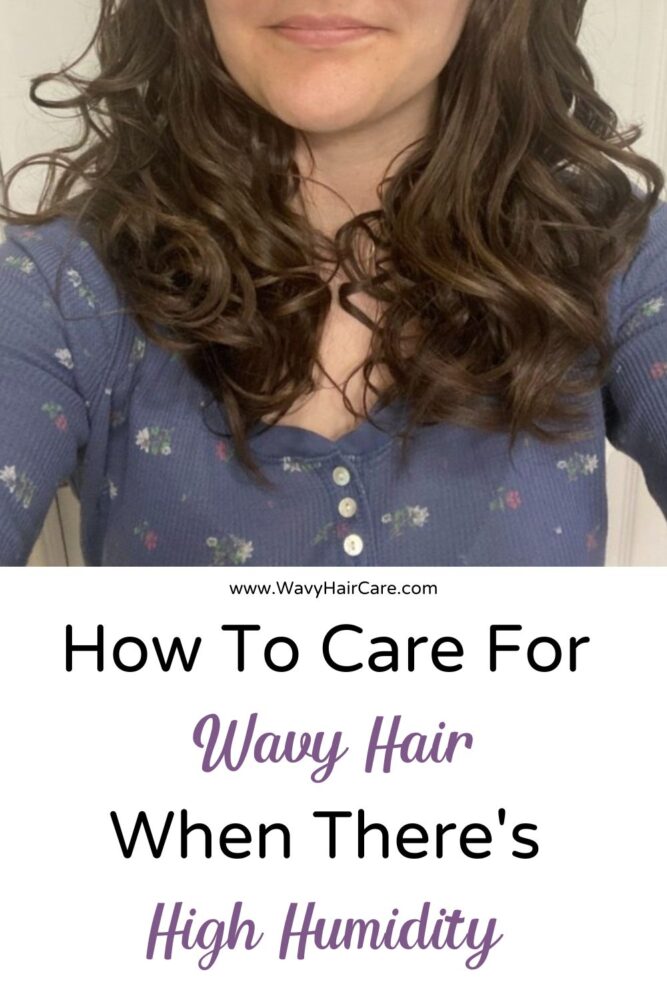 How Does Dew Point Impact Hair?
It's commonly understood that some people's hair gets frizzier or curlier looking when it's humid. Dew point isn't nearly as commonly discussed, but it's actually a bigger factor in how your hair is impacted by the weather than humidity is.
Dew point fluctuates depending on different factors, and a high dew point is 60 Fahrenheit or higher, and a low dew point is 35 Fahrenheit or lower. The "sweet spot" for dew point is in between those two.
Adjusting Your Hair Routine For Humidity Or Dew Point
If the dew point in your area is between 35-60, you can use any hair products, humectants included, without any special considerations. This is the sweet spot for humectants.
If the dew point in your area is below 35 or above 60, you may want to cut out glycerin from your styling products. By styling products, I mean any products that you leave in your hair.
In low dew point conditions, humectants can cause water to transfer out of your hair and into the air. In high dew point conditions humectants can cause your hair to take in too much water from the air.  Or, you may opt to still use glycerin-containing styling products just less, or to only use them while also using frizz-fighting ingredients or products.
If you want to use some humectants, you can also use film-forming humectants and/or emollients and occlusive in high dew point conditions as those will help block out excess water from being absorbed from the air.
Are Humectants Good Or Bad For Frizz?
Humectants can help add moisture to our hair in the right conditions, but can dry out our hair if we use them in the wrong weather conditions. Humectants basically impact the way that our hair interacts with water in the surrounding air. In ideal weather conditions, humectants help keep our hair well moisturized, but not too moisturized.
If the dew point is really low, using humectants in your hair products can cause the air to steal water from your hair, drying it out. If the dew point is really high, your hair will try to take in so much water from the air that your hair can swell and get frizzy. Some humectant ingredients in hair products will get sticky in humid conditions as well.
What are common humectants in hair care products?
Glycerin , PVP, Sorbitol and propylene glycol.
Film-forming humectants are different…
While you want to avoid common humectants if the dewpoint is really low or really high, film-forming humectants can be good to use on your hair in these conditions. These can help bring water into your hair if the conditions are right, and they can also help reduce water loss from your hair in dry-air conditions.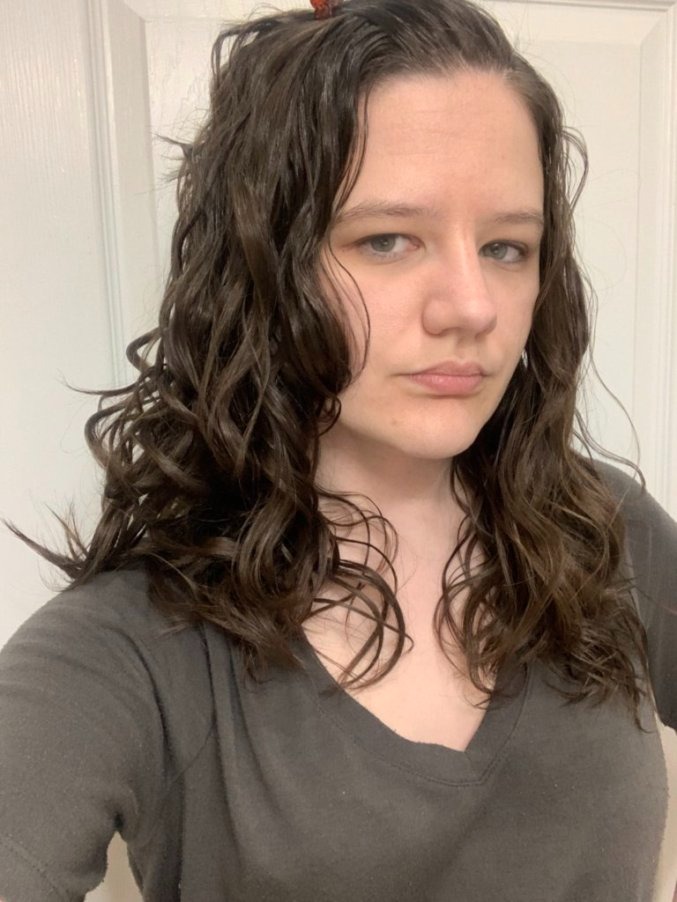 Common film-forming humectants:
Marshmallow root
Aloe vera
pectin
Honey
Slippery elm
Hydrolized proteins
Flaxseed
Emollients & Occlusives (aka Humidity-fighting Ingredients)
Anti-humectants can help block excess water from entering your hair when the dew point is really high. That makes these ingredients good to use in your styling products if it's going to be very humid out.
Silicones. Of course, these are not allowed if you're following the curly girl method, but they are good at fighting humidity so for people who aren't concerned about following the curly girl method, silicones can be great to use in wet conditions.
Shea butter
Avocado butter
Oils
Petrolatum
Beeswax
Esters
Polyquaternium
PVA or PVP copolymer
Crosspolymer
Routines For Managing Frizz in Humid or High Dew Point Conditions
One way to manage frizz in high humidity and dew point conditions are to simply cut out humectants from the styling portion of your routine.
Alternatively, you can consider using a leave-in conditioner or cream that has humectants and moisturizing ingredients, then a mousse or a gel that gives you enough hold, and finally an occlusive oil or a serum to help lock in the moisture from your products and block out excess humidity from the environment.
Good Wavy Hair Styling Products For Humid Conditions
Ouidad Advanced Climate Control Gel in regular or strong hold. (amazon)
-I didn't love this gel personally, even the strong hold version didn't seem to give me good hold. However, it is definitely the #1 recommendation I see people share when talking about what hair products work well in high humidity. If it doesn't have enough hold on its own, you could layer it with a harder hold styler. 
Not your mothers curl talk mousse (Walmart)
-has an anti-humidity ingredient really high on the list and is one of my favorite mousses.
Glycerin-free styling products
Aussie instant freeze gel (Walmart / Amazon)
Giovanni LA Natural Strong Hold Styling Gel ( Amazon / Walmart)
Dippity do curls with curls gelee (one of my personal favs!) (Amazon)
Kinky Curly Curling Custard (Amazon / Walmart)
Jessicurl Spiralicious styling gel (Amazon / Walmart)
Curlsmith hydro-style flexi jelly (has glycerin but very little) (Amazon)
Curlsmith featherlight protein cream (Amazon)
Giovanni Direct weightless leave-in (Amazon / Walmart)
Kinky curly knot today leave-in
Curls blueberry bliss leave-in (Amazon / Walmart)
Ecoslay jello shot
LA looks Max spikes gel
Ouidad vitalcurl soft defining mousse
Paul Mitchell tee tree firm hold gel (Amazon / Walmart)
Trelux Hi! definition curl enhancing styling gel (Walmart)
How Does Ouidad Advanced Climate Control Gel Work Well in Humidity When It Has Glycerin?
The most commonly recommended styler for humid conditions is the Ouidad advanced climate control gel. I've tried this gel and didn't love it, but my hair isn't prone to struggling with reacting to humidity. Lots of people from Florida or other high-humidity areas talk about how they just love this gel. Yet, many ask how it can work so well when glycerin is the second ingredient, and using humectants can sometimes make frizz worse in high-humidity climates.
The answer is that yes, it does have a lot of glycerin, but it has several humidity-resisting ingredients in it as well. So, even though it has glycerin, it doesn't allow hair to bring in too much moisture and get frizzy when its humid.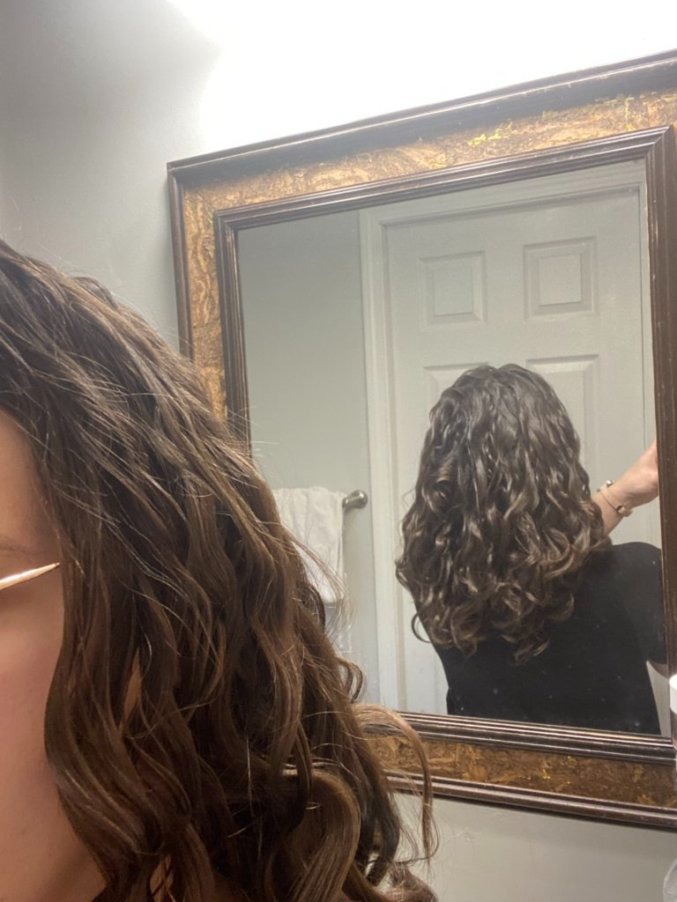 How to find Out The Dew Point in Your Area
You can simply google your town name + dew point and you'll find weather forecast websites that include the dewpoint. Not all weather sites include this info, but some do. I know that =wunderground.com is one site that includes the information. There are also fizzy hair apps that allow you to put in your zip code and then you can open the app to check the current conditions.
If Your Hair is Only Wavy When It's Humid, is it straight or Wavy?
Some people find that their hair gets wavy when it's humid, but is straight when the air is dry. In my opinion, it's silly to suggest that one is your 'true' hair type and the other is somehow fake. It's natural for hair to fluctuate depending on how moisturized your hair is. So, I personally would say that if your hair is straight when the weather is dry but wavy when the weather is humid, that your hair is a bix of both! The curly girl method handbook refers to this hair type as "swavy" as in straight-wavy.
If you currently find that your hair is straight sometimes but wavy other times, and you aren't using gel, you likely can get it to be wavy all the time if you style it. You can try my how to test if your hair is wavy routine to find out!
How To Avoid Frizz When It's Humid or Raining
Don't use an overly-stripping shampoo if your hair doesn't need it. Drying your hair out too much can make frizz worse.
Use conditioner and leave in conditioner. If your hair is too dry after your wash day routine, it'll try to grab moisture from the air which causes frizz.
If you get halo frizz, apply your conditioner and leave in conditioner all the way up. This is sometimes advised against for the sake of avoiding weigh-down, but if you have frizzy roots you may have to choose between the two.
Make sure you're getting enough hold from your styler.
Make sure your hair is 100% dry before going outside.
Consider cutting out humectants like glycerin or at least cutting back.
Use a hair oil or serum to seal moisture into your hair and block humidity out.
Sources: Naturally curly (link) and Science-yhairblog (link 1) (Link 2) (Link 3)