There are affiliate links in this post.
One of my earliests posts on this blog was how to sleep on wavy hair. In that post I went over a variety of different methods you can sleep on wavy hair to try to preserve your natural waves overnight.
Since then, I've heard of some other techniques. I also came to realize that while I had heard of a handful of different techniques, I hadn't tried them all or compared them. I got wondering what the best method really is. So, the last six weeks or so, I've been putting it to the test.
Each wash day I washed my hair with the same products and techniques. My goal was to keep everything the same except how I slept on my hair overnight. I tried to use the same amount of shampoo, conditioner and gel each time. I used the same product application techniques, plopped my hair the same way for the same amount of time, and used the same hair diffusing method each time.
This way, I could try to compare which methods for sleeping preserve my natural waves the best. At the same time, I recognize that wavy hair has a mind of its own, and I wouldn't get the exact same results each wash day. For that reason, I am including the "before bed" and "the next morning" photos for each so you can see how much my hair fell or maintained is shape.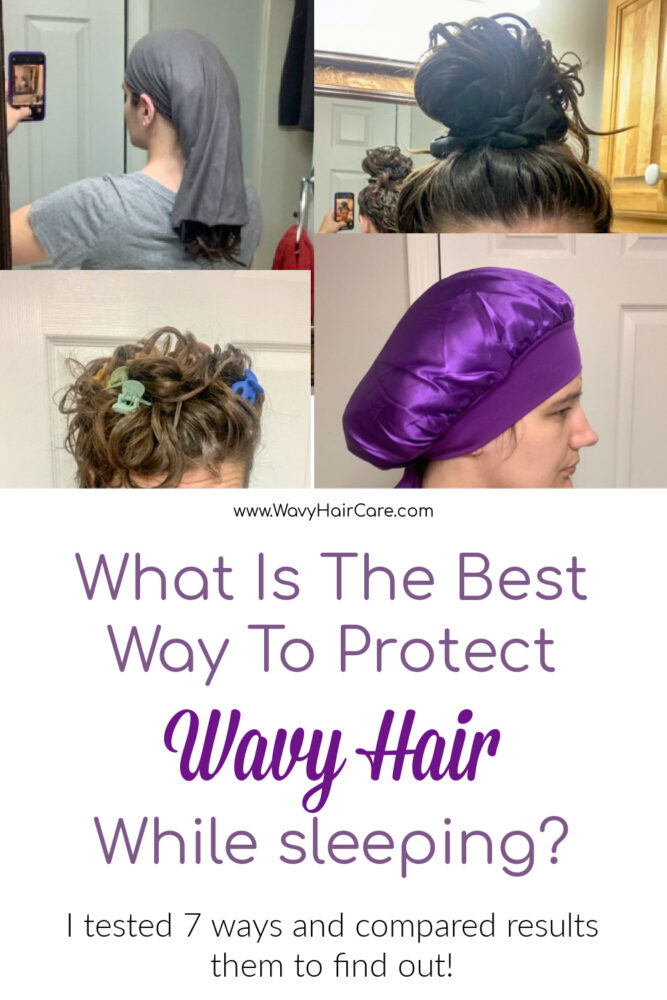 Sleeping On Wavy Hair With A Silk Pillowcase
I have both silk and satin pillowcases. I don't see a meaningful difference between them, personally. I just rotate through them, but I happened to be using my silk pillowcase when testing this method. If you're looking to purchase one though, I'd suggest the Bedsure Satin Pillowcase. I've had mine for a couple of years and they've held up well and really seem just as good as my silk pillowcase.
I attempted to keep my hair up and over my pillow rather than down by my shoulders. I had heard that some people just point their hair upwards to avoid it being smushed by the weight of their head as they sleep.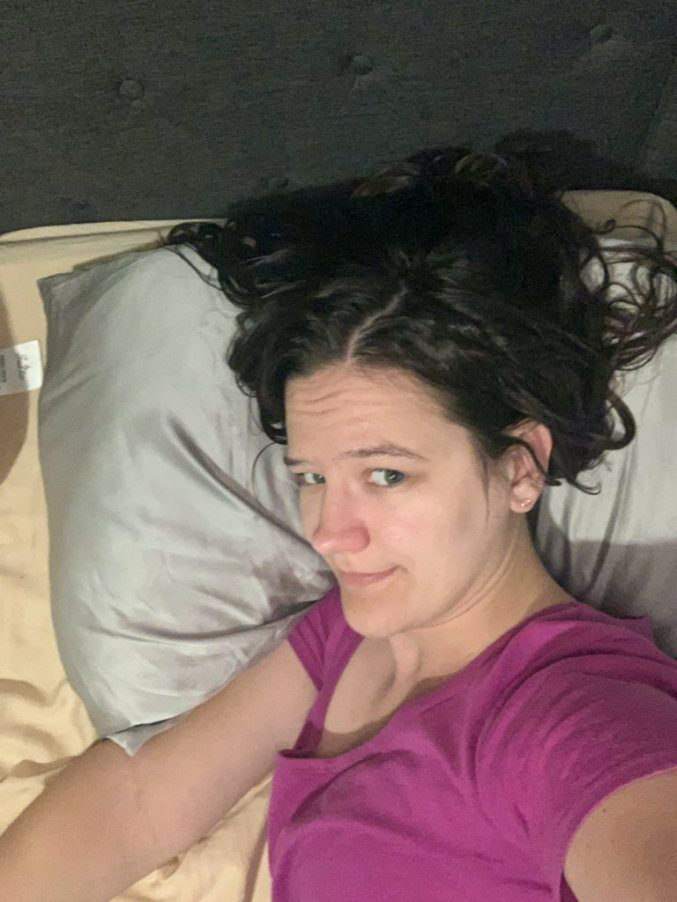 I feel like I'm a rather restless sleeper. I have to flip from side to side at least five or six times before I even fall asleep. While testing this method, I kept trying to remember to keep my hair up and I think I did a pretty good job of keeping it up over my pillow.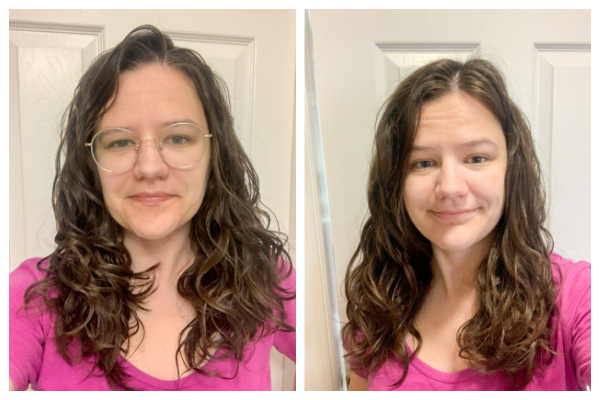 In the morning I had looser waves, a bit less volume and a bit more frizz.
Sleeping On Wavy Hair In A Satin Bonnet
I used to sleep with a satin bonnet when I first started the curly girl method. I had lots of problems with the ones that I tried back then. Some were so small that I Couldn't get them on my head unless I cut the elastic a bit. Others were too big so I'd wake up with the bonnet off my head. I tried one that had a drawstring around the edges so that I could get a custom fit. When I tied it tight enough to stay on, it gave me headaches.
So, I had decided that bonnets weren't really for me back then. However, I wanted to give it another try for this blog post. I measured my head and went looking for a bonnet that should fit my head size. I purchased "SuperiMan Wide Band Satin Bonnet Cap" on Amazon. I liked how this had a wider band than bonnets I had tried in the past, I hoped that would make it more comfortable.
I did find it to be pretty comfortable, as the band is wider so it distributes the pressure from the tie across a wider area than my old bonnets. I like how you can tie it to get a custom fit. It can be tied in different ways but I just tied it behind the back of my head. I dd see in the reviews that some found these bonnets to bleed dye onto their pillows or bedding. This didn't happen to me, washing the bonnet in cold water before using may help? But I still thought I should share that warning.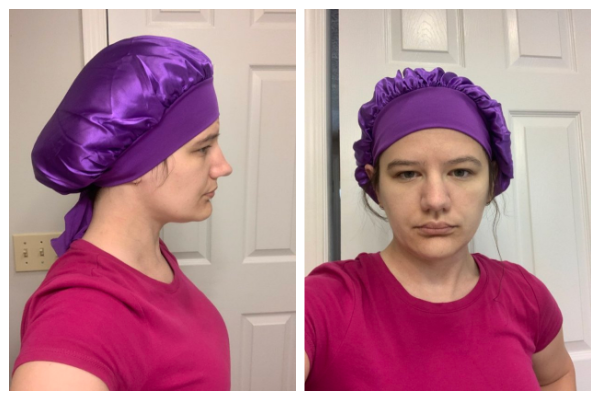 The left is before bed, the right is the next morning. I am so sorry about my morning face, haha! As you can see, the bonnet stayed on pretty well I just had my ears come out and a couple small sections of hair.
I used to pineapple my hair and then put it in a bonnet, but for this test I just wore the bonnet for the sake of seeing what the bonnet does on its own. I put the bonnet on by leaning my hair over into the cap, tying it and standing upright. Then I had some loose hairs that I had to stuff up inside the edges.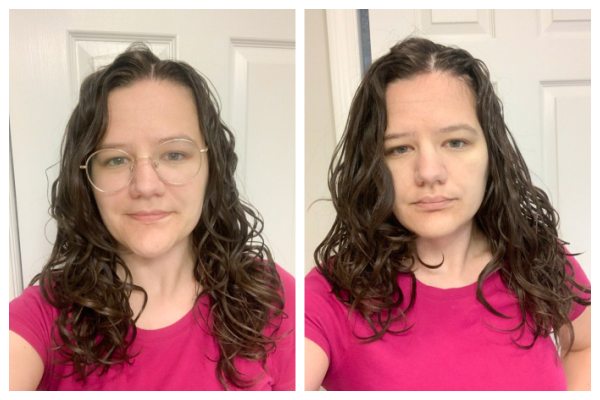 The left is my hair before putting my bonnet on before bed, the right is how my hair looked after I removed my bonnet the next morning.
I was a bit surprised by the results from this one! I maintained my volume pretty well. My waves relaxed a little, but not a lot. Overall this protected my hair pretty well. However, I noticed that my hair looked a bit more producty than usual in the morning. I attempted to use the same amount of gel as on the other days, and my cast felt pretty similar before bed.
I did notice my curl clumps were a bit skinnier than usual on his wash day, but otherwise it seemed pretty similar. I'm not sure if it looked producty the next morning due to the bonnet, somehow or if that was a coincidence.
Sleeping With Naturally Wavy Hair In Braids Overnight
Have you ever noticed that sometimes Google gives you curly hair results even if you search for wavy hair results? I remember googling for how to sleep on wavy hair overnight when I was new to the curly girl method. It brought me an article about how to sleep on curly hair overnight, and listed different options. One of them was braiding your waves overnight.
I have never really come across people with wavy hair saying they protect their hair by braiding it overnight, after it's been styled. I knew that for looser curl patterns, if you braid your hair while it's wet and allow it to dry in the braid it will look wavy but not due to a natural curl pattern, just from being dried in the braided position.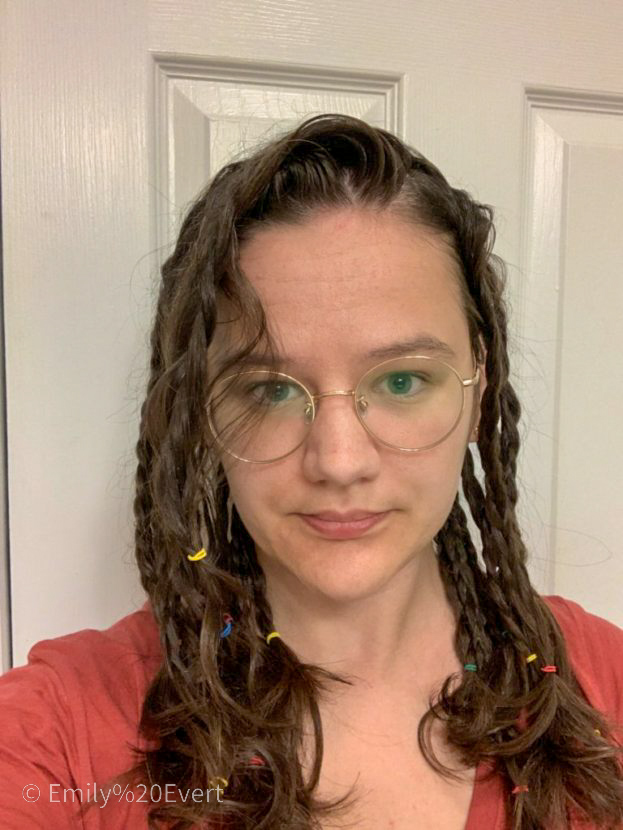 I was curious what would happen if I styled my hair wavy, let it totally dry and then braided it overnight. So, I added it to my list of methods to try. When braiding my hair I tried to avoid breaking up natural curl clumps. I originally tried to leave the hair elastics on each braid as loose as possible.
I didn't want the elastics to dent my hair. However, I found that they kept slipping right off the ends of my hair unless I put them on really tight. My hair is kinda silky so I think the rubbery elastics just like to slide around too much unless they're super tight. So, I wound up re-tying most of the braids really snug.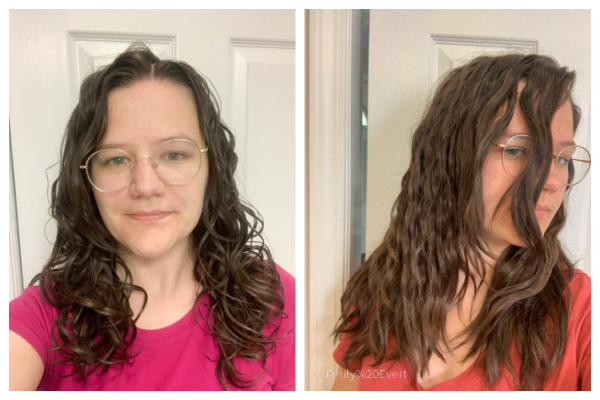 The left was my hair after styling it and before braiding it for bed. The right is after removing the braids the next morning.
I was a bit surprised to see that even though I had styled my hair wavy and let it 100% dry before braiding it, that sleeping in it braided caused my hair to take on the "braid-made waves" pattern, the same way it would if I had braided my hair wet and let it dry in the braid. I think the "crimpy" waves that it gave me are a fun look, but it definitely didn't preserve my natural curl pattern – it erased my waves and gave me a whole new look. So, this wasn't a good method for preserving my texture overnight.
Sleeping With Wavy Hair In A Pineapple
This was my go-to method for two years or so. I was curious to see how it compared to all the other methods. If you're new to the concept, a hair pineapple is when you pile all of your hair on top of your head and wrap it somewhat loosely with a scrunchie. The goal is to get your hair up on top of your head so that the weight of your head won't smush your waves while you sleep. However, you want to make sure that the scrunchie isn't too tight as that can leave dents/bends in wavy hair.
Fairly early on while trying to pineapple, I learned that regular-sized scrunchies would indent my hair some, even if I only looped them around my hair twice. Yet it wouldn't hold my hair in place if I looped it just once.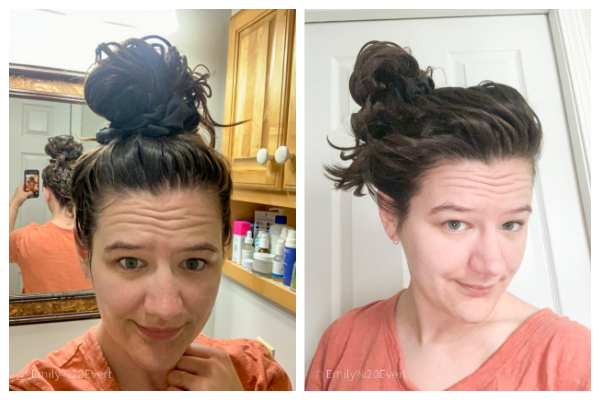 The left is my pineapple before bed, the right was my pineapple after waking up. It slipped a bit, but didn't come out.
My solution was the Scrunci Jumbo-sized scrunchie. It's huge, and I can get a tight-enough-but-not-too-tight fit with it on my dense hair that is long-ish. It's also a satin-like or silk-like material which is great for avoiding friction, frizz and damage. If you have super long hair, or hair that is too short to all fit into a pineapple, check out my post how to sleep on wavy hair as it shares alternative ways to pineapple your hair if it's too long or too short to pineapple the regular way.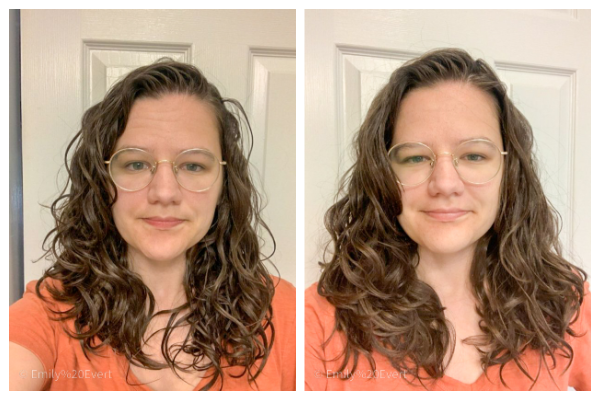 I was happy with how pineappling protected my waves. They were a little looser, less defined and frizzier the next morning, but they held pretty well. My theory is that when people find pineappling to stretch their hair out, it's likely because they're using a scrunchie too tightly. If you can't get an ideal fit with your current scrunchie, try another size.
Protecting Wavy Hair Overnight By Medusa Clipping
This is a method of protecting wavy curly hair overnight that I heard about a few years ago but had never tried. I have always seen it discussed as being a good option for people with short wavy hair, perhaps chin length or shorter. My hair isn't nearly that short…but I was still curious to try it out.
Medusa clipping is basically clipping each curl clip up to the top of your head. Except, instead of clipping all of your hair, you just clip as much as you can fit on top of your head, basically. Your hair that starts lower on your head may be too short to even reach the top of your head, or it would be pulled a lot to reach the top, which isn't ideal. So instead, the outer canopy layer of the hair is medusa-clipped, and the bottom half or so is left down.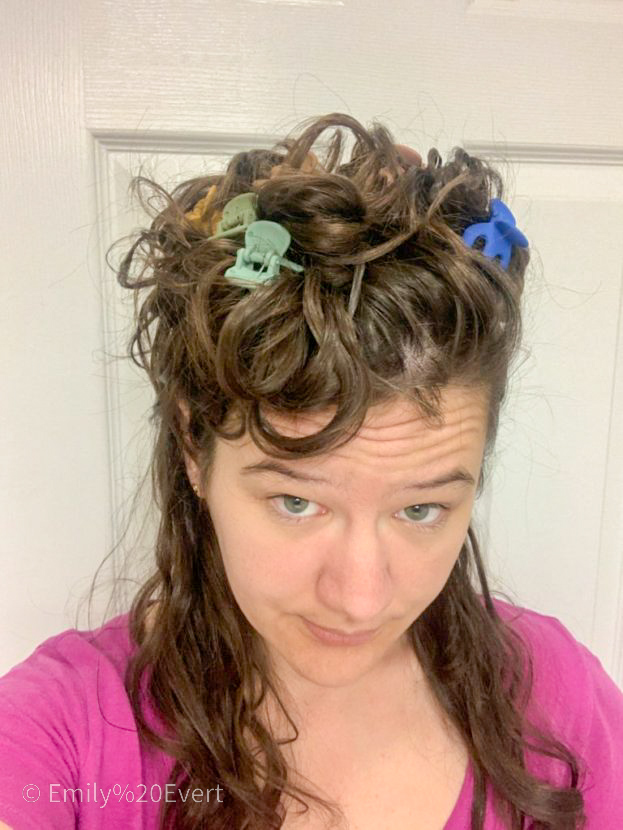 Typically with medusa clipping, you can just clip each curl clump close to the root once. However, my hair is too long so if I clipped at the root, my hair would be all over my face. So, I took each curl clump, kind of loosely folded it into a bundle, and then clipped it. I used these Canitor Hair Clips for Women though any similarly sized claw clips would work.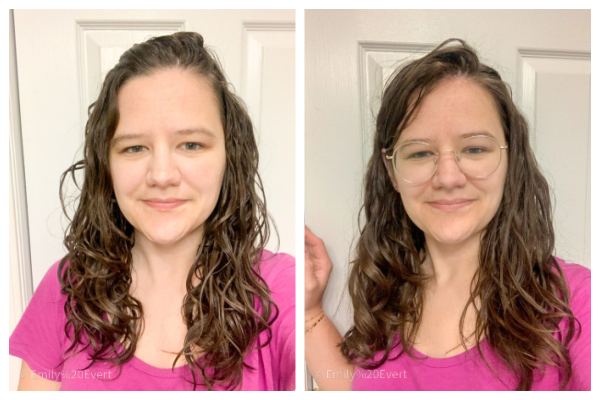 My initial results this wash day lacked volume and were a bit looser than my usual results, which I think is important to keep in mind when analyzing the results the next morning. My hair was less defined and had more frizz than the night before.
While my hair looked straighter than usual, I think compared to how it was the night before, it didn't fall that much flatter. This method was more time-consuming for me than other methods, so I don't think I'll likely use it much…but I do think it did a decent job of protecting my waves and I can see it being even better for short wavy hair.
Wearing A Satin Sleep Cap Overnight On Wavy Hair
I came across satin-lined sleep bonnets quite a while ago. I don't hear this option discussed a whole lot, but I found the concept interesting. They're usually a bit longer than a bonnet which I thought might work better for thicker and/or longer hair. There are all sorts of sleep caps out there, but I found ones that are adjustable and thought that sounded particularly interesting.
With bonnets, I've often struggled to get an ideal fit. I thought sleep caps that aren't adjustable might be tough to get a good fit on, as well. I ordered the Yanibest satin bonnet hair cover sleep cap, from Amazon. This is available in two sizes, medium or large and sells for around $12. The medium is suggested for head sizes 21.6-23.6 inches. The large is for head sizes 22.0-23.6.
My head measures 22 inches, so it fit in the range of both, but was closer to the medium. However, they also suggest the medium for short curls, locks or straight hair, while suggesting the large for wavy hair, long hair, or thick hair.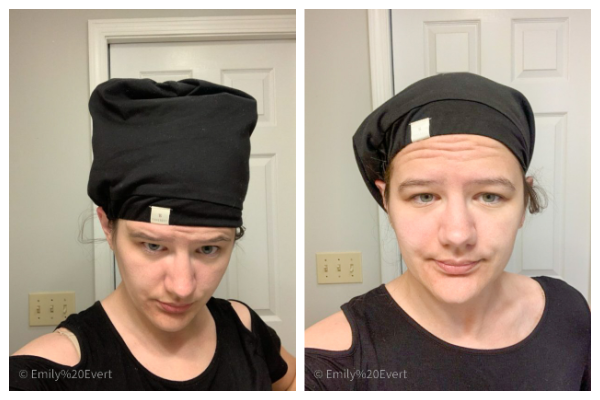 The left is before bed, the right is the next morning. I had a bit of hair fall out around my ear but it mostly stayed on nicely. 
My hair is wavy, thick (dense) and somewhat long so I went with the size large. I was able to get a snug fit around the edges which allow the cap to stay on overnight. Yet the cap is long enough and big enough that I have some excess space within the cap. It isn't "smashing" my hair. I like how the adjustable elastic piece is on the outside of the cap when you wear it, so there is no risk of your hair getting caught around it.
The left was before bed, the right was the next morning after removing the sleep cap. I felt like this protected my hair really nicely. My hair was a bit straighter and less defined, and had a tiny bit more frizz…but it was all relatively minimal.
Wearing a Buff Overnight With Wavy Hair
I bought a buff a few months ago after my hair stylist suggested it to me. She asked how I slept overnight, and I told her that I wore a pineapple and slept on a satin or silk pillowcase. She said that she found that for wavy hair, wearing a buff overnight can stretch waves out less than pineappling does.
If you aren't familiar with buffs, they're sleeves of fabric that are multi-purpose. Buff is a brand, other brands are sometimes called neck gaiters. If you're looking for a buff or neck gaiter to sleep with, it's important to consider the fabric used. Some neck gaiters are fleece, for example, and that could cause a lo of friction if worn on your hair! You want a slick fabric hat won't cause friction, frizz or breakage.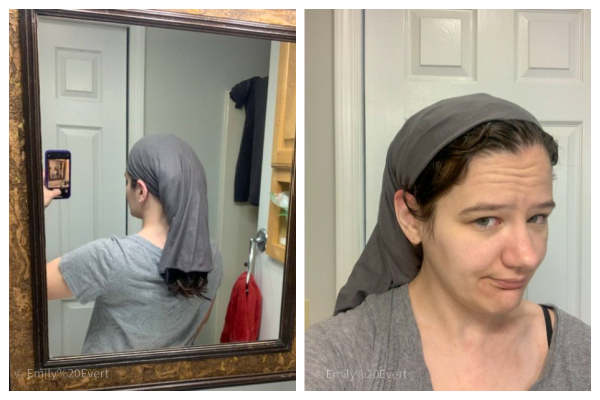 The left was my hair before sleeping. My hair is longer than the buff but it doesn't seem to make a big difference as far as I can tell. The right is my hair the next morning, the top of the buff slipped back an inch or so. Sometimes I wake up with the buff fully on, sometimes it slips a bit more than this. I've never had it come off though. 
I bought a Buff for around $12. When I first used it, I thought it did give me slightly better results than wearing a pineapple did. So, I've been wearing the buff overnight the last few months. I hadn't actually tried closely documenting how my hair held up when pineappled vs using a buff, though. I wanted to test it which is what originally gave me the inspiration for this blog post.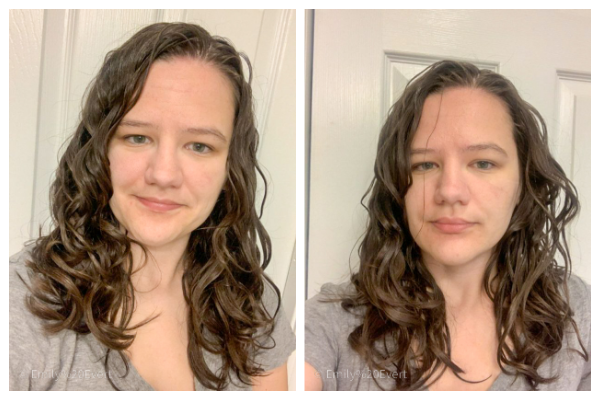 I thought the buff dd a good job of preserving my definition. I didn't see much added frizz, and my curls didn't get too elongated. I did feel like I lost volume, though. I think my head is slightly too big for the buff, so it smushes my hair a bit on the top and the sides which results in my next-day results being a bit flatter. My guess is that a buff could be a great option for people who have a smaller head than me, and/or have thinner hair than I have.
The Best Way To Sleep On Wavy Hair For Less Frizz
Wearing a buff
The Best Way To Sleep On Wavy Hair For Maintaining Curl Definition
Wearing a buff, pineapple or satin lined cap
The Best Way To Sleep On Wavy Hair For Maintaining Volume
Pineapple or sleep cap
The Best Way To Sleep On Wavy Hair For Preserving Curl Tightness
Pineapple, sleep cap or buff
My Favorite Way To Sleep On Wavy Hair
These days, my favorite way to sleep on my wavy hair is with the sleep cap. I like volume quite a bit, so I quit using the buff after I realized it as reducing my volume. I like how the sleep cap is comfortable, stays on, doesn't add much frzz and maintains my curl tightness pretty well.